Learn how to make Instant Pot Spaghetti Sauce Recipe. This is super easy and tastes so fresh and delicious. Skip the store bought jar sauce and make spaghetti sauce at home.
Instant Pot Spaghetti Sauce Recipe:
Homemade Spaghetti is on our weekly menu a lot. It is easy to make and every one loves it. You add a salad and some garlic bread and your meal is complete. I used to buy the jar spaghetti sauce, but now I make it at home and it taste so much better.
This is our go to recipe for pasta sauce. It's quick, tasty and very budget friendly. I love to make a big batch of this and keep some in the freezer for quick and easy dinners. It's such a big help during the school year especially.
Now my kids don't mind eating spaghetti weekly because they know the sauce is going to be so good. The sauce is made with easy ingredients and I know exactly what is in there because I am making it from scratch.
Instant Pot Recommendation:
I am using an 8 quart Instant pot but you can use a 6 quart if you prefer. However, if you plan to make a double batch, the larger size would be better.
I use my instant pot all the time and it's become one of my favorite kitchen appliances. In the past, I would get busy and forget to take something out of the freezer.
Now that I have the instant pot, dinner can be ready fast. It only takes a short amount of time to cook using the pressure cooker but it taste like it was slow cooked all day.
Can I made Spaghetti Sauce in the Crock Pot?
No worries if you don't have an instant pot, you can try our Crockpot Spaghetti Sauce Recipe. It's equally yummy in the slow cooker!
The best part about coming home from a long day, is smelling dinner in the crock pot.
How to Freeze Spaghetti Meat Sauce:
Use hands free bag holders to quickly freeze this spaghetti sauce. They are seriously a life saver. They keep your bags open so you can just dump your ingredients inside. Of course this is totally optional but it makes it so much easier to put these meals together.
Once your spaghetti sauce is cool to room temperature, place in freezer safe container. You can also spoon the sauce evenly in zip lock freezer bags for easy storing. Once you have the sauce in the bags, squeeze out the air and place in the freezer flat.
Freezing in a zip lock saves space for all your other freezer meals. See Can you Freeze Spaghetti Sauce for more tips.
Let's make Spaghetti Sauce Instant Pot Recipe!
The entire family will love this. This recipe is sure to be a hit.
Ingredients
Ground Beef

Italian Ground Sausage

Onion

Minced Garlic

– you can also use garlic powder
Crushed Tomatoes

Tomato Sauce

Tomato Paste

Bay Leaves

Italian Seasonings

Sugar

Salt and Pepper

Beef Broth
How to make Instant Pot Spaghetti Sauce:
Prepare your Instant Pot and brown the beef – Turn the instant pot on the sauté setting. Crumble and brown ground beef and sausage, along with onion and garlic.
Drain excess fat – Make sure to drain any grease from the hamburger meat and sausage as you don't want that in your spaghetti sauce.
Change the setting on the Instant Pot – Turn off the saute function.
Add remaining ingredients – Add in the remaining ingredients to begin making your spaghetti sauce.
Now it is time to cook – Place the lid on top, and make sure the valve is set to sealing.
How long to cook – Hit the manual button and set the time to cook on high pressure for 15 minutes.
Release the steam – When finished do a quick release to natural release the steam. Then remove the lid and stir with a wooden spoon.
Serve and Enjoy – Serve meat sauce over your favorite pasta before serving, or allow to cool completely and then freeze until ready to use.
Instant Pot Spaghetti Sauce Tips:
Don't Burn your Spaghetti Sauce – If you spaghetti sauce has burned in your instant pot before or you have gotten a burn notice, make sure you have enough liquid. If there is not enough liquid then it is not able to generate enough steam to come up pressure. Therefore the bottom gets to hot.
Use a Mini Chopper – To finely chop in the onion or if you are adding in some green peppers, use a mini chopper to easily chop your vegetables.
Use Ground Turkey – You can use Ground Turkey instead of ground beef or do half and half.
For the Spaghetti Noodles – If you have a problem with your noodles sticking together after cooking, pour in about a tablespoon of olive oil and this will help keep them separated.
Variation Ideas:
Use Meatballs Instead – Just substitute meatballs for the meat sauce. This is a nice change to switch up the recipe occasionally.
Like a little Spice – If you prefer for your sauce to be extra spicy, sprinkle in some red pepper flakes.
Add in fresh herbs – You can use fresh herbs instead. Adding in some fresh basil always combines well with the other ingredients.
Hide Chopped Vegetables – This recipe would work great with some added mushrooms, zucchini or shredded carrots.
Add in Red Wine – Red wine is a great addition to this spaghetti sauce. If I have it, I like adding in for extra flavoring.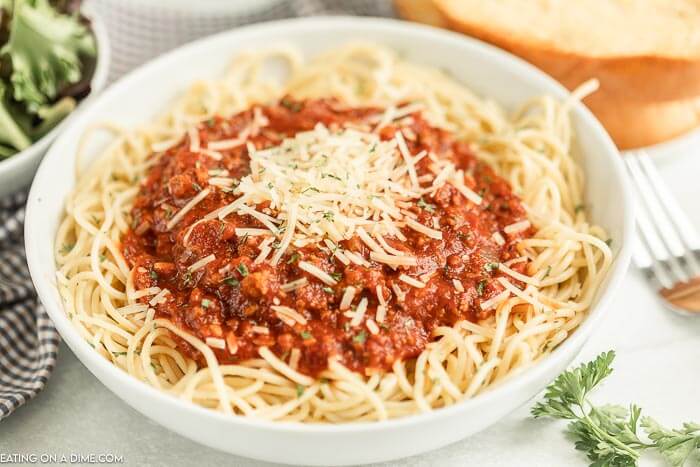 Can I use Fresh Tomatoes?
If you would rather use fresh tomatoes rather than canned tomatoes, you can easily make the switch in this recipe.
Peel the Tomatoes – First thing to do with your fresh tomatoes is to peel the tomatoes and remove the stems.
Place the tomatoes in boiling water – To easily peel the potatoes you will need to blanch them by putting them in boiling water. You will boil them for about 1-2 minutes.
Give tomatoes an ice bath – Once you remove them from the boiling water immediately place in a ice bath for a water bath.
The skin of the tomatoes come right off – The skin can easily been removed.
Then chop your tomatoes – You will then chop and cook as the recipe indicates.
What to Serve with Spaghetti Sauce
It also is a meal that can easily feed a crowd. We like to serve it with a simple side salad or Easy Grilled Broccoli.
Also, we love Garlic Bread Cheese Sticks Recipe. These are perfect to dip in the yummy spaghetti sauce! You can get every last drop of that delicious sauce!
Need a low carb option, top the spaghetti sauce with some zucchini noodles.
Other ways to use leftover spaghetti sauce:
When we make spaghetti sauce, we usually have one night with spaghetti noodles and the next night with rigatoni noodles.
Use the spaghetti sauce for dipping your favorite foods. We like using it for cheese sticks, pizza night or ravioli's.
Make your favorite lasagna with the leftover spaghetti sauce
Instant Pot Spaghetti Sauce recipe is easy:
This spaghetti sauce is yummy. While we typically serve it with spaghetti noodles, sometimes I switch it up with penne pasta.
The entire family loved this meat sauce recipe. It's a great recipe.
How to Thicken Spaghetti Sauce:
If you find your spaghetti sauce is too runny you can actually thicken it. My favorite way is to boil off the extra liquid or stir in a cornstarch rue.
Check out all our How to Thicken Spaghetti Sauce for more tips and tricks.
Spaghetti night is a crowd pleaser!
We love having out friends and family over. Usually we grill out or make a pot of chili depending on the weather. But spaghetti can be served year round. I always love it when I have some already made and all I have to do is heat and serve.
This recipe is great to feed a crown or for your family. Everyone will leave the kitchen with their tummy's full.
How to Store Spaghetti Sauce:
Try these other Instant Pot pressure cooker recipes: