Have you ever made Pressure Cooker Boneless Pork Chops before? This easy Instant Pot Pork Chops Recipe will surprise you with flavor.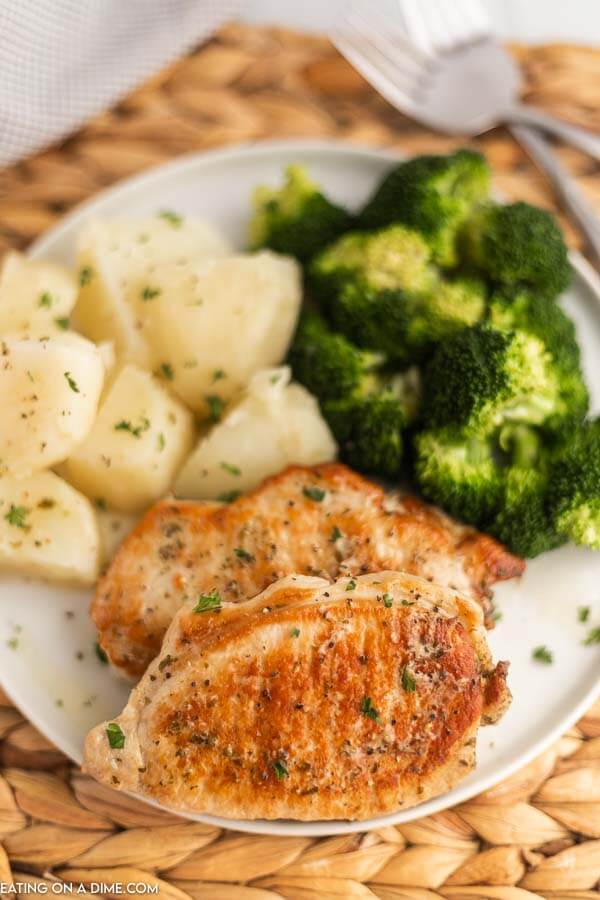 Instant Pot Boneless Pork Chops Recipe
I'm very excited to share with you this easy Instant Pot Pork Chops recipe. You will have this Instant pot Boneless Pork chops recipe ready in under 15 minutes.
Sure, this is a simple recipe with very few ingredients, but it is packed with flavor. I think you will be surprised how delicious this really is. We spooned the buttery sauce over the pork chops and the kids were practically licking their plates clean.
If you want to make this a one pot meal you can easily add in some diced red potatoes and some carrots. One pot, one mess, and dinner is done.
Instant Pot Ranch Pork Chops:
This Instant Pot Ranch Pork Chops is one of the easiest instant pot recipe. This recipe only requires a few ingredients and the flavor is amazing when adding the ranch seasoning packet.
We like to brown the pork chops just to give the pork chops that brown, crispy texture. Then we toss all the ingredients in the instant pot for an amazing meal idea.
You can even add in some potatoes and carrots to make it a complete meal.
Recommendation for an Instant Pot:
Now you will need an electric pressure cooker for this recipe. I personally have an Instant Pot and so far I am loving it. You can find the Instant pot on sale here.
I seriously do love it. However, there are other great electric pressure cookers that will work great for this recipe too.
Ingredients you need:
Olive Oil
Boneless Pork Chops
Butter
Ranch Seasoning Mix
Water
How to make Instant Pot Pork Chops:
Add Pork Chops to Instant Pot – Place the pork chops in the Instant pot with a tablespoon of olive oil. Turn on the sauté setting and brown the pork chops on both sides.
Brown Pork Chops – Make sure all pork chops are browned. You can skip this step but they look prettier when you brown them first.
Top with butter and Ranch – Place the butter on top and sprinkle the ranch mix packet on top.
Add Water – Pour water (or chicken broth) over the pork.
Place the lid on and set to sealing.
Cook for 5 minutes – Push the manual button and set to 5 minutes.
Naturally Release Pressure – Allow it to naturally pressure release for 5 minutes and then do a quick release to remove the rest of the pressure.
Serve and Enjoy – Once cooked serve and enjoy.
Serve with Vegetables – You can even spoon the buttery sauce and brown bits over the pork chops and over your veggies when serving. Season with salt and pepper and your meal is complete.
How long do you Pressure Cook Pork Chops:
Cooking tender pork chops doesn't take long. It only takes about 10 minutes to cook and do the natural release on your instant pot. Using the instant pot has been a game changer for me family.
There is no reason to grab fast food, as I can have dinner on the table faster than grabbing dinner out.
Why are my Instant Pot Pork Chops tough?
Pork Chops can get tough if they are cooked to long. Even a few minutes than the recipe states can cause the pork chops to be tough. When you remove the pork chops from the Instant Pot they will continue to cook until they are cut.
Make sure you pick the right cut of pork. You want to choose pork chops that are about 1 inch thick. If you choose pork chops that are to thin, they can get tough fast
You can use bone-in pork chops for this recipe.
This recipe is also great for pork chops with the bone in. I would just increase the pressure to 10 minutes. Only 5 more minutes you will have delicious bone in pork chops cooked wonderfully in the Instant pot.
How to Cook Frozen Pork Chops:
Another reason we love our instant pot, is I can still dinner done fast even if my meat is frozen. This is the perfect meal to prepare ahead of time and freeze.
Simply, toss your frozen ingredients in the instant pot and cook. You will probably need to double your time to about 10 minutes.
Your pork chops will go from frozen to a delicious tender meal in the matter of minutes.
Add veggies and make it a one pot meal:
You can add in any veggies to this recipe (in the Instant Pot) and you don't even have to increase the cooking time. I have thrown in frozen green beans, potatoes, and carrots in there and they all came out packed with flavor and perfectly soft.
I would put the pork chops on the bottom and then the veggies on top. We like to add a teaspoon of onion powder to the top to add some additional flavor.
Easy Pork Chops and an easy side dish makes for easy meal.
Pressure cooker pork chops are that easy!
They look beautiful, they are packed with flavor, and they are done in minutes. This frugal recipe will help you out when you are just short on time. Avoid the drive thru and make these delicious pork chops tonight.
Why we love Pork Chops:
Within about 15 minutes, I can sit down with my family and have a healthy delicious meal that everyone will love.
Easy spices that I always have in my pantry and they turn out so good on these boneless pork chops.
Pork Chops are budget friendly. Pork Chops are really easy to make and turn out so juicy and flavorful if you cook them just right.
The sauce that the pork chops make is so good. I love to serve this as a side so we can either dip or pour over our veggies. This is a must that my family always look forward to.
Pork Chops are perfect for any diet that you are on. They are a lean meat that is low in calorie but high in protein.
Pork Chops are perfect on the grill. Instead of making steak or chicken, I love to mix things up and grill some pork chops.
Pork Chops Variations:
Change the Meat – If you don't have pork chops, this recipe works great with chicken or turkey breast.
Cook in the Air Fryer – We love using our air fryer, these pork chops turn out so good in the air fryer.
Add Vegetables – Make sure to add vegetable to this meal for an easy meal idea.
What to serve with Pork Chops:
Salad– You can't go wrong with a quick and easy side salad.
Potatoes – Bake Potatoes, Mashed Potatoes, Sweet Potatoes and Buttered Potatoes would be a great side.
Rice – A side of rice pilaf is always a perfect side that goes well with pork chops.
Easy Weeknight Meal:
I love one pot meals because they are so easy. This recipe does not disappoint. Cleanup is a breeze and everyone loves this meal.
Print this Pressure Cooker Ranch Pork chops below:
Try these other electric pressure cooker recipes: