This post may contain affiliate links. If you make a purchase through links on our site, we may earn a commission.
If you love one pot meals as much as we do, you must try One Pot Spaghetti Recipe. This recipe is the perfect Lazy Day meal!
One Pot Spaghetti Recipe:
This One Pot Spaghetti Recipe is the perfect recipe for when you want spaghetti but don't have tons of time. It truly is a lazy day recipe and only one pot is needed! Yes! Only one pot is needed for the entire recipe so clean up is a breeze.
I usually use a large stock pot. But also love using a dutch oven for lots of recipes. You can boil the noodles and do every step in this one pot.
I love that everything gets mixed together and it's just absolutely delicious! All the yummy cheese on top melts and makes this one pot meal a favorite around here!
Another great recipe is Lazy Day Lasagna or Spaghetti Tacos. This recipe takes all the work out of traditional lasagna into one easy meal. We love one pot meals around here.
What is One Pot Spaghetti?
Growing up when my mom made spaghetti she would have a pan for the pasta, pan to cook the ground beef, and a pan to heat the sauce. I always on dish duty so I wasn't always happy when she made spaghetti.
So when I make this One Pot Spaghetti recipe it is essentially using one pot. No boiling water separately for the noodles. I can brown my ground beef, cook the sauce and the noodles all in one pot.
I tell my kids all the time how easy they have it now when its their turn to do the dishes. That probably why it is a favorite meal around my house.
A Favorite Italian meal:
Italian is one of our favorite foods around here. However, the prep and clean up is often more than I have time for. It's so nice having these lazy day recipes to make Italian food quick and easy.
One pot spaghetti turns our favorite Italian meal into a favorite weeknight meal. One pot meal means fewer dishes to clean and more time together as a family. We love one pot dinner recipes.
We all maybe going in different directions with activities but I am happy if we can all sit for a few minutes with the best comfort food.
One Pot Pasta is so quick and easy!
This is perfect for busy days of work, activities and more! It does not take a ton of time to cook and it's very budget friendly!
I love that I can serve my family an amazing meal and not spend hours in the kitchen. Plus, clean up is so quick and easy since we are only using one pot.
This recipe combines all the tastiness of spaghetti but into one dish! The cheese makes it even better! It's so delicious.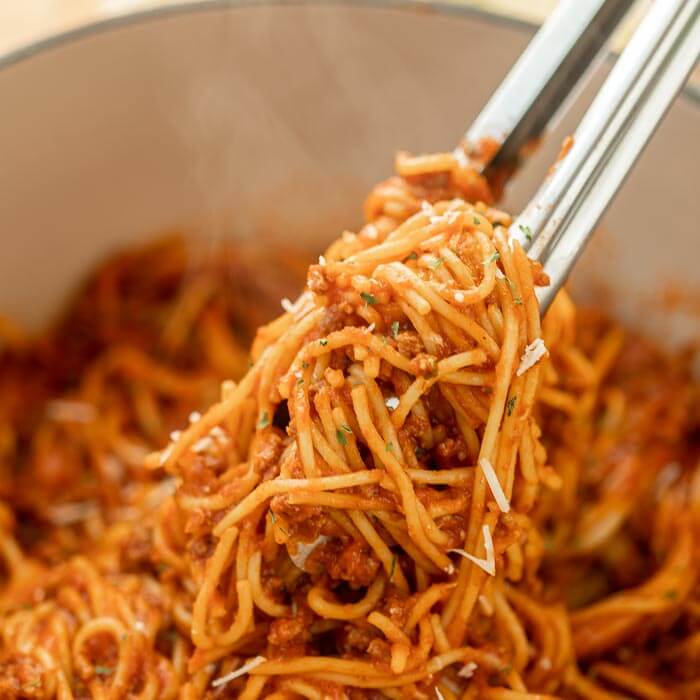 Let's learn how to make One Pot Spaghetti!
Ingredients:
Ground Beef – Try using Italian Sausage, Ground Pork, or Ground Turkey
Onion – Chopped Finely
Minced Garlic – You can also use garlic powder
Pasta Sauce – Use your favorite Pasta Sauce
Oregano – Italian Seasoning blend works great also
Salt and Pepper
Chicken Broth – If you don't have any broth, you can use 3 cups of water.
Spaghetti Noodles – We prefer spaghetti noodles, but you can use any type of noodles. It could change your cooking time.
Parmesan Cheese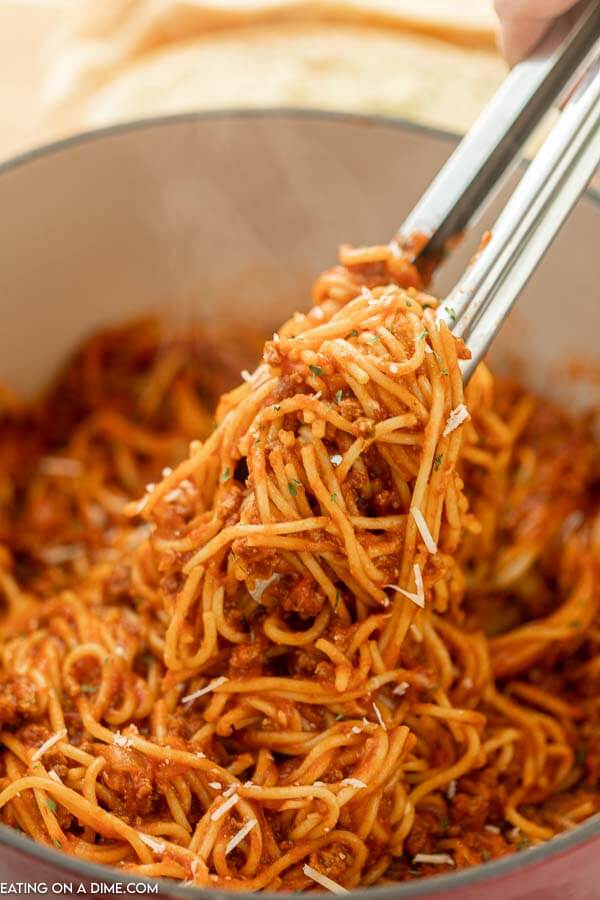 How to make One Pot Spaghetti:
Brown the Ground Beef – In a large pot, brown the ground beef with the onions. We use lean ground beef, but it is also tasty with some Italian Sausage. Drain off any excess grease.
Add the minced garlic – After the meat has been drained, add garlic and cook for 1-2 minutes.
Stir in Pasta Sauce – I like a good quality pasta sauce. But I have purchased whatever is on sale too, and my kids have stilled loved it. Stir the pasta sauce, oregano, salt, pepper and chicken broth.
Simmer Sauce – Bring to a simmer and cook for 10 minutes.
Add in pasta noodles – Break the noodles in half and

then add it a little at a time, stirring constantly until

the pasta is stirred into the sauce. I cook my pasta al dente. Check the side of the box to confirm how long that is.
Cover and Cook all together – Bring to a boil and then reduce the heat to a simmer. Cook uncovered, for 12-15 minutes or until pasta is cooked tender and sauce has thickened, stirring frequently.
Serve and Enjoy – Serve topped with Parmesan cheese and fresh parsley. Enjoy!
Variation Ideas:
We love recipes that we can change or make it our own.
We like to add in some extra spices for a little of kick to our sauce. Adding in some black pepper or red pepper flakes to taste gives it that extra spice that we all love.
You can also use diced tomatoes or tomato sauce in this recipe. It's such a great recipe and so versatile!
Use Italian Sausage instead of Ground Beef or do half of each.
Add in some extra Italian Seasoning to the pasta sauce.
You can add in some slice mushrooms if your prefer.
Green bell Peppers is also a great addition to this recipe.
What to serve with One Pot Spaghetti:
Serve this tasty one pot meal with a simple side salad and Garlic Bread Cheese Sticks Recipe. We love to dip the bread sticks in the spaghetti sauce get every last drop of this amazing sauce. Yum! It's so good.
If you like a little extra heat, try Jalapeno Popper Stuffed Cheesy Bread Recipe. It's so cheesy and the jalapeno peppers make it really amazing. It's so easy because it uses crescent rolls!
Serve with a big green salad or a side of vegetables.
How to store leftovers:
We love leftovers at my house. They make the perfect lunch for my husband and I or a afternoon snack for my kids. We store the leftovers in an airtight container for about 3-5 days in the refrigerator.
We think this one pot spaghetti is even better the next day.
Can you freeze Spaghetti?
Yes, you can freeze spaghetti. If you have double the recipe and I do on occasion, it will last for about 3 months if properly stored.
Make sure to store in a freezer safe container. I like to write what the meal and the date we store in the freezer. This keeps you organized and you don't waste the meal.
One Pot Spaghetti with Meat Sauce:
The entire family will just love this easy recipe. They will be amazed that everything was cooked in one pot and they don't have to spend a lot of time cleaning up.
Everyone will rave about it and ask for seconds. We normally are scraping the pot clean. However, if you happen to have leftovers it's amazing for lunch the next day!
Print this Easy Pasta recipe below:
Lazy Day One Pot Spaghetti Recipe
One Pot Spaghetti recipe is a delicious lazy day spaghetti recipe. One pot pasta recipes are so simple and easy. Learn how to make one pot spaghetti and get dinner on the table fast! The delicious sauce and extra cheese make this a recipe everyone will enjoy. Try this One Pot Pasta for a budget friendly and tasty meal!
Instructions
In a large pot, brown the ground beef with the onions. Drain off any excess grease.

Add in the minced garlic and cook for 1-2 minutes.

Then stir in the marinara sauce, oregano, salt, pepper and chicken broth. Bring to a simmer and cook uncovered for approximately 10 minutes.

Break the spaghetti noodles in half and stir them into the sauce. Stir to combine and cook at a simmer for 12-15 minutes stirring frequently to prevent the pasta from sticking together.

After the cook time, check the pasta for tenderness and cook for an additional 1-2 minutes until the noodles are cooked to al dente.

Serve topped with the Parmesan cheese and fresh parsley. Enjoy!
Recipe Notes
*You can use homemade marinara sauce instead of the store bought kind.  
*Refrigerate the leftovers in an air tight container for up to 5-7 days.  The noodles will soak up the excess sauce when stored so I recommend add more broth when reheating to thin out the sauce.  
Nutrition Facts
Calories
448
kcal
,
Carbohydrates
45
g
,
Protein
24
g
,
Fat
18
g
,
Saturated Fat
7
g
,
Polyunsaturated Fat
1
g
,
Monounsaturated Fat
7
g
,
Trans Fat
1
g
,
Cholesterol
59
mg
,
Sodium
1008
mg
,
Potassium
461
mg
,
Fiber
2
g
,
Sugar
2
g
,
Vitamin A
77
IU
,
Vitamin C
9
mg
,
Calcium
143
mg
,
Iron
3
mg
Find more One Pot Pasta Recipes:
More Spaghetti Recipes to make