This post may contain affiliate links. If you make a purchase through links on our site, we may earn a commission.
You have to try this amazing Gluten Free Jalapeño Cheddar Cornbread recipe. It has become a staple side dish when we serve some of our favorite fall soups.
It is so easy to make and the best part is that it is gluten free!
Gluten Free Jalapeño Cheddar Cornbread:
We have slowly been introducing super easy gluten free recipes into our diet. We have already learned how to make Gluten Free Shortbread Cookies and Gluten Free Pumpkin Cookies.
Today, I want to show you how to make Gluten Free Jalapeno Cheddar Cornbread. It is the perfect compliment to chili this Fall season and so many other meals.
The great thing about this recipe is no one will know that the gluten is missing! My family loved how amazing this cornbread tasted. It is not too hot and not to cheesy, it is the perfect combination of both.
Easy Gluten Free Cornbread Recipe:
You will be surprised how easy this recipe is. The ingredients are simple and jalapeño adds a nice kick but by removing the seeds, it's not so spicy the kid's can't eat it. We love that there is so much flavor in every bite that we won't ever buy those box mixes again.
If you are not following a gluten free diet, you can serve our Cheddar Jalapeño Cornbread. It is just as easy and combines the sweet and spicy flavor as the gluten free recipe.
Perfect side to your favorite Chili!
We love chili at my house! We love making this Easy Crock Pot Chili on a busy weeknight full of activities and homework. Rather it is making Crock Pot Beef Stew Recipe or 15 bean soup with Ham recipe we always have a side of cornbread.
Check out What Goes with Cornbread for more ideas.
Most of my kids love having butter with it, but my husband really likes putting honey on it when it is fresh out of the oven.
It taste so much better and it is so easy to make! Plus, I typically always have the simple ingredients on hand. It is so easy to make that I usually have the kids preparing it. They really like helping me in the kitchen!
Gluten-Free Cornmeal
I prefer a finely ground gluten-free cornmeal when making gluten free cornbread. It gives the bread a cake-like texture and prevents the cornbread from tasting grainy.
Gluten Free Flour
The cornbread recipe uses half cornmeal and half gluten-free flour. This is a very simple gluten free cornbread recipe, and I recommend using a 1:1 Gluten-Free Baking flour. But any good gluten-free flour blend should do the job well.
Ingredients:
gluten free baking flour – I like using Bobs Red Mill.
yellow cornmeal
white sugar
salt
baking powder – baking soda works too!
egg
milk (you can use almond milk)
vegetable oil (or melted butter)
shredded sharp cheddar cheese
jalapeño seeded and chopped
How to make Gluten Free Jalapeño Cheddar Cornbread:
Preheat the oven to 400 degrees F.
Spray 9×9 baking pan (I love these on sale) with non stick spray. You can also use a cast iron pan.
Mix together dry ingredients in a bowl.
Then combine wet ingredients with dry ingredients until well blended.
Pour into your prepared pan and baked for 20 to 25 minutes.
Cornbread is done when toothpick inserted in center comes out clean.
Allow to cool, and then cut.
Serve with our Homemade butter recipe.
How to make gluten free Cornbread Muffins
It's so simple to make and doesn't require a ton of ingredients. The best part is that you combine all ingredients in one bowl.
My kids like it when I make cornbread muffins. They are easy to handle and you get that perfect texture on all sides.
I usually start with about ¼ cup of batter and drop into the cupcake pan that are lined with cupcake holders. Bake at 40 degrees for about 10-15 minutes, until a toothpick comes out clean.
Muffins are the perfect side to some of our favorite soups and chili's. With a little butter on top this has become one of my families favorite side!
How long does cornbread last
Cornbread is perfect at room temperature for around 2 days. If you are making it ahead of time, allow it to cool completely then cover and allow it to sit on the counter.
If you are storing leftover, store in an airtight container on the counter for up to 2 days.
You can also keep the leftover cornbread in the refrigerator. If properly covered, cornbread will last up to 1 week in the refrigerator.
Can you freeze cornbread?
You can even double this recipe and freeze the other one! You can freeze cornbread. You will be so excited when you open your freezer and see that you already have one made.
Once the cornbread is cooled, remove from pan, then tightly wrap with saran wrap and then place in the freezer bag.
Once frozen, cornbread can last up to 2 to 3 months.
When you are ready to eat the frozen cornbread, place it on the counter and allow it to thaw. Do not unwrap it until thawed, to make sure it retains it moisture.
Once thawed, place back in the pan and place in the oven and bake at 350 degrees, covered, until heated through.
Use your Cast Iron Skillet!
Do you use your cast iron skillet to make your favorite meals? We have really started using ours more.
Traditionally cornbread is made in a cast iron skillet so I made a batch in my cast iron skillet the other night. When cooking in a cast iron skillet, it gets nice and hot and retains heat.
The cornbread comes out golden brown with an extra crispy crust. It is perfection! I like to slather butter on top of the cornbread fresh out of the oven.
Also see Gluten Free Side Dishes Recipes for more gluten free recipes.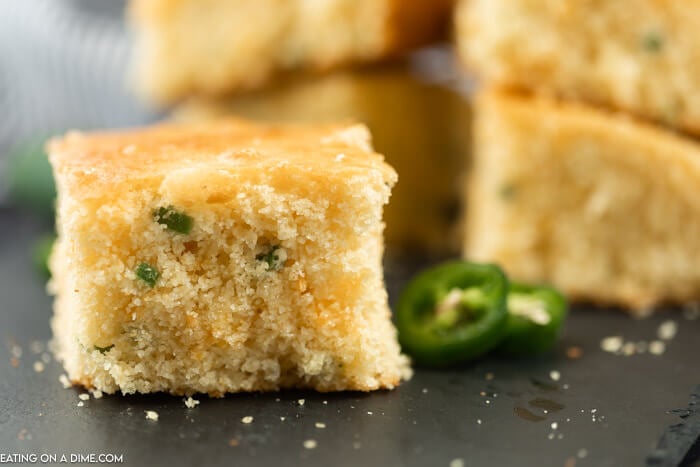 Print your Gluten Free Jalapeño Cheddar Cornbread recipe below:
Gluten Free Jalapeno Cheddar Cornbread Recipe
Give this Gluten Free Jalapeno Cheddar Cornbread recipe a try! You will never miss the gluten and it tastes amazing! Even better, it's so simple to make!
Instructions
Preheat oven to 400 degrees F.

Spray 9×9 baking pan with non stick cooking spray or line with parchment paper.

Mix together all ingredients into a bowl by hand. Stir well.

Pour into your prepared pan and baked for 20 to 25 minutes.

Allow to cool completely at room temperature and then cut.
Recipe Notes
Store leftovers in an air tight container for 5-7 days.  
Nutrition Facts
Serving
10
g
,
Calories
309
kcal
,
Carbohydrates
40
g
,
Protein
7
g
,
Fat
15
g
,
Saturated Fat
10
g
,
Trans Fat
1
g
,
Cholesterol
31
mg
,
Sodium
515
mg
,
Potassium
124
mg
,
Fiber
3
g
,
Sugar
15
g
,
Vitamin A
169
IU
,
Vitamin C
2
mg
,
Calcium
188
mg
,
Iron
1
mg
More Cornbread Recipes to try: