Learn how to Sauté Onions perfectly for burgers, a side dish and more. This flavorful sautéed onions recipe takes just minutes to make and tastes delicious.
How to Sauté Onions
It is very simple to make sautéed onions. We love to sauté onions for an easy side dish or topping. They are so tasty and go with numerous dishes.
We love to top burgers with these delicious onions. They are also so tasty on burritos or burrito bowls.
Onions are very inexpensive and easy to prepare. However, they add a lot of flavor to various dishes while being gluten free.
I think you will be pleasantly surprised how quick and easy this is to prepare.
Ingredients:
Yellow Onions
Avocado Oil
Butter
Just 3 simple ingredients is all you need to make this.
How to Sauté Onions:
Slice the onions. Cut the onions in half. Then cut the ends off of each half and peel the onions. Slice the onions into thin half moons and separate the rings with your fingers.
Prepare the pan. Preheat a cast iron skillet or griddle over medium high heat (approximately 350-400 degrees F).
Add the onions to the pan. Place the onions directly on the griddle or the cast iron skillet and place the avocado oil and butter on top. Heat the olive oil or avocado oil depending on what you are using.
Sauté the onions. This will take about 10 to 15 minutes stirring them every few minutes until the onions are soft and a light brown color. Stir the onions as they cook. You will see the onion start to turn light brown as it cooks.
Serve and enjoy. These delicious golden brown onions are ready to serve with your favorite type of burger or steak! The onion flavor will be amazing.
Jump to recipe below.
Ways to serve Saute onions:
Burrito Bowls. Sautéed onions taste great with Slow Cooker Chicken Burrito Bowl Recipe.
Steak. Top grilled steak with lots of onions for the best meal.
Burgers. We love sautéed onions with hamburgers or when serving hamburger steak.
Grilled Cheese. Add sautéed onions to grilled cheese for a hearty and savory sandwich.
How long to Saute Onions:
It does not take long at all. In about 10 to 15 minutes, the onions will be soft and ready to eat. Just make sure to stir them every couple of minutes.
Stirring frequently will prevent them from burning. Cooking onion is very easy.
How to cut onions:
Cut off the end of each onion.
Then, cut the onion in half.
Peel each half of the onion.
Place the onion cut side down.
Slice the onion the desired width.
How to store:
These are best served fresh but you can also refrigerate them for up to 5 days. Just place them inside an airtight container.
Variations
Bell Peppers. Add sliced bell peppers to the onions. You can use red or green bell peppers. Feel free to use a mix of both. The flavor is delicious.
Mushrooms. The combination of onions and mushrooms make a tasty side or topping.
Vinegar. Try adding a splash of balsamic vinegar or red white vinegar. It adds a great flavor if you want to try something different.
Onions. I prefer to make these with yellow onions but you can easily use white onions as well.
Sauteed onions vs caramelized onions:
The major difference in these types of onions include how long it takes to cook them. Sauteed onions take less time than carmalized onions.
When you sauté onions, they still hold their shape partially and have lots of onion flavor. Caramelized onions take more time to cook, taste sweeter and are significantly softer.
You can sauté onions in about 10 to 15 minute. However, it takes 40 to 50 minutes to cook caramelized onions.
Tips and tricks:
You can also top the onions with a burger press or spatula to speed up the cooking process as well and the onions will brown quicker.
Feel free to use the type of oil you prefer as long as it has a high smoke point. Sometimes we substitute olive oil instead of avocado oil.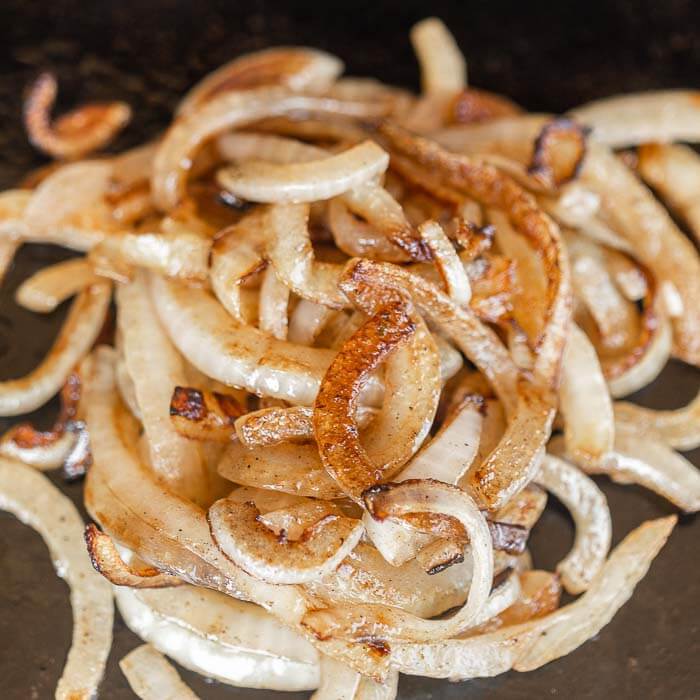 This recipe is super easy.
Sautéed onions come together fast and turn out delicious. This quick and easy recipe will be a crowd pleaser. It adds so much flavor to food without much work.
Give it a try for an easy side dish or topping with an assortment of meals. In just minutes, flavor packed onions goes from stove to table.
You will love how easy it is and inexpensive to make. This simple recipe really packs a big punch without much work.
Print this Sauteed onions recipe below:
More cooking tips: