This Slow Cooker Pork Stew is loaded with pork and vegetables. It is cooked in a flavorful broth in the slow cooker to make an easy meal.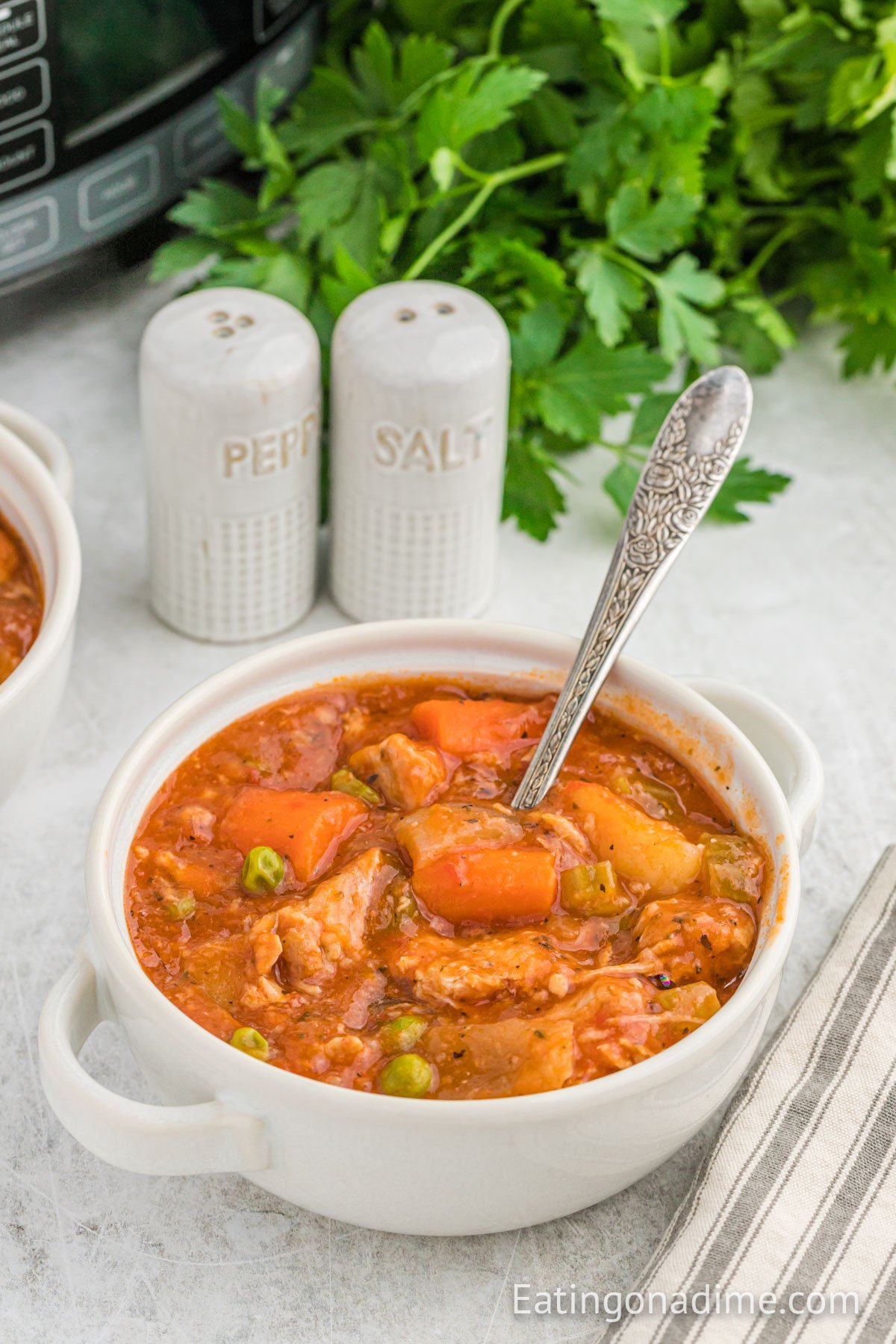 Slow Cooker Pork Stew Recipe:
If you are looking to change up your classic stew recipe make slow cooked pork stew recipe. It is loaded with pork diced into bite size pieces and lots of veggies. The chicken broth that is added really enhances the flavor.
Pork Stew Slow Cooker Recipe is easy to make. The crock pot cooks the pork and vegetable tender which makes it rich and tasty. We love that this stew is hearty enough served by itself or add some bread to soak up the broth.
When the cooler weather hits, I am sure to have pork stew in the slow cooker waiting on us after a busy day. It has become a family favorite comfort food.
What cut of Pork is best for Stew?
When we make this stew, we usually pork shoulder. This stew cooks up tender pork in the slow cooker and comes out full of flavor.
You can easily use other cuts of pork. Other options to try are pork chops, tenderloin, or spareribs. Dice the pork chops and add them to this flavorful stew.
Ingredients:
Pork Shoulder, cut into 2 inch pieces
All Purpose Flour
Salt
Pepper
Oil
Russet Potatoes, peeled and cut into large pieces
Carrots, peeled and cut into large pieces
Celery stalks, chopped
White Onion, Peeled and chopped
Frozen Peas
Minced Garlic
Bay Leaves
Red Wine
Crushed Tomatoes (14 oz can)
Tomato Paste
Italian Seasoning
Chicken Broth
Cornstarch
How to Make Pork Stew in the Crock Pot:
Coat Pork in Flour – Place the diced pork, flour, salt and pepper in a large zip lock bag. Seal and sake to thoroughly coat the pork with the flour mixture.
Brown Pork – Then heat the oil in a large skillet over medium high heat. Add in the pork and cook until the pork is browned on all sides. Once cooked add pork to a slow cooker.
Add Red Wine to Skillet – Then add the red wine to the skillet and use it to deglaze the bottom of the pan. Then pour the red wine mixture into the slow cooker as well.
Mix in Ingredients – Add the remaining ingredients except for the cornstarch and peas to the slow cooker.
Cook Pork Stew – Cover and cook on low for 6-8 hours until the pork is cooked through and the vegetables are tender. Remove the bay leaves from the slow cooker. Cooking time will vary.
Thicken Broth – Then mix the cornstarch with 3 Tbsp of cold water in a small bowl. Stir this mixture and the peas into the crock pot. Cover and cook on low for 30-45 minutes until the stew has thickened and the peas are cooked through.
Enjoy – Serve warm and then enjoy!
Crock Pot Pork Stew Tips:
Stew Broth – The cornstarch mixture thickens the stew. If you prefer a thinner stew, then do not add the cornstarch mixture to the crock pot.
Keep Slow Cooker Close – To keep the heat in and for the ingredients to cook evenly, keep lid close.
How to Store:
Store any leftovers in an airtight container for up to 5 days in the refrigerator. This stew is amazing the next day as the flavors marinate together overnight.
You can even freeze the leftover stew. Place in a freezer safe container and freeze up to 4 months. To reheat, let the frozen stew thaw overnight and then reheat on the stovetop.
Crockpot Pork Stew Variations:
Change the Pork – You can easily use any type of pork in this recipe. I used a pork shoulder, but you can use pork stewing meat, pork loin or a pork butt as well.
Change the Meat – If you prefer not to use pork, you can use ground beef, chicken, or lamb.
Add Beans – For even a more heartier stew add in some beans. We recommend pinto, black beans, or any that you have on hand.
What to Serve with Pork Stew:
Since this stew has everything you need to serve a complete meal, I like to keep sides dishes light and easy. Here are a few of my favorites:
Mashed Potatoes
Rice
Cornbread
Green Salad
Print Recipe here for Crock Pot Pork Stew:
More Easy Stew Recipes: