Trust me, once you cook ribs in your crock pot you'll never go back to the way you were cooking them before. Crock Pot Pork Ribs Recipe is simple to make but everyone will think that you have been working hard in the kitchen all day long!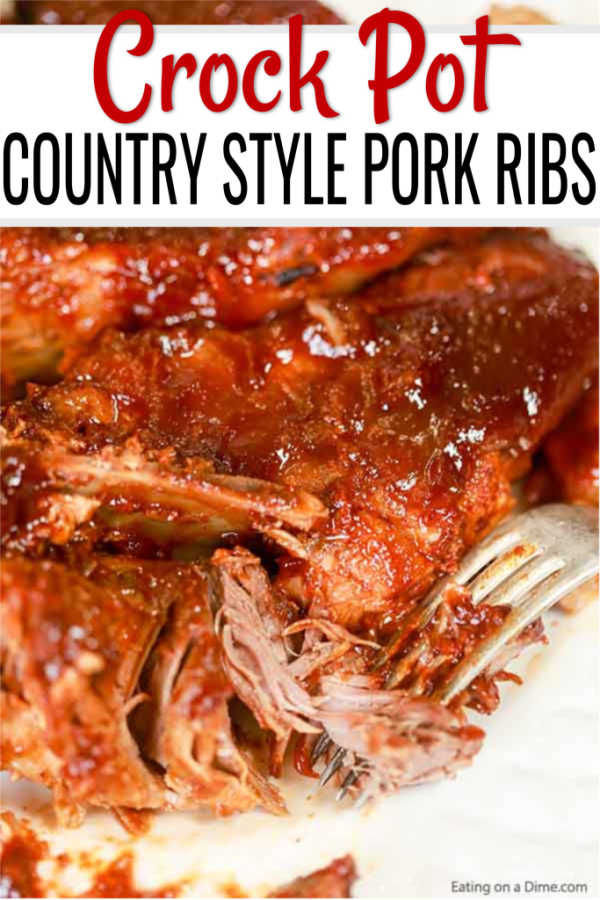 My entire family loves it when I cook BBQ ribs for dinner. This ribs recipe requires little work but tastes amazing! The slow cooker makes this country style pork ribs cook until the meat falls off the bone making them tender and delicious.
Make sure you have a good slow cooker to make this crock pot country style pork ribs recipe!
If you have been following me for awhile, you know that I love my Ninja crock pot. I mainly use this slow cooker when preparing meals for my family.
Check out this video to see how easy it is to make this Crock Pot Country Style Pork Ribs Recipe!
My sister has this Ninja crock pot and loves it as well! This crock pot cost slightly more than your average slow cooker, but the stove top option is so convenient for pre-browning meat and thickening sauces. I definitely think this additional cost is worth it for this feature.
There are other great slow cooker options as well. I think that having a programable crock pot is a must so you can set it and forget about it while your food cooks during the day. The timer on this crock pot will allow you to not worry about your food being over cooked while you are away from home during the day.
If you bring food to pot lucks or to other people often, I would recommend this crock pot. My favorite feature on this slow cooker is that you can lock the lid down. This way you don't have to worry about the lid coming off while moving it from place to place.
Also, don't forget these amazing crock pot liners. These liners make clean up a breeze and are worth every penny. Whoever is in charge of clean up in your house will thank me for this recommendation!
What is needed to make pork ribs in crock pot?
3 lbs country style pork ribs
¼ cup brown sugar
1 tablespoon chili powder
2 teaspoons salt
1 teaspoon pepper
2 cups ketchup
½ cup apple cider vinegar
¼ cup spicy brown mustard
¼ cup Worcestershire sauce
The best part about these ingredients is that they are easy to find in most grocery stores and you probably already have a lot of these items in your pantry!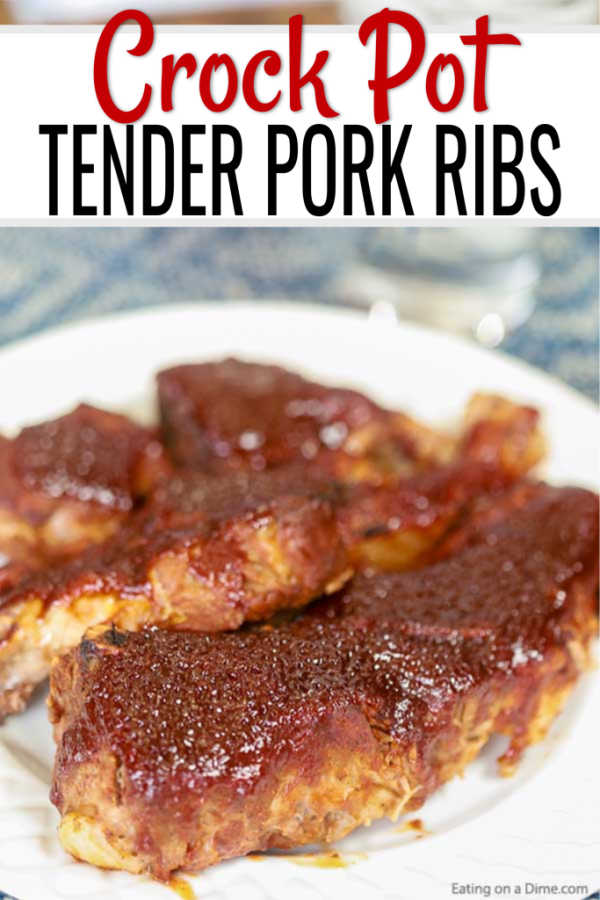 How do you make country style ribs crock pot with no bbq sauce?
This recipe is simple to make! You put the country style pork ribs in your favorite crock pot. Then you combine all the other ingredients together and pour over the top. This sauce is so good that you will not miss the barbecue sauce in this recipe!
Then cover and cook the ribs in the slow cooker for 8-10 hours. Once they have been slow cooked, I broil the ribs on a baking sheet for approximately 5-10 minutes to caramelize the sauce. This process bring out the best flavors in this recipe. You may also put them on the grill for 5-10 minutes instead of using the broiler if you prefer.
This sauce is so good that you will not miss the barbecue sauce in this recipe!
How are country style pork ribs different than spare ribs?
Country style pork ribs are cut from the shoulder of the hog and the very end of the pork loin. These ribs are similar to pork chops in flavor.
Spare ribs come from the rib section of the hog and have a slightly different flavor. Either type would taste great in this recipe, so you may substitute with spare ribs in you prefer them over country style ribs.
The sauce in this recipe would go great with other cuts of pork as well. I usually buy what's on sale. Pork chops or a pork roast would work in this slow cooker recipe to make amazing pulled pork for your friends and family.
How long do you cook country style ribs in a crock pot?
This best slow cooker country style ribs recipe cooks in the crock pot on low for 8-10 hours. You can also cook country style ribs slow cooker on high for approximately 6-8 hours. I prefer to cook these on low as I think they are more tender, but you can cook them on high to shorten the cooking time if you need to.
You can also cook frozen country style ribs in crock pot. I would extend the cook time by 2 hours if they are put into the crock pot frozen. I love freezer cooking as it saves me a lot of time in getting dinner ready for my family.
To prepare this recipe as a freezer meal, I would make the sauce ahead of time and pour this sauce over the ribs in a freezer bag. You can freeze these items together and then put the freezer bag contents in your crock pot the morning that you plan on serving this amazing recipe.
If you want more information on freezer cooking recipes, check out our Lazy Day Cooking Club that provides monthly freezer meals, shopping lists and freezing & cooking instructions.
Can you use boneless ribs instead?
Yes you can! I would follow the same instructions and keep the cooking time the same.
I love serving these country style ribs in crock pot with quick and easy baked beans. This combination tastes great and pares well together.
You can also serve these ribs with an easy macaroni pasta salad recipe or a classic Italian pasta salad. I like that I can make a pasta salad ahead of time, so there is not much work that needs to be done to get dinner on the table once the crock pot has cooked the ribs perfectly.
Also, you can make a one pot meal of slow cooker country style ribs and potatoes by placing your favorite type of potatoes under the ribs prior to cooking.  This will create great slow cooked potatoes that you can easily serve with this crock pot country style pork ribs recipe.
What to serve with Ribs
Try this easy crock pot pork ribs recipe today!
Next time you are cooking ribs for your family or friends, I hope that you make your life easier by cooking them in the crock pot. I know that they will taste outstanding and will save you tons of times in the kitchen. I hope your family enjoys this recipe as much as mine does.
Print this Crock Pot Country Style Pork Ribs Recipe below:
Crock Pot Country Style Pork Ribs
Looking for easy crock pot recipes? Try this easy Crock Pot Country Style Pork Ribs Recipe. Easy ingredients to make this easy crock pot pork ribs!
Ingredients
3

lbs

country style pork ribs

1/4

cup

brown sugar

1

tablespoon

chili powder

2

teaspoons

salt

1

teaspoon

pepper

2

cups

ketchup

1/2

cup

apple cider vinegar

1/4

cup

spicy brown mustard

1/4

cup

Worcestershire sauce
Instructions
Place the ribs in the crock pot.

Combine all the ingredients in small bowl.

Stir to combine.

Pour over the ribs.

Cook on low for 8-10 hours.

Place the ribs on a cooking sheet, lined with foil.

Spoon sauce over the top.

Broil (or grill) for 5-10 minutes or until it begins to brown.
Nutrition Facts
Calories
427
kcal
,
Carbohydrates
33
g
,
Protein
30
g
,
Fat
18
g
,
Saturated Fat
3
g
,
Cholesterol
109
mg
,
Sodium
1849
mg
,
Potassium
879
mg
,
Fiber
1
g
,
Sugar
27
g
,
Vitamin A
825
IU
,
Vitamin C
5
mg
,
Calcium
76
mg
,
Iron
2.7
mg
Crock Pot Pork Chops and Potatoes is a one pot meal that is perfect year round when you need an easy but amazing dinner.
Crock pot braised short ribs recipe gives you tender ribs with the ease of the slow cooker.
Find more great pork Slow Cooker Recipes:
Find another great crock pot ribs recipes here: