This post may contain affiliate links. If you make a purchase through links on our site, we may earn a commission.
Trust me, once you cook ribs in your crock pot you'll never go back to the way you were cooking them before. Crock Pot Pork Ribs Recipe is simple to make but everyone will think that you have been working hard in the kitchen all day long!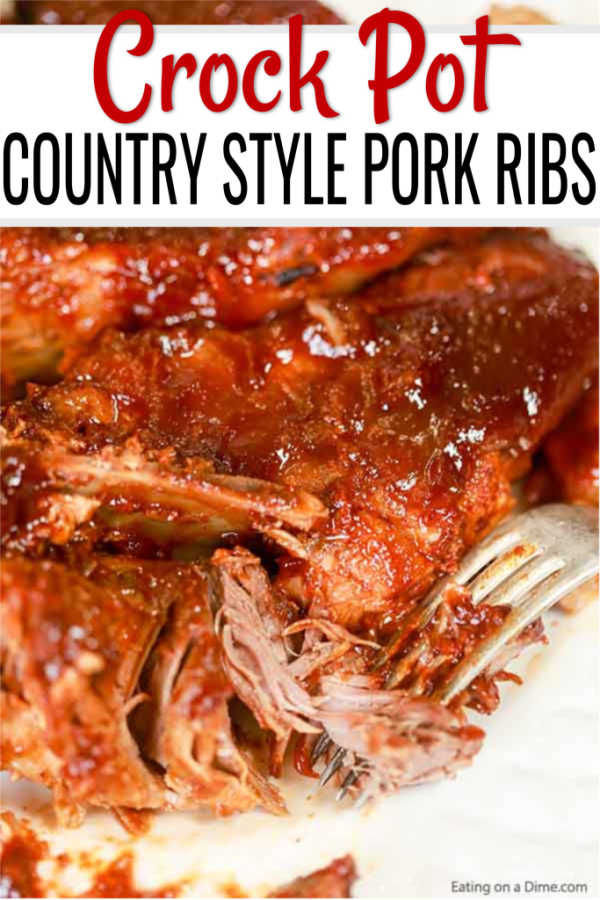 My entire family loves it when I cook BBQ ribs for dinner. This ribs recipe requires little work but tastes amazing! The slow cooker makes this country style pork ribs cook until they are fork tender and the meat literally fall off the bone.
What are Country style Pork Ribs?
Country-style ribs don't actually come from the rib area of a pig. Country style ribs come from the shoulder area of the pig.
When country-style ribs have a bone in them, it is not a rib bone but a shoulder blade.
Check out video to see how easy it is to make this Crock Pot Country Style Pork Ribs
Ingredients
3 lbs country style bone-in pork ribs
¼ cup brown sugar
1 tablespoon chili powder
2 teaspoons salt (or kosher salt)
1 teaspoon black pepper
2 cups ketchup
½ cup apple cider vinegar
¼ cup spicy brown mustard
¼ cup Worcestershire sauce
The best part about these ingredients is that they are easy to find in most grocery stores and you probably already have a lot of these items in your pantry!
How to Make Crock Pot Country Style Pork Ribs
This recipe is simple to make! You put the country style pork ribs in your favorite crock pot. Then you combine all the other ingredients together and pour over the top.
This sauce is so good that you will not miss the barbecue sauce in this recipe!
Then cover and cook the ribs in the slow cooker for 8-10 hours.
Once they have been slow cooked, I broil the ribs on a baking pan for approximately 5-10 minutes to caramelize the sauce.
This process bring out the best flavors in this recipe. You may also put them on the grill for 5-10 minutes instead of using the broiler if you prefer.
This bbq sauce is so good that you will not miss the barbecue sauce in this recipe!
How are country style pork ribs different than spare ribs?
Country style pork ribs are cut from the shoulder of the hog and the very end of the pork loin. These ribs are similar to pork chops in flavor.
Spare ribs come from the rib section of the hog and have a slightly different flavor. Either type would taste great in this recipe, so you may substitute with spare ribs in you prefer them over country style ribs.
The sauce in this recipe would go great with other cuts of pork as well. I usually buy what's on sale. Pork chops or a pork roast would work in this slow cooker recipe to make amazing pulled pork for your friends and family.
How long do you cook country style ribs in a crock pot?
This best slow cooker country style ribs recipe cooks in the crock pot on low for 8-10 hours. You can also cook country style ribs slow cooker on high for approximately 6-8 hours.
I prefer to cook these on low as I think they are more tender, but you can cook them on high to shorten the cooking time if you need to. Cooking times vary depending on how many ribs you are slow cooking.
Substitutions and Additions
This recipe is delicious just as it is however you can add a few additions if you would like.
Liquid Smoke – Liquid Smoke is a delicious addition to add smokey flavor
Add Seasonings – Garlic Powder, onion powder, and paprika are great to add
Onions – Slice up an onion and add it in the beginning of the slow cooking
Easy Freezer Meal
This recipe is freezer friendly. Simply place all the ingredients in a freezer bag and then freeze. When you are ready to use, allow the meal to thaw in the refrigerator, and then follow the directions. If you love easy freezer meals, also check out the Lazy Day Cooking Club.
Can you use boneless ribs instead?
Yes you can use boneless country style pork ribs! I would follow the same instructions and keep the cooking time the same.
What to Serve with Country Style Ribs
Print Crock Pot Country Style Pork Ribs Recipe:
Crock Pot Country Style Pork Ribs
Looking for easy crock pot recipes? Try this easy Crock Pot Country Style Pork Ribs Recipe. Easy ingredients to make this easy crock pot pork ribs!
Instructions
Place the ribs in the crock pot.

Combine all the ingredients in small bowl.

Stir to combine.

Pour over the ribs.

Cook on low for 8-10 hours.

Place the ribs on a cooking sheet, lined with foil.

Spoon sauce over the top.

Broil (or grill) for 5-10 minutes or until it begins to brown.
Nutrition Facts
Calories
427
kcal
,
Carbohydrates
33
g
,
Protein
30
g
,
Fat
18
g
,
Saturated Fat
3
g
,
Cholesterol
109
mg
,
Sodium
1849
mg
,
Potassium
879
mg
,
Fiber
1
g
,
Sugar
27
g
,
Vitamin A
825
IU
,
Vitamin C
5
mg
,
Calcium
76
mg
,
Iron
2.7
mg
Find more great pork Slow Cooker Recipes:
Find another great crock pot ribs recipes here: