Try this authentic Slow Cooker Pork Carnitas Recipe for a meal that is so tasty while being very easy to prepare. From tacos and burritos to salads and more, this crispy pork will be delicious however you decide to serve it.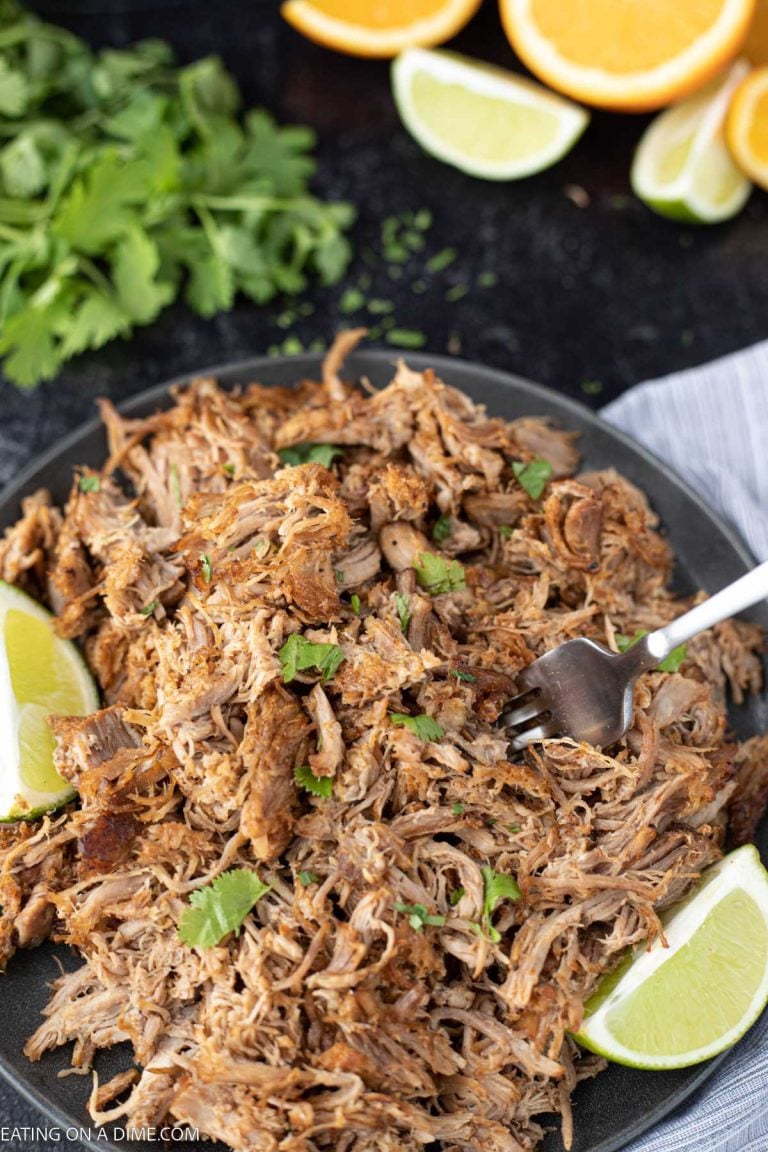 Slow Cooker Pork Carnitas Recipe
This pork is cooked to perfection. It is tender on the inside and crispy on the outside for an amazing dinner idea. The house smelled amazing from the pork carnitas slow cooking all day. This is the best meal!
Crockpot Pork Carnitas is a delicious blend of seasoning then added to pork shoulder and then slow cooked all day. The pork is then shredded and baked to get a crispy texture. If you want a faster version, try Instant Pot Pork Carnitas.
We love to serve pork carnitas crock pot on tortillas and the entire family goes crazy over these tacos. Grab some from the store or make the Best Flour Tortilla Recipe. This shredded pork perfect for a weeknight meal and even better to feed a crowd.
What are Carnitas?
Carnitas means Little Meats in Spanish. Carnitas is a Mexican pork dish that is usually made with Pork Butt or Pork Shoulder. Inexpensive pork is seasoned and slow cooked to create a tender meat.
The pork is then shredded and baked or pan fried to create a crispy texture. Carnitas can be served on its own or made into tacos, burritos, or served on top of a salad.
How do I get Crispy Slow Cooker Carnitas?
If you are wondering how you will get that crispiness on the outside, it is simple and only takes a few minutes.
Once the meat is ready, shred it and put under the broiler for just a few minutes. The pork will get brown and crispy and be perfect.
Another way to create a crispy texture is to pan fry the shredded pork. Place the pork in a skillet and pan fry until golden. Make sure to add in some juices from the slow cooker as it adds flavor and locks in moisture.
Ingredients
Pork Shoulder
Onion
Minced Garlic
Dried Oregano
Chili Powder
Cumin
Black Pepper
Salt
Limes
Orange Juice
How to Make Pork Carnitas in a Slow Cooker
Step 1 – Combine Seasoning – In a small bowl, mix together the oregano, chili powder, cumin, black pepper and salt. Pat the pork shoulder dry and rub the season mixture on all sides of the pork.
Step 2 – Place pork in Crock Pot – Place the seasoned pork shoulder in a crock pot. Top the pork with onion, garlic, salt and pepper.
Step 3 – Slow Cook Pork – Cover and cook on low for 8-10 hours or on high for 4-5 hours until the pork is easy to shred. Shred the pork.
Step 4 – Prepare Oven – Preheat the broiler.
Step 5 – Place shredded pork on baking sheet – Place the pork on a foil covered baking sheet.
Step 6 – Broil Shredded Pork – Broil for 5-6 minutes or until the pork begins to brown and gets crispy.
Step 7 – Serve and Enjoy – Serve immediately while warm and enjoy!
How to Serve Pork Carnitas:
The ideas are endless with this delicious shredded pork. I love that the kids think they are eating a new meal when really it is the same shredded pork. I actually hope we have leftovers so I can turn this meat into more wonderful meals.
These are favorite ways to use this Shredded Beef:
Tacos – Serve on tortillas and with your favorite taco toppings. I like to get the small tortilla to make street tacos. If you use tortillas, they are extra tasty pan fried to get them crispy and delicious.
Taco Salad – Make a taco salad with your favorite topping to create a low carb option.
Burrito – Add some refried beans and shredded pork for a delicious burrito.
Enchilada – Roll the shredded pork up in a flour or corn tortilla and place in a baking dish. Then top with cheese and enchilada sauce to create a delicious enchilada.
What to Serve with Slow Cooker Pork Carnitas
This fall apart tender pulled pork is delicious served as it is or with some sides. I like serving with rice and beans the first night and then with leftovers turn them into burritos.
Easy Spanish Rice Recipe – This spanish rice recipe is one of my favorites. It is easy to make with simple ingredients. Whether we serve the pork by itself or in burritos, I always like making this side.
Delicious Cilantro Lime Rice – The combination of the Cilantro and Lime adds so much flavor to white rice. We love adding it to our burrito bowls or as a side to our favorite taco recipe.
Crock Pot Refried Beans – Make homemade refried beans is so easy, thanks to this easy recipe. Save time and money and make your refried beans in the slow cooker.
Pork Carnitas Topping ideas:
Anytime we make Pork Carnitas, I like to have a topping bar. Place all your favorite toppings in bowls and let everyone choose their favorite topping. These are some of our favorites.
Sour Cream
Onion
Tomato
Fresh Lime
Fresh Cilantro
Guacamole
Red Onions
How to Shred Pork:
Once the pork has slow cooked all day, it should be ready to be shredded. If you are going to shred with forks, remove from the slow cooker. Place the pork shoulder on a plate and shred with two forks.
My favorite way to shred pork is with a hand held mixer. I simple shred the pork in the crock pot and then you can remove it from the slow cooker to broil.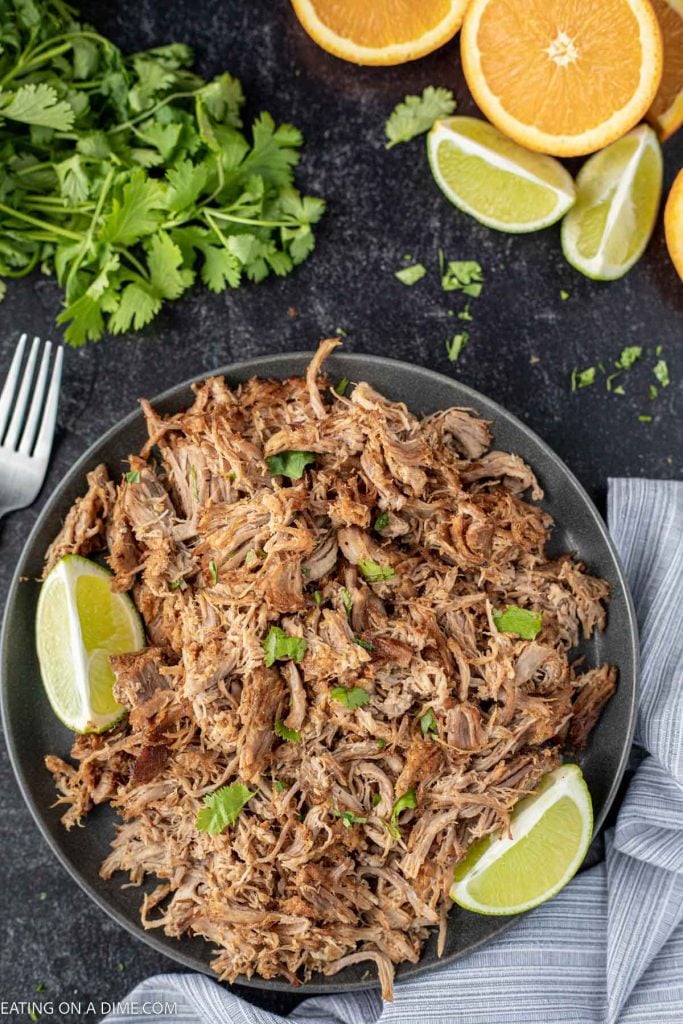 Tips for Pork Carnitas Slow Cooker Recipe:
Squeeze Fresh Lime – I use this to squeeze my limes. It makes it so easy and we use it for lots of recipes. We use it for all sorts of recipes and it save a ton of time. We love fresh lime juice so it gets lots of use.
Boil Meat – To get that crispy edges on the meal, we like to broil the meat. You can also pan fry the meat to create a crispy texture.
Use Different Seasoning – For added flavor, mix in some onion powder or garlic powder. Feel free to add in vegetables for added flavor. Bell Peppers are a great addition to these pork.
Change the Meat – You can use pork or chicken with this recipe. Pork and Chicken shred very easily and can be also be used in many different ways.
Instant Pot – You can make Pork Carnitas in the instant pot if you prefer. Using the instant pot has been a game changer for my family.
Slow Cooker Recommendation:
If you are needing a crock pot recommendation, we like the Instant Pot Aura. This crock pot is an 8 quart size but we used a 6 quart for this recipe.
We really like using this crock pot because of the multi-function settings.
How to Store Leftovers:
Place your leftover pork carnitas in a air tight container in the fridge. If stored properly these leftovers will last about 3-5 days. If you like to meal prep for the week, make this pork carnitas to use it many different ways throughout the week.
How to Freeze:
Freezing your leftover Pork Carnitas is easy to do. If you like to meal plan like I do, I like to double the batch and freeze the ingredients in a freezer bag. Once the pork has cooled to room temperature, place in a freezer safe container.
Make sure to freeze the leftover beef with the juices. When you are ready to thaw and reheat, place in the slow cooker again.
You can also freeze the seasoning with my uncooked beef. This way you can take the freezer bag and place in the slow cooker when I am ready to prepare. Makes for a quick recipe to prepare in the morning.
Print Crock Pot Pork Carnitas recipe:
More Easy Crock Pot Pork Recipes:
More Taco Recipes to try