This post may contain affiliate links. If you make a purchase through links on our site, we may earn a commission.
Crock Pot Meatball Stew Recipe is hearty and delicious. Throw everything in the slow cooker and dinner is a breeze with this simple and hearty stew.
Crock Pot Meatball Stew Recipe
This delicious recipe does not disappoint and our family loved Crock Pot Meatball Stew. Everything you need for a delicious meal is in the slow cooker.
If you love stew, you might also like Crock Pot Poor Man's Stew, Slow Cooker Pork Stew or Crock Pot Ground Beef Stew.
Clean up is so easy when you make simple one pot meals like this tasty stew. The entire family raved about this meal and even the kids enjoyed it.
I didn't have to talk anyone into eating their carrots. The kids eagerly gobbled up their entire bowl of stew. It is the best comfort food.
They said the carrots had the best flavor cooked with the meatballs. I love that no one fusses about veggies and just eats.
We cook this meal frequently because I know it is an easy no stress way to get veggies in my kids. Give it a try and slow cook this stew.
If you are short on time, use your pressure cooker to make Instant Pot Meatball Stew Recipe.
Ingredients:
Frozen meatballs. This makes the recipe super easy.
carrots. We used chopped whole carrots but you can also use baby carrots.
Russet potatoes. You can use red potatoes, Yukon gold or even baby potatoes.
How to make Slow Cooker Meatball Stew:
Toss the meatballs and all of the other ingredients into the crock pot. It is that simple. The potatoes carrots onion and seasoning combine with the meatballs for a great stew.
Then stir everything to combine.
Just cover and cook on high for 4 hours or low for 8 hours. Reduce heat to warm.
What to serve with meatball stew:
Serve with a crusty bread to dip in the soup! We love to make this Easy Homemade Dinner Rolls Recipe.
You can also pick up something at the bakery. Sometimes, we also serve with a salad.
Another idea is to serve the beef stew over rice or pasta to stretch it even more. My kids love when I serve it this way. Just prepare the one you prefer and pour over meatball soup.
It is a great way to serve leftovers as well and the kids think they are eating something new.
Tips for crockpot meatball stew:
Try turkey meatballs instead of beef.
We used frozen meatballs but you can use fully cooked meatballs. Just adjust the time.
The recipe calls for tomato paste but you can substitute tomato soup if in a pinch.
Ground beef can be used instead of meatballs for a change.
You can use stew meat in the recipe.
Try Italian meatballs for a change.
Stretch the meat even more by adding pasta to the recipe. You can add cooked pasta to the slow cooker at the end of the cooking time. This will allow you to get even more servings out of this recipe.
Save time and skip the carrots and potatoes and add a bag of frozen mixed vegetables 30 minutes before it is finished cooking. This will prevent them from getting too soft.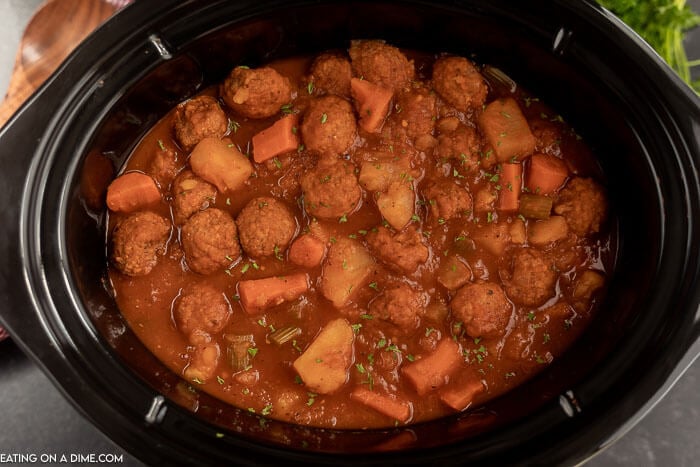 My favorite slow cooker.
I like this multi-cooker and it has served us really well.
Another favorite is this programmable slow cooker for when I will be gone all day. It sure saves time and allows me to come home to dinner waiting.
I also like to use crock pot liners. They really help make clean up so easy. Just toss the liner.
How to store leftovers:
Leftovers can be stored in the fridge up to 3 days. Just make sure to use an airtight container.
You can freeze leftovers for longer in the freezer. Place the stew inside a freezer bag or container up to 6 months.
Sometimes, I make a double batch of stew just to have enough to freeze. It is perfect for a quick meal later.
I also like to freeze some in individual servings for lunches during the week.
It really isn't anymore trouble to make extra and it freezes so good.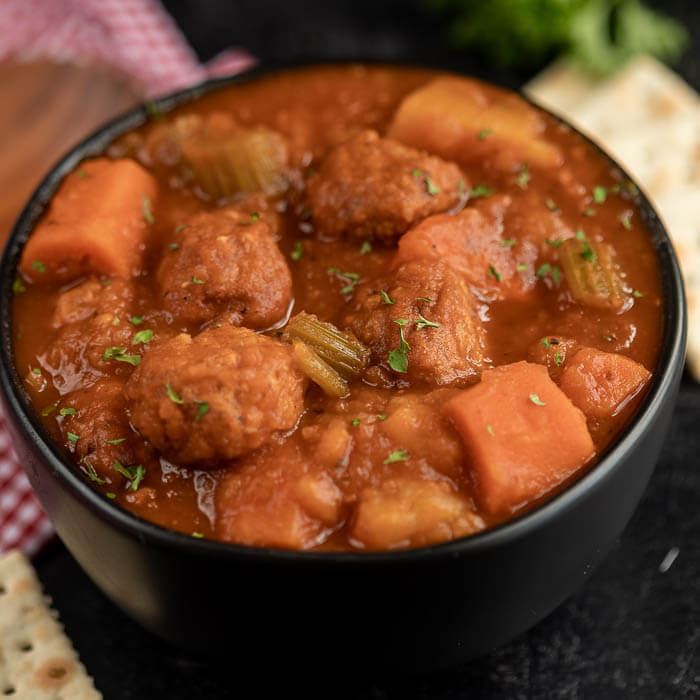 Try it today.
The recipe is so simple and the prep time is minimum. In just 15 minutes to 20 minutes or less, this can be ready to go into the slow cooker.
Your family will love this recipe for hearty stew. It is also very budget friendly and a great way to make your meat last longer.
The potatoes and veggies make the stew even more hearty and stretch the meatballs. This is a must try recipe and you will love it.
Keep reading for the full recipe and nutrition facts.
Print this Easy Crockpot Meatball Stew Recipe: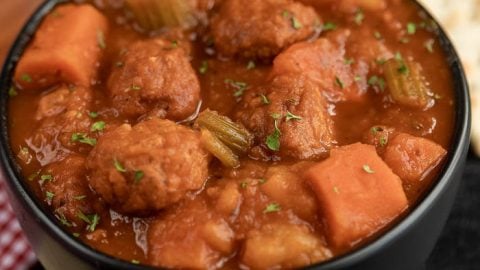 Crock pot Meatball Stew Recipe
Crock Pot Meatball Stew Recipe is hearty and delicious. Throw everything in the slow cooker and dinner is a breeze with this simple Crockpot Meatball Stew.
Instructions
Add everything into the crock pot. Stir to thoroughly combine all the ingredients.

Cover and cook on low for 6-8 hours or on high for 3-4 hours.
Recipe Notes
*I usually make this recipe with frozen meatballs but it can be made with homemade meatballs as well. 
*Refrigerate the leftovers in an air tight container for up to 5-7 days.  
Nutrition Facts
Calories
446
kcal
,
Carbohydrates
32
g
,
Protein
25
g
,
Fat
25
g
,
Saturated Fat
9
g
,
Polyunsaturated Fat
2
g
,
Monounsaturated Fat
11
g
,
Cholesterol
82
mg
,
Sodium
1156
mg
,
Potassium
1347
mg
,
Fiber
4
g
,
Sugar
7
g
,
Vitamin A
5559
IU
,
Vitamin C
18
mg
,
Calcium
81
mg
,
Iron
4
mg
More crock pot meatball recipes