You know I love a quick dinner idea and this walking tacos recipe is just that! Last time you all loved my walking tacos recipe with Doritos, but today we are making it Frito Chili pie style!
Yes… Frito Chili Pie in a bag!
Yes… the very loved Frito chili pie is making its way into a walking taco, where you can eat, chat, walk, and have hardly no clean up. This is a win win for my family on "one of those" nights when we are way to busy.
What are Walking tacos?
I have been asked several times what are walking tacos, and the answer is simple. You just need a single serving of chips, some kind of meat, and some toppings. You cut open the chips and pour in your ingredients and enjoy! Yes, it is that simple. We make these on busy nights and for birthday parties.
Usually we end up with left over taco meat or left over chili and I make this walking taco recipe.
Ingredients you need:
Left over chili – try my delicious Crockpot Chili Recipe
Shredded cheese
Chopped onions
any other toppings you want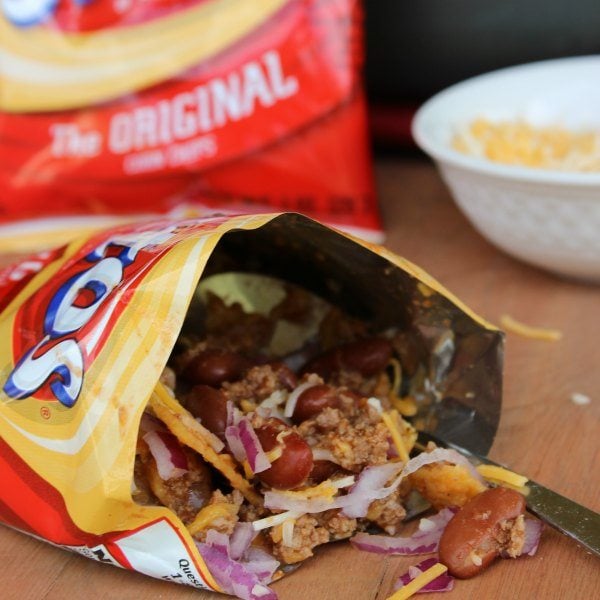 How to make Walking Taco Recipe:
Heat up your left over chili
Prepare the toppings.
You will need at least one bag of single serve bagged fritos for every person. We buy ours in bulk at Sam's or online on Amazon. 
Cut open the bag of Fritos down the side.
Spoon the chili inside and then top with your favorite toppings.
Stir with a spoon and eat straight from a bag!
Try some of these other easy dinner ideas: