Make this delicious Instant Pot Frito Chili Pie in just 20 minutes when you use your pressure cooker. It is the perfect meal for busy weeknights or to enjoy on Game Day.

Instant Pot Frito Chili Pie
Have you had Frito Chili Pie before? If you haven't, you are missing out for sure!
This is comfort food in a bowl and our family can't get enough. The crunchy corn chips combined with the delicious chili just make this one awesome meal.
Plus, this entire meal from start to finish can be ready in only 10 minutes! Yes, you read that right….10 minutes!!!
If you need a quick meal that everyone will love, this is the best recipe. It is simply delicious.
No need to bake this in the oven when you have the instant pot that can make it in minutes.
Frito chili pie toppings
We love to put out a topping bar when we make this yummy instant pot frito pie. It is so fun to load our plates up with our favorite toppings.
It is perfect for family dinner, game day and more. I make sure to put out lots of toppings and everyone can load their Frito Pie up with lots of yummy toppings.
Of course you need frito corn chips so make sure you have a bag of fritos!
Other good toppings include:
shredded cheese (Try cheddar cheese, Colby, mozzarella and more.)
sour cream
diced onion
hot sauce
diced jalapeno peppers
It is also good with this easy homemade cornbread or you also try Cheddar Jalapeno Cornbread Recipe for a little extra kick.
Let's make Pressure cooker Frito chili pie recipe!

Ingredients:
Ground Beef
Beef Broth
Onion, diced (I use frozen diced onion.)
Minced Garlic
Pinto beans, drained and rinsed. You can also use kidney beans.
Chili Powder
Tomato Sauce –
Cumin
Salt
Pepper
Diced Tomatoes
Toppings – Fritos, Cheddar cheese, sour cream and onion.
How to Make Frito Chili Pie in the Pressure Cooker
First, get your Instant pot out and brown the ground beef on the saute setting. Make sure it is completely browned.
Second, add in all the other ingredients including the beans but not the fritos and toppings.
Next, put the lid on and set the valve to sealing. Set the pressure for 5 minutes.
Once it is finished cooking, do a quick release to remove the pressure. Make sure to stir to combine the flavors really good.
Finally, serve over fritos and all of your favorite toppings. I love shredded cheddar cheese, sour cream and fresh diced onions.
It is so delicious and one of our favorite frito recipes!
The chili setting on instant pot makes it easy. However, if you do not have that button just use manual.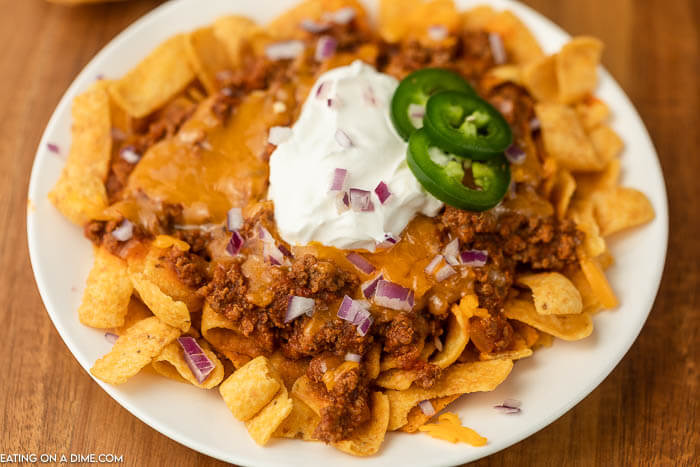 How to freeze frito chili pie?
You can easily freeze the chili and put in the freezer for a quick meal later. I like to freeze it flat in freezer bags but you could also use freezer containers if you prefer.
This is a great idea when you just don't have any time and can grab this from the freezer. Sometimes I also freeze in small portions just for me to enjoy at lunch during the day.
You need a pressure cooker for this Pressure Cooker Frito Chili Pie Recipe.
If you don't have a pressure cooker yet, try making Crock Pot Frito Chili Pie Recipe. It is so good!
Tips to make this Pressure Cooker Frito Chili Pie recipe even quicker:
Now of course you will want fresh onion to top your frito pie with. However, the recipe also calls for diced onion in the instant pot.
Another time saving tip is to use a small food chopper or food processor to quickly and easily chop onions. I actually do this with peppers too.
If you do not have one of these, I highly recommend them. They are such a time saver and you can get the veggies really fine.
I usually just chop the entire vegetable and freeze what I don't need. It's so nice to be able to just take the diced onion out of the freezer for recipes.
Learn and how to freeze onions and also how to freeze peppers to save so much time in the kitchen!
Print this Frito chili pie instant pot recipe:
More frito chili pie recipes:
More easy instant pot recipes: