This post may contain affiliate links. If you make a purchase through links on our site, we may earn a commission.
This fun and easy cookie cutter sandwich is sure to be a hit. Jazz up lunch with fun shapes and put a big smile on your child's face.
Cookie cutter sandwich
I hope you are loving all of the Easy lunch ideas for kids. This one is crazy easy…. CRAZY easy, but still very fun.
I took a normal sandwich and jazzed it up with one easy step – we used a cookie cutter. Simple right? But so fun for the kiddos!
Now I don't like it when people cut their sandwiches into crazy shapes because I feel like you are wasting so much bread and deli meat. However, I thought… what if I use cookie cutters to impress a shape into the sandwich and it worked!
That is exactly what I did. The kids still get to enjoy a fun design and now bread is wasted. Perfect!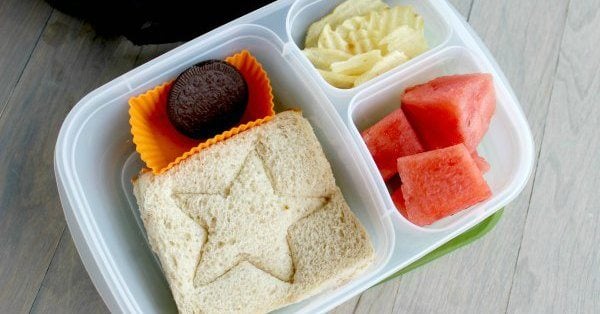 How to make cookie cutter sandwiches
First, get a fun cookie cutter out. I have a Wilton cookie cutter set (I bought mine on Amazon). I used the star this time.
Next, make your sandwich. I made my turkey sandwich like normal, but you could also make homemade uncrustables.
Once the sandwich is assembled you simply press the cookie cutter into the sandwich to imprint the design. You could even do more than one design too if you wanted.
The results?
The kids love this because it is a fun twist on the traditional sandwich. I love it because I'm not wasting any food.
I personally love this lunchbox because I can make and assemble it the night before and place it in the fridge. All I have to do it put it in the lunchbox with a drink in the morning and lunch is done!
Plus, it just looks so cute and makes lunch time more exciting at school. It is a simple and easy way to put a smile on your child's face.
Now if you do want to cut your sandwiches into cute shapes, I just found these cute sandwich cutters that won't waste too much bread. They are super cute too!
Here are more sandwich cutters on sale too.
Cookie Cutter sandwich for any holiday!
My kids love this so much and I have just as much fun creating them. They never seem to get tired of sandwiches when I make fun shapes and designs on them.
In fact, we enjoy these year round. It is so fun to make shapes for all the seaons, holidays and special occasions.
Some ideas to try:
Halloween- You can do a ghost or pumpkin for Halloween.
Christmas- Make a Christmas tree design or a star.
Fall- A leaf imprint would be so cute. A pumpkin would also be cute just for Fall.
Spring- Try a flower imprint
Winter- Snowman and snowflakes would be adorable.
Birthday- a gift imprint on the sandwich.
St. Patrick's Day- Try a 4 leaf clover.
Valentine's Day- a heart of course!
Thanksgiving- Make a turkey imprint.
As you can see, the ideas are truly endless! So fun!
Equipment you need for this lunchbox:
We love these easy lunchboxes. We have used a cheaper version in the past, but I have switched to the name brand easy lunchboxes.
They do a much better job and they last a lot longer. It is worth the few extra dollars for the name brand and bento boxes help to keep everything organized.
I also love to use the rectangle silicone cupcake molds to separate food in the later containers. They are great to hold treats and other items that you don't want to "touch".
This is great especially if you have children that don't like their food touching.
What I included in this quick lunch idea:
1 turkey and cheese sandwich with star imprint
chips (We did Ruffles lays but any will do)
Fresh fruit (I did watermelon)
and a treat – we did one Oreo Thins (yum!)
Simple! Just add a fruit and vegetable and you are set!
I don't think you will find an easier lunchbox idea! Try one of these fun shape ideas to brighten your child's day.
Not only is it easy but so frugal too. I love ideas that are inexpensive but so fun.
Kids will love this!
It is such a simple idea but kids will love seeing all the fun designs. Shaped sandwiches make fun food ideas.
More easy lunch ideas for kids:
More easy lunch ideas