Do you need another idea for kids lunches? I would love to show you How to Pack Tacos for lunch! Packing tacos for lunch is one of our kids favorite lunches because it is completely different than the regular "boring" sandwich.
How to pack Tacos in a LunchBox?
You will want a kid thermos to keep your taco meat warm. I love these thermos for kids. I bought mine on Amazon and there are several on sale right now.
Then pour boiling water in your thermos first. This process will heat up the thermos. Let the boiling water sit for a bit.
To make this easier, I use our tea pot to boil the water quickly and to make it easy to pour the water in the thermos. I let the boiling water sit in the thermos (with the lid off) for just a few minutes (maybe 3).
Then pour the water out. Now your thermos is HOT and ready to keep your hot taco meat warm. It works great every time.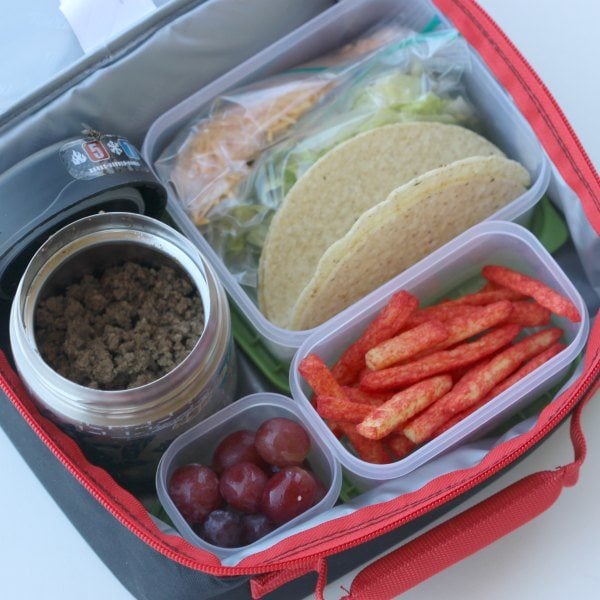 Easy lunch ideas for kids:
My kids love it when we have leftover taco meat from dinner the night before. When we have Crockpot Tacos or ground beef tacos they know that I always make extra meat for their lunches the next day.
I also make extra meat when making chicken tacos. My kids are always excited when they open their lunchbox the next day to see something different than the usual sandwich!
This lunch idea is very easy to put together! We have other kid friendly foods that you can easily add to your lunch menu!
What is included in this lunchbox
Approximately ¼ cup of taco meat
Crispy shells (or tortillas)
Lettuce, tomatoes, cheese, sour cream or any additional toppings
Chips – we did hot fries because my kids like to add those to their tacos
Fresh fruit – we did grapes but any that your kids love will work great!
How do you keep tacos warm for lunch?
The key is to heat up your taco meat on the stove. We will eat tacos the night before and then save some of the tacos for lunch the next day.
In the morning, while the kids are getting ready for school, I will heat up their taco meat and put in their heated thermos.
Then add in their taco shells and their toppings, chips and fruit to their lunchbox and off to school they go! They are getting a complete meal and it will keep them full for the rest of their school day!
A few more tips:
Use lunchbox containers (like the Rubbermaid ones I used) to store your taco shells, chips and fruit to keep them separate. It also keeps your taco shells from crushing in the lunchbox.
I used snack size baggies for my cheese and lettuce and these work great because they're the perfect size for the small quantities.
Equipment you need for this lunchbox:
We love these easy lunchboxes. We have used a cheaper version in the past, but I have switched to the name brand easy lunchboxes. They do a much better job and they last a lot longer. It is worth the few extra dollars for the name brand. Trust me! We love it.
I used a kid thermos to keep the taco meat warm and the Rubbermaid containers to keep the other food separate and safe from crushing.
More easy lunch ideas: