This post may contain affiliate links. If you make a purchase through links on our site, we may earn a commission.
We love making Homemade Lunchables! We love that they are healthy and easy to make! My kids love taking lunchables to school or when we are heading on a long road trip.
Healthy Lunchables
What is it about finger foods in a box? I don't know, but I know my kids would probably take a lunchable over packed lunches every day.
My kids would rather bring their lunch than eat the school lunch. It seems crazy to me, but it is what it is. However, I want to feed my kids a healthy lunchable. That is why we love the homemade version.
What I love is that I know that I can send my kids off to school with a healthy lunch! Plus, I love that I can make them based on what each kid preferences. I know that one of my kids do not like cheese and one likes turkey over ham.
Each lunchable is customizable for everyone!
Products you need:
We love these easy lunchboxes or some people refer to them as bento box. We have used a cheaper version in the past, but I have switched to the name brand easy lunchboxes. They do a much better job and they last a lot longer. It is worth the few extra dollars for the name brand.
I also love to use the rectangle silicone cupcake molds to separate food in the later containers. They are great to hold treats and other items that you don't want to "touch". I used 3 of them to keep my food separate into separate containers just like a store bought lunchable.
Use a formula for Homemade lunchables:
If you have never made homemade lunchables before, you may be surprised at how easy they are to throw together. We use a very simple formula. I just make sure my kids have (2) proteins, (1) carb, (1 or 2) fruits or veggies and a drink. I also add in a small dessert.
We like using an assembly line to make these Homemade Lunchables. As you know I have a large family, so I just set everything out and everyone can assemble their own lunchable.
I check to make sure everyone has a complete box and then we put the lid on and off they go!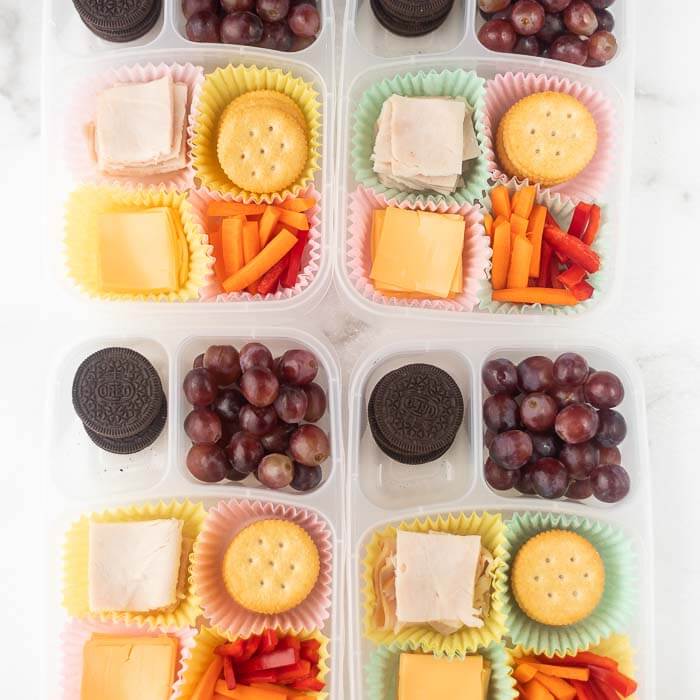 Are Lunchables Healthy?
Yes! That is why I love Homemade Lunchables. I find that my kids prefer homemade lunchables over the store bought ones. They also eat more of a balance lunch as they can add what they like in their lunchable.
When I finally started making them at home, I discovered how much time and money it saved me. I found that we always have items on hand that we can put together to make the lunchable healthy and easy to make!
Variation Ideas:
If you are not sure what to put in your lunchables, simply start by looking in your fridge. What food do you already have? What do you have that you know your kids like?
If you are completely stuck, here are some examples of different foods I have used. I always try and make sure they have meat and cheese.
Protein (choose two):
pepperoni
turkey breast
ham
salami
bologna
cheese (all varieties)
chicken nuggets
hot dog
boiled egg
Carbohydrate (choose one):
crackers (my kids like wheat thins, saltines and club crackers)
pitas
bread or buns
pretzels
chips
Fruit and Veggies (choose two):
grapes
apples
oranges (my kids prefer clementines)
strawberries
bananas
carrots
broccoli
cauliflower
grape tomatoes
Extras:
If your lunchable needs a little extra, don't forget the dips or sauces. Here are some ideas:
mustard
BBQ Sauce (my kids love our homemade one)
ketchup
mustard
ranch
pizza sauce (way cheaper to make it yourself)
Desserts:
My kids love homemade desserts the best, so I try to put a homemade goodie in their lunch most days. Here are some of their favorites:
Have the kids make their own Healthy Lunchables:
Since this is such an easy lunch idea, the kids can make them! You can easily print out the list of items to make their own and they can pick from each list to make their own approved lunchable. These homemade lunchables are kid friendly too.
My kids love making these! They can't complain about what is in their lunch when they making their own! It is also great to include in your lunch meal plans for the kids during the week. We love making healthy recipes part of our meal plan and they love making their own protein and crackers lunch combinations!
How to make DIY Lunchables:
Now that I got you started, I am sure you can probably think of a bunch of different proteins, carbs and fruits & veggies that your kids like.
Just in case you are still struggling with how to put it all together, here are a few homemade lunchables ideas for you:
pepperoni, cheese, pitas and grapes
Turkey Lunchable – turkey and cheese, crackers (ritz) and carrots
Ham Lunchable – ham, cheese and crackers and apple slices
chicken nuggets, pretzels and orange slices
hot dogs, mini buns and grape tomatoes
The possibilities are endless! Start here and then figure out what your kids like the best. Mix and match their favorites and you'll make their day with a lunchable they will love!
They may even get their friends to ask their parents to start making homemade lunchables for them.
Make them Ahead of Time!
I hope you feel like you know how to make healthy lunchables for your kids' lunches. If you are short on time in the morning, lunchables are very easy to make ahead of time.
There is not much I like better then going to bed knowing my kids' lunches are already made and ready to go for the next day.
Do you already make your own homemade lunchables? What are your favorite things to add? How do you make them a healthier alternative to the store bought lunchables?
Print the recipe for Homemade Lunchables Here:
How to Make Homemade Lunchables
How to make healthy lunchables that your kids will love. Homemade lunchables that you can make at home for less! Easy healthy lunchables.
Ingredients
8

oz

Sliced Deli Turkey

8

Slices

of American Cheese

24

Crackers

2

Red Bell Peppers

Sliced

2

Carrots

Peeled and cut into sticks

1

cup

Grapes
Instructions
Slice the turkey and the cheese into small squares. Slice the red pepper peppers and the carrots.

Use cupcake liners to create dividers in a seal-able container.

Place each ingredient into a cupcake liner and place it in your seal-able container.  This recipe makes 4 separate containers.

Enjoy!
Recipe Notes
This is a great base recipe and you can easily switch out the protein, fruits and veggies to make this work for you and your family!
Nutrition Facts
Calories
358
kcal
,
Carbohydrates
26
g
,
Protein
19
g
,
Fat
20
g
,
Saturated Fat
9
g
,
Trans Fat
1
g
,
Cholesterol
71
mg
,
Sodium
930
mg
,
Potassium
462
mg
,
Fiber
3
g
,
Sugar
12
g
,
Vitamin A
7403
IU
,
Vitamin C
79
mg
,
Calcium
489
mg
,
Iron
2
mg
Try these other easy lunch ideas for kids.