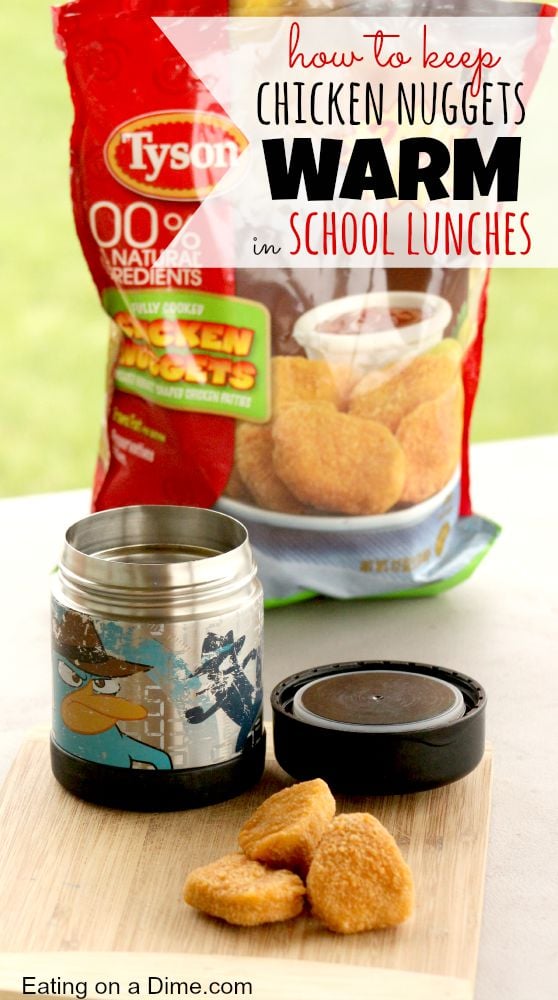 A few days ago we talked about how you can earn money for your school through the Tyson Project A+ Program. It is an easy way to earn extra money for your school. If you missed that post, make sure you read all about it here.
As many of you know, I ran to Walmart to snag some Tyson chicken nuggets for my kids because they love it for lunch and on those busy nights. I buy Tyscon chicken nuggets not only for convenience and exceptional taste, but also because it is part of the Tyson Project A+™ program.
My kids love chicken nuggets in their school lunches so today I wanted to show how you can keep your kids chicken nuggets warm in school lunches.
Head on over to Amazon where you will find small thermos containers on sale for as low as $10. Don't skimp on the thermos. Those plastic ones do not work well. Get a nice thermos on sale and it will last you for years. Now a Thermos alone will not keep the chicken nuggets to the proper temperature.
The Secret tip:
The secret is to boil some water. Pour the HOT water in the thermos and let it sit for a minute. Then dumb the water out. Quickly try the inside of the thermos and place your Tyson chicken nuggets inside. Immediately place the lid on a put in your kids lunch box.
The boiling water heats up the thermos quickly which will then transfer to your chicken nuggets, keeping them the perfect temperature.
Another tip – Keep chicken nuggets crispy
My kids love that Tyson chicken nuggets come out of the oven nice and crispy. In order to keep them crispy in their school lunches, we place a folded napkin or paper towel in the bottom of the Thermos. Then place the chicken nuggets on top. That paper towel will absorb the moisture and allow your chicken nuggets to remain nice and crispy.
Now, next time you head to walmart to purchase Tyson chicken nuggets to help support your school you can send warm (can crispy) chicken nuggets in your child's school lunch!  Don't forget to head on over here to learn more about the Tyson A+ Program.
This is a sponsored conversation written by me on behalf of Tyson. The opinions and text are all mine.