This post may contain affiliate links. If you make a purchase through links on our site, we may earn a commission.
My kids get tired of sandwiches for lunches so today, we're going to talk about how to keep chicken nuggets warm in school lunches. My kids love it when they open their lunch boxes and find chicken nuggets instead of the same ole same ole inside!
My kids love chicken nuggets and I love how easy they are to make!
As many of you know, I love to snag some chicken nuggets for my kids when they're on sale. They love them for lunch and some times I make them for dinner on those busy nights. Surely you can relate…right?
We usually keep chicken nuggets in our freezer for a quick and easy lunch or snack for my kids.
Since my kids enjoy easy chicken nuggets any time of the day, I decided to start packing them in their lunches too. They all love it when they open up their lunch boxes and find chicken nuggets waiting for them instead of the usual turkey or ham sandwiches.
Plus, now that my kids are getting older, they have taken over most of their lunch packing and they love picking chicken nuggets to pack, of course!
My kids love chicken nuggets in their school lunches. Today I wanted to show how you can keep your kids chicken nuggets warm in school lunches.
You'll need a small thermos to keep chicken nuggets warm.
First you need a good thermos. This is the secret weapon so definitely get a nice one. They last awhile so it's not something you to have to replace every year. I also make sure to get a leak proof thermos so you can pack soup in it too if you want!
Head on over to Amazon where you will find small thermos containers on sale for as low as $10. Don't skimp on the thermos. I have tried the plastic ones before and, trust me, they do not work as well.
Get a nice thermos on sale and it will last you for years. I have had some for over five years now. A Thermos alone will NOT keep the chicken nuggets to the proper temperature. Keep reading for my easy process on how to keep chicken nuggets warm and crispy!
Are you ready for the secret tip for packing chicken nuggets for school lunch?
First cook your chicken nuggets based on the package instructions or by following your favorite recipe.
Then the secret is to boil some water. First pour the HOT water in the thermos and let it sit for at least one minute.
*Be careful on this step as the water is HOT and you don't want to burn yourself. I usually place the thermos in the sink and pour the HOT water into the thermos while in the sink.
Then dump the water out of the thermos. Next quickly dry the inside of the thermos out with a paper towel and place your chicken nuggets inside. Immediately place the lid on and put in your kids lunch box.
The boiling water heats up the thermos quickly which will then transfer this heat to your chicken nuggets, keeping them the perfect temperature for when it's lunch time!
I love this trick to make sure that chicken nuggets stay warm in kid's lunches. This is the easiest way to pack chicken nuggets for school lunches.
How to keep chicken nuggets crispy while in the thermos:
My kids love that chicken nuggets come out of the oven nice and crispy.
In order to keep the chicken nuggets crispy in their school lunches, place a folded napkin or paper towel in the bottom of the Thermos after the water but before you put the chicken nuggets in.
Then place the chicken nuggets on top of the paper towel or napkin. That paper towel will absorb the moisture and allow your chicken nuggets to remain nice and crispy for when your kids are ready to enjoy them at lunch!
This is my favorite tip as adding this one step keeps the nuggets from getting soggy in the thermos. Don't forget this step when packing chicken nuggets in your kid's lunch!
Now, next time you head to the grocery store make sure you purchase chicken nuggets. You can send warm (and crispy) chicken nuggets in your child's school lunch!
Is it safe to pack chicken nuggets for lunch?
Yes, the thermos keeps the chicken nuggets warm so your child gets to eat warm chicken nuggets at lunch time.
I love this idea to pack hot foods in my kids' lunches.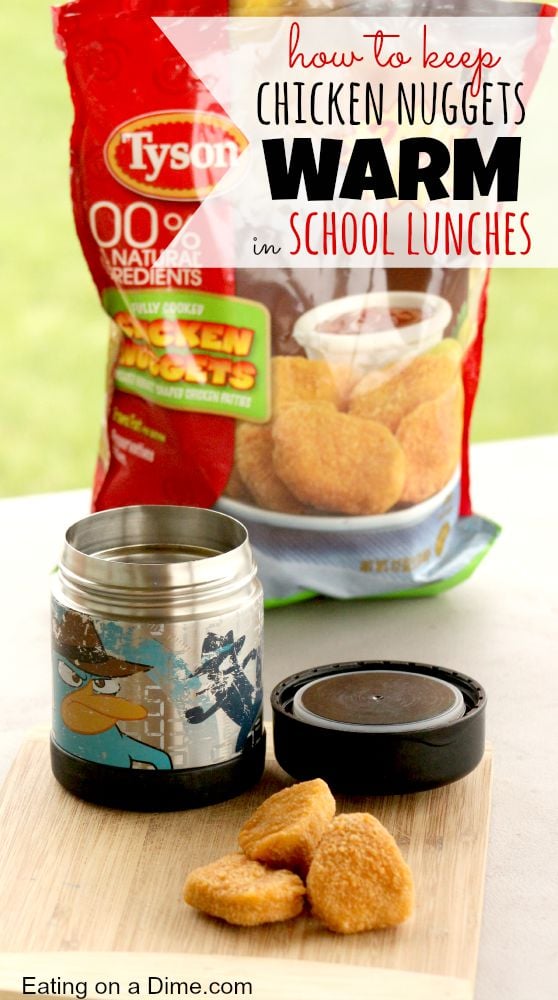 What type of nuggets do you pack for school lunches?
Generally, I stock up on chicken nuggets when they're on sale as my kids love them and they never last long. If you're worried about them being unhealthy, you can always buy the all natural ones or you can make your own.
I love these Copycat Chick-fil-a Grilled Chicken Nuggets Recipe and this Ritz Cracker Chicken Recipe is easy to make and the kids love it too!
Whatever chicken nuggets you decided to use, cook them based on the package instructions or recipe and then follow the thermos process to keep them hot and crispy in their lunch boxes.
Another tip for packing chicken nuggets for school lunch:
When we get take-out at restaurants, they usually give us a ton of ketchup and barbecue packets. I usually save these in my pantry, so I all I have to do it throw one in with the kids chicken nuggets.
They love this because they feel like they're getting a fancy restaurant lunch but it saves me tons of money and is easy to pack too!
Have you tried this tip on How to keep Chicken Nuggets warm in School Lunches? If so, let us know in the comments below, we would love to hear from you!
Try these other lunch box ideas: