It is day 8 of our easy lunch ideas for kids. Today we are serving up a breakfast lunch! If you can have breakfast for breakfast and you can have breakfast for dinner, then why not for lunch. We have already done this when we made Breakfast Sandwiches for an easy lunch idea. This one is just as fun!
What is in this lunchbox:
2 hardboiled eggs – cut in half
1/4 cup of strawberry yogurt with a spoon
1 Cinnamon Toast cut into 3 sticks
fresh fruit – we did watermelon and grapes but any will do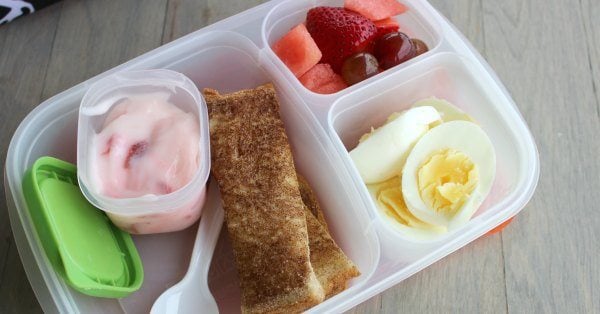 How to Hard boil eggs?
Place the eggs in a single layer at the bottom of a saucepan. Cover completely with water.
Heat the pot on high heat and bring the water to a full boil.
Cover the pan with a lid. Turn off the heat but leave the pot on the hot stove. Let it sit for 10 – 12 minutes.
Strain and run cold water over the eggs to help them cool and prevent them from cooking longer.
Peel and enjoy!
Did you know you can make hard boiled eggs in the oven?
How to Bake Hard Boiled Eggs in the Oven – make sure you read this post, because it is great when you are making a ton of eggs at once.
For my cinnamon toast:
For my cinnamon toast, I take a slice of wheat bread and butter it. Then I sprinkle it with my cinnamon and sugar recipe. I place it in my oven in the broiler for about 1 – 2 minutes until it starts to get brown. Allow it to cool and then slice it into 3 or 4 pieces.
Equipment you need for this lunchbox:
We love these easy lunchboxes. We have used a cheaper version in the past, but I have switched to the name brand easy lunchboxes. They do a much better job and they last a lot longer. It is worth the few extra dollars for the name brand.
I also bought these mini dippers because they fit better in the lunchbox and are great for dips and small servings of yogurt. You could even put in a go-gurt. My kids like it when I put them in there frozen.
How long do hard boiled eggs last?
How long do hard boiled eggs last is a great question. Most people think that you have to eat them as soon as you make them, but that isn't true at all. In fact, if you keep them in their shells and you boiled them completely through the eggs will last for 7 days in your fridge. However, mine never last that long. My kids are too busy eating them for lunches and for snacks. 🙂  I'm lucky if they last a day or two at my house. So, go ahead and make a lunch or two and store them in the fridge until your kids are ready to eat.