Learn how to make cinnamon sugar at home and save a ton of money. Skip the store bought mixture and make this in minutes.
How to make cinnamon sugar
I saw a spice at the local grocery store for Cinnamon & Sugar and I thought… "people don't know how to make cinnamon sugar recipe?"
It seems like a DUH moment… because I thought everyone made their own mixture, but it dawned on me that some people may not even know how. Trust me… it is easy!
Making your own  will save you a TON of money. You can buy a container of cinnamon for only $1.
That same bottle will last you a VERY long time. Plus if you get sugar on sale, your new spice is even cheaper.
You can double or even triple the recipe depending on what your needs are.  It really is such an easy recipe.
Is cinnamon sugar the same as cinnamon?
No this is a mixture of cinnamon and sugar. It is different than just cinnamon.
What is cinnamon sugar made of?
The ingredients are so very simple.
1/2 cup of sugar
1 Tablespoon of cinnamon
That is the perfect ratio of. Mix them all together and pour into an old spice container or use a mason jar.
It is really that easy. Now use your new mixture for any recipe you may have. Keep reading to see all of the delicious ideas.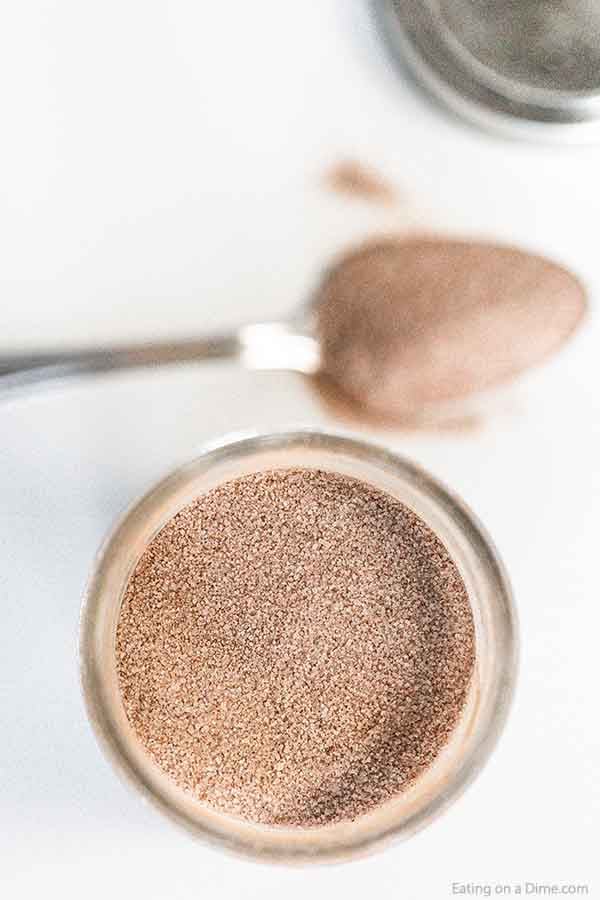 What is cinnamon sugar good for?
There are so many ideas and they are all just delicious. You will love having this on hand and how easy it is.
We use it a lot so the savings really add up.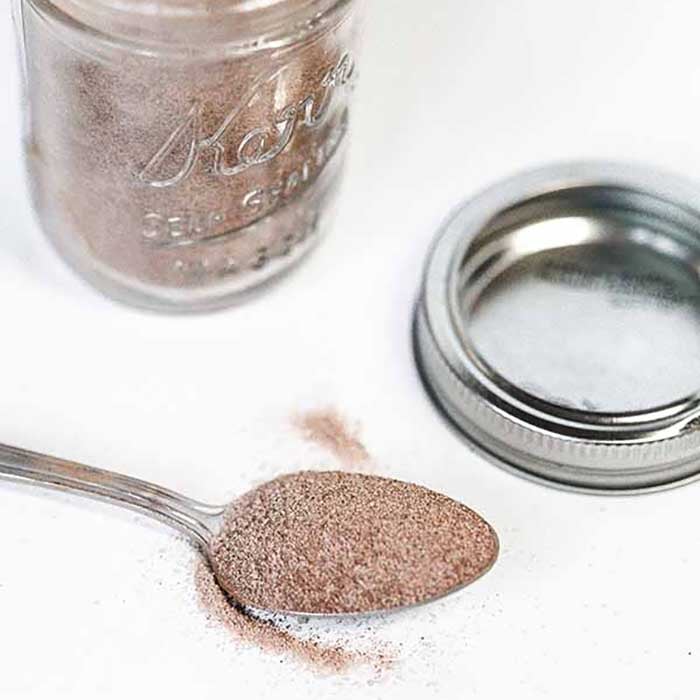 How to make cinnamon sugar toast:
Just spread bread with butter. Sprinkle with the cinnamon and sugar mixture.
Broil until crisp. This is super quick and only takes about 2 minutes.
I love that you can throw this together minutes but the kids go crazy over it. This is one of their favorites around here and I understand. I love it too. 🙂
Not only is cinnamon sugar toast so easy to make but it is very inexpensive. You can have a super quick and cheap breakfast that is so fabulous in minutes.
It is a winner around here for sure.  You can feed a large family for very little money and the kids will be thrilled to have this for breakfast.
My kids love it so much that they ask for it as a snack. 🙂
How to make cinnamon sugar butter:
With just a few simple ingredients, you can make the most delicious cinnamon sugar butter. You just need butter, honey and this cinnamon and sugar mixture. Get the full recipe here for Cinnamon Sugar Butter.
From rolls, to Homemade biscuits, to Homemade Pancake Mix, to Baked Pancakes and Chocolate Chip Muffins. We love this cinnamon honey butter on so many things.
It is really decadent if you put it on warm rolls or pancakes.  Everything gets all melted and makes it just so amazing.
how to make cinnamon sugar pretzels
It is super easy to make make pretzels at home and you don't have to worry about any hidden ingredients. Try these Homemade Pretzel Bites and use the cinnamon sugar mixture we just made.
I love that they are bite size and perfect for the kids. They are also great for parties. Give them a try!
We make these pretzel bites for Game Day, parties and more. They are easy enough to make for an after school treat.
Plus, you will save a ton of money making these at home. The pretzel store at the mall is super expensive and it really adds up with a big family.
Make homemade pretzels and use this delicious mixture to enjoy pretzels at home for a fraction of the price.
Try this easy and delicious cinnamon sugar topping!
It is super easy to make this and you will save so much money from the store bought version.
Homemade cinnamon is delicious and the ideas are endless to use it. Growing up, we ate cinnamon toast a lot and I still love it.
You can use this mixture on french toast, coffee cake or anything you want cinnamon flavor.
This delicious recipe is really just so simple to put together and you will love it! With just 2 simple ingredients, this mixes together quickly and makes it super easy.
Leave a comment – do you make your own cinnamon and sugar?
Once you start, you won't go back to store bought. We can make a huge amount of this for a fraction of what it would cost at the store.
Since we use it for so many things, it just makes sense to make our own.  I love when I can make things at home and give my family wonderful recipes.
It feels good knowing what exactly is in something and that I am also saving money. It is a win win situation.
If you enjoyed this easy recipe, give some of these other simple ideas a try.
More cooking from scratch and cooking basics recipes:
Print this cinnamon sugar recipe below:
Cinnamon Sugar
Learn how to make cinnamon sugar at home and save a ton of money. Skip the store bought mixture and make this in minutes.
Course:
Mixes and Seasonings
Servings
:
27
(1 tsp servings)
Ingredients
1/2

cup

sugar

1

Tablespoon

cinnamon
Instructions
Place both of the ingredients in a mason jar, old spice jar or an air tight container.  

Stir a spoon or a whisk until the ingredients are well combined. 

Store with your other seasoning mixes and use with your favorite recipes!  
Recipe Notes
Serving size is 1 tsp.
Nutrition Facts
Cinnamon Sugar
Amount Per Serving
Calories 15
Calories from Fat 9
% Daily Value*
Fat 1g2%
Sodium 1mg0%
Carbohydrates 4g1%
Protein 1g2%
Calcium 3mg0%
Iron 1mg6%
* Percent Daily Values are based on a 2000 calorie diet.