You have to try this Texas Roadhouse Cinnamon butter recipe. You are going to love it!  The one restaurant my family loves is Texas Roadhouse. However we can't go out to dinner all the time because of our family size. Copy cat recipes is the best way to enjoy some of your favorite foods in the comfort of your home.
Copycat Texas Roadhouse Cinnamon Butter Recipe.
You can make a huge batch and place it in the fridge. I like to place them in jelly mason jars so I can easily store them. Oh and it makes great gifts too! Everyone loves cinnamon butter!
This Texas Roadhouse Cinnamon butter Recipe is great on everything!
From rolls, to Homemade biscuits, to Homemade Pancake Mix, to Baked Pancakes and Chocolate Chip Muffins. We love this cinnamon honey butter on practically everything!
Ingredients:
2 sticks of butter, softened
1/4 cup of honey
1/4 cup of powdered sugar
1 teaspoon of cinnamon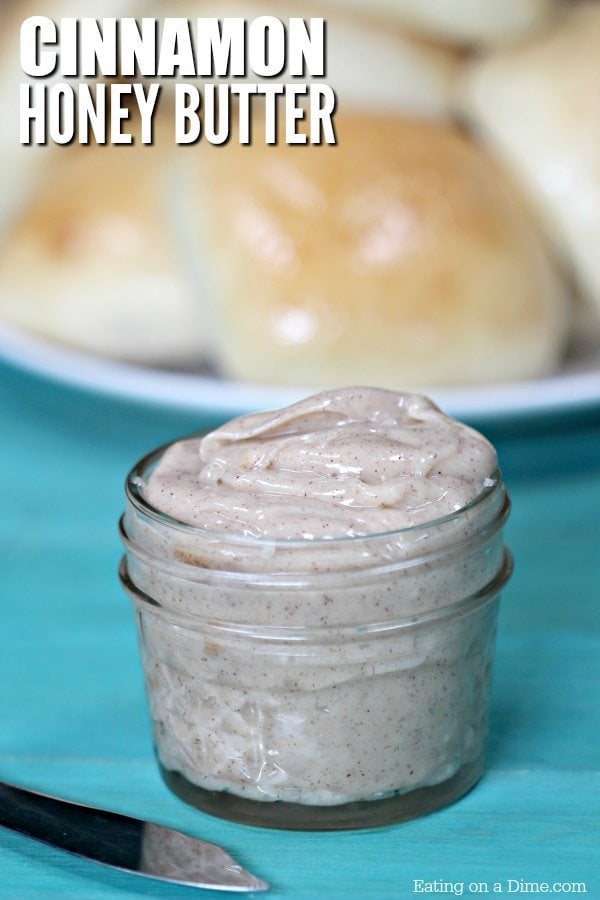 How to make Cinnamon Honey Butter Recipe:
Place the softened butter in a medium size mixing bowl
Add the powdered sugar and blend together until blended together.
Add 1/4 cup of honey and the teaspoon of cinnamon.
Blend together.
Refrigerate until ready to serve.
Enjoy!
Make this Texas Roadhouse Butter recipe today!
Try homemade cinnamon honey butter recipe on a few of these recipes:
I'm not going to lie, I could eat this with a spoon and soon you will know why too. It is that good!

Try these other easy copy cat recipes: