Texas Roadhouse Seasoned Rice is effortless to enjoy at home. This rice pilaf is seasoned to perfection in just minutes with bold flavor.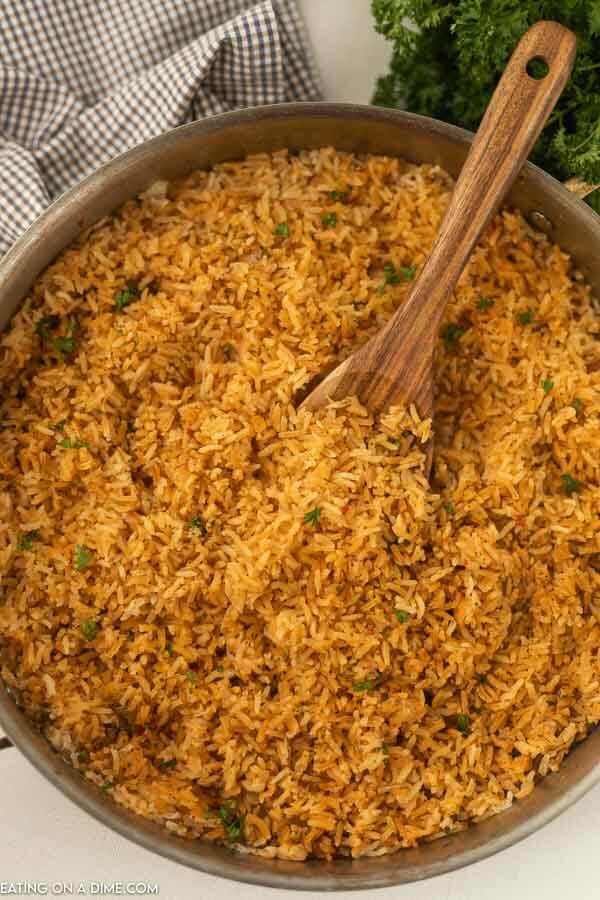 Texas Roadhouse Seasoned Rice
This rice is a favorite on the menu at Texas Roadhouse. It is packed with flavor and makes the best side dish for lots of meals.
Thanks to this simple copycat recipe, anyone can enjoy this at home. You don't need to wait until you have time and money to go to your favorite restaurant.
It is just as delicious at home and you will save so much money. Rice is very inexpensive so this entire recipe is budget friendly.
What is Texas Roadhouse rice made of?
This popular side dish consists of long grain white rice and a host of seasonings. Some of these include: paprika, garlic powder and red pepper flakes.
The red pepper flakes are optional but add a touch of heat. Some people like to add soy sauce but we prefer ours without.
Ingredients
Butter
long-grain white rice, rinsed
Small White Onion, diced
Paprika
Dried Parsley
Garlic Powder
Red Pepper Flakes . This is optional. You can also use cayenne pepper.
Chicken stock
How to make Texas Roadhouse Seasoned Rice:
Melt butter in a skillet. Place the butter in a large skillet over medium high heat to melt it.
Brown the rice. Add the rice until it has browned. This will take about 4 to 6 minutes.
Season the rice. Next, add the onions and cook. Also, add the paprika, parsley, garlic powder and red pepper flakes. Mix everything together until all the ingredients are well combined.
Pour in the chicken broth. Mix the broth with the rice and bring the mixture to a boil. You will need to stir occasionally.
Reduce the heat to low. Cover and simmer for 22-25 minutes until most of the liquid is absorbed and the rice is cooked. Turn off the heat and let the rice sit for 5 minutes cover to finish cooking.
Fluff the rice after cooking. After about 30 minutes, remove the lid and fluff with a fork.
How to store leftovers
Refrigerate any leftover rice in an air tight container for up to 5 days.
How to reheat seasoned rice?
Place in the microwave for 2 to 3 minutes. It should be piping hot before serving.
Can you freeze Seasoned rice?
Yes, you can freeze the leftover rice in a freezer safe bag for 2-3 months. You can find more tips and tricks and learn how to freeze rice.
We absolutely love this recipe and actually double it. It isn't anymore work because you have all the ingredients out. You can enjoy a portion with dinner and freeze the rest for an easy side dish another night.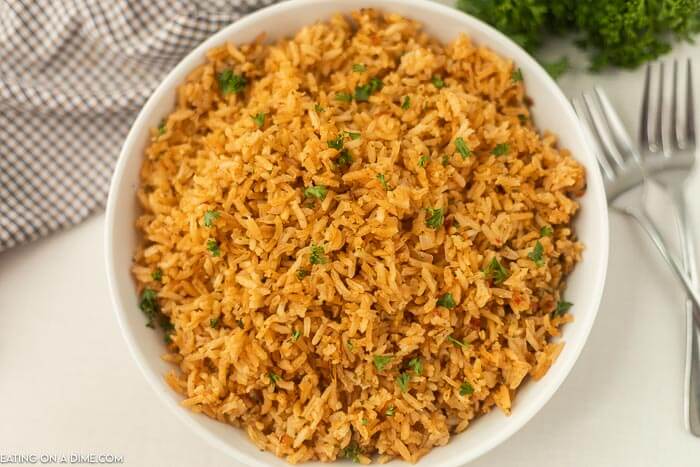 Rinse the Rice
It is very important to rinse the rice prior to cooking. You will need to continue to rinse the rice until the water runs clear.
This helps to remove excess starch which will help to make the rice fluffy. It also removes any debris in the rice.
WHY IS THE RICE MUSHY OR DRY?
Everyone wants to enjoy perfectly seasoned and cooked rice. No one wants rice that is mushy or dry but instead soft and fluffy.
If your rice is mushy, this is often a result of cooking too long or not thoroughly rinsing the rice.
If your rice is dry, there could be several reasons that contributed to this. You might not have had enough liquid while cooking.
Also, the rice might not have been cooked at the correct temperature. If you didn't reduce the heat and it was cooked at too high of temperature, it can result in dry rice.
Print this Texas Roadhouse Seasoned Rice recipe: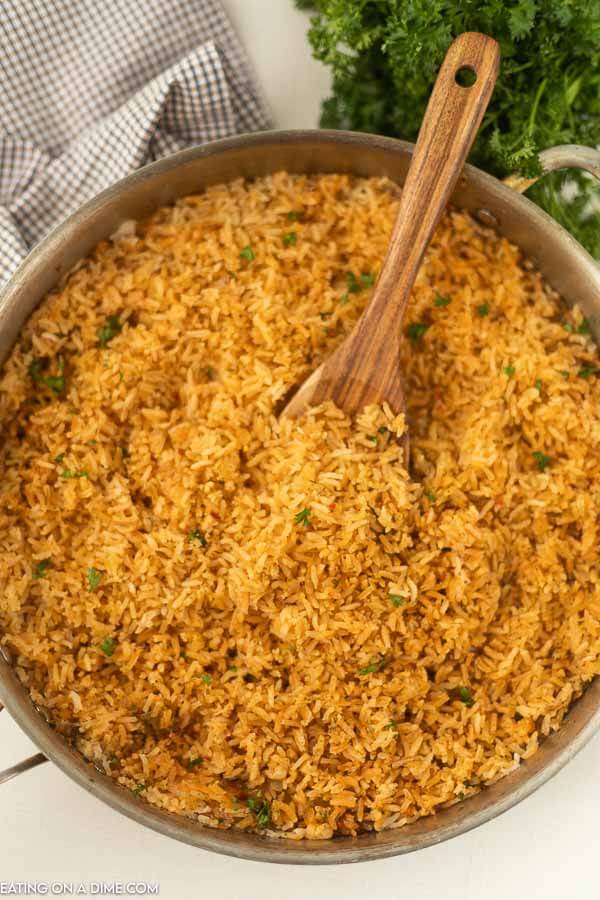 More Texas Roadhouse Copycat Recipes:
More easy side dishes to try: