This post may contain affiliate links. If you make a purchase through links on our site, we may earn a commission.
Learn how to pack healthy lunches for kids. These ideas are simple, budget friendly and your kids will actually eat them!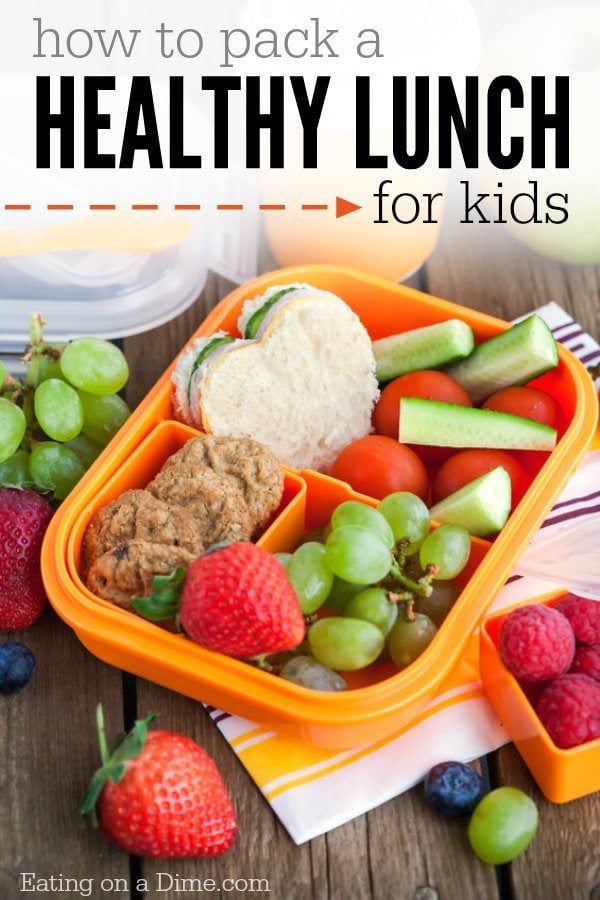 Let's talk about How to Pack Healthy Lunches for Kids quickly. Packing lunches is usually something we rush through to check off our to do list in the mornings before the kids leave.
Sometimes we realize halfway through packing our lunch that we're out of bread or juice boxes, and end up throwing together whatever we can find in the fridge as a replacement.
I try to keep a well stocked fridge and pantry to help make packing a healthy and delicious lunch for my kids a breeze. In this post, I'm going to walk you through the process of packing a healthy lunches for kids that they will love!
How to Pack Healthy Lunches for Kids
Step 1: The Main Event
You all know what I'm talking about. The sandwich, the wrap, the main focus of the lunchbox! This is the main event of your child's lunch. What you decide to put in your kid's lunch from this category could determine whether they are hungry throughout the day or full.
By this point, you probably have a good idea as to what your kids like. So this part is usually the easiest!
Let us know which of these healthy lunches for kids you try.
Try some of these easy and healthy ideas:
Step 2: Fruit
Next, it's time for the fruit! The key to a well balanced lunch is to make sure all of the food groups are present. Believe it or not, most people forget the fruit!
After you've chosen something for your main event, don't forget to throw in some fruit! Here are some delicious and healthy ideas:
Apples (we cover in lime juice to prevent slices from browning)

Peaches

Grapes

Banana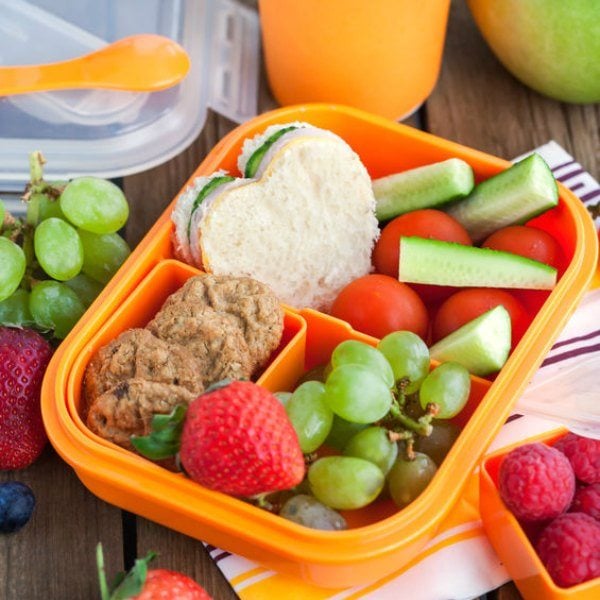 Step 3: Vegetable
You don't want to get too veggie crazy in your kid's lunch or they may not eat it. So if you choose something vegetable based as your main event, try not to go nuts in this category.
It's time to add some veggies to your kids lunch! If they like ranch, try adding a small container of that for dipping. It might help encourage them to eat their veggies.
Here are some delicious and healthy ideas:
Carrots

Celery

– add cream cheese. Yum!

Broccoli

Salad

Snap Peas (my kids love these!)

Cauliflower

Cherry tomatoes
Step 4: Snack
Your lunch is starting to come together! Last but not least, it's time to finish off your food with a delicious and healthy snack! Here are a few of my favorite healthy snacks to choose from:
Fruit Leather

String Cheese

– My kids love cheese sticks.

Yogurt

– Have you tried easy crock pot yogurt?
Step 5: Drink
Now that you've put together your lunch, it's time to add the final touch! When putting together a healthy lunch, stick to water as your drink of choice.
You can buy small water bottles to put in their lunch, or pack a refillable one to take with them. This will help make sure they stay hydrated throughout the day, and keep them healthy!
It is that easy to make healthy lunches for kids!
Putting together a healthy lunch your kids will love is easy! Just follow these steps to help you plan your kid's lunches and you'll be packing healthy lunches in no time!
As a result, your kids will actually eat their lunches. It is a win for everyone.
Try these healthy lunch ideas for kids.
Packing lunches does not have to be hard for the school year. Once you try these ideas, you will also see that they are also great for year round and in the Summer.
More easy lunch box ideas: