This post may contain affiliate links. If you make a purchase through links on our site, we may earn a commission.
Crockpot applesauce is about as classic as apple pie! Whether you enjoy it as a side dish or as an afternoon snack, there's no denying that you'll fall in love with this ridiculously easy recipe! Who would have thought that making your own applesauce would be so easy?
I have to admit, I had no idea that making applesauce was this easy! Now that we've had homemade applesauce, I'm not sure that I will ever buy the store bought stuff again!
Crockpot homemade applesauce captures everything you love about apples, where the store bought sauces tend to be watered down and bland.
Not to mention, that it is a lot of fun to make your own snack, and since apples are so cheap right now, this is nice on the budget. You might also like Strawberry Applesauce
Can you overcook applesauce?
Overcooked apples are basically going to be tasteless, so you're going to want to make sure that you don't overdo it. Every slow cooker cooks a little bit differently, the cooking time for mine is about 6 hours on low.
To avoid overcooking your apples, test the apples after a couple of hours. Simply take a bite (they're hot so be careful!) or crush with a spoon. If they smash down then they're done!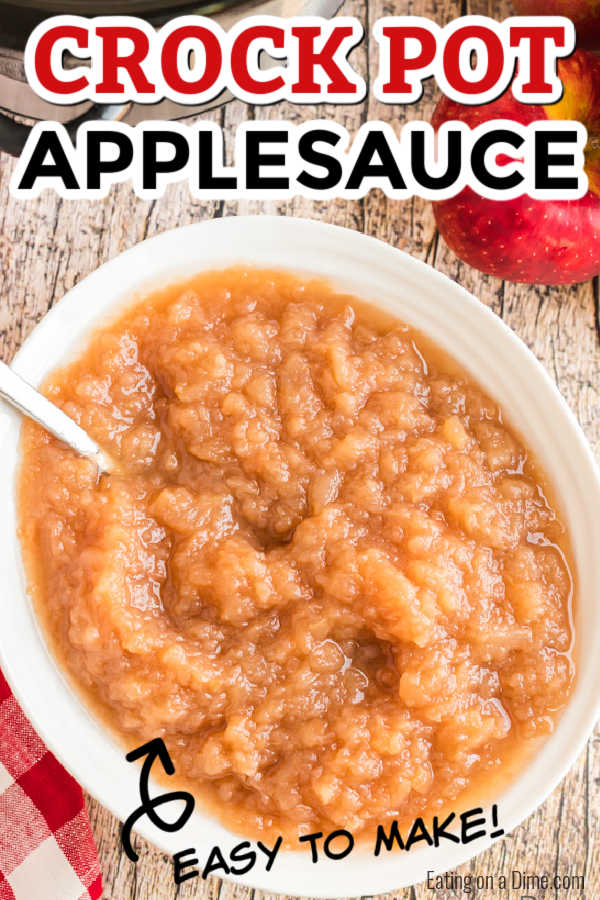 What apple makes the best applesauce?
Really just about any combination of apple varieties will work to make applesauce, but some types of apple will taste better than others.
I usually like to have a mix of tart and sweet apples in mine. Granny Smith, McIntosh, Fuji, Pink Lady, Gala, Rome, and Jonagold are all great choices!
My only actual suggestion here is to avoid golden delicious or red delicious apples because they really do not have much flavor.
If you overcook your apples, no worries you can turn it into slow cooker apple butter! Simply stir in an additional 1 1/2 cups of sugar and cinnamon ( 1 tablespoon or to taste).
Sometimes I like to use pumpkin pie spice instead of just cinnamon. It is a combination of cloves, allspice, nutmeg, cinnamon and ginger so it compliments the apples perfectly!
Then continue to cook the applesauce for an additional 6 hours. Leave the lid off for the last 2 or until it reaches your desired thickness.
How long will homemade applesauce keep in the refrigerator?
Slow cooker applesauce will last in the refrigerator for up to 10 days if stored in an airtight container. If you want to store the applesauce for a long time, you can also freeze it. I like to put my applesauce in a freezer bag and freeze it flat. It will last in the freezer for up to 3 months.
If you're looking for an apple recipe to use up a lot of apples, this is it! Another thing I love about making my own applesauce is that I can control the amount of sugar that I add to it.
Most of the time I do not add any additional sugar to the apples, we like them the way they are and the kids don't even notice.
Ingredients for crock pot applesauce:
10 pounds of apples
½ cup water
¼ cup sugar; optional (you can use brown sugar if you want a deeper flavor )
1 tablespoon lemon juice; optional (it helps to balance the sweetness of the apples)
How to make crockpot applesauce:
Peel and core apples. Then chop them to chunks.
Place in crock pot with water.
Cook on low for 6 hours. Stir.

Apples should become a sauce as you stir. If you would like a "less" chunky sauce then place in a food processor or blender.
Cool in Fridge. (I separated mine and froze into 2 containers)
Enjoy! Yep, that is it!! Did you know it was that easy?
Tips for making homemade applesauce:
I can almost NOT call this a recipe because it is so easy, but I dare you to try it. I love it because you can use a handheld potato masher or a fork to mash it up, but my kids like it with I toss it in my food processor so it "feels" like store-bought apple sauce.
The best part about it is you get to choose! You can make part of it it chunky and the other smooth, if you want.
Now let me give you a tip…..
Peeling 10 or 20 apples is exhausting. Or maybe I'm lazy and like to find an easier way to do things. Either way, I hate peeling apples.
I highly recommend that you get an apple peeler. Amazon has some on sale right now and they are worth the small investment. You can peel 10 or 20 apples in half the time with this thing – and clean up is a breeze.
Doesn't that just look awesome!?
Now, this makes an amazing after school snack. What kid doesn't want to come home to some applesauce (or what adult doesn't want to eat some as a snack?). Make sure you check out our after school snacks page for more frugal and fun ideas for the kids.
Print your Crockpot Applesauce recipe below:
Crockpot AppleSauce
y this easy crockpot applesauce recipe. You really can make applesauce in the crock pot with hardly any work!
Ingredients
10

pounds

apples

1/2

cup

water

1/4

cup

sugar
Instructions
Peel, core and chop apples.

Place in crock pot with water.

Cook on low for 6 hours. Stir.

Apples should become a sauce as you stir. If you would like a "less" chunky sauce then place in a food processor or blender.

Cool in Fridge. (I separated mine and froze into 2 containers)

Enjoy!
Recipe Notes
This homemade applesauce makes an amazing after school snack!
Nutrition Facts
Calories
106
kcal
,
Carbohydrates
28
g
,
Sodium
2
mg
,
Potassium
202
mg
,
Fiber
4
g
,
Sugar
21
g
,
Vitamin A
100
IU
,
Vitamin C
8.7
mg
,
Calcium
11
mg
,
Iron
0.2
mg
Try these other apple recipes
This makes an amazing side dish ideas. Check out our other Crockpot Side Dishes.