This post may contain affiliate links. If you make a purchase through links on our site, we may earn a commission.
The cooler weather is perfect for Homemade apple cider recipe. It is easy to make and will make your house smell amazing. Plus, homemade apple cider is so delicious.
Homemade apple cider recipe
This homemade apple cider screams Fall. At the hint of cooler weather, I start making apple cider and it is so easy! Some people like coffee and some people like hot chocolate, but I love homemade apple cider!
If you are like me and love it but thought it might be hard to make at home, think again! It is super easy. I knew I couldn't keep spending tons of money buying this by the cup. This easy recipe is the best and the perfect solution!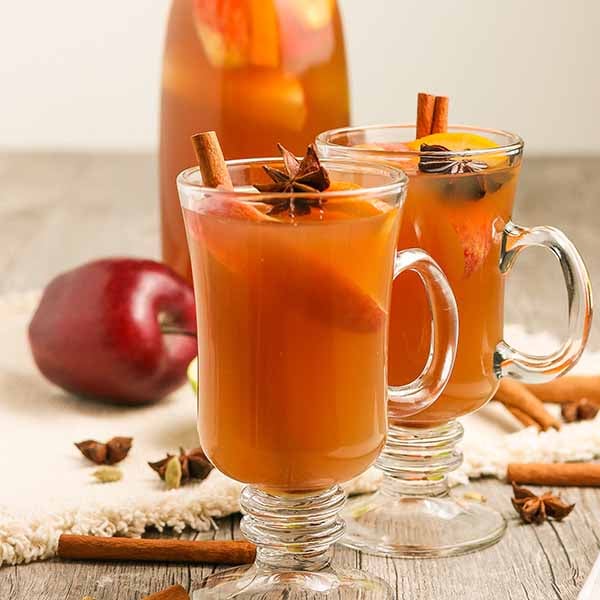 Not only will you save money but you will enjoy having this at home whenever you feel like a cup. Sounds like a win all around!

How do you make apple cider from scratch?
It is very simple and the prep work is minimum. The hardest part is just waiting for everything to simmer down. However, this process will make your entire house smell heavenly!
How long does homemade apple cider last?
It needs to be refrigerated and it should last up to 2 weeks.
Ingredients for easy apple cider:
10-12 medium apples assorted such as Granny Smith, Honeycrisp, Gala
2 oranges, peeled and sectioned
tablespoon whole cloves
4 cinnamon sticks
1 teaspoon allspice
1 whole nutmeg
Water, about 16-20 cups
½ to 1 cup brown sugar, depending on taste
How to make homemade apple cider:
Clean and cut apples and oranges. Add to large stockpot.
Next, add the seasonings. Cover with water.
Heat over high heat until simmering.
Continue to simmer about 2 hours or until apples are very soft.
Mash apples and oranges with a potato masher or large wooden spoon against the side of the pot.
Cover and simmer for about 1 more hour.
Carefully strain solids from cider using a cheesecloth or fine mesh strainer, pressing solids against the strainer to release the juices.
Discard the solids.
Now it is time to add the brown sugar to taste.
Serve warm, room temperature or chilled with apple slices and cinnamon stick, if desired. This is delicious hot or cold!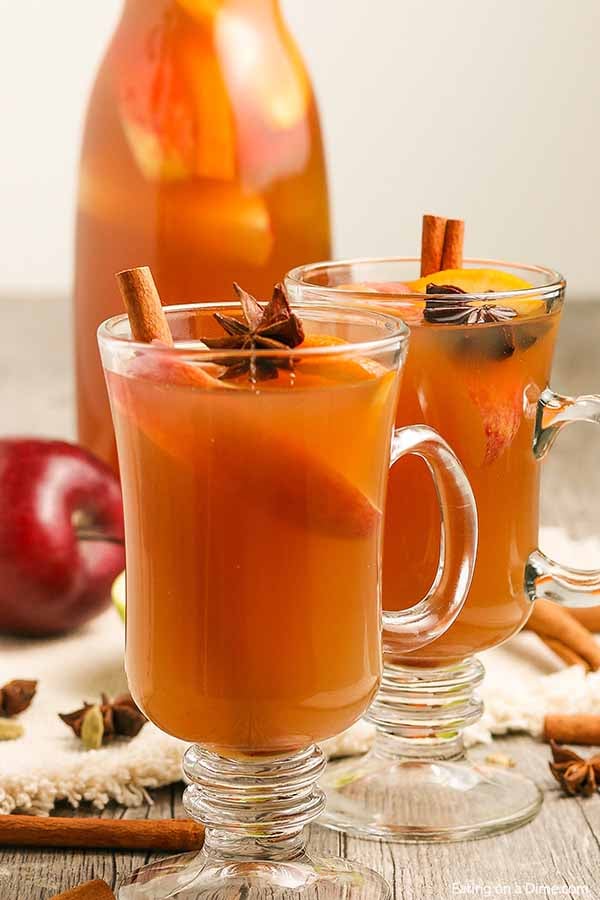 You might also like to try crock pot apple cider.
This recipe is very easy to make in the crock pot instead of the stove top if you prefer. If you need to multitask and have other things to do, just use the slow cooker.
How to make apple cider in the crock pot:
The process is the same. Just put everything in the crock pot instead of the pot. I like to use the low setting and let it simmer for about 8 hours.
Strain the solids as normal using a cheesecloth or fine mesh strainer, pressing solids against the strainer to release the juices.
Once finished, turn the setting to warm and this is perfect to serve at parties!
Make sure you have a good slow cooker. If you are in the market for a new crockpot, this one is my favorite. I use this all the time and it's great.
My favorite feature is that you can lock the lid down. This is awesome if you have to move the crockpot and transport it.
There are several others on sale here. Another favorite is this programmable crock pot for when I am am not at home all day.
I also like to use crock pot liners to make clean up a breeze. These are worth every penny and save a ton of time.
This is especially helpful during busy weeks of school and activities. I'm all about crock pot liners.
Tips for homemade apple cider:
It is not necessary but we like to use an apple peeler. It makes it so fast and easy peeling all of the apples for the cider. We also use it to make crockpot applesauce and it is so handy.
I highly recommend that you get an apple peeler. Amazon has some on sale right now and they are worth the small investment. You can peel 10 or 20 apples in half the time with this thing – and clean up is a breeze.
Try this amazing and easy apple cider!
Whether you make this in a large stock pot or a slow cooker, it will turn out amazing. We love granny smith apples but feel free to use what you prefer or can get on sale. It will be delicious!
This reminds me of apple pie baking every time I make this homemade apple cider. The cinnamon sticks and orange slices give the entire recipe such great flavor.
We serve this at parties and everyone loves it. It is also easy enough to make during the week. This easy cider recipe is not just for special occasions!
It really is so delicious and very easy to make. Let us know how it turns out for you!
Print this easy apple cider recipe:
Apple Cider
The cooler weather is perfect for Homemade apple cider recipe. It is easy to make and will make your house smell amazing. Homemade apple cider is delicious. 
Ingredients
10-12

medium apples assorted such as Granny Smith

Honeycrisp, Gala

2

oranges

peeled and sectioned

1

tablespoon

whole cloves

4

cinnamon sticks

1

teaspoon

allspice

1

whole nutmeg

Water

about 16-20 cups

½ to 1

cup

brown sugar

depending on taste
Instructions
Clean and cut apples and oranges

Add to large stockpot

Add seasonings

Cover with water

Heat over high heat until simmering

Continue to simmer about 2 hours or until apples are very soft

Mash apples and oranges with a potato masher or large wooden spoon against the side of the pot

Cover and simmer for about 1 more hour

Carefully strain solids from cider using a cheesecloth or fine mesh strainer, pressing solids against the strainer to release the juices

Discard the solids

Add brown sugar to taste

Serve warm, room temperature or chilled with apple slices and cinnamon stick, if desired
Nutrition Facts
Calories
155
kcal
,
Carbohydrates
41
g
,
Protein
1
g
,
Fat
1
g
,
Saturated Fat
1
g
,
Sodium
6
mg
,
Potassium
263
mg
,
Fiber
6
g
,
Sugar
32
g
,
Vitamin A
157
IU
,
Vitamin C
22
mg
,
Calcium
48
mg
,
Iron
1
mg
Try these other easy beverages: