This post may contain affiliate links. If you make a purchase through links on our site, we may earn a commission.
Easy Cheesecake Brownies Recipe is decadent brownies that are swirled with cheesecake to make an amazing treat. You will love how simple they are to make. This recipe is absolutely delicious!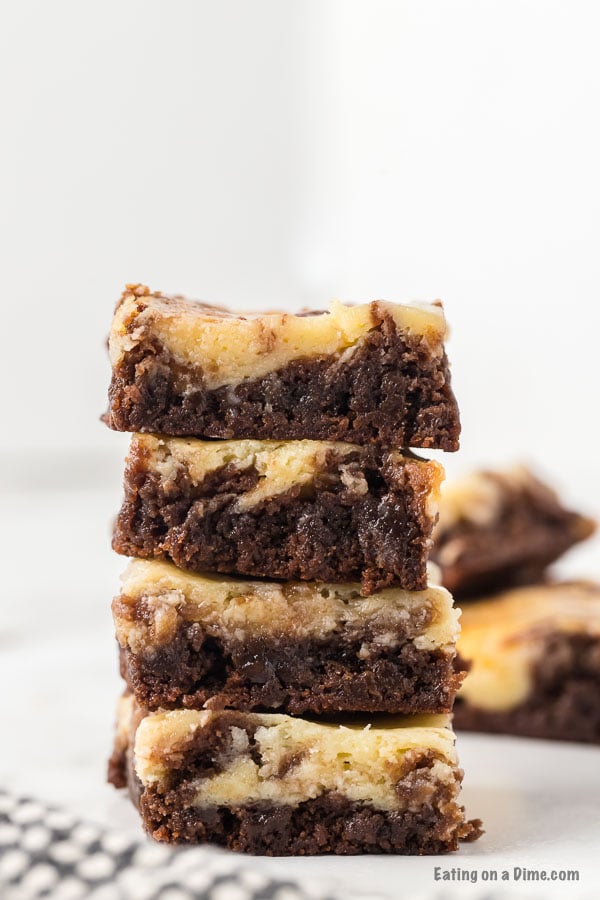 Easy Cheesecake Brownies Recipe:
Cheesecake Brownie is the ultimate dessert. It combines two of my favorites, cheesecake and brownie. This recipe has to be one of the most amazing treats! It tastes absolutely out of this world but it's so simple you won't believe it.
It starts with a brownie box mix or you can try making Homemade Brownies if you have extra time. The cheesecake mixture is very simple and it all comes together so quickly.
This is perfect for dessert, bake sales, after school treats and more! With only a few ingredients there is no reason not to make this dessert any night of the week.
Easy Lunch Box Treat!
I often will make a batch of these Cream Cheese Brownies and a batch of Fruity Pebble Bars Recipe and use them for lunch box treats. I package them individually in zip lock bags and have tons of dessert options for the week.
This is much cheaper than buying store bought lunch box treats. I think they taste better too. My kids get pretty excited when they open their lunchboxes and find these sweet treats.
Another treat I like to make is No Bake Cheerios Bars Recipe. Homemade treats taste so much better than store bought and are budget friendly.
Ingredients:
How to make Cheesecake Brownies:
Make Brownie Mix – Prepare chocolate flavored brownie mix in a large bowl according to package directions or make Homemade Brownies. Next, spread the batter into a greased with cooking spray 13×9 inch baking pan.
Beat Cream Cheese – Beat room temperature Cream Cheese with electric mixer until creamy on medium speed.
Mix in other ingredients – Add Sugar, egg and vanilla. Mix cream cheese and sugar well.
Swirl in Cream Cheese – Swirl the cheesecake batter with a knife. Just swirl back and forth.
Bake Cheesecake Brownie – Bake 35 to 40 minutes in a preheated oven of 350 degrees or until cream cheese mixture is slightly browned. Baking time could vary. Toothpick inserted into brownie gives a good indication if brownie is done.
Cool Completely – Cool completely before cutting. This part is super important. Your brownies will not be so nicely shaped if you don't allow them enough time to cool.
Why we think these are The Best Brownies:
Adding the cheesecake topping mixture jazzes up just a basic brownie mix.
Using a brownie mix makes this quick and easy to make.
We love the combination of cream cheese and brownie mixture.
My go-to dessert when I go to pot lucks or a bake sale.
Easy storing in the refrigerator or freezer.
Tips for Cream Cheese Brownies:
Brownie Mix – I usually purchase the standard chewy brownie mix. I try to avoid the ones that have the fudgy packet. It doesn't mix well with the cream cheese mixture.
Egg and Cream Cheese – Before mixing together this dessert, it is recommended to have the cream cheese and egg set to room temperature. This helps will mixing ingredients and to improve the creaminess and smoothness of the cream cheese mixture.
Line Baking Dish – When you are preparing you pan to make the brownies, line it with parchment paper or foil. This helps with easy clean up and removing the brownies from the pan.
Cutting Brownies – When brownies have cooled completely, use a plastic knife to cut them. This makes the brownies cut evenly and pretty.
Remaining Brownie Batter – You can reserve brownie batter and drop by spoonful after mixing in the cream cheese mixture.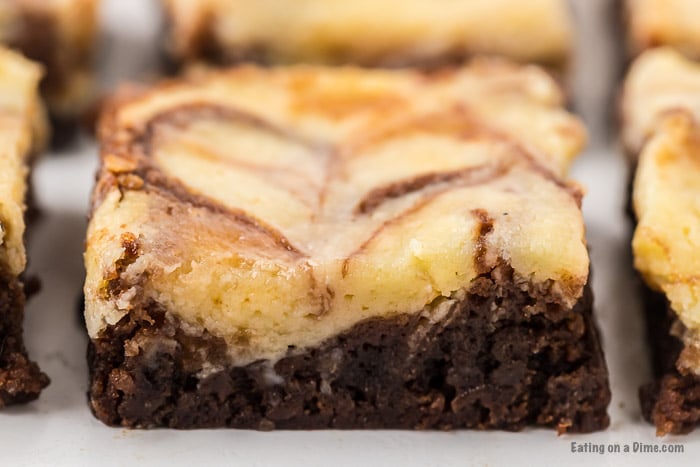 Cream Cheesecake Brownies Variations:
Chocolate Chips – If you are a chocolate lover like we are, we will add in a about a half of cup of chocolate chips. It is a great addition to this brownie mix.
Other Add-ins – We also like adding in nuts, candy canes or other candy to give these brownies that extra crunch. You can add just about anything to make these brownies your own.
Raspberry – If you have some raspberries that need to be used, mash them up and swirl them in the cheesecake mixture.
Mint Extract – If you love mint and chocolate together, add ½ teaspoon of mint to your brownie mixture. This is my kids favorite.
Crushed Oreo – Crushed oreo is a fun twist to this brownie mixture. We like to crush some up and place on top before we bake the brownie.
Peanut Butter – Chocolate and peanut butter is the best combination. Swirl in some peanut butter with the cream cheese mixture for the ultimate brownie.
Cocoa Powder – Cocoa Powder can be added to give it even a more chocolate flavor.
How to cleanly cut a brownie:
The key to cutting a brownie cleanly is to letting them cool completely. I know that this very hard to do in my house. When you are ready to cut the brownie, you can use a plastic knife or warm up a knife. To warm you knife, run under warm water and dry with a towel.
Wipe your knife clean in between cuts which helps with a clean cut. I like warm brownies, so I will cut the brownie after it is cooled and then heat in the microwave for about 10 seconds and serve with ice cream.
Can I freeze Cheesecake Brownies?
Yes, you can freeze these brownies if stored properly. Store cheesecake brownies in a freezer safe container. The brownies will last about 3 months in the freezer.
You can also wrap the brownies individually and place in the freezer. This way you don't have to thaw out more than you need.
Once we are ready to serve, thaw in the refrigerator overnight or place on the counter.
What do you serve with Brownies?
Since these cheesecake brownies are so sweet, they are perfect on their own. But they are also great with a scoop of ice cream. Chocolate Syrup and whipped cream and sprinkled with nuts is always a family favorite.
You can even add in some of your favorite sprinkles or crushed candy bars. The options are endless to make this ultimate dessert that your family will love.
How to store:
Storing leftovers is easy with these Cheesecake Brownies. You can store them at room temperature in air tight container. If stored at room temperature they will last about 2-3 days.
If you store them in the refrigerator they will last about 5 days.
It will be our secret how simple and cheap these brownies are. These brownies are great for your next BBQ, potluck or a bake sale. Everyone always loves them and they are the first dessert to go when I bring them.
Print Cream Cheese Swirl Brownies Recipe:
Easy Cheesecake Brownies recipe
Easy Cheesecake Brownies Recipe is decadent brownies that are swirled with cheesecake to make an amazing treat. This recipe is delicious!
Ingredients
Instructions
Prepare brownie batter as directed on package, or try Homemade Brownies here -just double it. Spread the batter into a greased 13×9 inch pan.

Beat Cream Cheese with mixer until creamy. Add Sugar, egg and vanilla. Mix well. Drop by tablespoonfuls over brownie batter.

Bake 35 to 40 minutes or until cream cheese mixture is slightly browned. Cool completely before cutting.
Recipe Notes
Tip: Package these individually. They make a great dessert option for your kid's lunch pail.
Nutrition Facts
Calories
322
kcal
,
Carbohydrates
50
g
,
Protein
3
g
,
Fat
11
g
,
Saturated Fat
4
g
,
Cholesterol
34
mg
,
Sodium
189
mg
,
Potassium
31
mg
,
Sugar
38
g
,
Vitamin A
275
IU
,
Calcium
21
mg
,
Iron
1.3
mg
More Brownie Desserts to Try: