This post may contain affiliate links. If you make a purchase through links on our site, we may earn a commission.
Potatoes and more potatoes – I think you are going to love these stove top scalloped potatoes. They are easy to make and just as delicious as the ones made in the oven.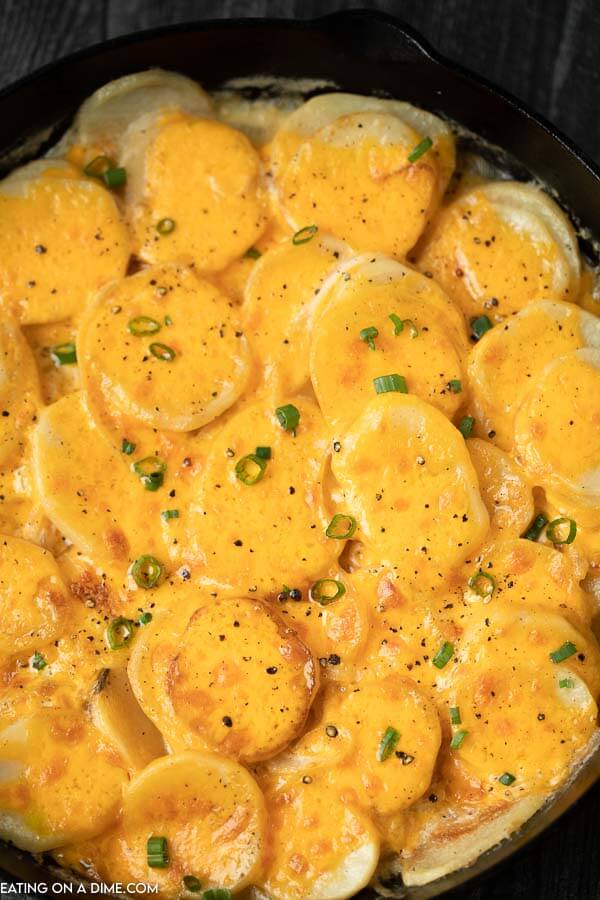 My family loves scalloped potatoes and this slow cooker scalloped potatoes recipe is a favorite in my house. However, sometimes, I just don't have the time to make them in the slow cooker.
Luckily, I learned how to make this cheesy scalloped potatoes recipe that is made on the stove top instead of in the oven or slow cooker. They're just as delicious but can be made in under 30 minutes which is always a win in my book! Think fried potatoes, but with cheese!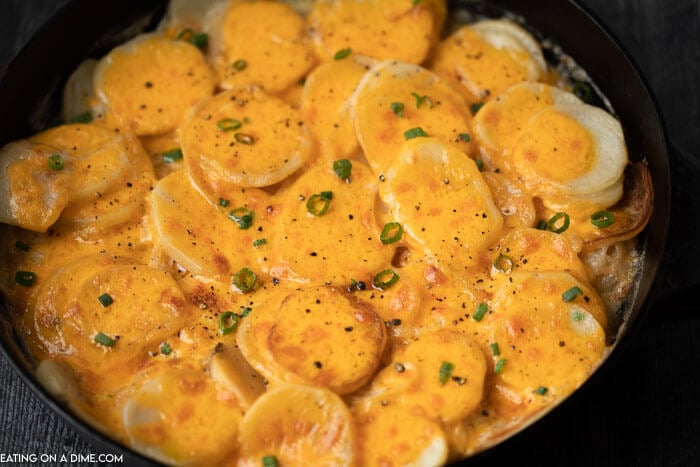 What is the difference between scalloped and au gratin potatoes?
The main difference is how the potatoes are cooked and how the cheese is used in the recipe.
Generally scalloped potatoes are cooked in a cream sauce (like our recipe) and topped with cheese. Whereas, in au gratin potatoes, cheese is layered between the potato slices and also on top as well. So essentially, au gratin potatoes are more cheesy.
I love them both, but I find that scalloped potatoes are easier to make (and still delicious) so I tend to make these more for my family.
Cheesy scalloped potatoes ingredients:
You only need a few ingredients to make these delicious and easy scalloped potatoes.
Sliced Potatoes – Generally I use Russet potatoes but Red Potatoes or Yellow Potatoes would work great in this recipe too.
Butter
White Onion (thinly sliced) – If you're to a huge onion fan, you can leave them out but they add a delicious flavor so I encourage you to give them a try!
Chicken Broth
Heavy Whipping Cream – Half and Half would work as well.
Salt and Pepper
Shredded Cheddar Cheese – White Cheddar would be delicious in this recipe too.
Green Onions (diced) – I usually top these when serving.
How to make scalloped potatoes in a skillet:
First melt the butter in a large skillet over medium heat. I used my cast iron skillet because I have been loving it lately but any large skillet will work for this recipe.
Then combine potatoes and onions together in the pan. Cook for approximately 5-10 minutes until the potatoes are slightly browned. You'll want to make sure to stir frequently so that they potatoes do not over cook.
Then in a separate small bowl, stir together the chicken broth, heavy whipping cream, salt and pepper. Next add this mixture to the pan and bring to a boil.
Then cover and reduce heat to low and simmer covered for 13-15 minutes or until potatoes are tender. I usually check with a fork to see if they easily fall apart because that's the way I like them! Yummy.
Next uncover the potatoes and top with the shredded cheese. Just top with the cheese and do not mix in as the potatoes will likely fall apart if you try to mix in the cheese. Cover again and heat on low for a few minutes to completely melt the cheese.
The next step is optional but it adds a ton of flavor to this dish so I highly recommend doing it if you can.
Move the pan to the oven (make sure that the pan is stovetop and oven safe) and broil uncovered for 2-3 minutes to brown the top of your delicious scalloped potatoes. (This is how my potatoes got that nice brown color on them.)
Then let the potatoes sit for at least 5-10 minutes to allow the sauce to thicken some. I know it can be hard to wait, but I promise, the wait will be worth it.
Serve while still warm topped with the diced green onions and enjoy!
These potatoes are so easy to make, once you have peeled and sliced your potatoes, these only take 20 minutes to cook and are packed with flavor!
How do you avoid curdled scalloped potatoes?
Curdling is generally caused by high heat. Make sure that you watch closely once you add the cream mixture to the potatoes and turn down to low once it has started boiling. If you boil the mixture too long, it may cause the cream mixture to curdle.
Also, I find that milk curdles easier than heavy whipping cream or half and half, so make sure to use either of these for this recipe and make sure that they are fresh and not out of date.
Print the recipe and nutritional information below:
Easy Stovetop Scalloped Potatoes
You have to make this easy Cheesy Potatoes Recipe. It is delicious and oh so good. This skillet potatoes recipe is perfect for any week night dinner.
Instructions
Heat the butter in a large skillet over medium heat. Add in the potatoes and onions. Cook for approximately 5-10 minutes stirring frequently until the potatoes are browning slightly.

In a small bowl, combine the broth, heavy whipping cream, salt and pepper. Add this mixture to the pan. Increase the high and bring this mixture to a boil. Then reduce the heat to low, cover and cook for 13-15 minutes or until the potatoes are fork tender.

Uncover, top with the shredded cheese. Do not mix in as the potatoes may fall apart. Recover the pan and cook for 2-3 minutes until the cheese has fully melted.

Move the pan to the oven (if you are using an oven safe pan) and broil uncovered for 2-3 minutes to slightly brown the top of the potatoes.

Then let the potatoes sit for 10-15 minutes to allow the sauce to thicken before serving.

Serve topped with the green onions and enjoy!
Recipe Notes
We used russet potatoes but you can use red or yellow potatoes as well but I would slice thicker to prevent them from over cooking.  
We love this topped with cheddar cheese but you can also use Asiago, Gruyère or your favorite type of cheese.  
Nutrition Facts
Calories
248
kcal
,
Carbohydrates
3
g
,
Protein
11
g
,
Fat
22
g
,
Saturated Fat
14
g
,
Cholesterol
72
mg
,
Sodium
464
mg
,
Potassium
99
mg
,
Fiber
1
g
,
Sugar
1
g
,
Vitamin A
747
IU
,
Vitamin C
1
mg
,
Calcium
287
mg
,
Iron
1
mg

More cheesy potato recipes:
More side dish recipes to try!