Crockpot Broccoli Cheese Casserole can easily be served as a main dish or a side dish. This casserole is easy to make, creamy and very cheesy.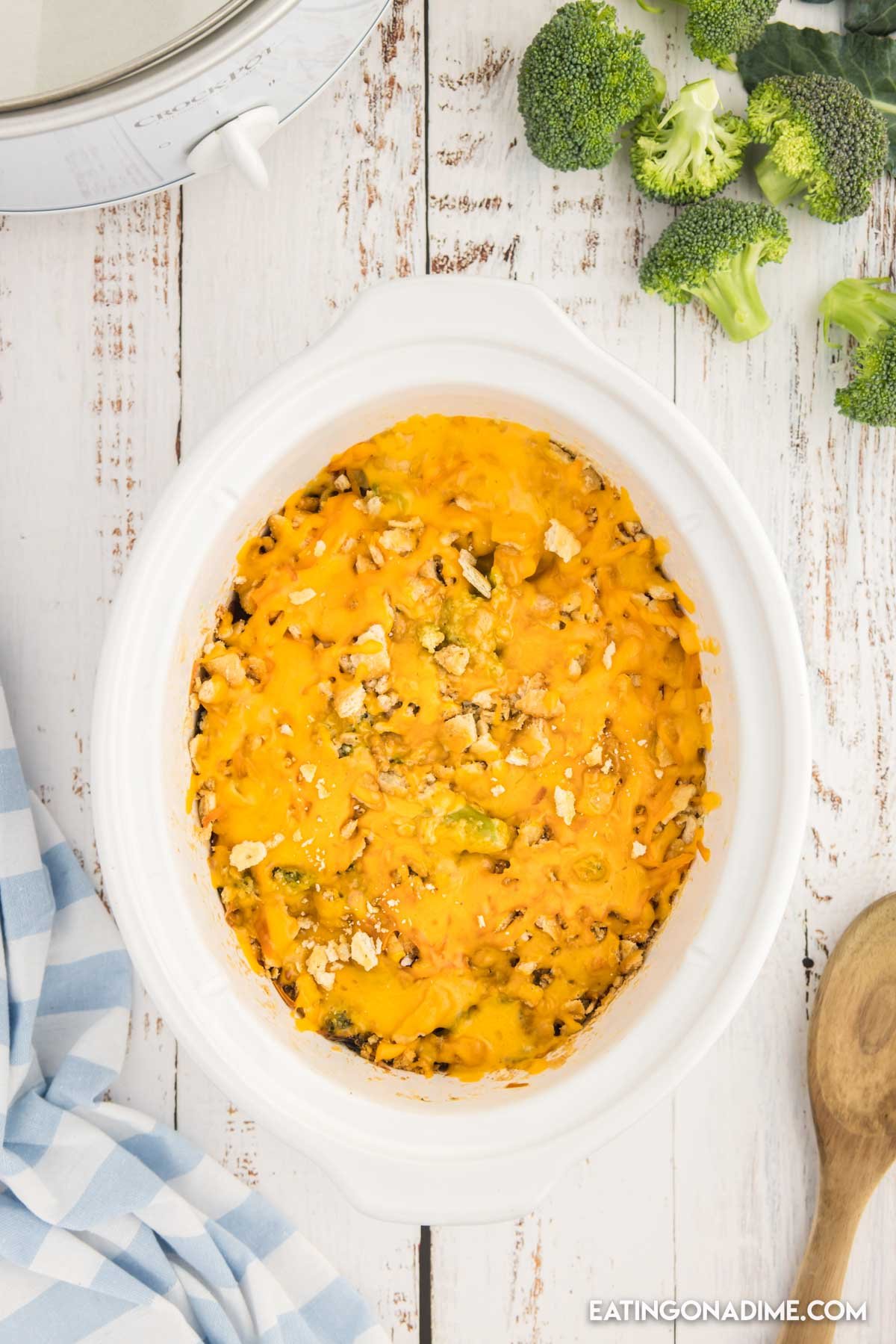 Crock Pot Broccoli Cheese Casserole Recipe:
Slow Cooker Cheese Broccoli Casserole is a family favorite side dish. It is loaded with broccoli, cheese and easy seasoning. The crockpot does all the work by adding everything to the crockpot and cooking on low for about 5 hours.
Free up your oven during the holidays and make a classic recipe in the crock pot. Broccoli Cheese Casserole is a must for our Thanksgiving meal, but we enjoy this side year round. Broccoli Casserole is the ultimate comfort food.
Add this to your holiday cooking list and make your holiday easier and make this easy ingredient casserole. Perfect size for a crowd or freeze the leftovers to enjoy another time.
Can I use Fresh Broccoli instead of Frozen?
Broccoli is one of my favorite vegetables. In this recipe, you can use frozen or fresh broccoli florets. They both cook perfectly in the slow cooker with the other ingredients.
Ingredients:
Condensed Cream of Celery Soup
Sharp Cheddar Cheese – divided
Salt
Pepper
Frozen Broccoli – thawed
Ritz Crackers
How to Make Broccoli Cheese Casserole in the Slow Cooker:
Combine Ingredients – In a large bowl add celery soup, 2 cups of cheese, salt and pepper. Stir until combined.
Add Broccoli to Mixture – Add broccoli and stir until the broccoli is evenly coated.
Add Mixture to Slow CookerPour mixture into the prepared slow cooker.
Top with Crushed Crackers – Sprinkle top with crushed buttery crackers and remaining ½ cup of cheese.
Cover and Cook – Cover with lid and Cook on LOW for 5 hours or cook on HIGH heat for 2 ½ hours.
Slow Cooker Broccoli Cheese Casserole Tips:
Prepare Vegetables – When I know that we will be making this casserole, I like to go ahead and prepare the broccoli if I am using fresh.
Crock Pot Liner – For easy cleanup line the crock pot with a liner.
Double the Recipe – This broccoli cheese casserole is great frozen, so double the recipe so you can serve it again.
Variations:
Change the Cream of Soup – You can use any type of cream soup. We suggest cream of chicken or cream of mushroom if you prefer.
Add Rice – Add cooked rice to the casserole for even more flavor.
Change the Cheese – We used sharp cheddar cheese, but you can use any kind. I have used mild cheddar and even pepper jack cheese for a little bit of spice to the casserole.
Add Chicken – If you prefer, you can add in some shredded chicken for a complete meal. If I have leftover chicken, I will mix it in with the other ingredients.
Sour Cream – You can mix in sour cream with the ingredients for a creamier texture.
Cracker Topping – This casserole is still delicious if you prefer to omit the cracker topping.
Fried Onion – For the amazing onion flavor, you can top the casserole with some fried onion or mix it in.
Can you Freeze Broccoli Casserole after Cooking?
We recommend freezing the casserole unbaked. Prepare the casserole as indicated in the recipe. We recommend doubling the recipe and store properly so it is ready to go for all your holiday baking.
Make sure to store in a freezer safe container and it will last about 3 months. If doubling the recipe, freeze in individual serving containers.
How do Reheat Frozen Broccoli Casserole:
When you are ready to serve broccoli casserole, thaw in the refrigerator overnight. Place thawed broccoli casserole in a baking dish and reheat in the oven. You can also reheat in the microwave.
If you reheat in the microwave, heat in 30 minute intervals and watch for hot spots.
What to Serve with Crockpot Broccoli Casserole:
Can I Make Broccoli Casserole in advance?
Yes, this is the perfect casserole to make in advance. When I am hosting a holiday dinner, I like to prepare as much meals as I can in advance. Prepare the casserole as indicated and then place in the refrigerator.
If you have the room in your refrigerator, I would go ahead and place the mixture and place in the slow cooker. It will last 3-4 days in the refrigerator.
I would wait to add the crushed cracker topping until you are ready to place cook in the slow cooker.
Baked Broccoli Cheese Casserole Recipe:
We love using our crock pot as much as possible. But this casserole is great in a casserole dish. Place the ingredients that are indicated in the recipe, and place in a casserole dish.
Place dish in a preheated oven and bake at 350 degrees on medium heat for about an hour. We like the cheese to be golden brown before removing from the oven.
How to Store Leftovers:
Place leftovers in an air tight container for about 3 to 4 days in the refrigerator. When we prepare this dish for the holidays, we always have so much turkey and ham leftovers, that we eat on it for several days.
Print Recipe for Crockpot Broccoli Cheese Casserole Recipe:
More Crock Pot Casserole Recipes: