Are you cooking a recipe and out of onions? It has happen to me many times. These are my preferred methods of The Best Onion Substitutes.
Best Onion Substitutes:
We love cooking with fresh raw onion. The onion juice gives the recipe so much flavor so it is a must with pretty much anything we are cooking. We use in our taco meat to our stir fries.
This root vegetable comes in many different colors and all provide specific flavoring to your meal. There are different types of onions which include the yellow onion, white onion, sweet onion, and a red onion. It is paired well with garlic and scallions.
Some meals you must use fresh cooked onion as a substitute but most you can use a dry version. There is also an option of using onion salt or garlic powder.
Why would you want to substitute onions?
There are multiple reason why people do not use fresh onions in their meals. Some people do not want to mess with cutting them a knife or have the smell on their breath. Some people are even allergic to onions.
To help with getting the smell off your hands after cutting the onion, is to wash your hands with cold salt water, rinse then washing with warm soapy water.
If you do not like the aftertaste of onions on your breath, try eating an apple. This helps minimize the odor that the onion gives.
How many cups is 1 onion chopped?
To help with what to buy at the store when your recipe calls for 1 cup of chopped onion. Here is a helpful ratio:
1 Medium Onion – About 1 cup chopped
1 Large Onion – About 1 ½ cup – 2 cups chopped
What can you substitute for onions?
Rather you are trying to avoid cutting an onion, or just for health reasons these methods have been my preferred methods when I forgot to pick up an onion.
These substitutions include using a other options or just not adding onion ingredient at all. Most recipes will still taste amazing even if you didn't chop up an onion. These are all good option to replacing an onion.
Skip it:
If you are cooking a recipe with lots of other flavors and seasoning then you can just skip chopping up that onion. Not adding a chopped onion to your recipe, will not be missed.
If the recipe has the word onion it, such as French Onion Soup then you definitely need to add it.
Onion Flakes:
Onion flakes are made with real onion. So if you have an onion allergy then I wouldn't use this substitution.
Onion flakes is probably the closest substitution you will get to a real onion. This is probably the best onion substitution that I prefer.
Chives:
Chives is a good substitution to onion. But it usually added at the end of cooking your meal. Toss in a handful as your are finishing up a cooked dish and it adds in flavoring if you are out of onions.
1 Medium Onion = 6-8 Chives
Fennel:
Fennel is a good option but not everyone likes the taste of Fennel. It almost has a taste of licorice. It can however add an intense flavor to your meal.
1 Medium Onion = 1 Large Fennel Bulb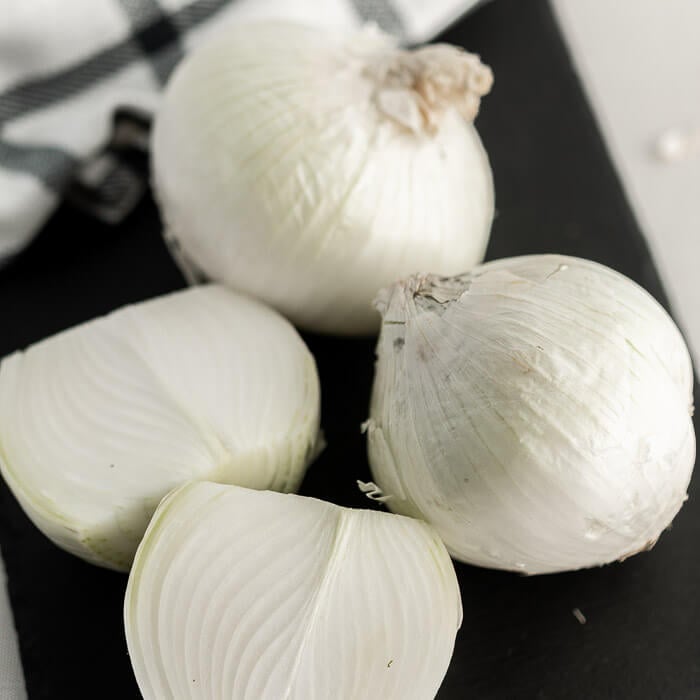 Green onions/scallons:
Another best onion substitutes is green onions/scallons. They have a milder taste then regular onions. Just as you would a fresh onion, you can cook green onions to a clear color. They also could be added at the end, just before serving.
1 Medium Onion = 6 to 8 Green Onions
Leeks:
Leeks and onion are in the same onion family. They are very similar and look, texture and taste.
1 Medium Onion = 1 Large Leek
Shallots:
Shallots have a sweet and delicate flavor whereas onions have more of intense heat. You can use Shallots as a substitution as it brings out the onion and garlic flavor in recipes and has a milder flavor.
1 Medium Onion = 2 Large Shallots
Celery:
Chopped celery and even chopped carrots are a good substitution for onions. Especially if you are making a soup or a stew they provide good flavoring when added.
1 Medium Onion = 2-3 celery stalks
How to store onions:
To store a whole onion, place in a brown bag in your pantry. It will stay for several months. I leave it in a certain place so I know it is always there.
If you have leftover chopped onion, I would wrap in saran wrap and place in an airtight container. I would use it within about 3 days or your refrigerator will start smelling of onions.
More Substitution Ideas: