When the weather starts to get cool, there isn't anything like a good pot of chili! We have 20 quick and easy chili recipes you will love. Whether you like traditional chili soup recipes or like to spice things up, there is a recipe for everyone! These easy chili recipes come together quickly and will be the perfect dinner idea for crisp Fall evenings.  Let's give these quick easy chili recipes a try.
We like to top our chili with tortilla chips and cheese.  Sometimes we make a big pan of cornbread and crumble it on top of the chili. It's so good. This easy cornbread recipe is a hit and really simple. If you like things a little spicy, try this cheddar jalapeno cornbread.
There are so many varieties of chili that you never get tired of it. We love classic chili but white chicken chili is also a big hit around here. Taco Chili is also one of our favorites.
We make chili frequently so I make a big batch of homemade chili seasoning. It's really easy to make and cheaper than store bought.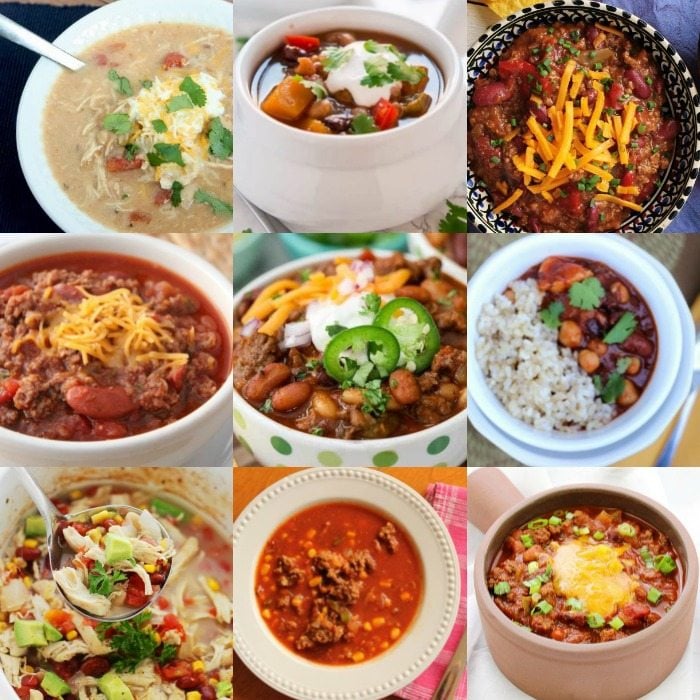 20 Quick and Easy Chili Recipes
1. Hearty Pumpkin Chili Recipe
Add pumpkin for a twist on the classic chili recipe. It's so hearty and perfect for this time of year.
This is a super quick and easy chili recipe that the entire family will love! Top with cheese and corn chips or whatever you like!
If you love Wendy's chili, give this recipe a try. It's packed with ground beef, veggies, tomatoes and more! Just like Wendy's.
This is a very simple and classic chili recipe. It's quick and delicious. Dump it all in your slow cooker and have dinner waiting when you get home!
Get dinner on the table fast with this dish that only takes 30 minutes! Perfect for those nights you forget to menu plan!
6. Slow Cooker Pumpkin Turkey Recipe
This recipe calls for turkey and pumpkin so it's a really healthy meal that is delicious! It will satisfy a crowd and cooks so easily in the crock pot!
This meatless recipe is perfect for those that don't eat meat or maybe times when you are trying to stretch your grocery budget. It's packed with so much flavor and has bulgar wheat to really leave you satisfied.
8. 6 Ingredient Crock Pot Chili
You only need 6 ingredients to make this awesome chili! Such a simple recipe that doesn't take long to prepare and everyone will love.
9. Crock Pot White Chicken Chili
Use chicken instead of beef and white beans for a twist on classic chili. This is so good and a nice change if you are looking for something different.
This recipe comes together quickly by using Hurst's 15 Bean Soup in the dry bean section of the store. Plus, it's frugal using dry beans. This chili is excellent topped with cornbread, cheese and more!
11. Slow Cooker Butternut Squash 
The perfect Fall meal with yummy Fall vegetables! It's super easy in your slow cooker to make dinnertime a breeze.
Turkey and Corn make the perfect combination in this hearty chili. This recipe is a great one to save and use for Thanksgiving leftovers.
13. Slow Cooker Tortellini Chili
Cheese tortellini adds something really special to this dish. It's feeling and delicious!
14. Simple and Easy Crock Pot Chili
Quick and easy and gluten free! Top with an assortment of  cheese, more onion or whatever your family likes.
You will love the flavor the salsa adds to this dish. It adds a kick that is so good with the black and pinto beans. We serve with cheese, tortilla chips and sour cream. This is a an easy freezer meal if you have any leftovers.
This is sweet, savory and spicy! The Dr. Pepper adds a really good flavor!
17. Delicious Chili in the Crock Pot
Yummy chili with a secret ingredient- cocoa powder! Top with cheese if you like!
Sneak hidden veggies in this recipe! No one will never know and you will feel good about getting extra nutrients in your family! This recipe uses ground turkey so it's much better for you and cheaper too.
This is a great alternative to ground beef and you can omit the chicken if you want this to be vegetarian.
20. White Chicken Chili Taco Chili
This comes together quickly in the slow cooker. It's a good way to sneak beans into your children's diet. Since they are the same color as the chicken, they won't even notice. We top ours with tortilla chips and cheese.
All of these quick easy chili recipes are going to be a hit with your family at meal time!
Give them a try and let us know which easy chili recipes are your favorites.
Try these other delicious soup recipes: