Everyone will love Crock pot ranch beans for a hearty and delicious side dish. Each bite has just the perfect amount of seasoning and the slow cooker does all the work.
Crock pot ranch beans
The Ranch Beans Recipe is finally here! Who doesn't love ranch beans?
I adapted a recipe I found awhile back and made it my own and it is amazing! No need to soak beans overnight.
This recipe is so easy since soaking beans is not required! Plus, the flavor is simply the best!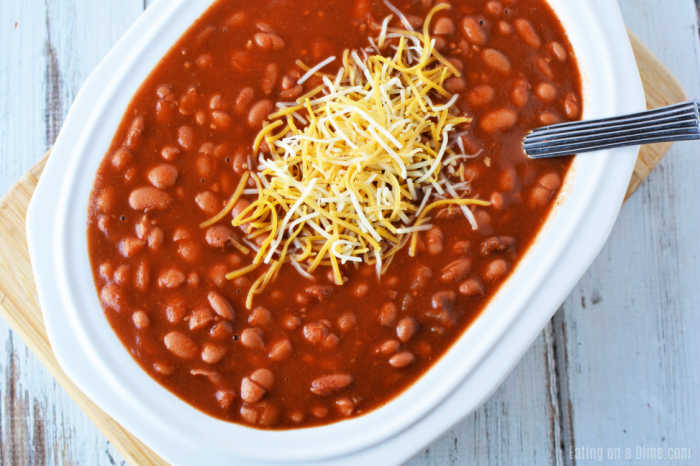 What are ranch style beans?
This recipe is not too sweet and not too spicy. These ranch beans are delicious.
Dare I say, they are pretty close to the canned version (a crowd favorite around here). Of course, you have the added benefit of knowing all of the ingredients.
Enjoy!
Ingredient for ranch beans
dried pinto beans
tomato paste
chopped onions
seasoning
cumin
I told you it was SO easy to make this and very inexpensive too!
How to make crock pot ranch beans
Just toss all of the ingredients into the crock pot. Cover and cook! It is really that simple.
So easy!
Cooking the beans is that easy.
The crock pot literally does all the work for you. Everything gets blended together for just an amazing flavor.
Come back in 8 hours and this delicious meal will be ready to gobble up. If you need it sooner, try 5 hours on high instead.
Serve and top with a little shredded cheese for a great meal!
Keep reading for the full recipe below.
This is budget friendly.
If your family loves these as much as we do, learn how to make them easily and quickly in the crock pot. You can make a huge batch for very little money or effort.
Once you make this easy recipe, you won't buy the cans at the store anymore. These are fabulous and our entire family gobbles them up.
Dried beans are so cheap and inexpensive. This really is a budget friendly meal packed with flavor.
What to serve with crock pot ranch style beans?
You can make a meal out of these beans and serve with cornbread. We love this Easy Homemade Cornbread Recipe and Cheddar Jalapeno Cornbread Recipe. Yum!
Or serve the beans as an easy side dish. They go great with these Crock Pot BBQ Pulled Chicken Recipe.
Another idea is to try adding ground beef to the beans for a hearty meal. Yum!
Feed a crowd with this recipe!
They are so easy and everyone always loves this delicious recipe. They are frugal and tasty.
Perfect to feed a large family or if you are hosting a group.
Tips and tricks:
I like to put the water in last because it tends to 'mix' everything nicely together.
If you do not like to mince garlic yourself, you can substitute 3-4 teaspoons of bottled minced garlic.
You can also try adding brown sugar and a ham hock to this bean recipe. It will taste more like baked beans instead of ranch style beans but still delicious.
Serve it for dinner or leftovers. We love to put small portions in containers to freeze for later.
I like to freeze it flat in freezer bags but you could also use freezer containers if you prefer. This is perfect to enjoy for lunches during the week.
Make sure you have a good slow cooker make this recipe. One of my favorite slow cookers is this programmable crock pot for when I am am not at home all day. I love coming home to a nice meal ready and waiting!
I also like to use crock pot liners to make clean up a breeze. These are worth every penny and save a ton of time.
Try this recipe in the instant pot for a quick and delicious meal.
We save a ton of time by freezing onions and using them for recipes like this. Use a small food chopper or food processor to quickly and easily chop the veggies.
Make these beans today!
They are so delicious and we love to freeze extra. This is a great idea when you just don't have any time and can grab this from the freezer. We love doing this!
This recipe is just so simple and dry beans make such a frugal meal to try. Don't let those skeptical scare you away.
My kids were not fans initially but once they actually tried it, they loved it! They said it had the best flavor and they went crazy over it.
Once you see how simple and inexpensive this is, you will make this all the time! Seriously stop buying the cans of Ranch beans at the grocery store when you can make this instead.
Not only will you save so much money but it is not hard at all. The crock pot does all the work.
The flavor is really delicious and you only need a few ingredients. It is the best and sure to be a hit!
Jump to recipe below.
Print this Crock pot Ranch style beans:
Crock Pot Ranch Style Beans Recipe
Everyone will love Slow Cooker Ranch Style Beans. The slow cooker does all the work for this delicious meal. Try Crock pot ranch style beans recipe.
Ingredients
1

pound

dried pinto beans

6

ounces

tomato paste

½

cup

chopped onions

1

clove

minced garlic

1

tablespoon

chili powder

dash crushed red pepper flakes

1

teaspoon

salt

1

teaspoon

cumin

½

teaspoon

dried marjoram

7

cups

water
Instructions
Place all of the ingredients in the crock pot in order. I like to put the water in last because it tends to 'mix' everything nicely together.

If you do not like to mince garlic yourself, you can substitute 3-4 teaspoons of bottled minced garlic. (This is an indulgence, but it is a big convenience and sometimes you can find it marked down. Plus, one little bottle will last a long time.)

Cook on low 8 hours or high for 5 hours.

Serve hot and toss a pinch (or two) of shredded cheese on top for a little extra yum!
Recipe Notes
This recipe is perfect to feed a large family or serve if you are hosting a group.
Nutrition Facts
Calories
296
kcal
,
Carbohydrates
54
g
,
Protein
17
g
,
Fat
1
g
,
Sodium
658
mg
,
Potassium
1391
mg
,
Fiber
13
g
,
Sugar
5
g
,
Vitamin A
830
IU
,
Vitamin C
12
mg
,
Calcium
115
mg
,
Iron
5.1
mg
Try these other easy crock pot recipes:
Be sure to check out all of our delicious Crock Pot Recipes here.
More crockpot side dishes