This post may contain affiliate links. If you make a purchase through links on our site, we may earn a commission.
Learn how to make Crockpot Brisket Recipe that is so tender it falls apart. The flavor from being slow cooked all day is delicious and the recipe can't be beat.
Beef Brisket in the Crockpot:
Once you make this Crock Pot Brisket Recipe, you will see just how amazing this meal is. I love meals that I can toss in the crockpot and go about my day. It takes me about 15 minutes to gather the ingredients and toss into the crock pot.
The meat is so flavorful from being slow cooked all day. Come home to dinner ready and waiting for the best meal.
This cut of meat is so tender in the crock pot and you will love how simple this meal is. No longer is this for Sunday lunch only but you can now enjoy it even on busy weeknights.
What is Beef Brisket?
Brisket refers to a cut of beef that is from the lower chest portion. It is typically smoked to get that amazing flavor.
This cut of meat is tough and ideal for slowly cooking until tender. Slow Cooking is easy, but if you are short on time, try making Instant Pot Beef Brisket Recipe.
Pick up some meat at the grocery store and save money and time. If I spot one on sale, I always grab it for the freezer.
Ingredients
Beef Brisket
Paprika
Salt & Pepper
Brown Sugar
Worcestershire Sauce
Chili Powder
Cumin
BBQ Sauce
How to make Brisket in the Crock Pot:
Place all the ingredients in a 6 quart crock pot. We place the brisket fat side down. You can also add in some fresh onions or onion powder and garlic powder.
Cover and cook on low for 10 hours or on high for 5 hours.
Shred and Enjoy – Then shred the brisket and it's ready to enjoy!
Can I Make Beef Brisket ahead of time?
It is super easy to make ahead of time and the flavor is even better.
This is a great way to save time if you plan to make this for a party. Just cook as normal and store in the fridge.
Make sure to use an airtight container and it will last up to 3 days.
Can you overcook Brisket in a Slow Cooker?
Yes, you can overcook your Brisket in a slow cooker. Brisket is not a pulled type of meat. If you leave your brisket in the slow cooker to long it could result in mushy, tasteless meat.
How to tell when Brisket is done?
When cooking Brisket in the slow cooker the results should be fork-tender brisket. Your brisket should be able to slice as well as shred if you prefer.
Fork Test – If the brisket edges can easily be shredded then your brisket is done. We recommend you tongs to hold up your brisket. If it keeps it shape then, your brisket is done.
Meat Thermometer – When cooking meat, we recommend to have a meat thermometer. This ensures your meat is cooked to the right temperature. When you test your brisket it should show an internal temperature between 195 degrees to 215 degrees.
Tips for the Best Beef Brisket:
Don't Overcook – Make sure to not overcook as your brisket can turn mushy or tough.
Low Heat – We like to cook out meat on low. Brisket seems to cook better on low.
Let Meat Rest – Before shredding meat, let meat rest to lock in the juices and retain the moisture. Cutting meat to early will result in dry meat.
Slice the Brisket – Instead of shredding the beef, you can slice in thinly slice pieces.
How to make Homemade Barbecue Sauce
It is optional but we love to make this Homemade BBQ Sauce for the brisket. Barbecue sauce is one of the easiest things to make.
Not only is it simple to make but this Easy Homemade BBQ Sauce Recipe is very cost effective as well. I love to have extra barbecue sauce to top our brisket with after cooking.
What should I serve with beef brisket?
Brisket goes with so many side dishes so the ideas are really endless. See What to Serve with Brisket for more ideas.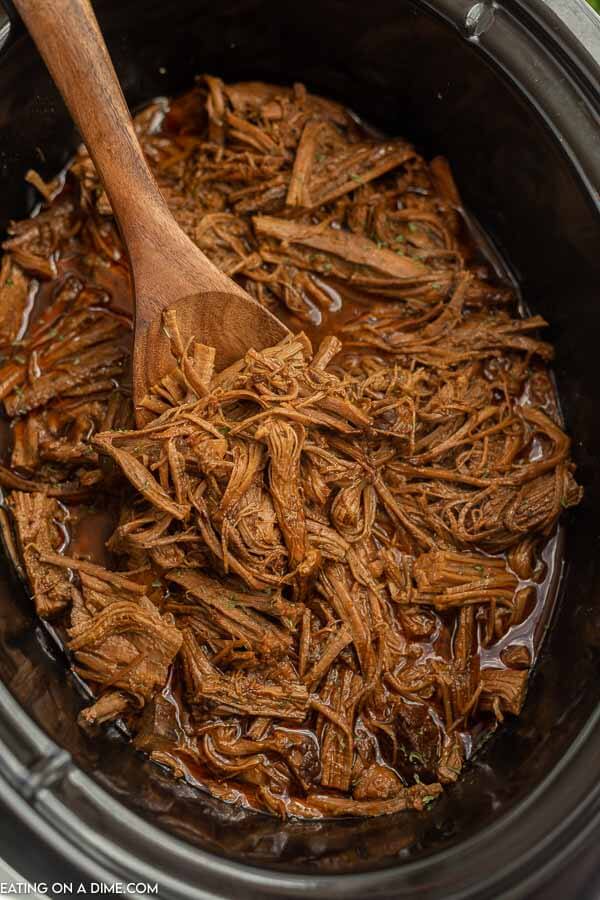 Try making Crock Pot Brisket and Potatoes:
For a complete meal, add potatoes to the crock pot. Adding potatoes to this brisket taste so amazing. No need to dirty up multiple pans. Everything is cooked together for an easy weeknight meal.
After the potatoes are finish cooking, you can make mashed potatoes.
Crock Pot Beef Brisket Sandwiches:
The meat is perfect for making sandwiches or sliders. This is also a great way to use the leftovers.
Shred the meat and make sandwiches everyone will love. They are perfect for meals on the go or a quick dinner or lunch idea.
These are a hit at parties, game day, family dinner and more. Top with The Best Coleslaw Recipe and what an amazing meal!
Can you Reheat Brisket in a Crock Pot?
We like to keep the crock pot on warm so that we can enjoy the brisket later. Sometimes with various activities, we are not able to all eat at once.
I can just keep the setting on warm and not have to worry about the meat getting cold.
How do you finish a beef brisket in the oven?
We almost always use the slow cooker entirely. However, if you need to finish the brisket in the oven you can.
Some prefer the outside golden brown and you can finish cooking in the oven to achieve this if desired. Place brisket in a baking dish and finish cooking in a preheated oven of 350 degrees.
This Slow cooked brisket oven option only takes a few extra minutes.
The Best Way to Freeze Brisket Leftovers:
Freeze the brisket inside a freezer airtight container for up to 2 months. You can use a container or freezer bag.
I prefer to use freezer bags when possible because they freeze flat. This will take up less room in the freezer. I am always running out of room so it really helps.
It is also a good idea to wrap the meat in plastic wrap and aluminum foil before placing inside the bag. This will keep it fresh in the freezer.
When you are ready to eat, allow it to thaw in the fridge overnight.
How to reheat brisket:
I love having leftover brisket because it reheats nicely. However it can really dry out if you are not reheating it correctly. See How to Reheat Brisket the best way.
Your family will love this easy Slow Cooker BBQ Brisket.
This is such an easy meal and also a slow cooker brisket passover idea.
It really is so simple and makes dinner time effortless. We like to cook it on low but you can adjust cook times if you need to cook the brisket in a shorter amount of time.
The meat is just as delicious cooked on high. Our family loves this brisket recipe.
It is so nice being able to enjoy this any day of the week. The meat is slow cooked to perfect and is fork tender.
The sliced onions combined with the seasonings and worcestershire sauce give it the most amazing flavor.
Print Recipe here for Crockpot Beef Brisket:
Crock Pot Beef Brisket Recipe
Learn how to make Crock Pot Brisket Recipe that is so tender it falls apart. The flavor from being slow cooked all day is amazing and the recipe is so easy.
Instructions
Place all the ingredients in a 6 quart crock pot.

Cover and cook on low for 10 hours or on high for 5 hours.

Then shred the brisket and it's ready to enjoy!
Recipe Notes
*Refrigerate any leftovers in an air tight container for up to 5 days.  
Nutrition Facts
Calories
494
kcal
,
Carbohydrates
33
g
,
Protein
48
g
,
Fat
18
g
,
Saturated Fat
6
g
,
Polyunsaturated Fat
1
g
,
Monounsaturated Fat
8
g
,
Cholesterol
141
mg
,
Sodium
1571
mg
,
Potassium
1025
mg
,
Fiber
2
g
,
Sugar
26
g
,
Vitamin A
1331
IU
,
Vitamin C
1
mg
,
Calcium
55
mg
,
Iron
6
mg
Try these other easy brisket recipes: