I love to order brisket tacos from my favorite Mexican restaurant. Then I decided to make them at home too! Now, my entire family loves this simple and easy slow cooker brisket tacos recipe.

Crockpot brisket tacos is a great recipe to share with your family!
This recipe can be thrown together in the crock pot in no time at all and then you'll have delicious brisket tacos to share with your family.
Trust me, everyone is going to love this brisket taco recipe.

You'll need a great crock pot for these slow cooker brisket barbacoa tacos.
Everyone looks at me like I'm crazy when they find out that I have 3 crock pots. Then I try to explain that it's because I have 8 kids, but that generally just surprises them more!
I really could not survive without my crock pot. Out of the 3 that I currently use, the 4 in 1 Ninja crock pot is my favorite. I used to think that all slow cookers were the same until I owned this crock pot.
The best benefit of this slower cooker over the others is that it has a stove top feature that in results allows you to brown the meat and slow cook it in the same crock pot. This means less dishes which is always a priority in my household.
My sister currently has the 2 in 1 Ninja slow cooker. It's slightly less expensive than the one that I have as it doesn't have as many features. However, it still has the same cooktop feature which we both use all the time. She recommends this one as well.
Also, the remove-able insert on both of these crock pots makes clean-up a breeze! Trust me, you won't regret getting this crock pot.
I also really like this crockpot and own it as well. The lid can be locked down on this slow cooker which is beneficial with I travel with a crock pot of food. This happens more than you would think
The last one that I currently own is this programmable crock pot. The programmable feature is great for when I'm not going to be home all day to monitor my food.
I love coming home to a delicious meal waiting on me. The programmable feature ensures that my meal is not over cooked while I'm gone all day.
Ok, now that you are prepared with an awesome crock pot, let's learn how to create this amazing brisket recipe.
What do you need to make the
best brisket tacos?
Beef Brisket
Salsa
2 Limes, Juiced
Fresh Cilantro Leaves
Tortillas
Cotija Cheese
Jalapeños
It really is that simple. Only a few ingredients combined together in your slow cooker will make this delicious slow cooker Mexican brisket.
Have you tried my homemade taco seasoning recipe yet?
I love making my own taco seasoning. I joke that it's my favorite DIY. It really is easy to make and tastes way better than the packets from the store.
It just takes a combinations of some of my favorite spices (chili powder, cumin, garlic salt, paprika, onion powder, cayenne, salt and pepper) to create this delicious taco seasoning. Plus, you'll know exactly what's in it!
I like to quadruple the recipe and store in glass spice jars. This ensures that I always have some on hand for tacos or when it's needed in a recipe like this one.
I hope you'll try it soon. It's probably one of my all time favorite recipes!
How do you make brisket tacos dallas?
You won't believe how easy this recipe is! First, you put the brisket, salsa and taco seasoning in your favorite slow cooker.
Next, squeeze the limes over these ingredients for the fresh lime juice. Don't leave this step out, this small step adds so much flavor to this slow cooker brisket.
Then you cover and cook on low for 8-10 hours. Once it's done cooking, remove the brisket and shred the meat with 2 forks. Next return the shredded brisket back to the crock pot and mix with the juice in the slow cooker.
Finally, serve on your favorite corn tortillas or flour tortillas and top with the shredded cheese and cilantro.
How To Cook Brisket in Slow Cooker
Generally, I love using my crock pot because I can throw food in there frozen and the slow cooker will transform it into a delicious meal when it's done.
However, with that said, I do not recommend cooking a brisket from frozen. Since it's a thicker cut of meat, it's take more time to completely thaw out and then start cooking.
I recommend that you put the brisket in the crock pot already thawed so that it'll be tender and juicy at dinner time.

Tips for Slow Cooker Brisket Tacos
Here are a few tips for making these crock pot brisket tacos to ensure that everyone in your family enjoys them!
Put the brisket in the crock pot thawed (do not cook this recipe from frozen)
If the beef won't shred after your cooking time, you can thinly slice it for the tacos or put it back in the crock pot for a few more hours. It's probably just not quite done yet!
If the shredded brisket seems too dry in the slow cooker, add a little bit of beef broth until it's moist again.
Can you freeze these best brisket tacos?
I love freezer cooking. Freezer cooking is prepping meals that are stored in your freezer that can be cooked on a later day. I have a large family, so I do a lot of freezing cooking to ensure that I can get dinner on the table every night.
This recipe can easily be converted to a freezer meal so we can save even more time in the kitchen.
If you enjoy freezer cooking as much as I do, I encourage you to check out our Lazy Day Cooking Club. This club is a freezer cooking meal plan that provides you with great recipes, instructions on how to freeze and all the ingredients that you need for great crock pot recipes.
This club takes away the stress of deciding what's for dinner and gets dinner on your table in even less time.
How to reheat leftover brisket tacos
I love to heave leftover brisket, because it reheats really well. My favorite tip is to make sure you store your leftover brisket in any juice that it was cooked.
This will help prevent it from drying it out when being reheated. Check out How to Reheat Brisket for more tips.
What to serve with crock pot brisket tacos?
First, let's talk toppings! I love finishing these best brisket tacos with my favorite taco toppings.
Here are a few to consider but you should definitely use your favorite!
Now we need to decide what to serve these delicious taco with. My family loves enjoying chips and white cheese dip with these tacos. This cheese dip is better than from a restaurant.
Also, this easy Spanish rice recipe is perfect for tacos. It really is easy to prepare in no time at all!
These slow cooker brisket tacos are simple to make and a crowd pleaser!
These tacos are so easy to make. Anyone can prepare them in no time at all.
These are perfect for a quick weeknight dinner or for your next dinner party. I hope you try these brisket tacos soon and leave us a comment with what you think!
Print this B
risket Taco Recipe

below: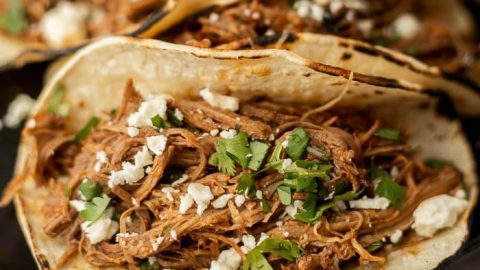 Slow Cooker Brisket Tacos Recipe
These Mexican brisket crock pot tacos are perfect for a quick dinner or your next party. These slow cooker brisket tacos are a quick and easy dinner recipe.
Ingredients
2

lbs

beef brisket

1

cup

salsa

4

tablespoons

Taco seasoning

2

fresh limes

juiced

fresh cilantro

18

corn tortillas

1

cup

Cotija cheese

1

jalapeno

(sliced)
Instructions
Place the brisket, salsa, taco seasoning in the crock pot.

Squeeze the limes over these ingredients.

Cook on low for 10 hours or on high for 5 hours.

Shred brisket and then stir with juices in crock pot.

Serve the brisket on the tortillas topped with the cheese, cilatnro and jalapeños. Enjoy!
Recipe Notes
*Refrigerate the leftover brisket in an airtight container for up to 5 days.  
Nutrition Facts
Calories
494
kcal
,
Carbohydrates
42
g
,
Protein
40
g
,
Fat
19
g
,
Saturated Fat
8
g
,
Polyunsaturated Fat
2
g
,
Monounsaturated Fat
7
g
,
Cholesterol
116
mg
,
Sodium
859
mg
,
Potassium
800
mg
,
Fiber
7
g
,
Sugar
3
g
,
Vitamin A
508
IU
,
Vitamin C
11
mg
,
Calcium
214
mg
,
Iron
4
mg


Enjoy Crock pot shredded beef tacos loaded with tender shredded beef and only 3 ingredients needed.
There are tons of options for this delicious beef carnitas recipe that include tacos, burritos, salads and more!
This Crock Pot Brisket Sandwich Recipe is great to serve to feed a large crowd or for a busy weeknight meal for my family.
Try this Gluten-Free Crock pot Mexican Shredded Beef Taco recipe for the next Taco Tuesday meal!
If you love this Slow Cooker Brisket Tacos Recipe, try this other great beef crock pot recipes!