This post may contain affiliate links. If you make a purchase through links on our site, we may earn a commission.
I'm so excited to share with you this Crock Pot Mexican Taco Casserole Recipe. It is amazing because you can enjoy this delicious casserole without heating up the kitchen. You are going to love this delicious and easy slow cooker recipe.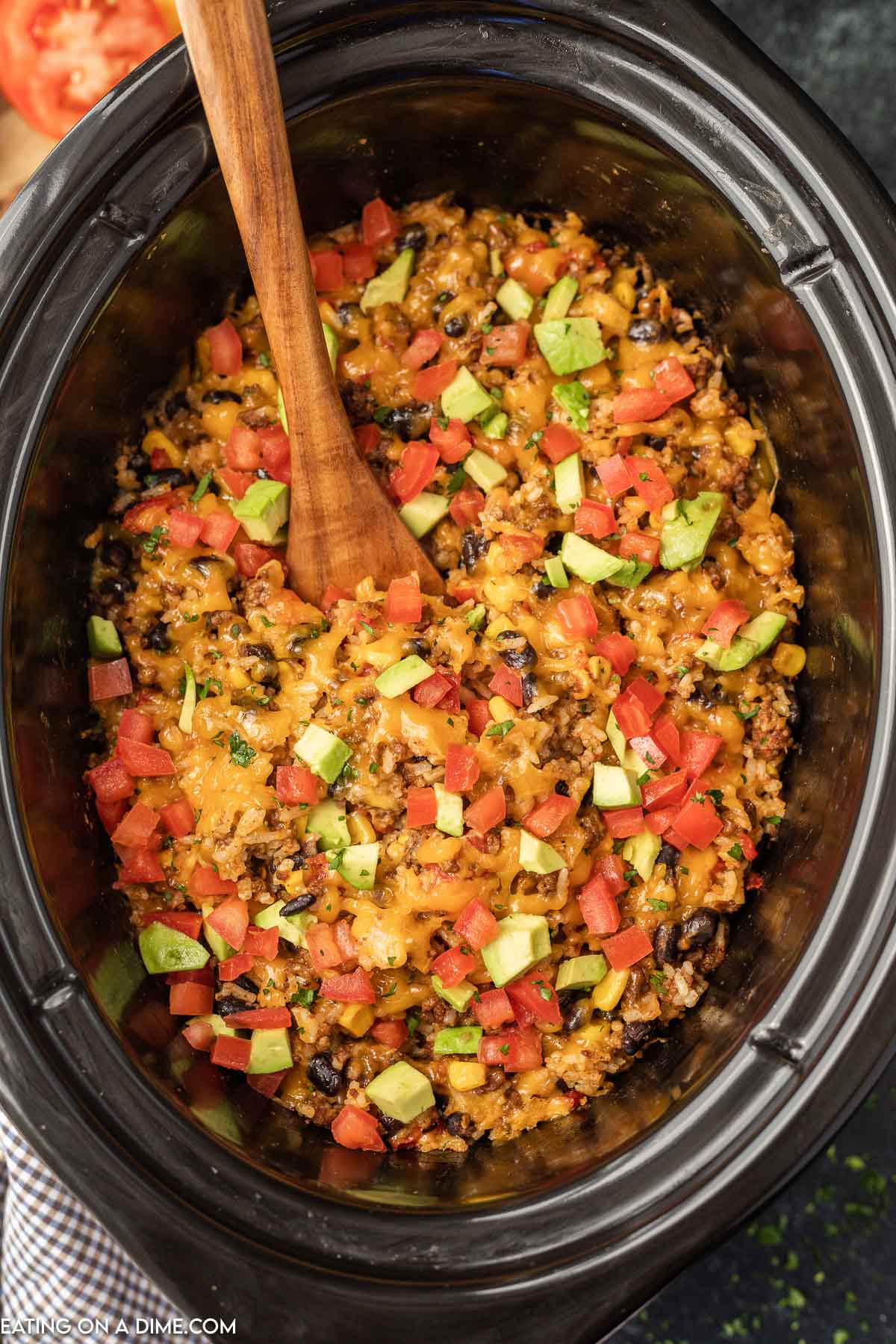 Slow Cooker Taco Casserole Recipe:
We take Taco Tuesday seriously in my house. Generally, we like to enjoy Mexican food on Tuesdays night and it has kind of become a tradition in our household. However, I get bored of the same old same old and I like to mix this up a bit.
This crock pot taco casserole is the perfect way to enjoy all those taco flavors on your next Taco Tuesday or Mexican Monday. Take your traditional taco casserole to the next level and make it in your slow cooker.
This taco casserole is perfect for a crowd or a weeknight meal. You can easily change the ingredients to what you prefer. Serve with a side of chips and queso for a delicious Taco Tuesday recipe.
Try one of our 53 Best Mexican Crock Pot Recipes.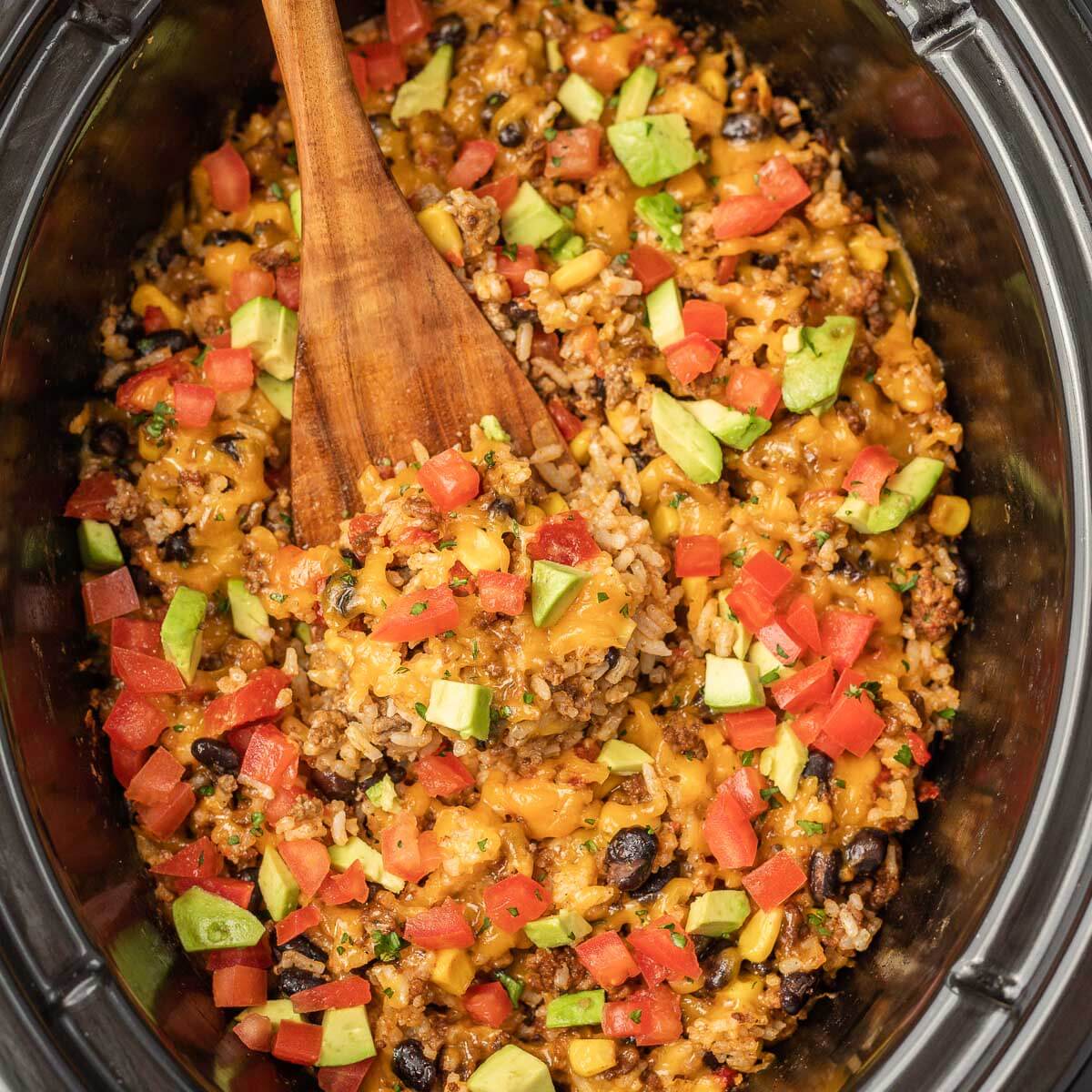 How to Build a Taco Casserole:
Taco casserole is layered in a slow cooker to create a delicious casserole. Ingredients can be changed to what your family prefers.
First Layer – We prepared white rice to layer at the bottom of the slow cooker. But you can easily use brown rice or flour tortillas. There are also many gluten free options.
Second Layer – The second layer is the taco filling. We prepared the ground beef in a skillet and then added in corn, black beans and diced tomatoes for added flavor. Season this taco mixture with taco seasoning. Once these ingredients are cooked together, layer it on top of the white rice.
Third Layer – This final layer is one of my favorite parts. Top the meat mixture with cheese and let this all heat together in the slow cooker. Dish and serve and top with diced avocados and salsa.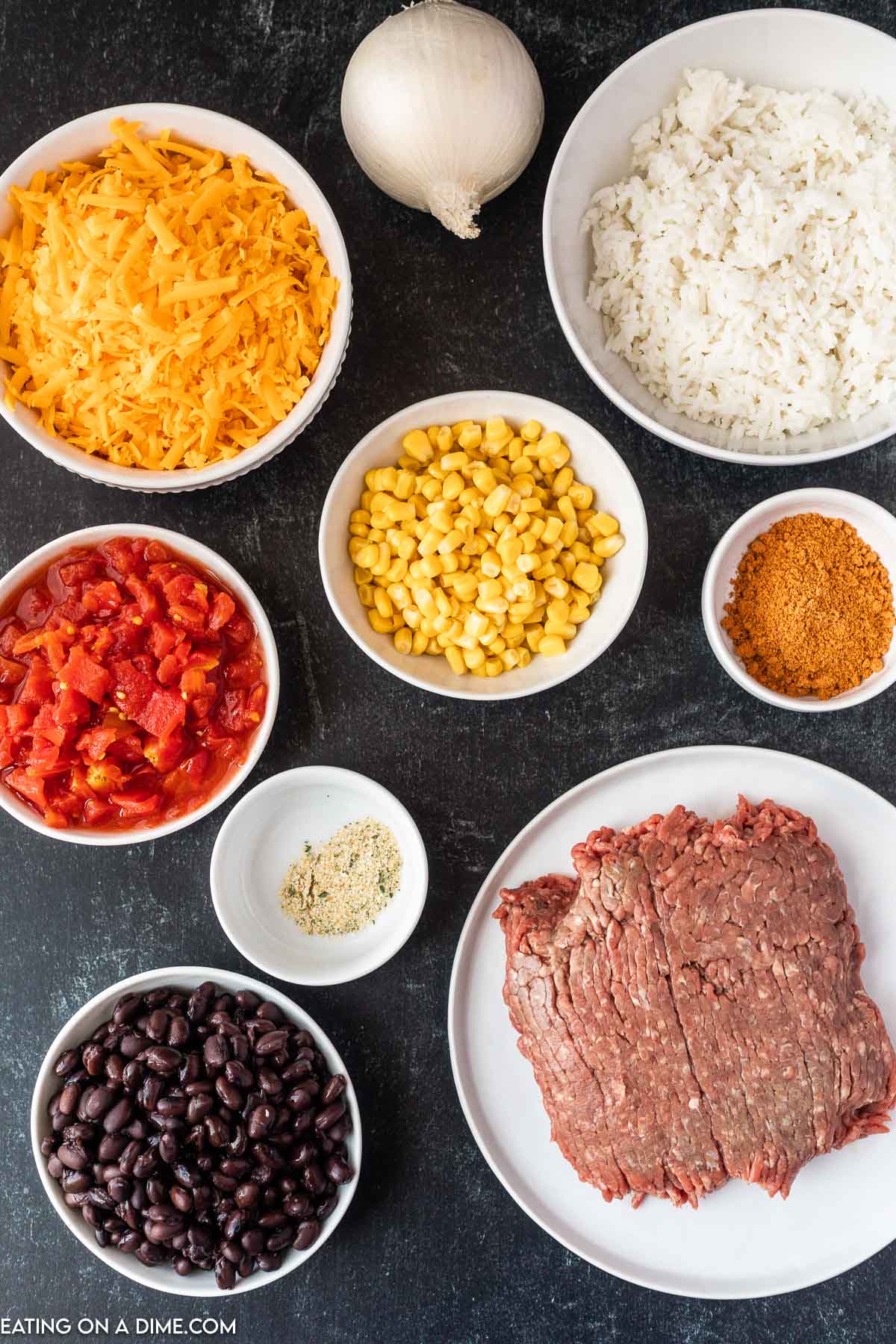 Ingredients
Ground Turkey or Ground Beef
Chopped onion
Corn
Black Beans
Diced Tomatoes with Green Chiles (aka Rotel)
Taco Seasoning
Garlic Salt
Cooked Rice – White or Brown work great for this recipe.
Shredded Cheddar Cheese
How to Make Taco Casserole in the Crock Pot:
Step 1 – Cook Meat Mixture – First brown your ground turkey or ground beef in a large skillet over medium high heat. Then add in the chopped onions, taco seasoning, tomatoes, beans and corn.
Step 2 – Stir and Combine – Stir to combine all these ingredients and set aside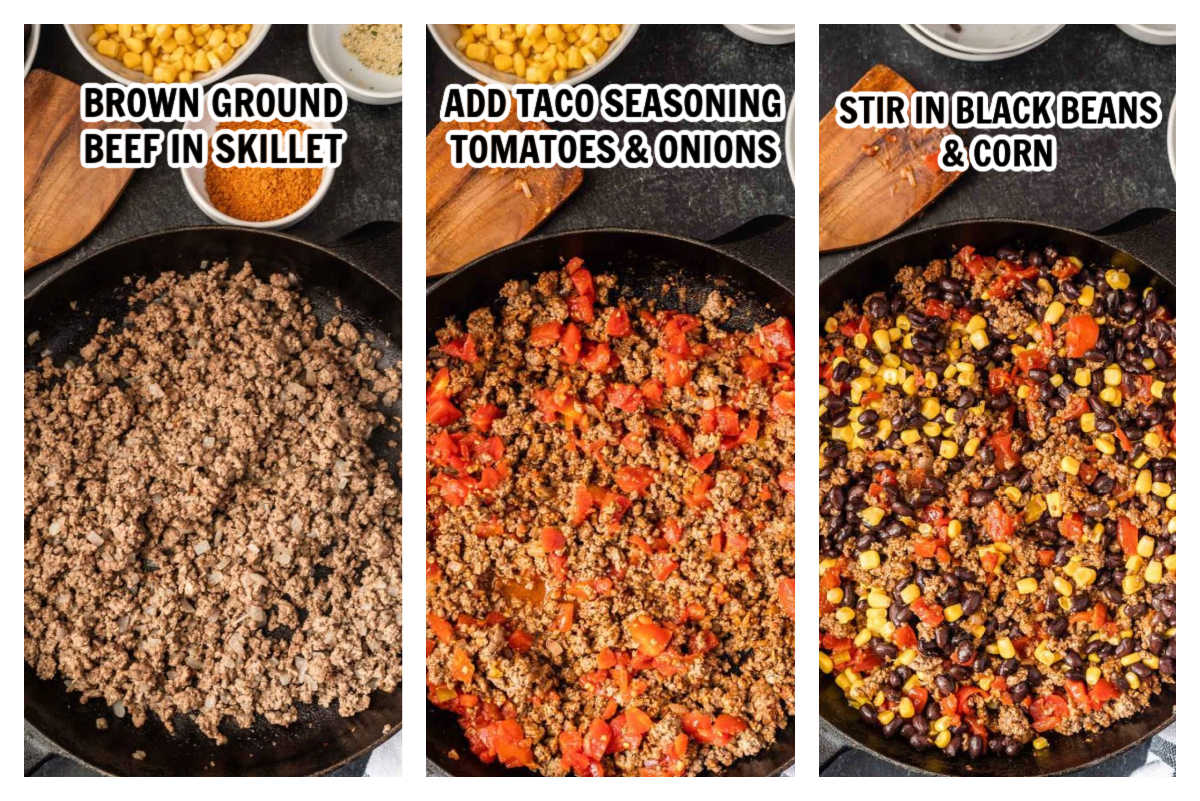 Step 3 – Place rice in the slow cooker – Then spread the cooked rice in the bottom of the crock pot. Sprinkle this mixture with the garlic salt.
Step 4 – Spoon meat mixture over rice – After that spoon the meat mixture over the rice and top with shredded cheddar cheese.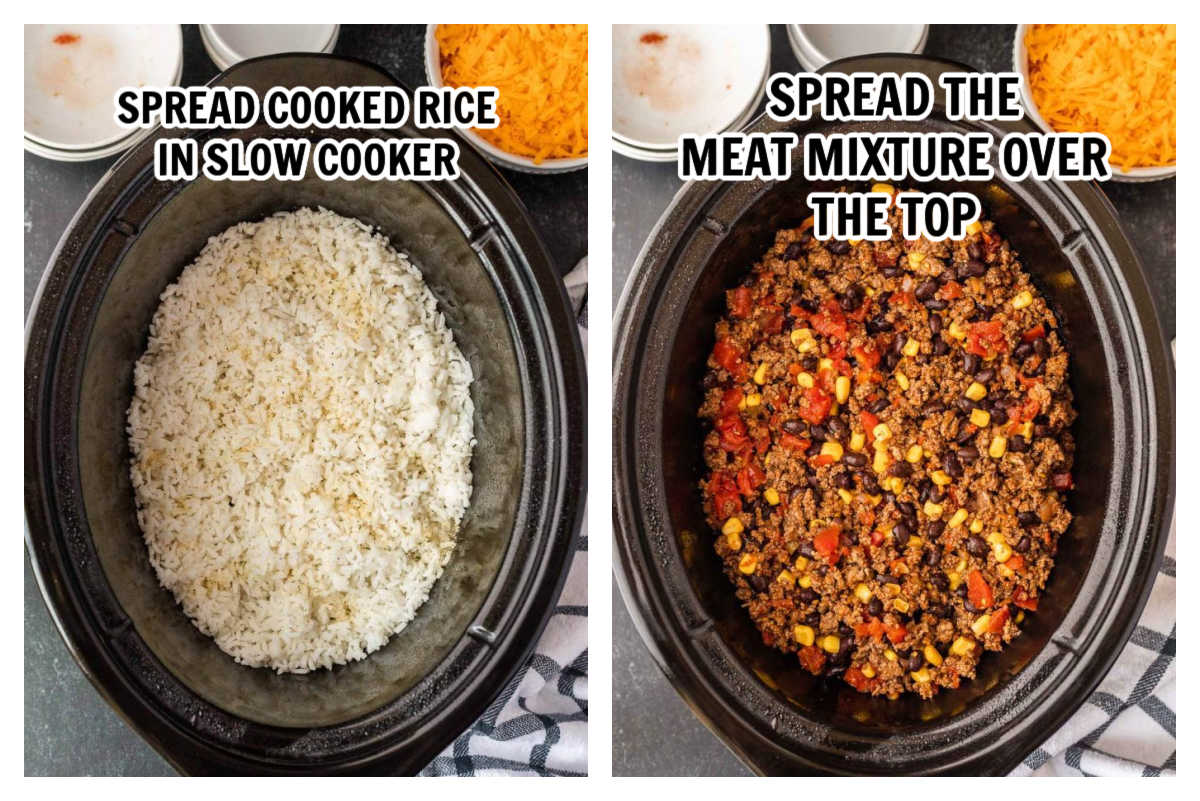 Step 5 – Cover and Cook – Place the lid on top and cook on high for 2-3 hours. Cooking times will vary based on the crock pot that you use to make this recipe.
Step 6 – Serve and Enjoy – That's all there is to it. I love that you don't have to heat up your kitchen with the oven to enjoy this easy casserole recipe.
This crock pot beef taco casserole recipe is a keeper. Our family devours it every time.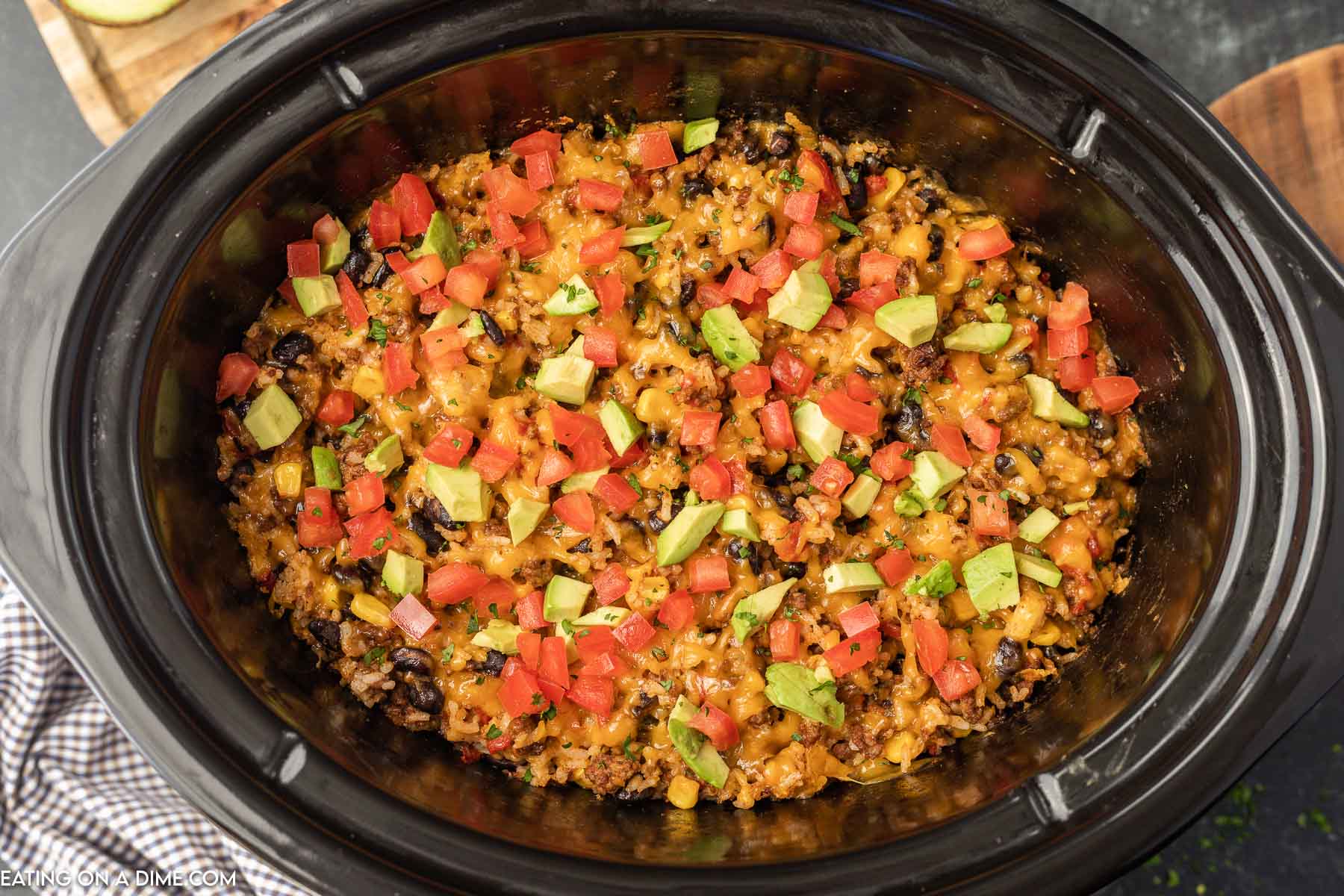 Do you brown Ground Beef before putting in Slow Cooker?
In this recipe, we recommend browning the ground beef before placing in the slow cooker. This prevents the meat clumping up and from adding grease to the recipe.
There are some crock pots that you can cook the meat directly in the slow cooker. But we prefer to combine the meat mixture in a skillet to cook.
Taco Casserole Topping Ideas:
These are our favorite toppings but feel free to use what you prefer.
Green Onions
Tomatoes
Avocados
Sour Cream
Lettuce
Also you can top this casserole with tortilla chips or Fritos to make crock pot taco casserole with Fritos.
This recipe will surprise you. It doesn't seem like much, but it has some amazing flavor.
How to Make Homemade Taco Seasoning:
We love to make homemade taco seasoning. It is so simple and easy. I keep this on hand and it makes a big batch. You will save so much money making this at home.
It is so nice not having to buy the little packets all the time at the grocery store. Plus, I love knowing exactly what is in the taco seasoning. Store bought taco seasoning as ingredients that we can't even pronounce.
Crockpot Taco Casserole Variations
Add shredded chicken instead of the beef
Use Salsa verde or green enchilada sauce instead of the Rotel
Try kidney beans instead of the black beans
Try adding in ½ cups of bell peppers or jalapeños
As you can see you can make this delicious crock pot Mexican taco casserole several different ways for more easy dinner ideas.
Can Taco Casserole be prepared ahead of time?
Taco casserole can easily be prepared ahead of time. This would be a great recipe to use leftover ground beef. Place the ground beef, seasoning, beans and corn in the skillet. Once cooked and combined let cool to room temperature.
Place the meat mixture in a air tight container and place in the fridge. Prepare the rice and store in a container and place in the fridge.
Once you are ready to prepare, layer the cooked ingredients in the slow cooker and heat. This would be perfect to make for a party and then heat.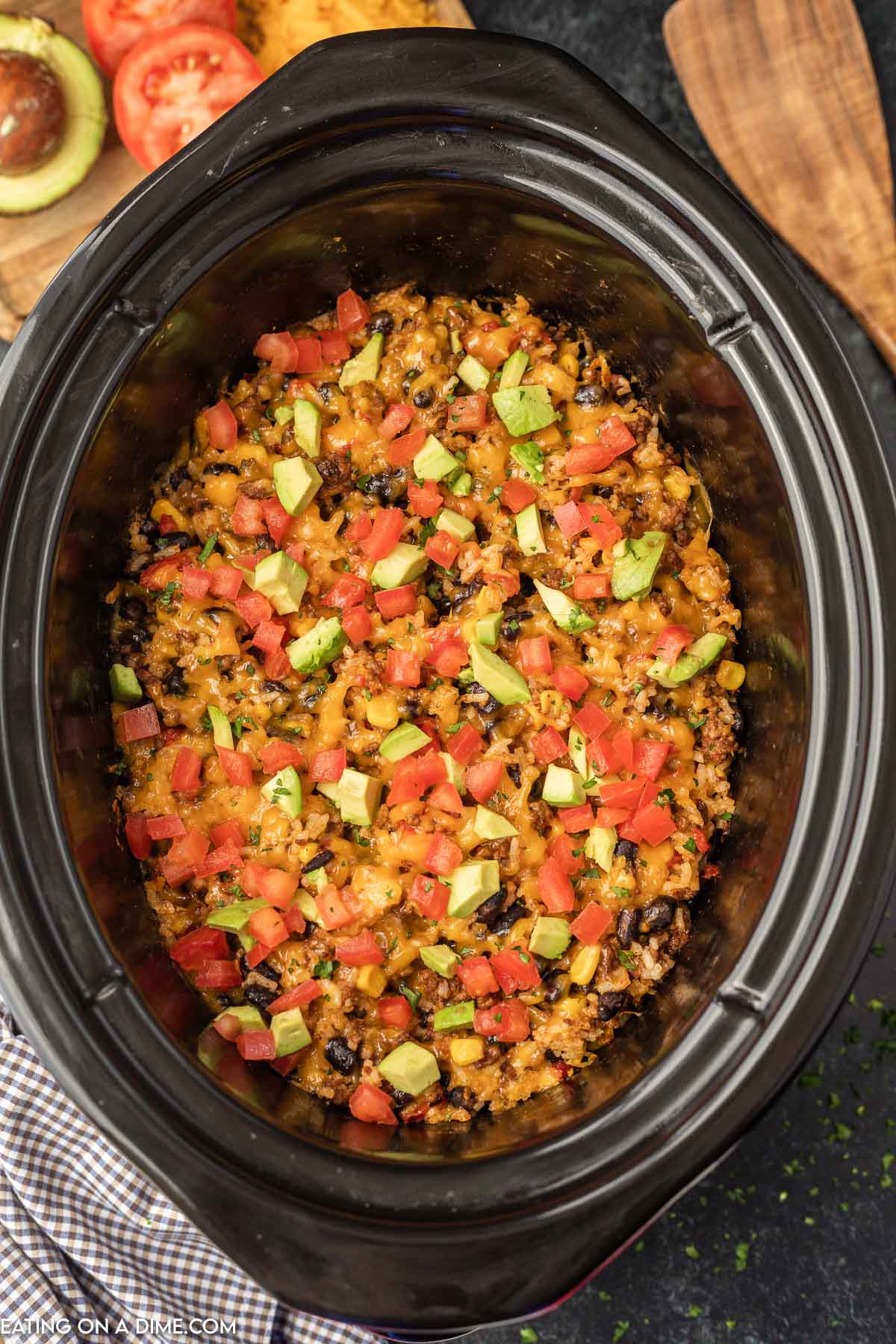 Can I Make in the Oven?
If you prefer you can make this Taco Casserole in the oven. Prepare the meat mixture and rice as the recipe indicates.
Prepare a 9×13 casserole dish but spraying the baking dish with cooking spray.
Preheat oven to 350 degrees.
Layer the white rice in the bottom of the baking dish.
Top the rice with the meat mixture and top with cheese.
Bake the Taco Casserole for about 30 minutes or until heated through.
Serve and enjoy with your favorite toppings.
What to Serve with Taco Casserole:
This taco casserole is delicious served by itself. But you can easily add one of these sides for a perfect meal idea.
Homemade Queso – This a crowd favorite homemade queso. Serve with a side of tortilla chips and it is even delicious served over the top of the casserole.
Flour Tortilla – Dish up this taco casserole and place it in a flour tortilla. Wrap it up for an easy burrito idea.
Salad – You can even serve this Taco Casserole as a taco salad. Place some green lettuce on a plate and then top with the delicious layers of the taco casserole.
How to Store Leftovers:
Place the leftovers in an air tight container in the fridge. This taco casserole will last about 5 days. This would be delicious stored in individual container for a quick lunch the next day.
Easy Taco Casserole Recipe:
If you are looking for an easy weeknight meal, prepare this Crock Pot Taco Casserole. Prepare the meat mixture and rice the night before. Then you can easily put layer these ingredients in the slow cooker at lunch and it will be ready for dinner.
We love serving this meal for a crowd or an weeknight meal. Add your favorite queso and chip for a complete meal idea.
Print Recipe here for Crock Pot Taco Casserole:
Crock Pot Taco Casserole Recipe
Need an easy crock pot recipe? Try this crock pot Mexican Taco Casserole Recipe. This easy beef taco casserole recipe is amazing!
Ingredients
1

pound

ground beef

1/2

onion

(chopped)

1

cup

corn

1

can

black beans

(drained and rinsed)

1

can

diced tomatoes with green chilis

1/2

package

Taco seasoning

(or 2 tablespoons of homemade taco seasoning)

1

teaspoon

garlic salt

4

cups

rice

(cooked)

8

oz

cheddar cheese

(shredded)
Instructions
Brown the ground beef with the onions in a large skillet over medium heat.

Drain off any excess grease.

Stir in the corn, black beans, diced tomatoes with green chilis and taco seasoning.

Spray your crock pot insert with a non-stick cooking spray.

Spread the cooked rice in the bottom of the crock pot.

Sprinkle with garlic salt on top of the rice.

Spoon the meat mixture over the rice.

Cover and cook on high for 2 hours.

Then stir the mixture in the crock pot. Gently stir in half of the cheddar cheese.

Sprinkle the remaining cheese on top. Cover and cook on low for 5-10 minutes until the cheese is melted.

Then the meal is ready to serve and enjoy!
Recipe Notes
Refrigerate the leftovers in an airtight container for up to 5 days.  
Nutrition Facts
Calories
702
kcal
,
Carbohydrates
95
g
,
Protein
29
g
,
Fat
22
g
,
Saturated Fat
10
g
,
Polyunsaturated Fat
1
g
,
Monounsaturated Fat
7
g
,
Trans Fat
1
g
,
Cholesterol
69
mg
,
Sodium
701
mg
,
Potassium
619
mg
,
Fiber
7
g
,
Sugar
3
g
,
Vitamin A
603
IU
,
Vitamin C
7
mg
,
Calcium
269
mg
,
Iron
4
mg
More Crock Pot Mexican Recipes: