If you need a quick dinner idea, try this Easy Crock Pot Beef Burgundy Recipe for a fantastic meal everyone is sure to love. With only 4 ingredients, this recipe is so simple and the flavors blend together in the slow cooker for the most tender beef.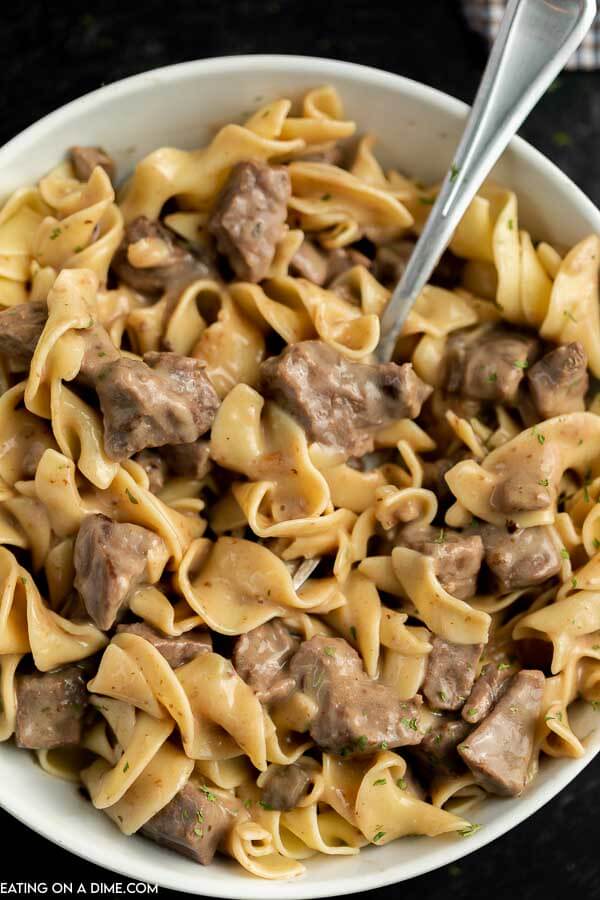 Easy Crockpot Beef Burgundy Recipe
While this recipe may sound fancy, it is so very simple to make. The crockpot does all the work and dinner will be ready and waiting when you come home.
If you love beef stew, this is a delicious twist on a classic recipe. The burgundy wine or beef broth if you prefer gives the stew the best flavor. You might also like Mongolian Beef and Noodles Recipe.
The broth is amazing over the egg noodles and has such a rich flavor that leaves everyone asking for more! The entire family gobbles this up and it is always a hit.
I could make a meal out of that broth and a few rolls. It is that good. You are going to love the flavor and how easy this meal comes together.
What is Beef Burgundy?
You may have heard of Beef Burgundy, better known as beef bourguignon as being as a French beef stew made by Julia Child. Some beef burgundy recipes can be very complicated. Some even taking several hours to prepare and lots of different steps.
If you have been around long enough, you know that I am to lazy for a complicated recipe. That is why I love this recipe. It has simple ingredients and a simple process.
Easy Beef Burgundy is sure to be a hit!
This has become one of our go to meals for crazy busy weeks. You know the weeks where you are running from school and work to endless activities?
Yep, we always seem to have those weeks lately. It is so nice to come home to dinner waiting for us and we can enjoy a nice meal as a family.
Take out is expensive and often not very good. We love easy meals like this that everyone enjoys and take very little work to get dinner on the table.
I can literally throw this in the crockpot in the morning in just a few minutes and not have to worry about it again until later that day. Talk about an easy dinner.
Can this be made in the Instant Pot?
Yes, Beef Burgundy can be made in the Instant Pot or even on your stove top. If you are making it in your instant pot, it will be ready in about 15 minutes. You simply combine all the ingredients in the instant pot.
Set the instant pot to high pressure and then do a natural release for 10 minutes. Set it to the sauté setting to thicken your gravy. Using the Instant Pot has been a game changer my family.
You can also make it on your stove top. Put all your ingredients in a Dutch Oven over medium heat and let it simmer. Your house will smell amazing as it is cooking.
What kind of beef do you use for Beef Burgundy?
You can use round steak cut up, stew meat, or sirloin cut up for this recipe. It is not necessary to use only stew meat.
Feel free to use what you prefer and cut it into bite size pieces instead of using stew meat.
Easy Slow Cooker Beef Burgundy Recipe!
Ingredients for Crockpot beef burgundy
Stew Meat
Onion Soup Mix

Cream of Mushroom Soup

Red Cooking Wine or Red Wine
Beef Broth
Corn Starch and Cold Water

Egg Noodles
How do you make Beef Burgundy in a slow cooker?
Place the beef in the bottom of the crock pot.
In a medium size bowl whisk together the mushroom soup, red wine, broth and onion soup mix. I like to add in bay leaves as well.
Pour over the beef.
Cover and cook on low for 6-8 hours until the beef is tender then reduce heat. I bring to a simmer before serving.
Serve your beef and gravy over the noodles and sprinkle with a little salt and pepper. This recipe serves 6.
Variation Ideas:
We love recipes that you can change ingredients to what you have at home. Here are some of our variations that we have tried and loved.
Add Worcestershire Sauce – Some people like to add a little Worcestershire sauce to the beef broth.
Bacon makes everything taste better – It is also really tasty to add bacon to a large skillet and add the brown bits to the slow cooker.
Serve over Pasta – We use egg noodles but any type of pasta will do. We even liked the Frozen Reames Noodles.
Potatoes or Rice – You could even serve this over rice or mashed potatoes.
Add Vegetables – You can add in some pearl onions, carrots or broccoli to make it a complete meal.
Stir in Mushrooms – My sister loves to add mushrooms to this recipe.
Brown the Meat – Some recipes call to brown the beef, I just place in the crock pot uncooked. If you do brown on both sides before putting in the crock pot, place on a paper towel to drain the grease. It takes an extra 15 minutes to prepare the meat.
Make it Keto – If you are doing low carb or Keto, just eat the beef and omit the noodles or rice. It makes a really good keto meal.
What to serve with Crock Pot Beef Burgundy?
Make a Salad – This meal is amazing all by itself but a simple side salad goes well with it.
Add a Side of Vegetables – If you have a few extra minutes Delicious Roasted Green Beans are also tasty with this recipe.
Make some Bread – We also love this Easy Homemade Dinner Rolls Recipe with Beef Burgundy recipe. It is perfect to soak up every last drop of the delicious broth.
Yum! It is the best comfort food and with only 4 ingredients it's just so easy to make. With 8 kids, there isn't much time for complicated recipes that call for a ton of ingredients and a lot of work.
So, we love this Easy Crock Pot Beef Burgundy Recipe.
How do you thicken Crock Pot Beef Burgundy?
If you prefer that you gravy be a little thicker, you can mix 2 tablespoon of corn starch with 2 tablespoons of water and then pour into the crock pot. Stir together with the other ingedients.
Let ingredients simmer together for for about 30 minutes. Add a little more of the mixture and then repeat the process.
How to store Beef Burgundy?
Beef Burgundy stored in the freezer. Be sure to use a freezer safe container to freeze. Once you are ready to serve, thaw overnight in the refrigerator and reheat. We like to reheat on the stove so that heats thoroughly.
If you prefer you can store leftovers in the refrigerator. If we are eating them in the next 3-4 days, I will simply put the leftovers in individual containers. We think this beef burgundy is even better the next day.
My husband is always excited when we have this leftover. It makes for a hearty lunch the next day.
Is Beef Stew and Beef Burgundy the same?
They are a little different. Beef Burgundy is usually cooked with red wine and pearl onions. Beef stew is usually cooked with white onions but no red wine.
The ingredients are very similar and are usually served the same way.
My family just loves when I make beef and noodles. So rather I add in the red wine or not, they are just happy to be eating some a hearty meal.
Print this Beef Burgundy Slow Cooker Recipe below:
More Crock Pot Beef Recipes: