Try this Easy Crock Pot Beef Stroganoff Recipe for the perfect weeknight meal. The meat is so tender and the beef and mushrooms sour cream sauce is flavorful and delicious.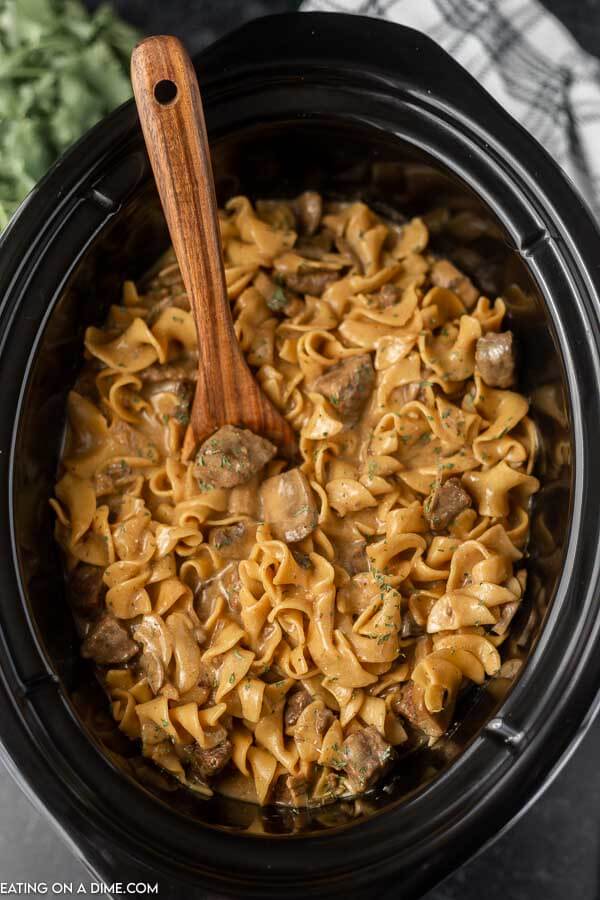 I grew up loving Beef Stroganoff. Sometimes, we would make the box stuff and it was easy. Well, once you see how simple it is to make homemade Slow Cooker Beef Stroganoff, you will always make it from scratch!
The beauty of this recipe is that the crock pot does all the work. So, you can come home to dinner being ready to enjoy.
The slow cooked meat is just amazing and so tender. The sauce is rich and creamy.
What is Beef Stroganoff?
I'm sure you all have had beef stroganoff before but have you wondered what exactly it means? Stroganoff is a recipe that uses beef and it is all cooked in a cream sauce with sour cream.
Beef Stroganoff is the ultimate comfort food. It combines the tender beef, onions, mushrooms and easy seasoning. Then mixed with egg noodles and it becomes the perfect weeknight meal.
It is so amazing and your family will love it! If you want it done even faster, then try Instant Pot Beef Stroganoff Recipe.
Crock Pot Beef Stroganoff Ingredients:
Beef Stew Meat
Olive Oil
Minced Garlic
Onion
Sliced Mushrooms
Worcestershire Sauce
Salt and Pepper
Red Wine or Red Cooking Wine

Beef Broth

Egg Noodles
Cornstarch
Sour Cream
How to make Crock Pot Beef Stroganoff:
This recipe is so easy!
Browning the Meat – Heat the olive oil in a large skillet over medium high heat. Place the beef in the skillet and season it with the salt and pepper. Cook until the beef is browned.
Add the Beef to Crock Pot – Place the beef in a crock pot. Deglaze the skillet with 1 ½ cup of beef broth and add this liquid to the crock pot as well.
Mix in the other Ingredients: Put all of the other ingredients in the slow cooker except for egg noodles, sour cream and cornstarch. Cook until beef is tender.
Add in the Egg Noodles – 30 minutes before you are ready to eat, stir in the egg noodles and a cornstarch slurry by dissolving the cornstarch in cold water.
Cook Noodles – Cook until the noodles are cooked through. Stir in the sour cream and then it's ready to enjoy.
It really is that easy to have a wonderful home cooked meal.
Crock Pot Recommendation:
If you need a new crock pot for this delicious recipe, there are some nice ones on sale. I love the programmable crock pot for when I am am not at home. You can literally set it and forget it!
It's especially perfect for those days you will be out of the house. Just set it for the amount you need and it will cut off for when you programmed it. Plus, it will stay warm until you are ready to eat.
How long to Cook Beef Stroganoff in a Crock Pot?
Cooking in the slow cooker allows your stew meat to come out so tender and flavorful. It will depend on your timeframe on how long you need to slow cook the beef tips. We usually cook on low all day to come home to the best beef. Based on your crock pot cooking time could vary.
Cook on High – Cook about 4 to 5 hours on high
Cook on Low – Cook about 7 to 8 hours on low
We love mixing in sour cream for the creaminess. But you can also use cream cheese just make sure you give it some extra stirring.
Can I put Egg Noodles in the Crock Pot?
Yes, you can add the egg noodles to the beef stroganoff mixture to cook directly in the crock pot. We love doing this as it saves time and we don't have to clean another dish.
But I have also cooked the noodles separately in another pan. Then dished the beef stroganoff on top of the cooked noodles.
Can I use Ground Beef?
Yes, you can ground beef for this recipe. We have used ground beef before and it turned out so good. Just make sure to ground your beef first and drain any fat before adding to the crock pot.
Add the remaining ingredients and cook as the recipe indicates.
Variation Ideas:
Substitute with Beef Broth – If you don't have dry sherry, you can substitute with beef broth and it is just as amazing.
Use Chicken – If you want a light version of the stroganoff use chicken as a replacement.
Make a Sandwich – This is recipe is traditionally served over rice and mash potatoes. You can also serve it as a sandwich. Brown some hoagies and add the beef stroganoff to the top. Make sure to drain some of the liquid.
Use different cuts of beef – Instead of beef stew, you can also substitute for a ribeye or chuck roast. Ribeye is full of flavor and cooks perfectly.
Cream of Mushroom Soup – To add some extra flavor, you can stir in a can of cream of mushroom soup.
Dijon Mustard – Some recipes call for Dijon Mustard. You can add it for some extra flavoring.
Can I add in Vegetables to the Recipe?
Yes, there are many different vegetables that can be added to the beef stroganoff. Here are a few of our favorites and they pair perfectly for this recipe:
Add in Peas – A good vegetable to add into this recipe is peas. Take about 1 cup of fresh or frozen peas and rinse. Add them to the mixture when you are adding the egg noodles. They add a hint of sweetness to the recipe.
Diced Tomatoes – We have added in diced tomatoes before and we loved it. We added them in when we added in the noodles. They cooked perfectly together. Make sure not to add them in to soon, as they could turn to mush.
Chopped Carrots – Chopped carrots can be added and cooked all day with the other ingredients. We love how it brightens up the recipe.
Shredded Zucchini – Zucchini is also a great vegetable throw in to cook with the other ingredients. In mixes in perfectly with the other ingredients.
What to serve with Crock Pot Beef Stroganoff
There are many options to serve with Beef Stroganoff. Here are some of our favorites:
Mash Potatoes
Egg Noodles
Rice
Steamed Broccoli
Side Salad
Can you freeze Beef Stroganoff?
You can make this tasty meal even easier by keeping it all ready to go in the freezer. Simple put everything in a freezer bag except the beef broth, egg noodles, sour cream and parsley.
When you are ready to cook this meal, dump all the contents of the freezer bag in your slow cooker. Add beef broth and cook until beef is tender.
I try to always keep a bag of this in the freezer. Life is so busy and we love crock pot meals.
It is even easier when I can just grab what I need from the freezer. On busy mornings when I'm trying to get this together, it really is a huge time saver.

Print Easy Beef Stroganoff Recipe Slow Cooker:
More Crock Pot Beef Recipes: