This post may contain affiliate links. If you make a purchase through links on our site, we may earn a commission.
This is the easiest recipe ever!
Crock Pot Beef Teriyaki Recipe
is also incredibly tasty! Since we can get teriyaki sauce on sale frequently, this recipe is also very frugal friendly! The perfect recipe for a busy day that is quick, delicious and easy on the budget!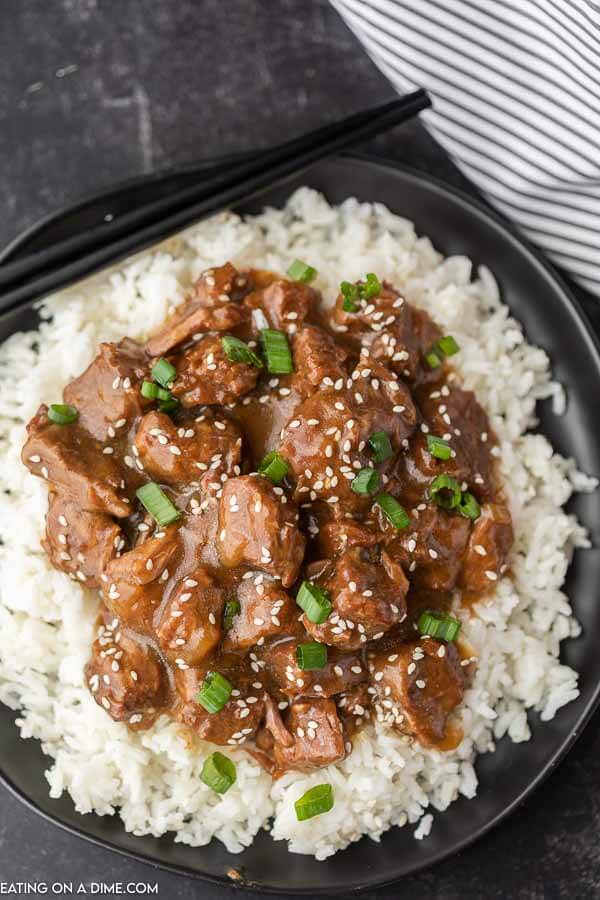 Crock pot beef teriyaki
It's so nice coming home to dinner being ready! This simple teriyaki beef recipe is packed with flavor and the slow cooker does all the work. Once you know how to make beef teriyaki, it will be a regular part of your menu plan.
It does not disappoint! It's perfect served over rice. You can cook rice in the microwave or you can cook rice in the slow cooker. So easy! Sometimes, I even freeze rice to make dinner even easier.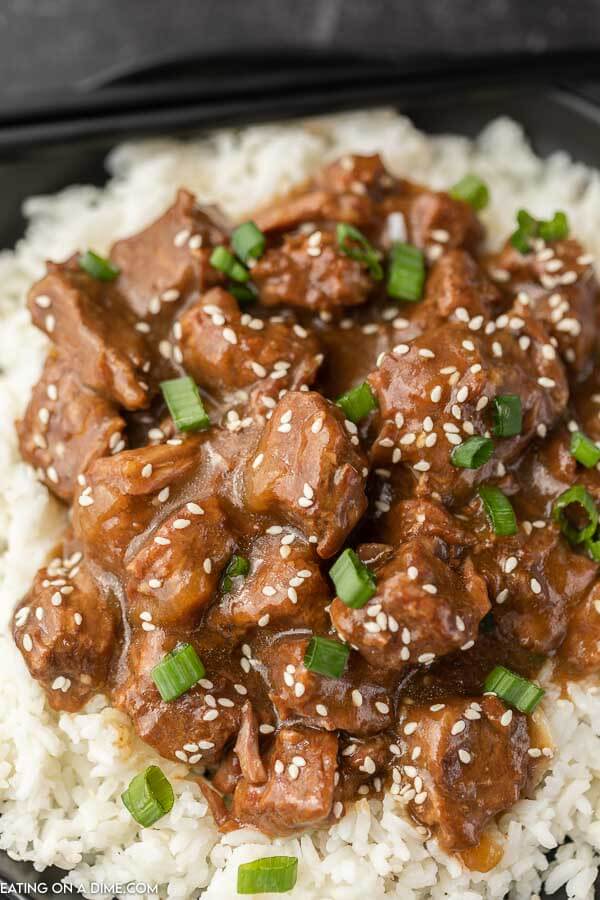 I throw in frozen veggies in the crock pot toward the end. However, this recipe would also be good with steamed broccoli. It's very simple and quick. If you have extra time, fried rice would be yummy with Crock pot Beef Teriyaki Recipe.
The entire family likes this recipe and it's so easy! I love having a dinner idea that isn't complicated or expensive and everyone will enjoy. Definitely a winner in my book!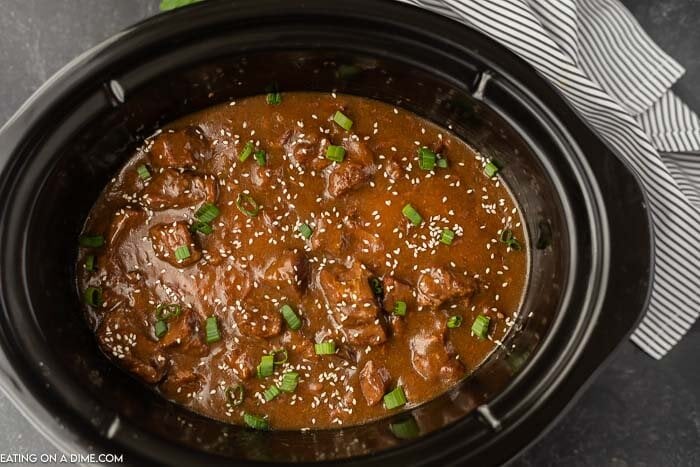 You will love this easy crockpot beef teriyaki!
If you don't have a crock pot yet, there are some nice ones on sale. I love the programmable crock pot for when I am not at home. You can set it for the amount you need and leave the house for the day.
It will cut off for when you programmed it, and keep it warm until you are ready to eat. We love coming home to dinner ready. Plus, the house smells amazing.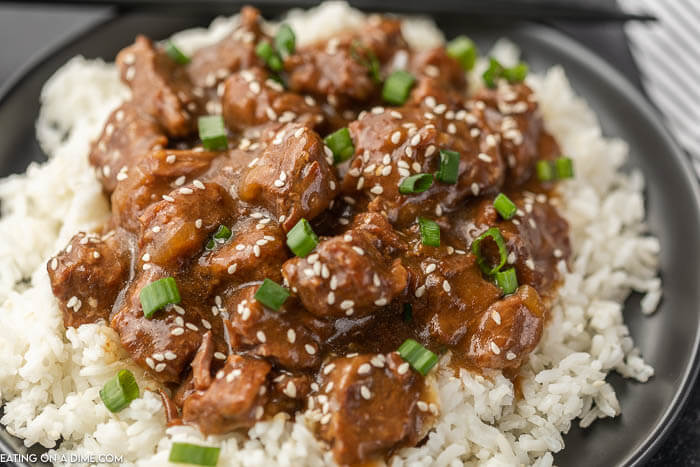 If you are like me, if you come home after a long day and dinner isn't ready……..the drive thru looks mighty tempting. This is the perfect slow cooker meal to avoid take out! It's better for you, quicker and saves money!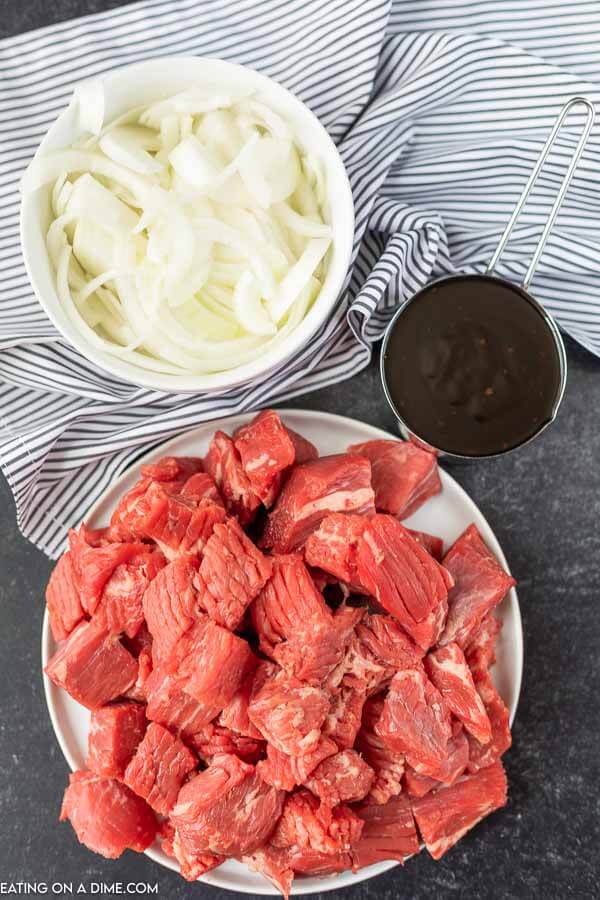 Ingredients:
Beef
Onion
Teriyaki sauce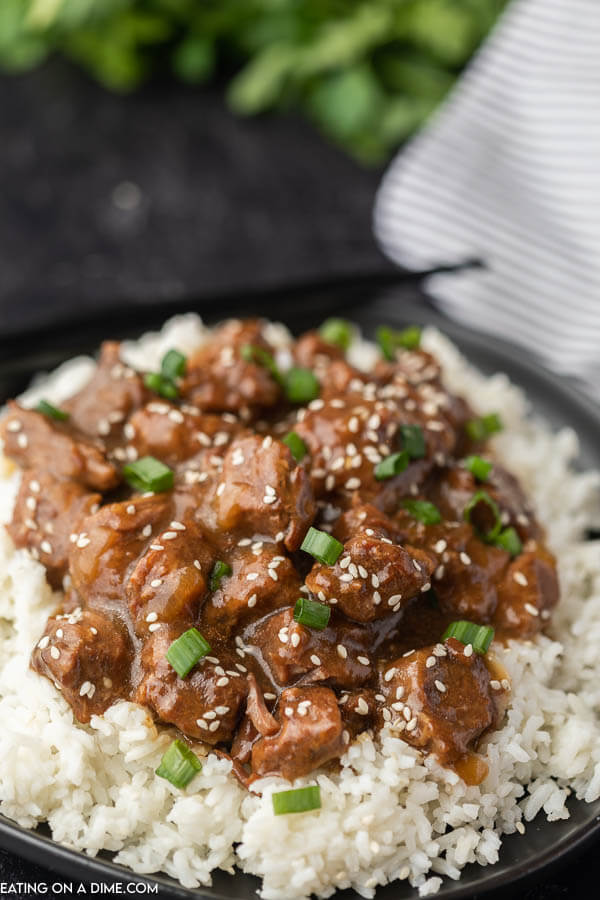 How to make crock pot beef teriyaki:
First, put the beef in the slow cooker. You don't need to brown this. Just toss it right in!
Add the onions on top that you sliced.

Finally, pour liquids over.
Cook on low for 6 to 8 hours. It is seriously that easy!
I stirred in some frozen veggies in the last hour and served over rice. It was delicious!
What to do with Leftovers?
We love serving this as leftovers and even the kids get excited. Simply reheat in the microwave or on the stove.
Shred it and make burritos or enchiladas.
You can also shred it and make beef fried rice. It is very similar to chicken fried rice and you can just substitute beef instead. This recipe also is a great way to stretch your meat budget.
Make lettuce wraps. Easy and yummy!
Does meat get more tender the longer you cook it in a slow cooker?
Yes, the beef will be more tender if you cook it longer on low. I try always cook the beef on the low setting because it is fork tender.
Try this amazing meal today.
This is such an easy beef recipe. Anytime I am tempted to get take out, I just make this instead. Slow Cooker teriyaki beef is so effortless yet it satisfies that craving for takeout.
I love saving money and serving my family delicious meals. Flank steak is another good option and it goes on sale often. It is not expensive at all.
The slow cooker makes this meal so flavorful and really tasty. It is a must try!
Please come back and leave a comment once you try it. I really think you are going to love it.
Print your slow cooker beef teriyaki below:
Beef Teriyaki
Try Crock pot beef teriyaki recipe for a simple and delicious dinner idea. This beef teriyaki stir fry recipe does not disappoint. Everyone will love Slow cooker teriyaki beef recipe. Once you know how to make beef teriyaki, it will be on your regular menu plan! Try simple teriyaki beef recipe.
Ingredients
2

lbs

Flank Steak

(cut into 1 inch pieces)

1

onion

(sliced)

1

cup

Teriyaki sauce
Instructions
Place the beef in a 6 quart crock pot.

Place sliced onions on top and pour the teriyaki sauce over the top of the beef.

Cover and cook on low for 6-8 hours or on high for 3-4 hours.

Serve warm over rice and enjoy!
Recipe Notes
You can also use diced up round steak, diced up beef roast or stew meat for this recipe. 
If you would like a thicker sauce, combine 2 Tbsp of Cornstarch with ¼ cup of water and stir this mixture into the crock pot for the last hour of the cook time.  
Nutrition Facts
Calories
283
kcal
,
Carbohydrates
7
g
,
Protein
41
g
,
Fat
9
g
,
Saturated Fat
4
g
,
Cholesterol
109
mg
,
Sodium
1201
mg
,
Potassium
716
mg
,
Fiber
1
g
,
Sugar
5
g
,
Vitamin A
1
IU
,
Vitamin C
2
mg
,
Calcium
50
mg
,
Iron
3
mg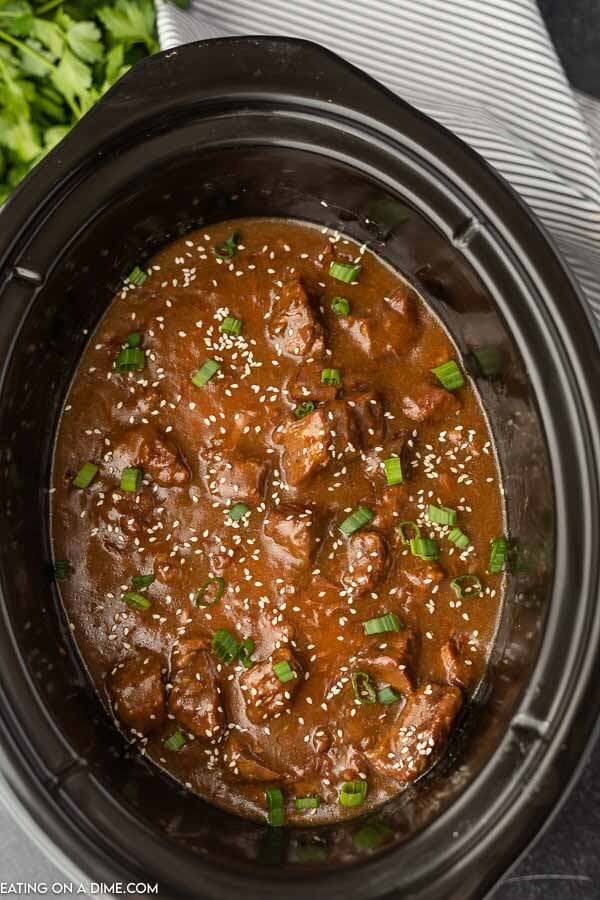 More easy crock pot beef recipes: