This post may contain affiliate links. If you make a purchase through links on our site, we may earn a commission.
Crock Pot Beef Ragu Recipe has everything you need for a great dinner in the slow cooker. This dish is loaded with lots of beef, tomatoes, pasta and more for the best meal your family will love.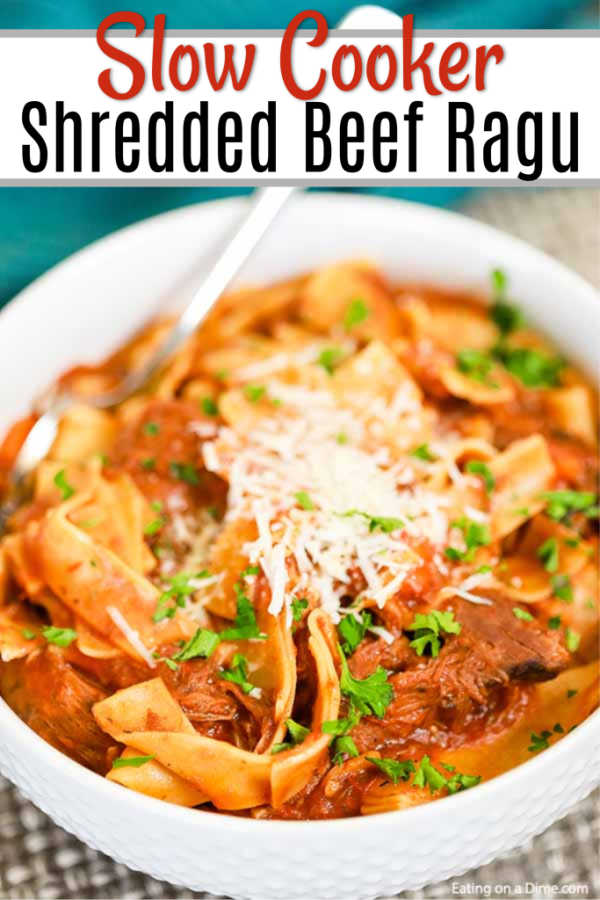 Crock Pot Beef Ragu Recipe
We recently tried this delicious Italian Ragu recipe and it was oh so good! We love it and the kids love it too.
That says a lot when our entire family likes it. We have some picky eaters. 🙂
Not only does it tastes amazing but it is so easy to make thanks to the crock pot. I can toss everything in the morning into the slow cooker and dinner will be ready when we get home.
I love recipes that have everything I need to give my family a great meal all in one pot. It means less prep work and less clean up so I can spend more time with my family.
This is one of those meals that you can make during busy weeknights with hardly any effort!
Make sure you have a good crock pot to make shredded beef ragu recipe.
If you are in the market for something new, I really love my Ninja cooker. The nice thing about this is you can brown the meat in the same slow cooker which is so convenient.
It is so handy to just have the one pan to clean. It has become of my favorite kitchen appliances.
I also really like this crockpot as well. I use this all the time and it's great.
My favorite feature is that you can lock the lid down. This is awesome for when you need to take the crockpot somewhere.
I often use the slow cooker to take dishes to potluck events and this feature is amazing! There are several others on sale here.
Another favorite is this programmable crock pot for when I am am not at home all day. I love coming home to a nice meal ready and waiting!
I also like to use crock pot liners to make clean up a breeze. These are worth every penny and save a ton of time.
What ingredients do you need to make slow cooker beef ragu recipe?
rump roast
salt and pepper
minced garlic
onion
carrots
celery
crushed tomatoes
bay leaf
beef broth
dried egg noodles
Parmesan cheese
How do you make beef ragu?
First, cut the roast into smaller pieces and place in the crock pot.
Add of the seasonings that will give this recipe such great flavor!
Finally, add the broth and let the slow cooker do the work.
I like to cook this on low all day. Shred the beef once everything is cooked and return to the crock pot.
Now, it is time to stir in the uncooked egg noodles.
Cover and cook for 15-30 minutes until the pasta is soft.
We love to top our bowls with Parmesan cheese. So good!
Keep reading for the full recipe.
What to serve with crock pot beef ragu recipe?
Our favorite sides include a simple salad and this Garlic Bread Cheese Sticks Recipe. Yum!
Bread is a must to dip into that delicious pasta sauce and get every last drop! You can also learn how to freeze garlic bread and save time and money.
This meal is also delicious with Roasted Green Beans or learn how to steam broccoli in the microwave for a super easy veggie side dish.
Keep it simple and enjoy! No need for complicated recipes or fancy ingredients.
You can cook a really great dinner for your family with very little work when you use the slow cooker. It can't get any easier!

Try beef ragu pasta bake.
You can take the leftovers (if you have any) and make a pasta bake. Just put everything in a baking dish and top with shredded cheese.
Bake and enjoy! This is a great way to enjoy another meal with very little work.
The kids will think they are eating something new when really it is just the same recipe. 🙂 I love to cook once and eat twice!

Try this quick beef ragu for busy weeknights!
Get dinner on the table even during busy weeks of school, work and activities. No need to stress or spend tons of money on take out when you can make easy and delicious meals like this one.
Slow cooker beef ragu is frugal!
I try to pick up a roast when they go on sale and put in the freezer. This ragu recipe is so delicious and budget friendly too.
The pasta and delicious tomato sauce help to stretch the meat for a budget friendly and tasty meal. You can easily feed a large family or crowd with this meal without ruining your budget.
By shopping when things are on sale I save money on groceries and it really helps our budget.
I keep recipes like this on the regular menu plan rotation because I know the entire family will enjoy and it is easy to use what I have.
In fact, I cut our grocery bill by 50% off by following these 8 Tips for for Saving Money on Groceries by Menu Planning! Save that money for a family vacation or maybe just some wiggle room in the budget.
Everyone will be well fed and your budget will be better as well. Give some of these tips a try!
Try Crock pot beef ragu recipe today!
We absolutely love this dish and so will your family! It is a great recipe and so simple to make.
The slow cooker does all of the work. You can even use the instant pot if you prefer.
Print this crock pot beef ragu pasta recipe below:
Crock Pot Beef Ragu Recipe
Crock Pot Beef Ragu Recipe has everything you need for a great dinner. This dish is loaded with lots of beef, tomatoes, pasta and more for the best meal.
Instructions
Cut the roast into pieces and place in the crock pot.

Add the seasonings, onion, carrots, celery, canned tomatoes, bay leaf and broth to the slow cooker.

Cover and cook on low for 8-10 hours or until the beef if shreddable.

Shred the beef and return to the crock pot.

Stir in the egg noodles, uncooked.

Cover and cook for 15-30 minutes or until the pasta is soft.

Top with parmesan cheese and serve.
Nutrition Facts
Calories
586
kcal
,
Carbohydrates
67
g
,
Protein
50
g
,
Fat
13
g
,
Saturated Fat
4
g
,
Cholesterol
160
mg
,
Sodium
1341
mg
,
Potassium
1253
mg
,
Fiber
6
g
,
Sugar
9
g
,
Vitamin A
3761
IU
,
Vitamin C
14
mg
,
Calcium
168
mg
,
Iron
7
mg
Try these other crock pot recipes: