Crock Pot Beef Barbacoa Recipe is a tasty dinner idea with tender beef seasoned to perfection. Dinner will be a breeze with this easy slow cooker meal.
Crock Pot Beef Barbacoa Recipe
Tender beef with a hint of lime and other delicious spices make this such a delicious recipe. Even better, you can come home to dinner ready to enjoy since the crock pot does all the work.
The beef is so tender that it falls a part from being slow cooked all day. The flavor is just amazing and each bite is so tasty.
If you want to enjoy this recipe even faster, try our Instant Pot Barbacoa Beef recipe.
What kind of meat is barbacoa?
We are using beef to make this barbacoa recipe. Traditionally, barbacoa is beef, sheep or goat.
How do you serve Beef Barbacoa Crock Pot Recipe?
Serve on your favorite tortillas for an amazing meal. You can try the Best Flour Tortilla Recipe if you have a few extra minutes to make your own.
This meat is also delicious on corn tortillas. Just use what you prefer.
If you love tacos, try making Homemade Taco Shells. They are so simple to make and these homemade taco bowls taste great and are budget friendly.
I also like to fix this Delicious Cilantro Lime Rice Recipe to eat with the tacos. It is easy and has amazing cilantro lime flavor.
Your family will go crazy over this meal!
Top with your favorite toppings. Some of our favorites include:
Cheese
Salsa
sour cream
lettuce
onion
and more!
I also love to squeeze more fresh lime on my taco. Yum!
Just use what you love the most. These tacos are delicious!
Tip: It's totally optional but I use this to squeeze my limes. It makes it so easy and we use it for lots of recipes.
It comes in very handy! We use it for all sorts of recipes and it save a ton of time.
How to make barbacoa in a crock pot:
This is such an easy recipe and dinner time will be super simple.
Just put the roast in the slow cooker.
Add the remaining ingredients to the top. Easy!
In 6-8 hours, you will have an amazing and tender roast that is easy to shred and delicious.
Once the meat is ready, shred it and stir back in the yummy sauce.
It is that easy! Keep reading for the full recipe.
How to make barbacoa without a slow cooker:
No worries if you do not have time to slow cook the beef. You can bake this instead in your oven and still have delicious and flavorful beef for your tacos.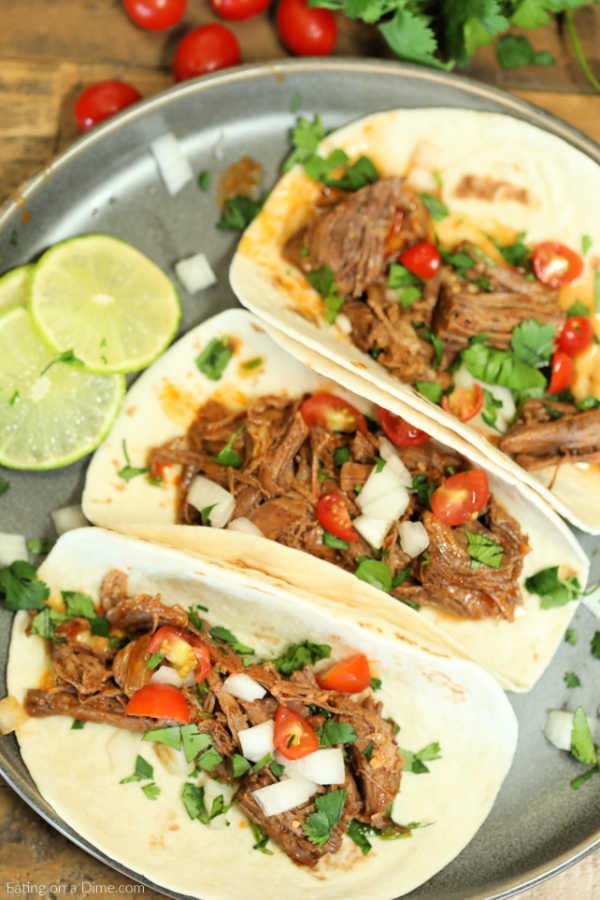 Another idea to try is Slow Cooker Barbacoa Pork.
This meal is delicious with pork instead. My family enjoys both so it is nice to be able to change things up.
We love recipes that can be made several different ways. It makes it so easy to just use what you already have.
I often just use what I already have in the freezer or can get on sale that week at the grocery store. This is such a huge help with our grocery budget.
By cooking like this, it really helps me to save money on groceries. It is a huge help to our budget.
Crockpot Barbacoa Beef Chipotle can really feed a crowd. If you have a large family or need to host a gathering, this is a great recipe to cook.
Other ideas include Chipotle barbacoa, cheek meat barbacoa recipe and lamb barbacoa recipe slow cooker recipe. There are lots of options to enjoying this really easy recipe.
Give this Easy Barbacoa Recipe a try!
Slow Cooker Barbacoa Beef is a great recipe and your family will enjoy it. The shredded beef is so tender and flavorful.
It makes the best tacos and you will love how the shredded beef tastes. The chuck roast slow cooks all day and just falls apart.
Sometimes, I add a little brown sugar to change things up. The beef chipotle in adobo sauce is out of this world good!
You can also add green chilies with the beef broth. It is all so good!
Once you make this meal, your family will ask for it again and again.
Make sure you have a good slow cooker for this Beef Barbacoa Crock Pot Recipe.
If you are in the market for something new, I really love my Ninja cooker. The nice thing about this is you can brown the meat in the same slow cooker.
It is so handy to just have the one pan to clean. It has become of my favorite kitchen appliances.
I also really like this crockpot as well. I use this all the time and it's great.
My favorite feature is that you can lock the lid down. This is awesome for when you need to take the crockpot somewhere.
I often use the slow cooker to take dishes to potluck events and this feature is amazing! There are several others on sale here.
Another favorite is this programmable crock pot for when I am am not at home all day. I love coming home to a nice meal ready and waiting!
I also like to use crock pot liners to make clean up a breeze. These are worth every penny and save a ton of time.
You could also try making Beef Barbacoa Instant Pot if you need this meal quicker.
Print this Easy Barbacoa Recipe below:
Slow Cooker Beef Barbacoa Recipe
Crock Pot Beef Barbacoa Recipe is a tasty dinner idea with tender beef seasoned to perfection. Dinner will be a breeze with this easy slow cooker meal.

Ingredients
2.5

pound

boneless beef chuck roast

1/2

onion

chopped

1/4

cup

white vinegar

(1) 8

oz

can tomato sauce

1

teaspoon

salt

1

teaspoon

pepper

2

tablespoons

chili powder

1

tablespoon

cumin

2

teaspoon

minced garlic

1

fresh lime

squeezed
Instructions
Place the roast in the slow cooker. Mine is 6 quart sized.

Add the rest of the ingredients on top.

Cook on low for 8-10 hours or high for 5 hours (until the meat is falling apart)

30 minutes before serving, shred the meat an stir back into the sauce

Serve on your favorite tortillas and with your favorite toppings.
Nutrition Facts
Calories
362
kcal
,
Carbohydrates
4
g
,
Protein
37
g
,
Fat
22
g
,
Saturated Fat
9
g
,
Cholesterol
130
mg
,
Sodium
587
mg
,
Potassium
722
mg
,
Fiber
1
g
,
Vitamin A
830
IU
,
Vitamin C
4
mg
,
Calcium
56
mg
,
Iron
5.1
mg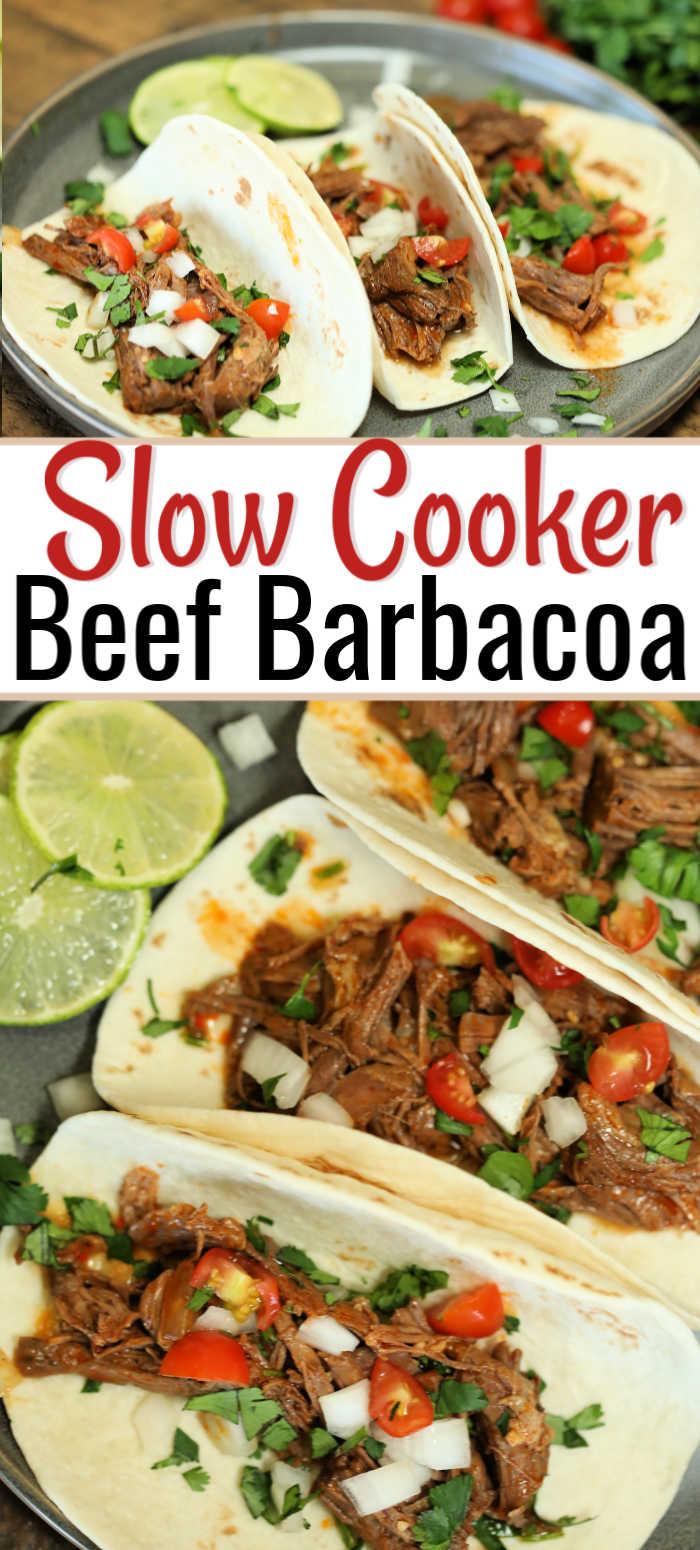 If you want to jazz up a plain old roast, try this Slow Cooker Roast with peppers for a delicious dinner idea.
Enjoy your favorite chicken bowl with this Crock Pot Chipotle Chicken Bowl Recipe. Everyone can customize their bowl to their liking for the perfect meal.
Our family loves Chinese take out but now we can make Crock Pot Chicken Chow Mein Recipe at home and save time and money.
Check out these other easy Crock Pot Recipes: