Enjoy this Egg Roll in a Bowl Recipe while staying low carb but still getting all of that amazing flavor. You will find everything you love about egg rolls packed into this bowl.
Egg Roll in a Bowl Recipe:
Make a meal out of egg rolls when you make the best egg roll in a bowl recipe. You can enjoy all that you love about traditional egg rolls but without the guilt. Plus, everyone will love being able to have this for dinner.
Easy Egg Roll in a Bowl is a one pan meal that is easily made in about 15 minutes. You love have much flavor and protein gets mixed in with this dish. We love this recipe because you easily use chicken, pork or ground beef.
If you are following a Keto Diet, then this pork egg roll in a bowl is one I would recommend. Even my family that doesn't follow a Keto Diet loves this recipe.
What is an Egg Roll in a bowl?
Egg roll in a bowl is the ingredients that are usually found in an actual egg roll but without the wrapper. We love making this dish when we have leftover meat from another meal and vegetables.
The ingredients can easily be changed to what you have and it is still so filling and flavorful. This low carb dish is my go-to recipe when I am needing something the whole family will eat.
Making egg roll in a bowl, there is no deep fry the egg roll wrapper. Making this dish in a bowl form, saves you time and calories. You can have dinner on the table in less than 30 minutes.
Ingredients:
Ground Pork
Small Onion
Chicken Broth
Minced Garlic
Toasted Sesame Oil
Rice Vinegar
Ground Ginger
Soy Sauce
Coleslaw Mix
Shredded Carrots
Green Onions
How do you Make Egg Roll in Bowl?
Cook with Pork with onion and garlic – In a large skillet or pot, brown the ground pork with the onion and add the garlic.
Add in other ingredients – Once the pork is browned stir in the broth, sesame oil, rice vinegar, ginger, soy sauce, and broth. Stir to combine. This will smell amazing.
Stir in Vegetables – Stir in the coleslaw mix and shredded carrots. Cook and stirring occasionally.
Cook until vegetables are soft – Cook over medium heat for just a few minutes or until the slaw and carrots are soft.
Serve and Enjoy – Serve with sliced green onions on top. We also like to season with salt and pepper.
What kind of Meat to Use?
The reason we enjoy this meal is you can use either pork, ground beef and chicken. We mainly make this meal with pork or ground beef. We recommend using quality meat to get in that healthy fat.
Does an Egg Roll have an Egg in it?
Egg rolls do not have eggs in them. The filling consists of cabbage, meat and seasonings and does not include an egg.
What to Eat with Egg Roll in a Bowl?
Since this dish contains all the you need for a complete, we usually serve it by itself. You can easily add a small salad or roasted vegetables
How many calories are in egg roll in a bowl?
Since this recipe eliminates the egg roll wrapper, this meal is much lower in calories than a traditional egg roll. Keep reading for the full nutritional information, saturated fat and caloric value on the recipe card.
What Sauce go with Egg Rolls?
There are many different sauces that we serve when making traditional egg rolls. These sauces would also be tasty drizzled over the top of this egg roll in a bowl recipe. Make sure to check the ingredients if you are sticking to a low carb diet.
Sweet Chili Sauce
Hoisin
Sriracha
Mustard
Soy Sauce
Teriyaki Sauce
What to Serve with Egg Roll in a bowl:
White Rice – Rice is really good with this and you can make Cauliflower Rice that tastes great while being low carb. You can also serve white rice for those that are not trying to eat low carb.
Lettuce Wraps – We also love these Asian Ground Chicken Lettuce Wraps.
Both of these are delicious options and so easy to prepare. Our entire family loves these recipes. However, the egg roll in a bowl is amazing alone. It is filling and delicious.
Egg Roll Bowl Substitutions and Additions:
Change the Meat – Try ground turkey or shrimp instead of ground pork. Ground beef or shredded chicken is also a good substitute. I like using what meat I have leftover.
Crock option – Crockpot Southwest Egg Roll in a Bowl is great too. The flavor is amazing and the slow cooker makes it so easy. This is a great way to jazz up your traditional egg roll in a bowl recipe.
Change the Slaw Mix – Broccoli slaw is also a tasty substitute for the coleslaw mix.
Water Chestnuts – Add water chestnuts for extra crunch.
Vegetarian Option – If you prefer to make this vegetarian, omit the protein and substitute with tofu. Instead of using chicken broth use vegetable broth.
Soy Free – If you prefer the dish to be soy free, use coconut aminos instead. It is a good substitute for soy sauce.
Add More Vegetables – For a veggie packed dish, you can easily add in broccoli, zucchini, and squash. Peas, edamame, or bean sprouts are other vegetables that I would recommend adding.
Ground Ginger – If you don't have any ground ginger you can substitute with ground all spice.
Oil – If you don't have any sesame oil, you can use vegetable oil or any regular that you have.
Can I make Egg Roll in a Bowl in Advance?
Yes, you can make this recipe in advance. When stored overnight the ingredients really marinate together to give the dish amazing flavor. Egg Roll in a bowl makes the perfect meal prep for your lunches for the week.
Egg Roll in a Bowl is budget friendly and is a healthy alternative to going out to lunch everyday. This dish heats well in the microwave and I know I am getting a low carb, tasty lunch every day.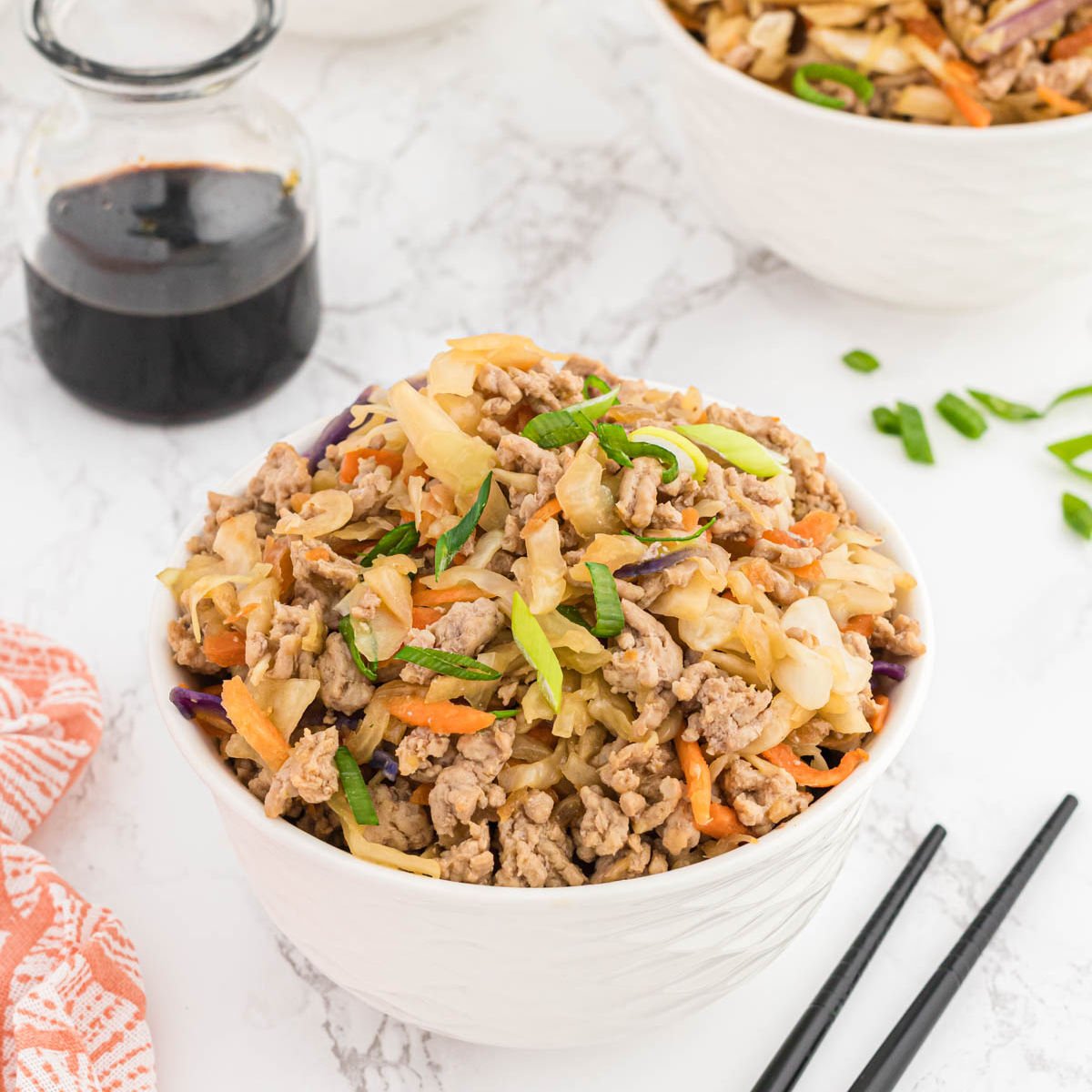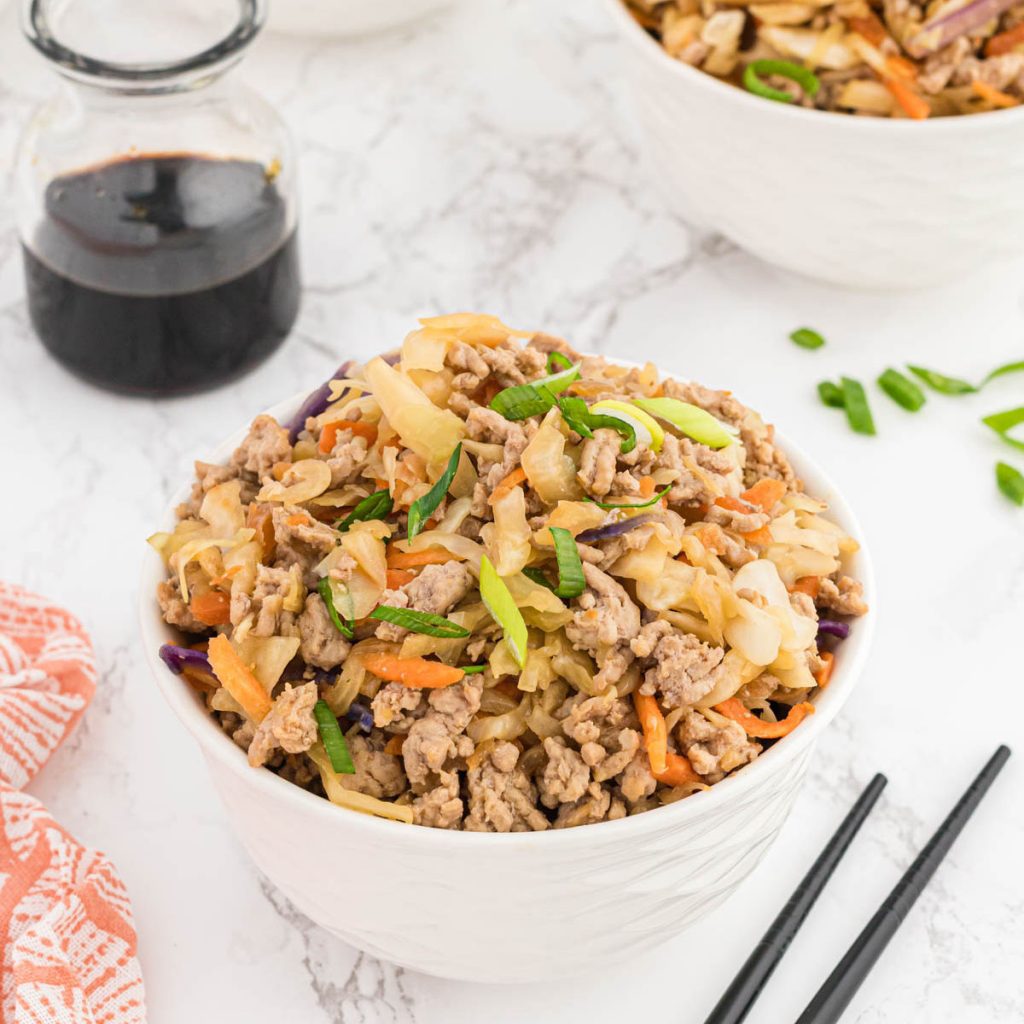 How to Store:
Store your leftovers in an air tight container and place in the refrigerator. The leftovers will stay good for about 4 days if stored properly.
How to Reheat Leftovers:
To reheat leftovers, place in a microwave safe dish and heat in 30 second intervals. We also like to heat up in the skillet on the stovetop if we are heating up a large serving.
Print this easy and delicious egg roll in a bowl recipe below:
More Easy Keto Recipes: