Learn what to serve with sliders besides chips. Try these easy side dish ideas perfect for busy weeknights.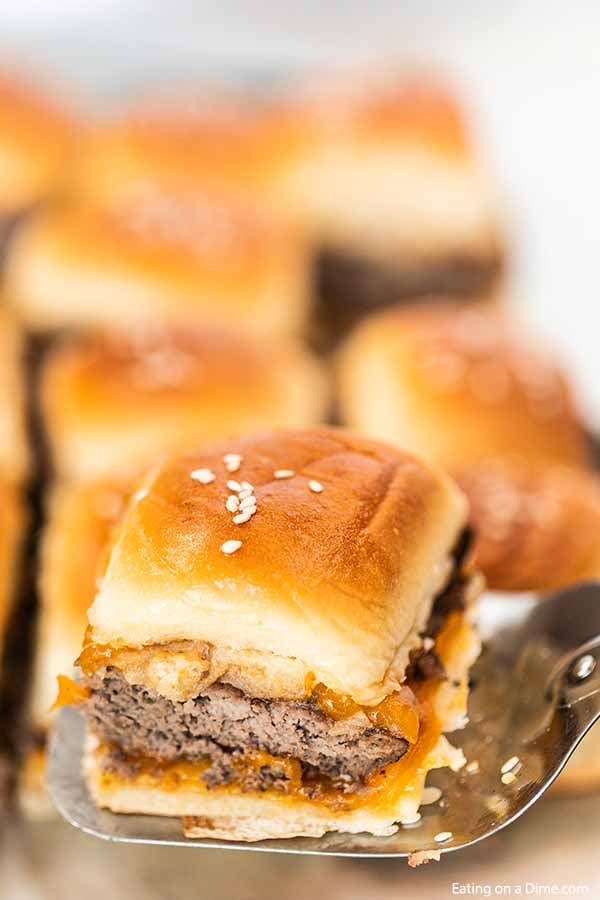 What are sliders?
Sliders are smaller versions of hamburgers or sandwiches on rolls. You can enjoy all the flavor you love but on a smaller scale.
These are perfect for parties when you want smaller portions. We also love to serve sliders for dinner because they are just so fun.
Sliders are made on smaller buns but packed with so much flavor.
What can I serve with sandwiches besides chips?
Sometimes you just want something different than potato chips with a sandwich. Mix things up and try serving pasta salad, fries, salad or fresh fruit.
Any of these would be delicious options and a nice change from chips.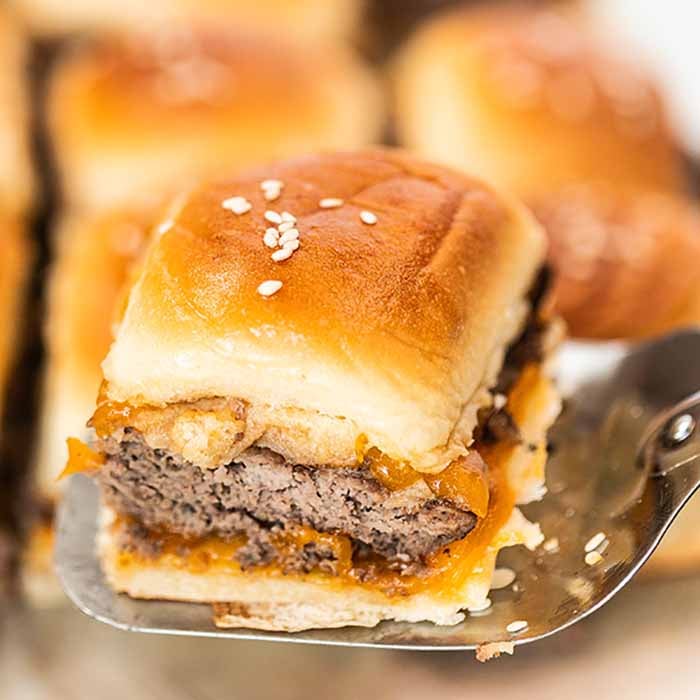 What is the best side dish for sliders?
Sliders are usually really simple to make so the side dish should be too. The best side is easily made during busy weeknights and of course has to be yummy.
Some of our favorites include: tater tots, onion rings, quinoa salad and mac and cheese. Yum!
What to serve with Hamburger sliders?
Grilled corn on the cob, baked beans and sweet potato fries all go perfectly with burgers. Friends and family will love these with hamburger sliders.
The ideas are truly endless. Other tasty ideas include: coleslaw and potato salad.
What to serve with sliders:
1. Homemade French Fries
It is so easy to make these homemade French Fries. They are crispy and delicious with sliders.
2. Cheesy Potato Casserole Recipe
This casserole is the best comfort food to serve with sliders. It is easy to make too and super cheesy.
3. Easy Tropical Fruit Salad Recipe
The light and sweet glaze makes this fruit salad perfect to serve with sliders.
4. Old Fashioned Potato Salad
Try this classic side dish for an easy and filling side dish to serve with sliders.
5. Classic Italian Pasta Salad Recipe
Pasta salad is budget friendly and easy to make. The Italian dressing gives it the best flavor.
6. Fruit Kabobs
Colorful skewers of fruit make a healthy and yummy side. Everyone will enjoy fruit kabobs. You might also want to try grilled pineapple.
7. Quick and Easy Baked Beans
Baked beans are sweet and savory and so easy to make. It is a classic side dish that never disappoints.
8. Sweet Potato Fries
These oven baked fries are healthy and simple. Sweet Potato Fries pairs perfectly with sliders and sandwiches.
9. Texas Caviar
There is so much to love about Texas Caviar. It is loaded with beans, veggies and more for a hearty side.
10. Chili Cheese Dip
Each bite of this cheesy dip is the best comfort food. Serve with tortilla chips.
11. Baked Mac and Cheese
From the crumb topping to the creamy and cheese pasta, this recipe is a crowd pleaser.
12. Macaroni Salad Recipe
There is so much flavor in this pasta recipe. Each bite is loaded with cheese and veggies with a creamy sauce.
13. Fried Onion Rings
Classic homestyle onion rings make the best side to serve with sliders. These are super crispy and so amazing.
14. Coleslaw Recipe
Just a couple of easy ingredients and anyone can make this light and fresh slaw recipe.
15. Crock Pot Corn on the Cob
Learn how to make corn on the cob in the slow cooker. It is so easy during the week.
16. Corn Salsa Recipe
Lighten things up with this corn salsa. It is fresh and delicious.
17. Bacon Wrapped Green Beans
The blend of brown sugar with the bacon is amazing in this green bean recipe.
18. Air Fryer Tater Tots
Enjoy crispy tater tots in minutes thanks to the air fryer. This is much healthier than frying.
19. Deep Fried Pickles
No need to spend a ton of money ordering these at a restaurant. It is so easy to make and very inexpensive.
20. Crock Pot Cheeseburger Dip
If you love cheeseburgers, you will enjoy this easy dip recipe. It has all the flavor of a cheeseburger.
21. Homemade Ketchup Recipe
Skip the store bought ketchup and make this easy recipe instead. I love knowing exactly what is in the ketchup.
The Best Sides for Sliders
Choose one of these delicious side dishes for a complete meal without much work. Whether you are serving Hawaiian sliders, ham and cheese sliders, chicken sliders or pulled pork, these sides will be amazing.
Try some of these yummy recipes the next time you make sliders for dinner or a party. They will be a hit for sure.
If you need an easy dessert idea, try these Mini Brownie Cupcakes.
Try our Easy Sliders Recipes
More what to serve with ideas: