Whether you call it Texas Caviar or Cowboy Caviar, this dip is the best appetizer or snack. It's the appetizer of choice in the South and for good reason with so much flavor. Grab some chips and enjoy!
Texas Caviar
Have you heard of cowboy caviar? Once you try it, it will be a hit and one of your favorite appetizers to make for parties. Our entire family loves this and even the kids go crazy over it.
What is texas caviar
It is the easiest recipe and only gets better the longer it sits. Lots of veggies, beans and more combine with jalapenos and lime for a dip that is delicious. It has so much flavor.
Serve this with tortilla chips, corn chips, pita chips or even crackers. Just be prepared for it to disappear because it will not last long. Cowboy Caviar is always a hit and so amazing.
Even better, it is budget friendly and anyone can make it. If you can toss ingredients into a bowl, you can make this. Seriously! It is just the best and super quick and easy.
Ingredients for texas caviar recipe:
1 pint cherry tomatoes
1 (16 oz) can black beans, drained and rinsed well
½ cup red onion, finely chopped
1 (16 oz) can black eyed peas, drained and rinsed well
1 (15 oz) can corn, white or yellow, drained
½ cup cilantro, chopped
½ cup green bell pepper, chopped
1 jalapeno pepper, cleaned, seeded and chopped – more or less pepper for preference
½ cup red bell pepper, chopped
Tortilla chips, serving
Dressing
½ cup

olive oil
2 tablespoons red wine vinegar
2 tablespoons lime juice
1 ½ teaspoons ground cumin
1

teaspoon salt
¼

teaspoon pepper
How to make cowboy caviar:
In a small bowl, whisk together ingredients for the dressing, set aside.
In a large bowl, add drained beans, black eyed peas and corn.
Cut vegetables and add to large bowl.
Mix well.
Pour dressing over mixture and mix until well combined.
Cover with plastic wrap and chill for at least 30 minutes before serving.
Serve with tortilla chips.
What to serve with cowboy caviar?
Serve with tortilla chips, crackers, or sliced baguette. It is delicious!
Everyone loves this dip and you can't go wrong with it. Serve what you like the best and be prepared to watch this dip disappear.
Time saving tip:
Another time saving tip is to use a small food chopper or food processor to quickly and easily chop the onions.
If you do not have one of these, I highly recommend them. They are such a time saver and you can get the veggies really fine if you have children that are picky.
I usually just chop the entire vegetable and freeze what I don't need. It's so nice to be able to just take the diced onion out of the freezer for recipes.
This is how I meal prep. It's so quick and easy and helps get dinner on the table fast.
Learn and how to freeze onions and also how to freeze peppers to save so much time in the kitchen!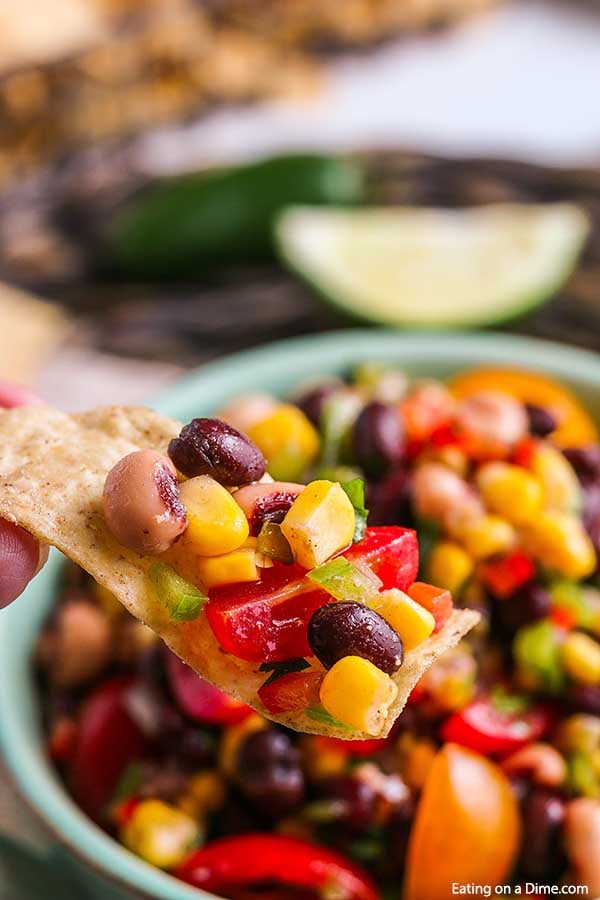 Texas caviar is easy, delicious and frugal!
All of the ingredients are very simple and you can make this dip for a great price. It is easy to double the recipe and make it for a crowd if needed.
You can easily substitute items based on you prefer or can get on sale. We have used frozen corn instead of canned corn and it was amazing.
We were out of black beans once and just used extra black eyes peas. Red onion is our favorite but vidalia is also tasty if that is what you have.
You can omit the jalapeno if you prefer but we love it and sometimes even add extra. 🙂 Yum!
As you can see, it is so easy to make this recipe work for anyone and regardless of what you have. It is easy to swap out ingredients.
This recipe really allows you to utilize sales and what you already have. It helps keep the grocery budget reasonable and feed a large family.
By shopping when things are on sale I save money on groceries and it really helps our budget. Saving money and feeding a big family can be accomplished.
I cut our grocery bill by 50% off by following these 8 Tips for for Saving Money on Groceries by Menu Planning!
Print this cowboy caviar recipe below:
Texas Caviar
Whether you call it Texas Caviar or Cowboy Caviar, this dip is amazing. It's the appetizer of choice in the South and for good reason with tons of flavor.
Ingredients
1

pint

cherry tomatoes

1

16 oz can black beans, drained and rinsed well

1

16 oz can black eyed peas, drained and rinsed well

1

15 oz can corn, white or yellow, drained

½

cup

red onion

finely chopped

½

cup

green bell pepper

chopped

½

cup

red bell pepper

chopped

1

jalapeno pepper

cleaned, seeded and chopped – more or less pepper for preference

½

cup

cilantro

chopped

Tortilla chips

serving

Dressing:

1/2

cup

cup olive oil

2

tablespoons

red wine vinegar

2

tablespoons

lime juice

1 ½

teaspoons

ground cumin

1

teaspoon

salt

¼

teaspoon

pepper
Instructions
In a small bowl, whisk together ingredients for the dressing, set aside

In a large bowl, add drained beans, black eyed peas and corn

Cut vegetables and add to large bowl

Mix well

Pour dressing over mixture and mix until well combined

Cover with plastic wrap and chill for at least 30 minutes before serving

Serve with tortilla chips
Nutrition Facts
Calories
223
kcal
,
Carbohydrates
28
g
,
Protein
8
g
,
Fat
10
g
,
Saturated Fat
1
g
,
Sodium
202
mg
,
Potassium
444
mg
,
Fiber
7
g
,
Sugar
5
g
,
Vitamin A
567
IU
,
Vitamin C
27
mg
,
Calcium
29
mg
,
Iron
2
mg
Try these other dip recipes:
Try these other appetizer recipes: