This post may contain affiliate links. If you make a purchase through links on our site, we may earn a commission.
Crock Pot Rotel Dip Recipe is our go to appetizer for parties, game day and any time we want something amazing! This dip is cheesy and delicious for an instant crowd pleaser.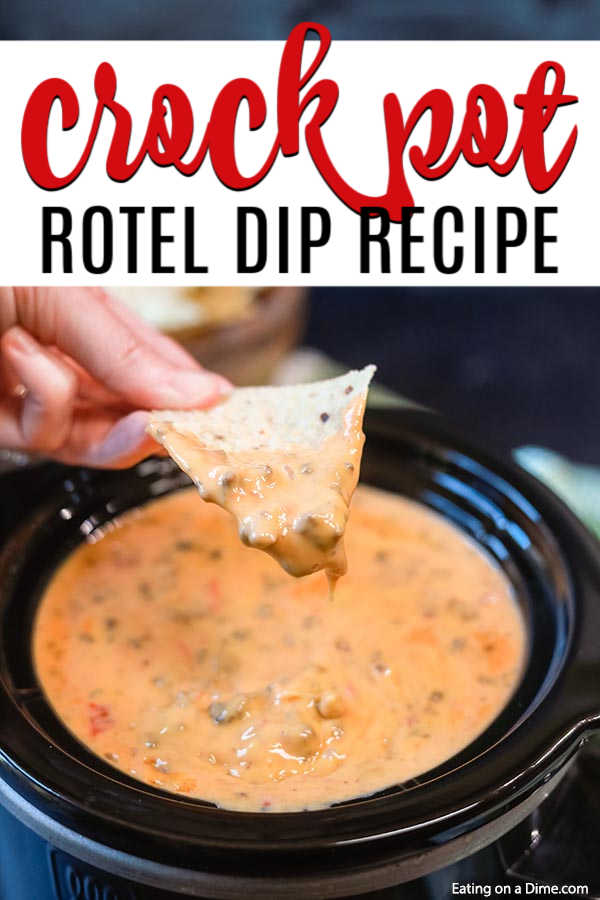 Crock Pot Rotel Dip Recipe:
Seriously this is one of the recipes that our family and friends ask me to make over and over. But just so you know, it will not last long Everyone goes crazy over this easy rotel dip and I can't say that I blame them. It is SO delicious.
In fact, we often double this recipe because everyone loves it so much. Trust me! It is the perfect tailgating recipe.
And did I mention how easy this is to make? With just a few simple ingredients and the slow cooker, this recipe takes hardly any work at all.
This Rotel Dip only requires 3 ingredients so it is a budget friendly dip that is easy to make.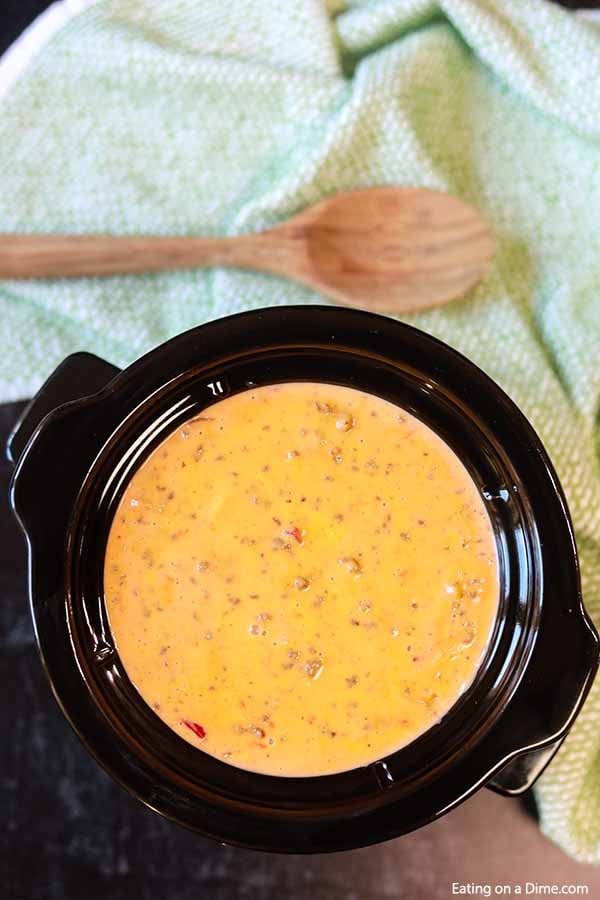 This is the Best Rotel Cheese Dip:
You can have the best of both words when you make this super easy recipe. Everyone gets to enjoy a really tasty dip and you don't have to do hardly any work.
If you loved our Crockpot Buffalo Chicken Dip Recipe, this rotel cheese dip is a must try! Why not throw a party and make a couple of different dips for everyone to enjoy?
We love dips and they are so easy for parties. No one gets stuck in the kitchen cooking and everyone gets to enjoy an amazing dish.
Spend more time with your family and friends and less time in the kitchen when you make this recipe. It is a win all around.
Crock Pot Rotel Dip ingredients:
Ground Beef
Velveeta Cheese
Rotel
I told you it was easy. With just 3 simple ingredients, you can make the best dip ever.
You will be amazed at how wonderful this dip turns out with just a few ingredients.
How to Make Rotel Dip in Crock Pot:
Step 1 – First, brown the ground beef in a large skillet and drain any fat.
Step 2 – Next, cube the Velveeeta cheese and place in your crock pot.
Step 3 – Place the browned ground beef on top and add the rotel.
Step 4 – Cover and cook. You want all the cheese melted stirring occasionally.
Step 5 – Serve with your favorite tortilla chips or vegetables while it is on the warm setting.
Keep reading for the full recipe. Once you give this a try, you will just how simple it is to make.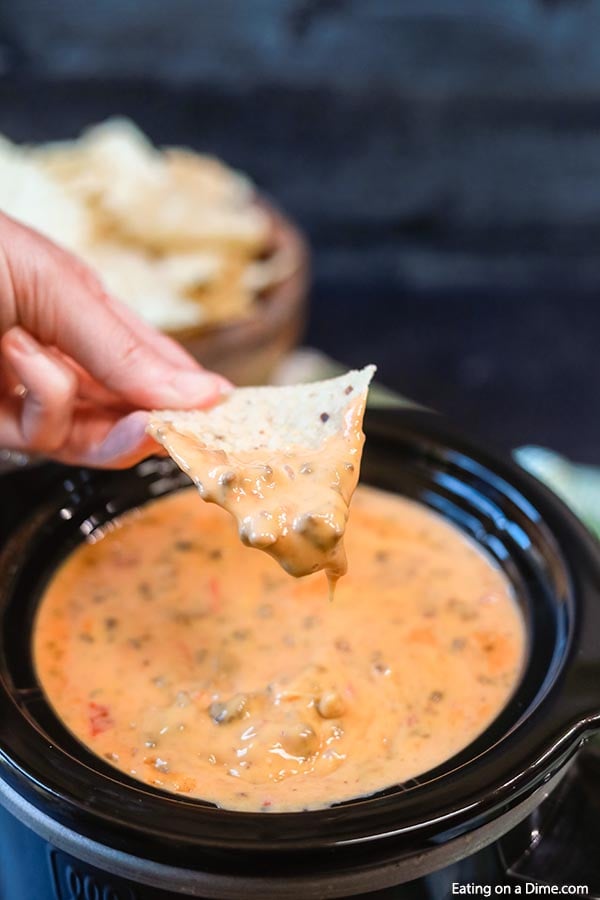 How Long do I cook?
Place ingredients in the slow cooker and cook on low for about 2 hours or on high for 1 hour. Make sure to stir occasionally which helps to combine the melted ingredients.
How to Thin the Cheese Dip:
If you cheese dip is to thick, you can slowly add in milk. Adding milk helps to thin out the cheese dip consistency. The longer the cheese dip sets on warm in the slow cooker the thicker it will be.
Can you Make this on the Stovetop?
Yes, you can make this Rotel Dip on the Stove top over medium heat. The process is just as easy and cooks easily on the stove top.
Tips for Rotel Dip Recipe:
This dip is so easy to adapt to what your preference is. It is so easy and one of the best dips. I love that you can easily add or omit things if you prefer a really spicy dip or like things more mild. It is really easy to make to suit your taste.
Spicy Rotel – If you want the queso dip spicier, use two cans of Rotel. Rotel comes in medium and hot with green chiles, so I usually use one can of hot and one can mild.
Thinner Consistency – If you want your dip thinner, stir in ½ cup of milk. Slowly stir in until the consistency is what you want.
Salsa – If you don't have any canned rotel, mix the cheese and meat with a jar of salsa.
Processed Cheese – We love the way Velveeta melts creamy, but if you prefer you can make this dip with a block of cream cheese and shredded cheddar cheese.
Crockpot Rotel dip recipe variations:
Add cream cheese with the velveeta
If you like it really spicy, add hot sauce.
Add a can of diced tomatoes with the rotel tomatoes
Try adding an extra can of green chilis for extra heat.
Use fire roasted tomatoes for another great flavor idea.
Use ground sausage instead of ground beef.
How do you serve Crock Pot Rotel Dip recipe?
We like to use tortilla chips to eat with this delicious dip. The kids really like the scoops because they can hold even more dip and they make it easier to eat.
You can also use corn chips or whatever you like. This is the best slow cooker rotel dip recipe and so creamy and delicious.
We love dip recipes and they just make everything more fun.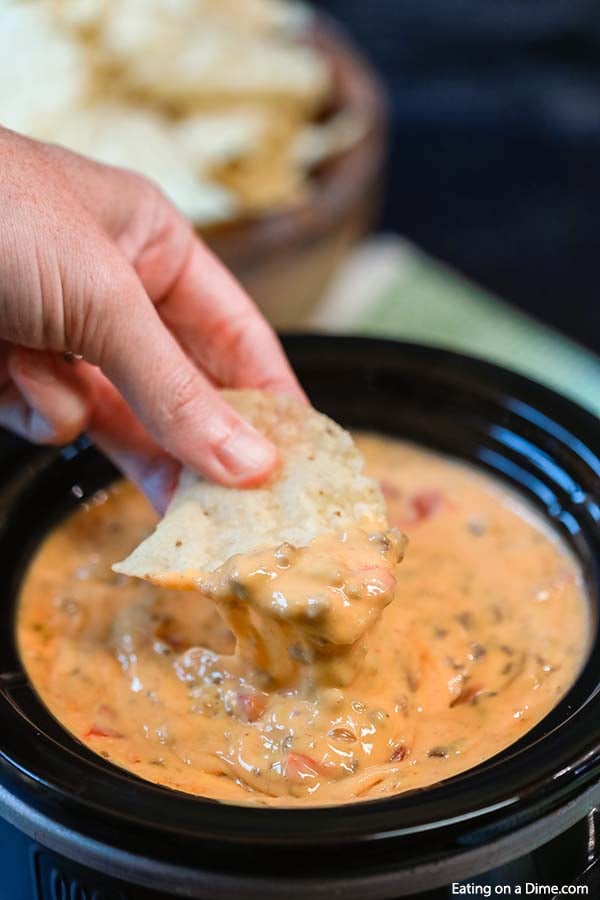 How to Store leftovers:
Place the leftovers in an airtight container for up to 5 days. Place in the refrigerator to enjoy another day.
How to Reheat:
The cheesy dip will thicken as it sits in the refrigerator. You may need to add a little milk to thin out the rotel dip. You can reheat in the slow cooker or on the stove top.
Print this Crock Pot Rotel Dip recipe below:
Crock pot Rotel Dip Recipe
Crock Pot Rotel Dip Recipe is our go to appetizer for parties, game day and more! This dip is so tasty and amazing for an instant crowd pleaser!
Ingredients
1

pound

ground beef

32

oz

Velveeta Cheese

1

can Rotel

10 oz
Instructions
In a large Skillet brown the ground beef. Drain any fat.

Cube the Velveeeta cheese and place in a 3-5 quart crock pot.

Place the browned grounded feed on top.

Pour rotel on top.

Place the lid on top and cook on low for 2 hours or high for 1 hour until cheese is melted (stirring occasionally).
Recipe Notes
If you want the queso spicier, use two cans of Rotel. If you want your dip thinner, stir In ½ cup of milk.
Nutrition Facts
Calories
264
kcal
,
Carbohydrates
9
g
,
Protein
21
g
,
Fat
16
g
,
Saturated Fat
8
g
,
Cholesterol
59
mg
,
Sodium
1224
mg
,
Potassium
363
mg
,
Sugar
6
g
,
Vitamin A
742
IU
,
Vitamin C
1
mg
,
Calcium
441
mg
,
Iron
1
mg
Try these other easy dip recipes: