This post may contain affiliate links. If you make a purchase through links on our site, we may earn a commission.
Crock Pot Buffalo Chicken Wings recipe takes all of the work out of traditional chicken wings. The slow cooker makes it effortless and you get the most tender and delicious buffalo chicken wings. Make them for parties, potlucks, game day and more.
Crock Pot Buffalo Chicken Wings
We love chicken wings around here and anything with buffalo flavor is always a hit. Our family never gets tired of buffalo chicken.
The flavor is incredible and it is just so easy. Bring on the buffalo.
Chicken wings are the perfect game day snack or appetizer at parties but it can be hard to keep them warm. Plus, I rarely have time to stand by the stove and fry chicken wings.
What is the solution? Making chicken wings in the crock pot. It is a winning recipe and one I think you will really enjoy.
If you prefer boneless wings, check out Boneless Chicken Wings Recipe.
Can you cook chicken wings in a crock pot?
I started wondering if I could cook chicken wings in the crock pot to save time. I discovered that you absolutely can cook chicken wings in the crock pot.
The chicken wings turned out so amazing. They were so tender and literally fall off the bone.
No more standing by the stove frying chicken wings because you can let the crock pot do all the work. They were so tasty and very tender that I don't know if I will ever cook them any other way.
I have a feeling once you try it, you will be hooked as well. It is just so easy and the wings taste so tender and flavorful.
Ingredients:
Chicken Wings
Buffalo Sauce
Brown Sugar
Onion Powder
Garlic Powder
Salt
Pepper
How to make chicken wings
First, place the chicken wings in the slow cooker.
Second, get out a small bowl and mix together the sauce. Whisk the 1 ½ cup buffalo sauce, brown sugar, onion powder, garlic powder and salt and pepper. We used Frank's hot sauce but use the brand you prefer.
Next, pour the sauce over the chicken wings in the crock pot.
Finally, cover and cook the wings. You can cook them on low for 5 to 6 hours or high for 2.5 to 3 hours. Chicken needs to have an internal temperature of 165 degrees.
How do you make chicken wings not soggy?
It is very simple and only takes a few minutes. You get to enjoy crispy chicken wings without the work.
Once the chicken has finished cooking, place them on a foil lined baking sheet.
Let the chicken wings broil for 5 to 10 minutes or until they start to brown. Make sure to flip halfway. This will give them a delicious crispy coating.
Return the chicken back to the crock pot and turn it to the warm setting. This will keep it warm until you are ready to serve.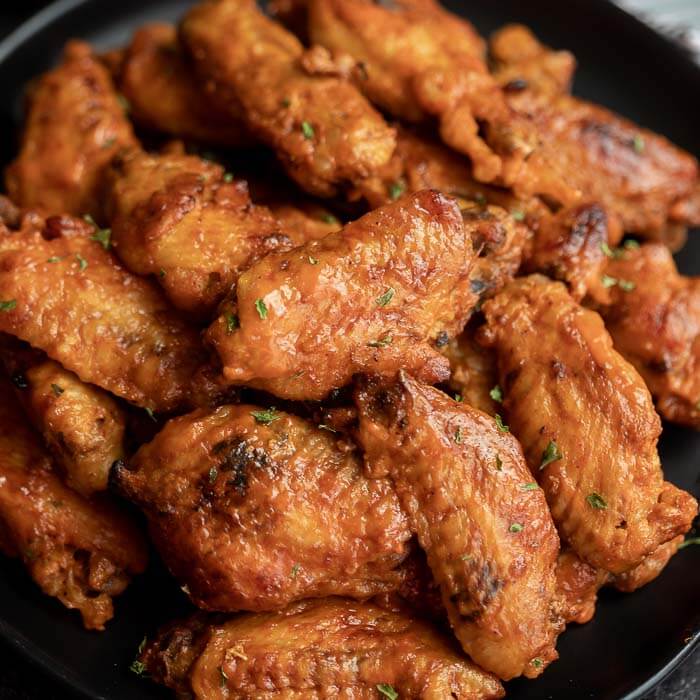 Can you cook frozen chicken wings in a slow cooker?
It is very simple. Just follow the same instructions. However, you may need to increase the cooking time for the frozen wings depending on the size.
Frozen chicken wings in crock pot only take a little bit longer.
Also, you will have more excess liquid when you use frozen chicken wings. However, you can just drain that off before you broil them.
You might also want to add a little more of the buffalo mixture to the chicken wings before broiling.
How long to cook chicken wings in a crock pot?
There are 2 options. If you are short on time, cook on high setting for 2 ½ hours to 3 hours.
The other option is to cook on low for 5-6 hours.
What to serve with Crock pot buffalo chicken wings?
We like to keep it really simple. These wings are great with celery, carrot sticks, and ranch dressing.
Homemade ranch dip is very easy and so flavorful with the wings.
Sometimes, I also put out blue cheese dressing. Everyone is happy with dipping sauces and cut up veggies.
Oven baked sweet potato fries also pair nicely with chicken wings.
See Best Sides for Chicken Wings for more ideas.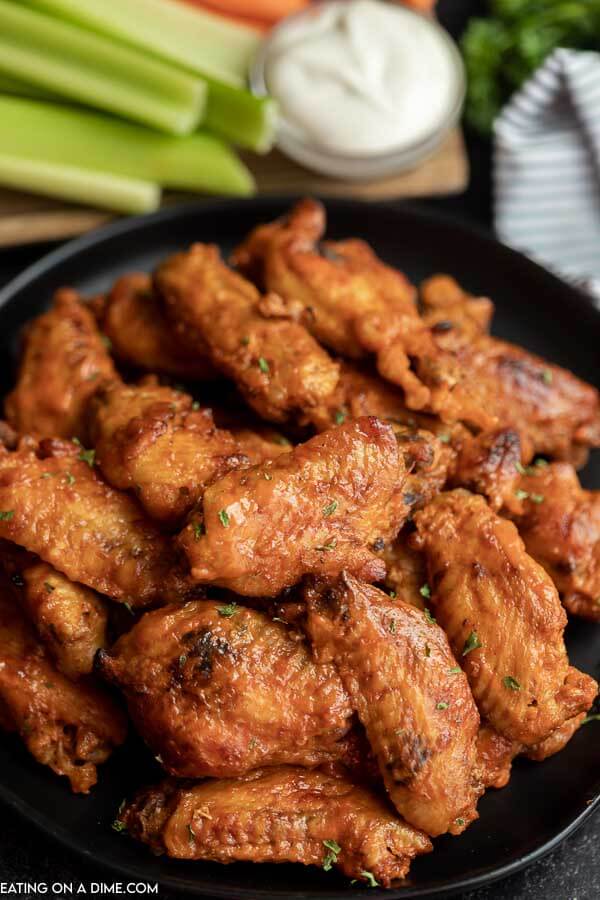 Crock pot chicken wings variations:
Plain chicken wings. You can easily adjust this recipe to suit your family. If you prefer plain chicken wings, simply omit the buffalo or hot sauce.
BBQ chicken wings. Just add your favorite BBQ sauce. It is so easy.
Pre-cooked wings. If you are short on time, you could even use Tyson frozen chicken wings in the crock pot but you will need to reduce the heat.
Chili Sauce- The sweet and savory combination is amazing.
Teriyaki Sauce – You can use a bottle of teriyaki sauce for a different flavor.
Tips:
Make sure the chicken reaches an internal temperature of 165 degrees F at the middle of the thickest part. I have a digital thermometer and it is easy to use.
Store leftover chicken wings inside an airtight container up to 3 days in the fridge. We rarely have leftovers though.
Freeze chicken wings up to 3 months. Make sure they are stored inside an airtight freezer container.
Use unsalted butter in this recipe as well as garlic powder instead of garlic salt. You don't want it too salty.
You can use whole chicken wings but make sure to cut off the tip of the wing when separating the wing. This takes a little longer but usually saves some money.
Why we love this easy recipe.
There isn't any mess or hot oil popping. I love that you do not have to stand over a hot stove. I also love that the smell of frying isn't in your house. That can really linger.
It stays warm in the slow cooker. Whether you are serving for a party or your family, it is nice to be able to keep it warm. If you are serving this for Game Day, it is nice to be able to have multiple slow cookers keeping wings warm.
You still can enjoy crispy wings without frying. Since you broil these wings after they are cooked, you get all the crispiness of fried wings without the work. It only takes a few minutes.
It is healthier than frying. Since you are not deep frying these wings, the recipe is much healthier. I guess that means we can eat more.
Try it today.
Buffalo wings are so easy when you just toss the wings in the slow cooker. We love anything buffalo and these crock pot chicken wings do not disappoint.
We like to try new things and mix it up. If you have several slow cookers, you could even make a couple of different types of chicken wings.
This would be great for parties and more. No need to spend all your time in the kitchen with delicious crockpot recipes like this.
I also like to use crock pot liners to make clean up a breeze. These are worth every penny and save a ton of time.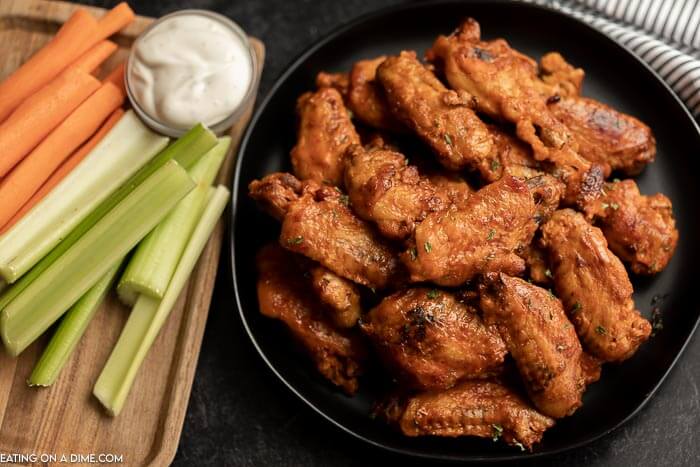 Print the recipe for slow cooker chicken wings:
Crock Pot Chicken Wings Recipe
Crock Pot Chicken Wings Recipe is so easy and makes the most tasty buffalo chicken wings. Slow Cooker Chicken Wings Recipe is perfect for game day and more.
Instructions
Place the chicken wings in the slow cooker.

Combine the buffalo sauce, brown sugar, onion powder, garlic powder, salt and pepper together in a small bowl.

Pour the sauce mixture over the chicken wings.

Cover and cook the wings on low for 5-6 hours or cook on high for 2.5-3 hours.

When finished line a baking sheet with foil and place the chicken wings on the baking sheet.

Preheat oven and broil for 5-10 minutes (flipping halfway) until they begin to brown.

Serve immediately or place them back in the crock pot the keep warm setting to serve them!
Recipe Notes
*Refrigerate the leftovers for up to 5-7 days in an air tight container. 
*You can brush on extra buffalo sauce when broiling the wings if you prefer excess sauce on your wings! 
Nutrition Facts
Calories
400
kcal
,
Carbohydrates
10
g
,
Protein
30
g
,
Fat
26
g
,
Saturated Fat
7
g
,
Polyunsaturated Fat
6
g
,
Monounsaturated Fat
10
g
,
Trans Fat
1
g
,
Cholesterol
126
mg
,
Sodium
2156
mg
,
Potassium
275
mg
,
Fiber
1
g
,
Sugar
9
g
,
Vitamin A
241
IU
,
Vitamin C
1
mg
,
Calcium
30
mg
,
Iron
2
mg
More Buffalo chicken recipes: