This post may contain affiliate links. If you make a purchase through links on our site, we may earn a commission.
Make this easy Snicker Apple Salad with hardly any effort at all but everyone will go crazy over this dish. It is creamy and delicious and so easy with only 3 ingredients needed.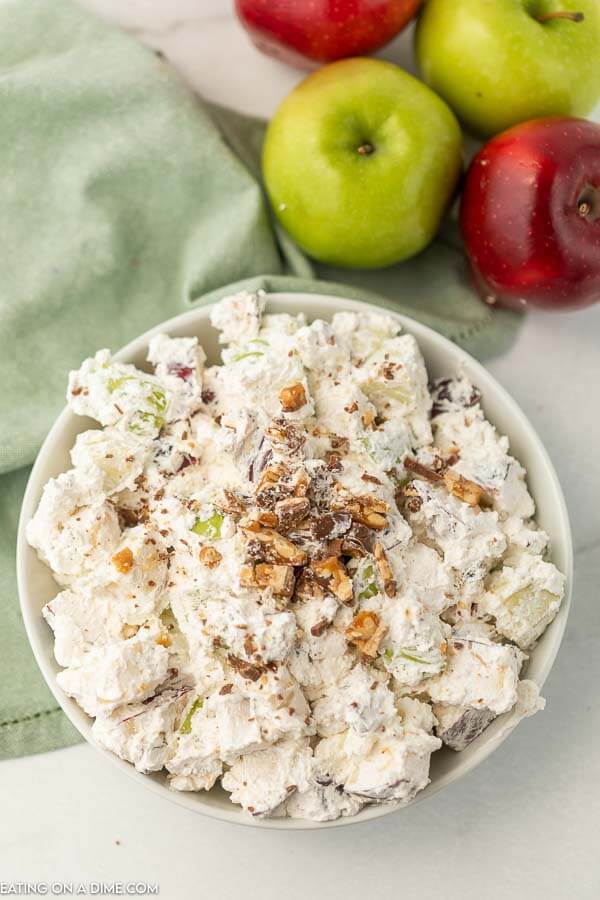 Apple Snicker Salad Recipe:
This easy 3 ingredient snicker apple salad recipe is a crowd pleaser! This snicker salad recipe is a very frugal snack or dessert and is perfect for the holidays! I wouldn't call it a healthy salad but trust me it taste a lot better than a green salad.
I like to take this to gatherings because it can be thrown together in just minutes! I haven't met one person who doesn't love this recipe.
What are the best apples to use?
It really depends on your preference. The tartness from the green apples balance out the sweetness of the other ingredients from the snickers and cool whip. It is the perfect blend of ingredients and one amazing fruit salad.
We use a mix of red delicious apples and green apples and it is delicious! However, you could easily use all green or all red and it still would be super yummy! Just make sure that your apples are free from bruises and are a firm apple.
If you want a sweet apple choose from- Gala, Fuji, Honeycrisp, or Golden Delicious. If you like more of a tart apples, choose from – Granny Smith, Melrose, or Winesap. Or if you like a combination of both, sweet and tart, choose from – Jazz, Pink Lady, or Jonagold.
Make this easy snicker salad year round!
This salad is perfect anytime of the year. I make this easy snicker salad recipe for almost any special occasion. Even though we make this for Thanksgiving and Christmas every year, we love in the Summer months too!
It is simple enough to make any day of the week but special enough for holidays too.
Ingredients:
Apples (2 red and 2 green) -any 4 will do but having a variety makes it better
Cool whip
Snickers bar chopped (this is much easier to chop if you put it in the fridge for a while first)
How to make Snicker Apple Salad:
Chop all your apples into bit size pieces. Leave the skin on
In a large bowl mix in the cool whip and the chopped snickers with the apples. (Save about ¼ of the snickers for the top.)
Once it is all combined, top with the left over snickers just to make it look pretty. You can also topped with caramel sauce or chocolate sauce right before serving to give it an extra sweetness kick.
That is all you have to do! Refrigerate until you are ready to eat!
Can you make this ahead of time?
I don't recommend making this salad ahead of time as the apples will turn brown in the refrigerator and get too soft.
I usually make this right before the event or holiday dinner than it's ready to serve as either an appetizer or a dessert! It doesn't take long to make, so I usually throw it together right before the dinner starts and I get the family involved to help too!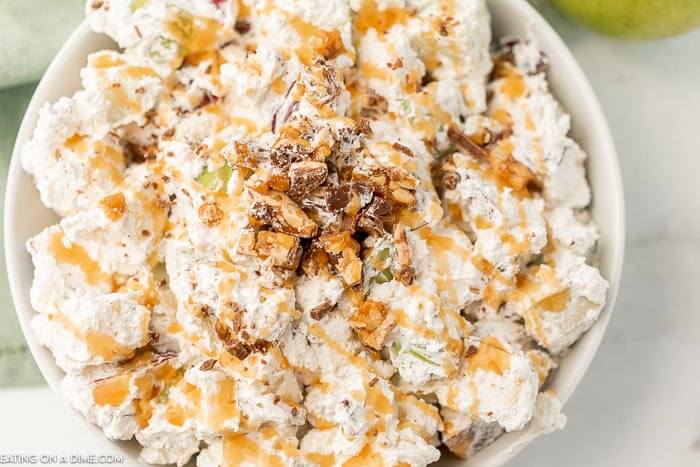 Apples turning brown?
I always hate when my apples turn brown. Here are some tips to help them keep looking fresh!
Keep them submerged in water – After slicing them place them in a bowl of water until you are ready to use them.
Use Water and Salt – You can dissolve about ⅛ teaspoon of salt into a bowl of water. Then add in the apple slices and soak for a few minutes then remove them from the water and rinse the apple slices.
Use Honey and Water – Stir together about a tablespoon of honey into a bowl of water. Add apple slices for about 30 seconds
The most important thing to remember is to make sure you are reducing the air exposure to the apples. After you have chosen your treatment method, then place them an air-tight container and place in the refrigerator. These methods don't keep the apples from turning forever but they do help to keep them looking fresh for about an hour or two.
It is only 3 ingredients!
I love this caramel apple salad because it just so easy with the 3 ingredients. You can make this recipe so quickly and easily for potlucks, family dinners, special occasions and more.
It is easy to feed a crowd and everyone always loves this easy fruit salad side dish. The cool whip with the granny smiths and snickers candy bars really make this an amazing dish. It is the perfect blend of sweet and tart.
Additions to this apple salad:
You can definitely change up this Snicker Apple Salad! That is the best thing about this salad, change it up and use what you have.
It would be so fun to drizzle caramel sauce or chocolate sauce over the dessert salad. I would do this right before serving! I love caramel sauce.
Add instant vanilla pudding mix to the whipped cream. Just a little milk and pudding mix will change the consistency for a nice variation. You can also add in some cream cheese.
Try butterscotch pudding with the whipped topping and add more bite sized pieces of candy to the pudding mixture.
Substitute other types of candy for the snickers candy bars. My favorites have been heath bars, butterfingers and twix! I think it would be good to change it up with chocolate chips if you know someone has a nut allergy.
Try other types of apples instead of granny smith apples. Any variation will do in apple recipes! Use what you have.
You also use different fruits such as bananas, pineapple or strawberries.
As you can see, it is so easy to make this salad your own and to use what you have.
We love to make this salad when we have leftover candy. It is a great way to use candy from Halloween, Easter or Christmas!
Print your recipe for snicker salad with whipping cream here:
Apple Snickers Salad
3 Ingredients is all you need for this simple Snicker apple salad recipe. This Snicker Salad Recipe might be easy to make but is tastes great! Try it today!
Ingredients
4

apples

(I used 2 Red Delicious and 2 Granny Smith apples)

8

oz

cool whip

3

Snickers Bars

(chopped)
Instructions
Chop all your apples into bit size pieces and place them in a large bowl.

Mix in the cool whip and the chopped snickers. (Save about ¼ of the snickers for the topping)

Once it is all combined top with the left over snickers.

Chill until ready to serve and then enjoy!
Recipe Notes
*This salad is the best to be served immediately after prepping.  You can store in the refrigerator for up to 1-2 days but the apples may brown some while storing. 
*You can also drizzle this salad with an easy caramel sauce right before serving to make a Caramel Apple Snickers Salad! 
Nutrition Facts
Calories
195
kcal
,
Carbohydrates
33
g
,
Protein
3
g
,
Fat
7
g
,
Saturated Fat
3
g
,
Polyunsaturated Fat
1
g
,
Monounsaturated Fat
2
g
,
Trans Fat
1
g
,
Cholesterol
7
mg
,
Sodium
72
mg
,
Potassium
197
mg
,
Fiber
3
g
,
Sugar
25
g
,
Vitamin A
133
IU
,
Vitamin C
4
mg
,
Calcium
56
mg
,
Iron
1
mg
You might also like these yummy fruit salad recipes: