This post may contain affiliate links. If you make a purchase through links on our site, we may earn a commission.
Try easy caramel apple nachos recipe for a fun treat. Layers of crispy apples topped with decadent caramel sauce, chocolate chips and more come together for a delicious snack or dessert.
Easy caramel apple nachos recipe
I have a fun and easy recipe for you to make with the kids. This Caramel Apple Nachos Recipe is simple to make and super fun on a hot summer day but also perfect for a chilly fall evening.
As you can see, it is amazing year round and we make it frequently. Our kids love this jazzed up apple recipe and I love that they are eating apples.
There are apples in there, so it is healthy right? Well, it is definitely healthier than a pile of cookies!
Each bite is so delicious and it looks really pretty to serve for parties too. We make homemade caramel sauce and use this instead of store bought sauce. It is so easy and makes this dish even better!
You may also love this Caramel Apple Slices.
Ingredients:
Caramel Sauce
Apples
Chopped Peanuts
Mini Semisweet Chocolate Chips
Lemon
How to make apple nachos:
First, core the apples and cut into 1/4″ slices. I like to use a mixture of both green apples and red apples.
It's not necessary, but we use this apple corer to make it easier to get the apples ready.
Now, I usually just slice the apples because I like "chunkier" slices for this recipe. However, if you want really thin slices, then I recommend using a mandoline slicer for perfectly sliced pieces.
Second, toss the apple slices and the lemon juice in large zip lock bag. Go ahead and seal the bag and shake them thoroughly so that the apples get coated in the lemon juice to prevent them from browning.
Next, arrange all of the sliced apples on a serving tray or plate. I like this white serving plate but you can use whatever you have on hand.
Finally, drizzle the apple slices with caramel. We love this homemade caramel sauce so tend to be pretty generous when it gets drizzled all over. Yum!
You can melt caramels if you do not want to make homemade. However, once you see how easy it is to make homemade, you will love it.
Add the rest of your toppings. We love chocolate chips and nuts! Just add what you love the most and enjoy.
Why is the caramel not sticking to the apple?
The wax on the outside of apples can often interfere with the caramel staying on the apple. Make sure to dip apples in water and swirl to melt and remove any wax. Wipe with towel to dry and remove any remaining wax.
This step will help to make sure the caramel does not slide off the apples.
You can also put the apples in the fridge right after dipping in caramel. This will help the caramel to set.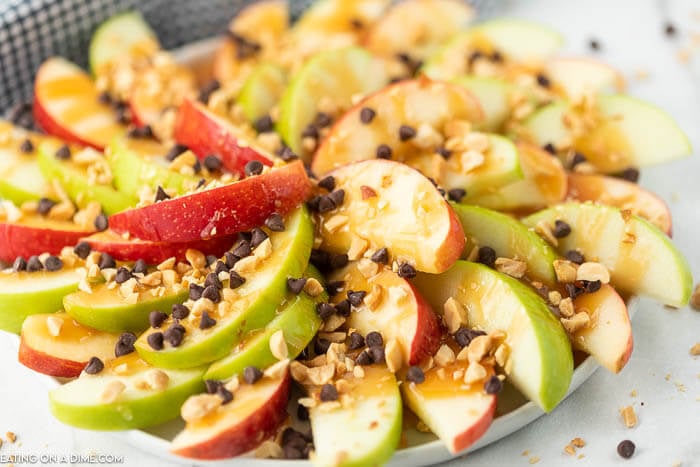 More topping ideas:
Chopped nuts. Peanuts and walnuts are delicious.
mini m&m's
white chocolate drizzle – My kids love when I melt white chocolate and pour it all over the top.
milk chocolate drizzle
crushed toffee or butterfinger candy bar. Any type of candy bar would work. Just use what you love!
cookies- Use leftover cookie crumbs to sprinkle over the nachos. Oreo and chocolate chip taste amazing.
mini peanut butter morsels. Peanut butter fans will love these!
chocolate and caramel and melted marshmallows. We love this combination.
This is a great time to use leftover candy bars, cookies or ice cream toppings. Another fun idea is to make small platters of apple nachos instead of one large platter. Let the kids (and adults) choose their toppings and make each plate how they prefer.
It really is a fun dish and super tasty.
Everyone loves caramel apple nachos.
Try caramel apple nachos recipe.
The possibilities are endless for this delicious treat. I think you will love it!
Print this recipe for easy apple nachos:
Easy Caramel Apple Nachos Recipe
You have to try this easy Caramel Apple Nachos recipe. It is perfect for any occasion – summer or fall the family loves this easy caramel apple dessert idea.
Ingredients
4

Apples

1

Lemon

Juiced

1/8

cup

Caramel Sauce

1/8

cup

Chopped Peanuts

1/8

cup

Mini Semisweet Chocolate Chips
Instructions
Core apples and cut into 1/4" slices.

Place the apples and lemon juice in a gallon size bag. Seal tightly and shake to thoroughly coat the apples in the lemon juice.

Arrange apple slices on plate and drizzle with caramel.

Sprinkle with chocolate chips and nuts and serve.
Recipe Notes
Your kids will love this jazzed up apple recipe, and I love that they are eating apples.
Use your favorite type of apples for this recipe.  We used 2 green granny smith apples and 2 red Gala apples for ours.  
Nutrition Facts
Calories
95
kcal
,
Carbohydrates
18
g
,
Protein
1
g
,
Fat
3
g
,
Saturated Fat
1
g
,
Cholesterol
1
mg
,
Sodium
14
mg
,
Potassium
154
mg
,
Fiber
3
g
,
Sugar
11
g
,
Vitamin A
49
IU
,
Vitamin C
11
mg
,
Calcium
16
mg
,
Iron
1
mg
Make sure you use two different kinds of apples for different flavors. We have even topped with m&ms instead of the chocolate chips. The kids just love making this special treat.
More caramel apple recipes:
More tasty snack ideas: