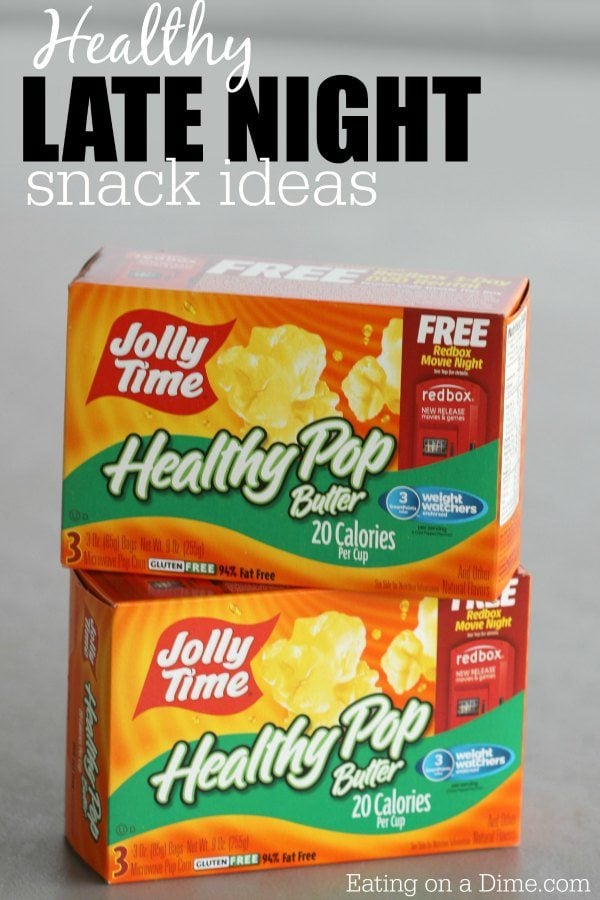 I've been on a healthy kick lately, but for some reason I struggle late at night. Today I wanted to talk about some of my favorite healthy late night snack ideas that I can enjoy without busting my diet.
I have really been working out hard. I have learned how to lift weights properly, I fell in love with boxing, and I am so close to being able to do a real pull up. However…. my eating still isn't so healthy so now I'm working on that.
Eating at night is a struggle.
Am I the only one?
For some reason when the kids go to bed and I sit down to watch my favorite show my stomach growls. It just wants a tasty bite and usually I reach for the unhealthy food. However, I have found the Weight Watchers® products at Walmart that are great for portion control.
They are the perfect solution for healthy midnight snacks to curb my cravings.
My personal favorite is the Weight Watchers® Endorsed Jolly Time Healthy Pop microwave Popcorn. I love that it has small bags so I can sit down and eat the entire bag without feeling guilty. Let's face it… eating a bag of popcorn just feels good.
On each box they show you how many calories and how many Weight Watchers® points each serving is. I just love that. So now… instead of eating a bowl of ice cream, I can still enjoy a late night snack without busting my diet. The Mini bags with 100 calories each offer portion control because I can eat an entire bag without feeling any guilt. 🙂 
Here are several quick midnight snacks you will find at Weight Watchers® products at Walmart.
Weight Watchers® Endorsed Jolly Time Healthy Pop microwave and pre-popped Popcorn
Weight Watchers® Endorsed Sandwich Thins (Arnold®, Orowheat®, and Brownberry®)
Weight Watchers® Ice Cream Novelties
Weight Watchers® Sweet Baked Goods
Weight Watchers® String Cheese
Make sure you also use the Ibotta offer up to $4 off at Walmart to pick up your Weight Watchers® snacks!
Which one of these healthy snacks for late night are you going to try?
The popcorn is probably my favorite, but when I am having a sweet attack, I love the sweet options too. Check out the Weight Watchers® website for more information.
This is a sponsored conversation written by me on behalf of Weight Watchers®. The opinions and texts are all mine.