This post may contain affiliate links. If you make a purchase through links on our site, we may earn a commission.
Enjoy perfectly seasoned crackers when you make this easy Spicy Ranch Crackers recipe. Each cracker is so flavorful and baked to perfection for a snack everyone will enjoy.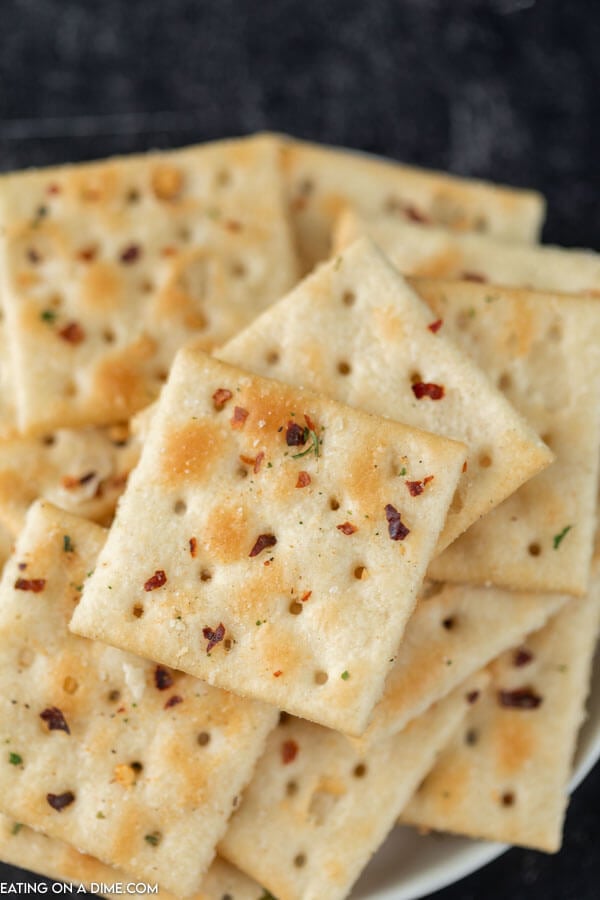 Spicy Ranch Crackers Recipe
Spicy Ranch Crackers…. oh my! If you haven't made these yet, you are missing out. Seriously missing out.
My family loves a good seasoned cracker, and I was on the hunt for the perfect recipe. However all my recipes turned out really, really oily.
However, I have solved the oily spicy cracker problem with one simple step….
BAKING!
Yes, after I made my garlic ranch pretzels recipe, I realized that in that recipe I'm baking them and so why not try baking the spicy ranch crackers too. I did and the end result was perfectly seasoned crackers without all the oil!
You are going to love these spicy ranch crackers.
How do you make ranch saltine crackers?
Saltine crackers red pepper flakes ranch dressing….
The ingredients are that easy. You probably already have everything you need in your pantry right now, so you probably need to make some today… like right now.
They are so amazing!
Let's get started with this party cracker seasoning recipe!
Once you make this recipe, you will see just how simple and amazing it is. I have thrown this together in just minutes for an impromptu snack. It is that easy!
Everyone is always so impressed how good these crackers are and wants to know how to make them. You are going to love them!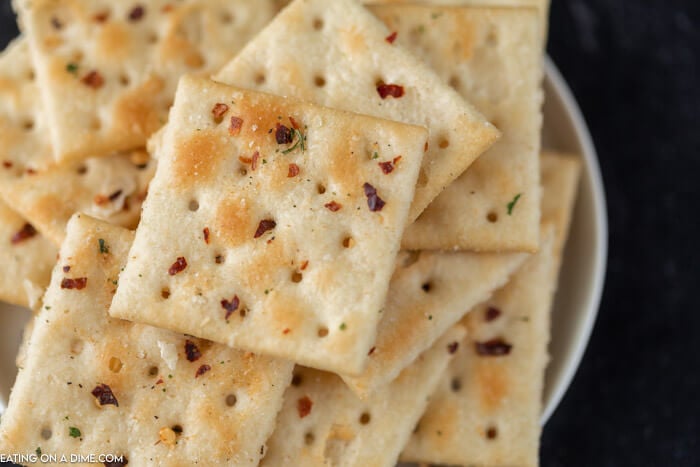 Ingredients for spicy crackers
saltine crackers
ranch dressing mix
red pepper flakes
garlic powder
oil (olive oil or canola oil)
How to make spicy ranch crackers:
In a small bowl combine the oil, ranch mix, red pepper flakes, and garlic powder.
Mix thoroughly. Place all the saltine crackers in a large container or ziplock bag.
Next, pour the seasoned mixture over the crackers.
Place lid on the container and flip several times to completely coat the crackers. You want to make sure all of the crackers are coated.
Pour crackers onto a baking dish and bake.
Allow to cool completely and serve this spicy ranch cracker recipe. It is such an easy recipe.
Keep reading for the full ranch crackers recipe.
Enjoy these super simple spicy saltine crackers!
Everyone loves these spicy ranch crackers and they are so simple and delicious! They have just the perfect amount of heat without being too spicy.
The kids can easily enjoy these and the entire family will go crazy over this easy snack.
Give these comeback crackers a try!
You will come back again and again to eat these delicious crackers. Once you try them, you will see what they are so amazing and everyone goes crazy over them.
We call this the best spicy saltine cracker recipe for a reason!
I know you are probably just thinking – these are just crackers. What is the big deal about them. However, just take a few minutes to make a batch of these spicy ranch crackers and I think you will fall in love with them too.
Can you use other crackers to make spicy crackers recipe cayenne?
Yes! This recipe is also good with oyster crackers. Just use what you have!
We frequently use oyster crackers because they are perfect for parties and more. Their bite size shape make them perfect for snacking or using in soup.
This spicy ranch crackers recipe is very frugal to make!
Whether you use saltine crackers or oyster crackers, they are both very inexpensive. I often just use what I already have in the pantry or what is on sale. You can truly make this recipe your own and customize it for your family.
This is how I keep our grocery budget reasonable. By shopping when things are on sale I save money on groceries and it really helps our budget.
I love being able to make such a delicious snack for my family in so little time. Since you only 4 ingredients are needed, it is so fast and easy to make.
The kids love this and everyone that has tried it goes crazy over these crackers. You will love how versatile these crackers are.
From quick after school snacks to party appetizers game day, these are the perfect crackers any day of the week. Make a batch for tailgating and watch them disappear! They are that good!
You might even want to make a double batch because everyone will gobble these up. Last time I made them for a party, they were gone in minutes.
Seriously, you can't eat just one! People keep coming back for more so they go really fast.
The flavor is amazing and can't be beat! So good!
These are the best easy spicy saltine crackers!
Come back and let us know what your family thinks about this easy cracker snack. You might also like to try Saltine Cracker Toffee.
Saltine crackers are so inexpensive and make an amazing snack. Buy some today and make this delicious and easy recipe.
You will love it and not be able to stop eating them! We just love recipes that are easy to make, taste amazing and cost very little to make.
We keep things simple around here! Try this for a quick snack during the week or at your next party. We love to make them for July 4th and other holidays.
Print this baked spicy crackers recipe below:
Spicy Ranch Crackers Recipe
Enjoy perfectly seasoned crackers when you make this easy Spicy Ranch Crackers Recipe. Each cracker is flavorful and baked to perfection for a tasty snack.
Ingredients
16

oz

Saltine Crackers

(4 sleeves of crackers)

1

Ranch Dressing Mix

(1 oz package)

1

Tbsp

red pepper flakes

2

tsp

garlic powder

2/3

cup

vegetable oil
Instructions
In a small bowl combine the oil, ranch mix, red pepper flakes, and garlic powder.

Mix throughly.

Place the crackers in 2 large gallon zip lock bags.

Pour half of the seasoned mixture into each bag over the crackers.

Seal tightly and gently shake thoroughly to coat the crackers.

Pour the crackers onto a baking dish (it's ok to overlap the crackers) and bake at 250 degrees F for 10 minutes.

Allow to cool completely and serve.
Recipe Notes
One serving is approximately 4 crackers. Store the leftovers in an air tight container and store at room temperature for approximate 4-5 days.  
Nutrition Facts
Calories
107
kcal
,
Carbohydrates
12
g
,
Protein
2
g
,
Fat
6
g
,
Saturated Fat
4
g
,
Trans Fat
1
g
,
Sodium
161
mg
,
Potassium
32
mg
,
Fiber
1
g
,
Sugar
1
g
,
Vitamin A
79
IU
,
Vitamin C
1
mg
,
Calcium
4
mg
,
Iron
1
mg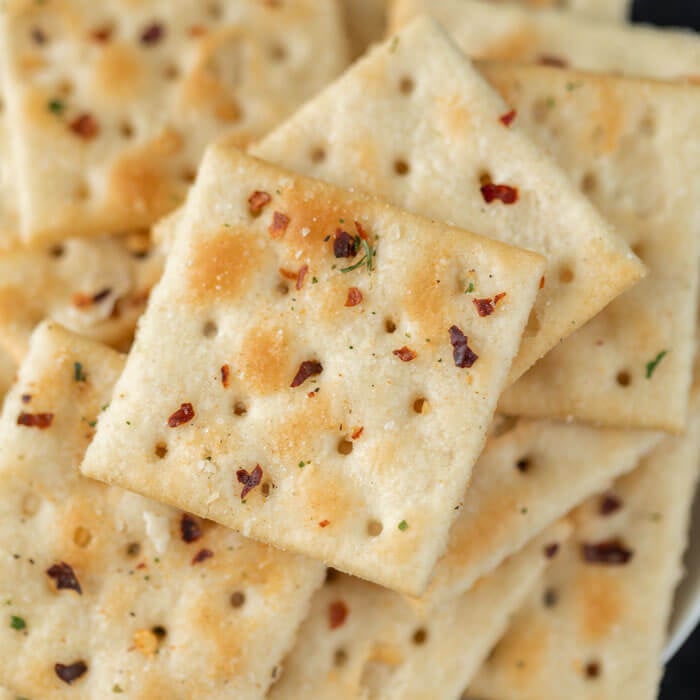 Try these other easy snack recipes: