This post may contain affiliate links. If you make a purchase through links on our site, we may earn a commission.
This quick and easy Garlic Ranch Pretzels Recipe is one of my favorites for tail gates and the holidays. This recipe takes no time at all to prepare and is always a crowd pleaser!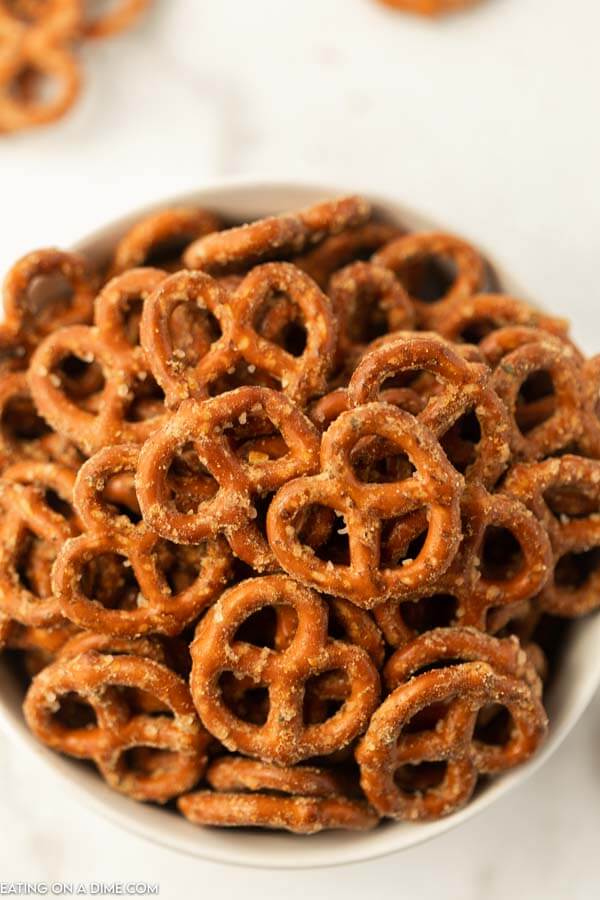 Ranch Seasoned Pretzels are easy!
These are so delicious and so easy to make too. I made them yesterday for the kids. They were ready in under 30 minutes (prep and cook time).
Almost all of them are gone today. I loved them too – maybe a bit too much.
These never last long in my house when I make them for my family!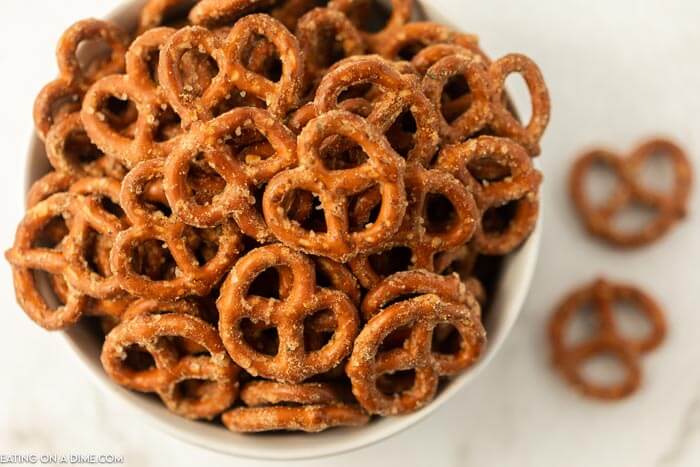 Make this easy ranch pretzel recipe today.
I have found tons of pretzels recipes on Pinterest, but I didn't want anything spicy or to sweet.
Finally I decided to create this super easy ranch dressing pretzels recipe. They are a hit with the entire family!
From game days to holidays to after school snacks, this is my new go to recipe for flavored pretzels.
Ingredients:
You only need 4 ingredients to make this easy and delicious snack or appetizer recipes. I bet you already have 2-3 of these in your pantry.
Oil – Canola Oil, Vegetable Oil, Olive Oil or Coconut Oil is best – just choose your favorite. Any of these will work great in this recipe.
Garlic Powder – This adds a delicious garlic flavor to these pretzels that mixes great with the ranch flavor. (Also see The Best Garlic Powder Substitute)
Ranch Dressing Mix – I use a packet because I generally have those on hand but a homemade mix works too.
Pretzels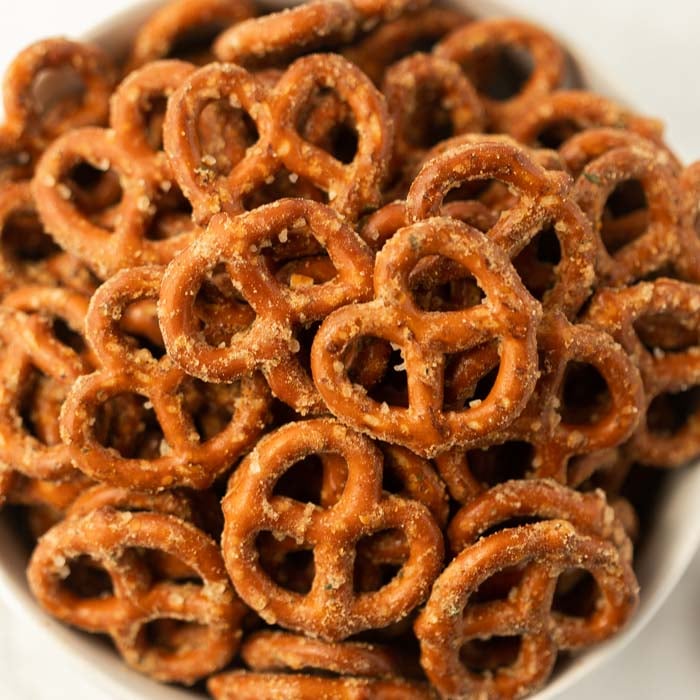 Make your own seasoning mix.
I love making my own seasoning packets at home so I know exactly what's in the food I provide my family. It's become a little bit of an obsession.
By making your own, you can ensure that the seasoning mix meets your dietary needs.
I have a great recipe Homemade Ranch Dressing Mix. It's simple to make. I love making this in bulk and having it on hand for all my favorite recipes like this one!
I use 2 tablespoons of this homemade mixture instead of packet.
How to make seasoned pretzels:
First, preheat oven to 270 degrees Fahrenheit.
Place the ½ cup of oil, garlic powder and ranch dressing mix in a large gallon size zip lock bag. Seal the bag and shake to thoroughly combine these ingredients.
You can also stir all the ingredients together in a large bowl. However, I have found that the pretzels are easier to coat in a gallon size bag.
Then add in the pretzels. Seal the bag but make sure to keep the air in the bag. Then shake to thoroughly coat the pretzels with the oil and seasonings.
*We have found that adding air to the bag allows the pretzels to move around easier inside the bag.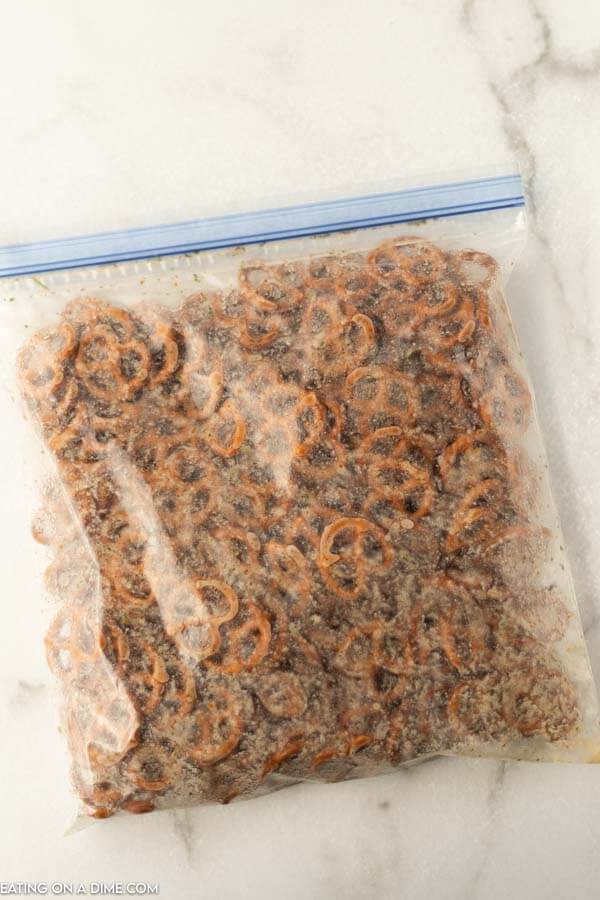 After that, spread the pretzels out onto a baking sheet and baked at 270 degrees Fahrenheit for 15 minutes-20 minutes.
After they bake for 20 minutes, allow to cool completely and enjoy!
I told you this seasoned pretzels recipe was easy. Even the kids can make these themselves. I hope you get in the kitchen and have some fun together.
How to Store:
Store any leftovers in an air tight container at room temperature for up to 5-7 days. I usually store them in a zip lock bag. You can also store them in glass or plastic container will work as well as long as it seals well.
Can this recipe be made ahead of time?
Yes, these are great to make ahead. These can be made 2-3 days before serving as long as they are stored in an air tight container. I usually make them the morning of the party I plan on serving them at.
What kind of Pretzels work best?
I like to use the bite size twist pretzels for this recipe. They are easy to serve and people love snacking on them.
But any pretzels will work great with these recipes. I have also seen some fun festive ones that would be adorable to use around the holidays.
Make these pretzels today!
See anyone can make this super snack idea. Take them to your next party and definitely make them for your family.
I promise, you'll thank me after you have enjoyed these amazing pretzels!
Print this Garlic Ranch Pretzels Recipe below:
Variation Ideas:
Use Butter. – You can create ranch pretzels with butter by using melted butter instead of the oil if you are all out.
Use Garlic Salt. – You can easy garlic salt if you're out of the powder. They just might be a little more saltier but they still taste amazing.
Make Spicy Ranch Pretzels. – Add 1 tablespoon of red pepper flakes or ½ tsp of Cayenne Pepper to the ranch seasoning.
Create Fiesta Ranch Pretzels – Use a fiesta ranch dressing mix packet until of a traditional ranch seasoning packet. The fiesta mix add a delicious chipotle, tomato flavor and tastes great as well.
Add your Favorite Seasoning – You can easily make this recipe your own but using your favorite seasoning instead of the ranch. Onion Powder, lemon pepper or even dill weed would all be delicious on these pretzels.
Garlic Ranch Pretzels Recipe – Easy Seasoned Pretzels
Garlic ranch pretzels recipe. Try this kid friendly seasoned pretzels recipe that the entire family will love. We love ranch dressing pretzels recipe.
Ingredients
1/2

cup

Oil

(canola oil or coconut oil is best)

1

tsp

Garlic Powder

1

packet

Ranch Dressing Mix

1

lb

Bag of Pretzels
Instructions
Add the oil, ranch dressing mix and garlic powder to a large ziplock bag. Seal the bag and shake to combine all the ingredients.

Then add the pretzels to the bag. Seal the bag but make sure to not take the air out of the bag. Then shake the bag to thoroughly coat the pretzels with the oil and the seasonings.

Spread out onto a baking sheet.

Baked at 270 degrees Fahrenheit for 20 minutes.

Allow to cool completely and enjoy!
Recipe Notes
*Store leftovers in an airtight container at room temperature for 1 week.  
Nutrition Facts
Calories
233
kcal
,
Carbohydrates
31
g
,
Protein
3
g
,
Fat
10
g
,
Sodium
653
mg
,
Potassium
54
mg
,
Fiber
1
g
,
Sugar
1
g
,
Calcium
7
mg
,
Iron
2
mg
Check out these other snack recipes: