Chex party mix recipe is a delicious staple around here. We make this for holidays, Game Day, birthdays and more. It is easy, frugal and so tasty.
Chex party mix recipe
This is our favorite snack and so simple to make. Chex Party Mix recipe is so quick and easy to make and makes a ton. You can feed a crowd with this recipe and it is not expensive to make.
My kids love when I make a big batch of this so they can pack some in their lunchbox. It is a real treat and just loaded with flavor.
What ingredients do you need to make Chex mix?
2 cups Rice Chex Cereal
2 cups Corn Chex Cereal
8 tablespoons butter, melted
2 cups Wheat Chex Cereal
¾ cup pretzel rounds
¾ cup mini pretzels
½ teaspoon onion powder
¾ cup Mixed Nuts
¾ cup Cashews
2 teaspoons Worcestershire Sauce
1 teaspoon Seasoned Salt
½ teaspoon garlic powder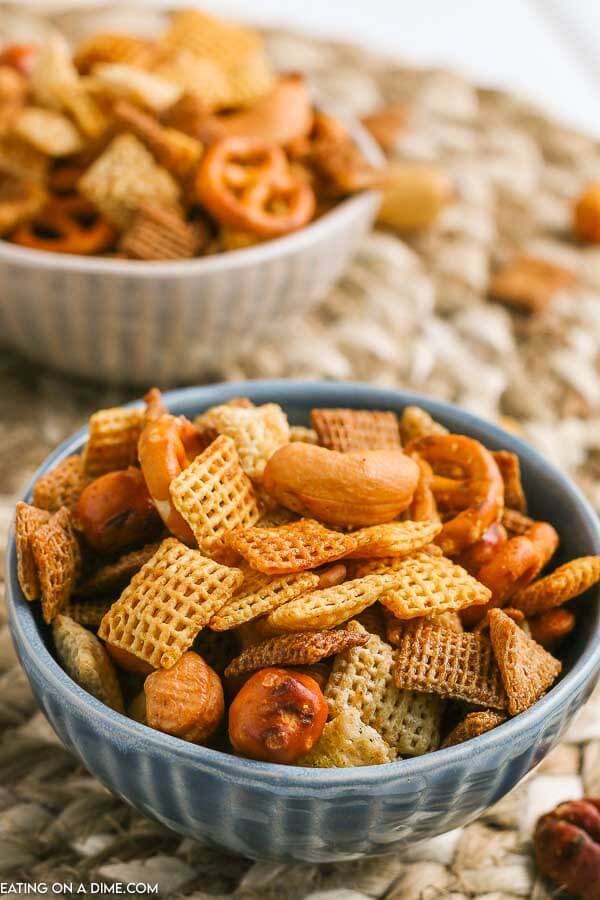 How to make homemade chex mix:
First, preheat oven to 300 degrees. Next, set out a rimmed cookie sheet.
Melt butter in microwave-safe bowl. In a large bowl, combine cereal, nuts and pretzels.
Add Worcestershire sauce and seasoned salt, whisk until well combined.
Pour butter mixture over cereal mixture and mix until well coated.
Spread evenly onto cookie sheet.
Bake for 30-40 minutes, stirring halfway in between. Remove from oven and allow to cool.
How long is homemade Chex Mix good for?
Chex Mix lasts about 4 weeks if you make sure to use an airtight container.
Chex party mix variation ideas:
The beauty of this recipe is you really can use anything you prefer. You can omit ingredients you don't care for and substitute something else. The key is to just end up with the same amount of cups the recipe calls for.
Some tasty ideas include:
bagel chips
cheese crackers
cheerios
oyster crackers
goldfish
pretzel bites
any type of nuts
As you can see, the ideas are endless to make chex mix!
I often just use what I have in the pantry or what is on sale at the grocery store. You can also use what your family prefers.
This is how I keep our grocery budget reasonable. By shopping when things are on sale I save money on groceries and it really helps our budget
Everyone will love this party mix recipe.
This original recipe has so much flavor. The worcestershire sauce seasoned salt mixture tastes amazing. You can add extra pretzels and bagel chips if you love those like we do.
Just make it your own and make sure to store in airtight container. Keep a close eye on your chex mixture and you may need to turn the oven to 250 stirring every 15 minutes.
This recipe is so tasty and it has become a tradition around here. We all love it and it is so simple and inexpensive to make.
From game day to movie night, this easy party mix does not disappoint. It is simply amazing and oh so tasty. We eat this all year round and love it.
We enjoy trying new combinations and making new versions of this chex mix. Give it a try and let us know what delicious combination you use!
Try Chex party mix!
Not only is this a great treat but it makes a great gift for friends and neighbors. You can make this to put in treat bags and hand out when you want to give people a little something.
Everyone will love it and it won't bust your budget. I can't wait for you to try this delicious recipe. It is super easy and so tasty!
I could snack on this all year long. It is the best snack while watching a movie or at parties and more.
Print this tasty homemade chex party mix recipe below:
Party Mix Recipe
Chex party mix recipe is a delicious staple around here. We make this for holidays, Game Day, birthdays and more. It is easy and frugal.
Ingredients
2

cups

Rice Chex Cereal

2

cups

Corn Chex Cereal

2

cups

Wheat Chex Cereal

¾

cup

pretzel rounds

¾

cup

mini pretzels

¾

cup

Mixed Nuts

¾

cup

Cashews

8

tablespoons

butter

melted

2

teaspoons

Worcestershire Sauce

1

teaspoon

Seasoned Salt

½

teaspoon

garlic powder

½

teaspoon

onion powder
Instructions
Preheat oven to 300 degrees

Set out a rimmed cookie sheet

Melt butter in microwave-safe bowl

In a large bowl, combine cereal, nuts and pretzels

Add Worcestershire sauce and seasoned salt, whisk until well combined

Pour butter mixture over cereal mixture and mix until well coated

Spread evenly onto cookie sheet

Bake for 30-40 minutes, stirring halfway in between

Remove from oven and allow to cool
Nutrition Facts
Calories
549
kcal
,
Carbohydrates
58
g
,
Protein
13
g
,
Fat
33
g
,
Saturated Fat
12
g
,
Cholesterol
40
mg
,
Sodium
1077
mg
,
Potassium
397
mg
,
Fiber
6
g
,
Sugar
6
g
,
Vitamin A
1186
IU
,
Vitamin C
8
mg
,
Calcium
146
mg
,
Iron
15
mg
Try these other snack ideas: