This post may contain affiliate links. If you make a purchase through links on our site, we may earn a commission.
If you are doing Keto, you have to try this Keto Cheesecake Fat Bomb Recipe. This is the most amazing recipe that allows you to enjoy creamy cheesecake absolutely guilt free.
Keto Cheesecake Fat Bomb Recipe
If you love cheesecake, this recipe is a must try! Enjoy Cheesecake Keto Fat Bomb recipe guilt free while staying within the keto diet guidelines.
This dessert is so rich and creamy that you might not believe it is keto friendly but it sure is! Each bite is amazing!
We used raspberries and they combine with the cream cheese mixture to make the most decadent dessert ever. In fact, my entire family went crazy over these.
They are really that delicious! You are going to love them!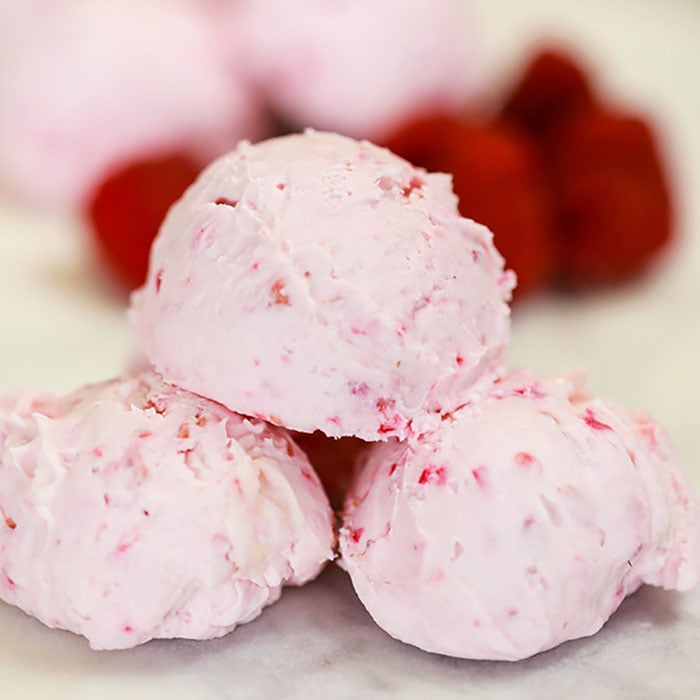 What all do you need to make Cheesecake Fat Bombs?
cream cheese
raspberries
butter
vanilla extract
The ingredient list is so simple. Really these are just 3 ingredient fat bombs and take hardly any work at all to make.
How to make 3 ingredient fat bombs cream cheese recipe:
With just a few ingredients, this dessert comes together very quickly and easily. I like to let the butter and cream cheese sit at room temperature until soft.
This really helps the recipe come together. Normally I will let it sit at room temperature for about an hour. If it still is not that soft, try putting in the microwave for 10-15 seconds.
Make sure you blend the raspberries really well with a hand mixer before adding to the cream mixture. You want everything to be nice and smooth.
The trick to this recipe is putting the mixture in the freezer to let it harden. Normally 30 minutes does the trick.
I like to use a cookie scoop to scoop the fat bombs into 18 servings on a cookie sheet. The cookie scoop really helps to make them all the same size.
Put back in the freezer and once they are frozen solid, you can store them in a gallon freezer bag. You can also try these reusable freezer bags that are awesome.
We also love to use these freezer bag holders. They are totally optional but it is like having an extra set of hands.
Keep reading for the full recipe.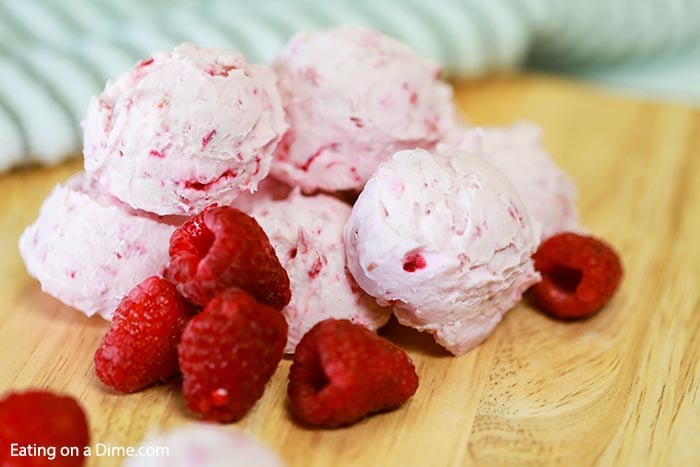 These are the best tasting keto fat bombs!
These are the best things every and I love being able to grab one from the freezer when a sweet craving hits.
Plus, they are just so easy to make. You can't go wrong with this delicious keto fat bombs cream cheese recipe.
Try using strawberries to make Keto Fat Bomb.
Raspberries are delicious but for a change, try strawberries. They are so delicious and we love them just as much.
Sometimes, I like to make a batch of both. Yum! They are so good!
Why use fat bombs on keto?
Fat bombs help keep you on track while on a keto diet. They are perfect for a quick snack or treat helping to keep you on track with your diet.
How many fat bombs can you eat on keto?
These are so rich and decadent that really one or two satisfy. Often I will grab just one and that does the trick.
A little truly goes a long way with these delicious fat bombs.
Try these delicious cheesecake fat bombs today!
If you are on the keto diet, these are a must try. Everyone will love this cream cheese fat bomb recipe.
You can feel free to grab one or two without any guilt. They are bite size, keto friendly and simply amazing.
If you are looking for gluten free mini cupcake type desserts, give these a try. You can even modify these to make Chocolate Cheesecake Fat Bombs.
Just skip the fruit and add chocolate chips instead for a really taste treat with dark chocolate. This is one of our favorite low carb recipes.
Make these Cheesecake Fat Bombs today!
You will not be disappointed. They are going to be a hit with everyone!
Still trying to understand this Keto diet?
It can seem overwhelming initially. However, once you understand the Keto lifestyle it is very simple.
You can find lots of resources here including a beginner's guide to Keto. I even spotted the Keto Crock Pot Cookbook.
It's a lot to take in but basically the ketogenic diet is a diet high in fat with healthy fats for weight loss. The diet calls for a lot of nut butters, peanut butter and low or no carb snacks called fat bombs.
You will also want to keep things sugar free. Oils like coconut oil, olive oil and mct oil are used.
A lot of recipes call for cheese or cream cheese. Almond flour or pork rinds can be used for a coating or batter that fits into the ketogenic diet.
Once you get used to this diet, many report that it becomes a lifestyle and they really like it. As a result, many people report higher levels of energy and that they just feel better!
Plus, weight loss is fairly easy while also filling full and satisfied. This is a key component as to why it works for so many.
Find over 20 Keto Soup Recipes sure to impress even the pickiest eaters. From chili and beef stew to chicken dumplings and more, there is something for everyone to enjoy while eating Keto.
If you are doing Keto, you will love these tasty Keto Side Dishes. We have tons of recipes for easy keto side dishes that will make the Keto lifestyle simple and delicious.
Print this Keto cheesecake fat bomb recipe below:
Keto Cheesecake Fat Bomb recipe
If you are doing Keto, you have to try Keto Cheesecake Fat Bomb Recipe. This is a decadent recipe that allows you to enjoy cheesecake fat bombs guilt free.

Ingredients
8

oz

cream cheese

1/4

cup

raspberries

smashed into the cup

4

tablespoons

butter

2

tablespoons

Erythritol granular sweetener

We used Swerve for this Recipe

1

tablespoon

vanilla extract
Instructions
Let the butter and cream cheese sit at room temperature until soft (about an hour). If the cream cheese is still not really soft, you can microwave it for 10-15 seconds to make it even softer.

In a medium bowl, add raspberries and blend with a hand mixer. Add in the butter and mix together.

Then add in the cream cheese, vanilla extract and the swerve.

Mix together until well blended.

Place the bowl in the freezer for about 30 minutes for it to harden.

Use a cookie scoop to scoop the fat bombs into 18 servings onto a cookie sheet.

Place the cookie sheet on a freezer and freeze.

Once frozen solid, place in a gallon freezer bag to store.

Enjoy!
Recipe Notes
You can use strawberries instead of raspberries if you want.
Nutrition Facts
Calories
68
kcal
,
Carbohydrates
1
g
,
Protein
1
g
,
Fat
7
g
,
Saturated Fat
4
g
,
Trans Fat
1
g
,
Cholesterol
21
mg
,
Sodium
63
mg
,
Potassium
22
mg
,
Fiber
1
g
,
Sugar
1
g
,
Vitamin A
248
IU
,
Vitamin C
1
mg
,
Calcium
14
mg
,
Iron
1
mg
If you love bread but are following a Keto diet, you are going to go crazy for this 90 Second Keto Bread Recipe.
Try Keto Vanilla Mug Cake for another delicious keto treat to enjoy.
Keto Chocolate Mug Cake Recipe is so amazing and ready in just 1 minute!
You might also enjoy COCONUT FLOUR KETO MUG CAKE for a healthy treat in seconds.
Try making this Keto Peanut Butter Cookie recipe to satisfy that sweet craving while staying on track with keto.
Keto whipped cream recipe has only 3 simple ingredients for a keto friendly whipped topping you will love.
Keto chocolate mousse recipe is ready in only 5 minutes for the perfect Keto friendly dessert in minutes.
Delicious meals like this Keto Tuna Salad Recipe really make it so easy to stay on a keto diet.
Try these other easy keto recipes: