This post may contain affiliate links. If you make a purchase through links on our site, we may earn a commission.
Looking for a delicious Keto Chocolate Shake that could easily be breakfast or dessert? This Keto Shake Recipe is creamy and delicious while being so easy to make!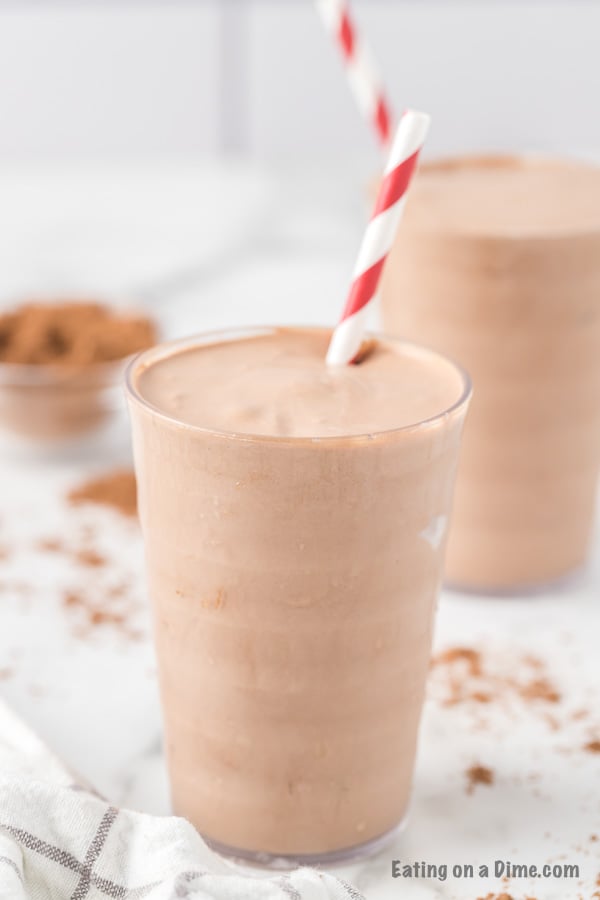 Keto Chocolate Shake
This tasty Keto Chocolate Milkshake is so satisfying and creamy that it is hard to believe it is within the Keto guidelines. Rest assured, it is Keto and you can enjoy this decadent shake guilt free.
It is perfect when you want to enjoy dessert but healthy enough to also make it a meal. The peanut butter provides protein and leaves you feeling full. This Keto Chocolate Peanut Butter Shake is the perfect drink to keep you feeling satisfied and full of energy for the day ahead.
If you are just getting started on this keto journey, this is a simple and easy keto recipe to start with. We absolutely love it and I am certain you will as well! Whether you are looking for a Keto smoothie, milk shake or breakfast drink, this recipe is sure to impress and be a hit.
What are Keto Shakes?
Keto Shakes are being used as a meal replacement and are designed for weight loss. A lot of people replace their breakfast with a keto shake or have them for an afternoon snack.
Keto Shakes, if purchased at a store, can be very expensive. Plus you are not always sure of all the ingredients that are added. That is why I like making them at home.
These homemade Keto shakes are budget friendly and I can change the ingredients to how I want the shake to taste.
Keto Frosty Recipe:
Some people have compared this keto chocolate shake to as a Keto Frosty Shake. It taste very similar to the Wendy's Frosty but doesn't have ice cream. It does satisfy your chocolate craving with its smooth and rich chocolate taste.
This keto frosty recipe has the cool, creamy and sweet taste as the frosty that we all love but keeps you within your Keto friendly lifestyle.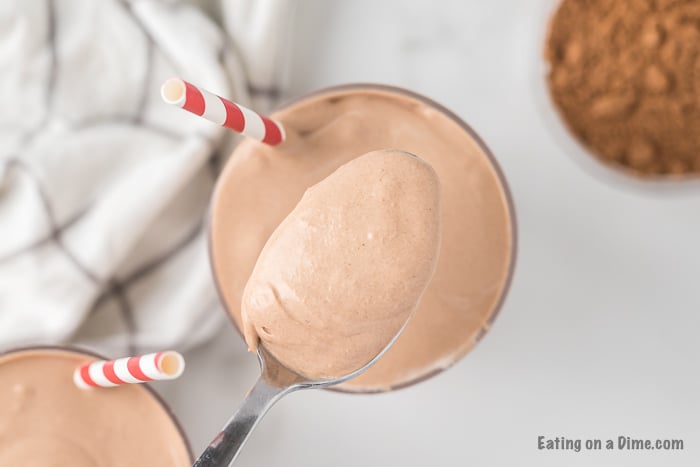 What is a Frosty?
A frosty is sold by a fast food chain called Wendy's. It is a mix between soft-serve ice cream and a milkshake. They come in chocolate and vanilla flavors.
It is so thick that you have to eat with a spoon.
How do you thicken a Keto Shake?
There are many options that help thicken a keto shake. When I am making a shake, I like it to be thick but still be able to use a straw. Here are some of my favorite ways to thicken up my shake:
Ice – The more ice you add the thicker your shake is. I have figured out that a handful of ice, makes my shake perfect.
Any type of nut butter
Avocado
Chia Seeds
Xanthan Gum – A teaspoon of this is all you need to thicken your shake. Xanthan Gum doesn't change the flavor of your shake.
Ingredients for Perfect Keto Chocolate Shake:
Heavy whipping cream
Peanut butter or almond butter
Unsweetened cocoa powder
Stevia
Vanilla Extract
How do you make a Keto milkshake?
Mix all ingredients together with a mixer until stiff peaks form.
Place mixing bowl in the freezer for about 30-60 minutes until barely frozen.
Scoop into serving cups and serve.
Can you substitute heavy whipping cream with milk?
Yes you can. Using milk instead of heavy whipping cream results in a thick shake. It depends on how much or how little milk you add.
What milk has the lowest carbs?
Almond milk is the best milk to use if you are searching for a low carb milk. You can easily purchase this at any grocery store.
Almond milk is about 1 gram of net carbs per one cup of milk. I use almond milk in my smoothies. It makes the best low carb smoothie.
Variations for Keto Chocolate Shake recipe:
Make this drink dairy free by omitting the whipping cream and replacing with coconut cream or coconut milk.
You can add chia seeds to this smoothie for more fiber.
Collagen can also be added to this drink.
Chocolate protein powder can be added to bump up the protein.
Add a dash of cinnamon
If you are feeling decadent, top the Keto shake with some whipped topping made from the whipping cream.
Use Monk Fruit for your sweetener instead of Stevia.
I like adding in some Greek Yogurt for some extra protein.
Add your favorite Toppings:
I love to add some of my favorite toppings to my shakes. I try and look at the ingredients so that isn't a lot of sugar and carbs.
Chocolate Syrup
Whipped Cream
Granola
Do you need other Smoothie Recipes?
Not only do we love this chocolate shake recipe, but we love a good smoothie recipe. I love a good fruit smoothie as it helps to get my fruit in and a smoothie just helps me to feel better. Here are some of my favorites:
New to Keto?
First of all, I know it can seem overwhelming initially. However, once you understand the Keto lifestyle it is very simple.
There is a great book for beginners here that you might want to pick up. It is a really great resource to help get you started on this Keto journey.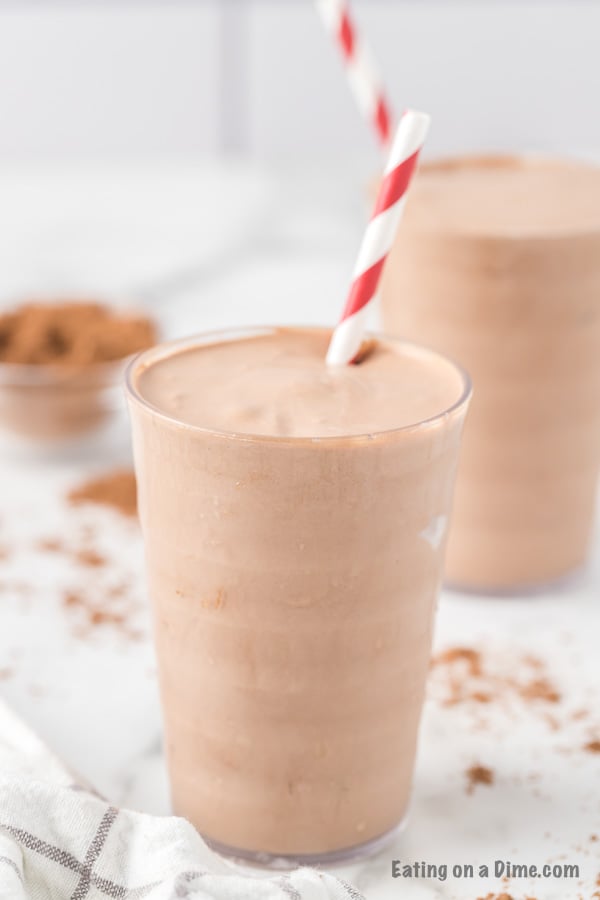 Tips for the best low carb shake:
If you want a thick and creamy texture you can add in some unsweetened almond milk.
Add in some zucchini or cauliflower to mix in some veggies.
I will add in some extra peanut butter if I am using it as a meal replacement.
Make your Chocolate Shake into a keto bowl. When I am craving ice cream, the chocolate shake frozen helps with my cravings.
How to store leftovers:
The serving size for this Keto Chocolate Shake is 4 servings. If you make the recipe as indicated, then I would just store the leftovers in the freezer until you are ready to enjoy.
This is one of our favorite Keto desserts!
It is such a tasty way to enjoy following a ketogenic diet plan.
For even more ideas for dessert, make sure you try some of these easy Keto Desserts as well. With so many delicious recipes, it is hard to believe this is a diet.
Let us know if you try it!
Print this Keto Shake Recipe below:
Keto Chocolate Shake
Looking for a delicious Keto Chocolate Shake? Try this Keto Shake Recipe for dessert or breakfast. It's creamy and delicious while being so easy to make!
Ingredients
2

cups

heavy whipping cream

2

tablespoons

peanut butter or almond butter

4

tablespoons

unsweetened cocoa powder

1

teaspoon

stevia or 5 drops liquid Stevia

2

teaspoon

vanilla extract
Instructions
Mix all ingredients together with a mixer until stiff peaks form.

Place mixing bowl in the freezer for about 30-60 minutes until barely frozen.

Scoop into serving cups and serve.

You can also place frosty mixture in a plastic freezer bag, cut one corner, and pipe into small cups giving it a swirled look.
Recipe Notes
This keto friendly shake will have you amazed at the taste!
Nutrition Facts
Calories
475
kcal
,
Carbohydrates
8
g
,
Protein
5
g
,
Fat
49
g
,
Saturated Fat
29
g
,
Cholesterol
163
mg
,
Sodium
83
mg
,
Potassium
220
mg
,
Fiber
2
g
,
Sugar
1
g
,
Vitamin A
1749
IU
,
Vitamin C
1
mg
,
Calcium
87
mg
,
Iron
1
mg
Try these other Keto Dessert Recipes: