This post may contain affiliate links. If you make a purchase through links on our site, we may earn a commission.
This Easy Homemade Caramel Popcorn Recipe is the perfect snack for your next holiday party or family movie night. We love that we can make it at home and it taste so much better than the store bought stuff.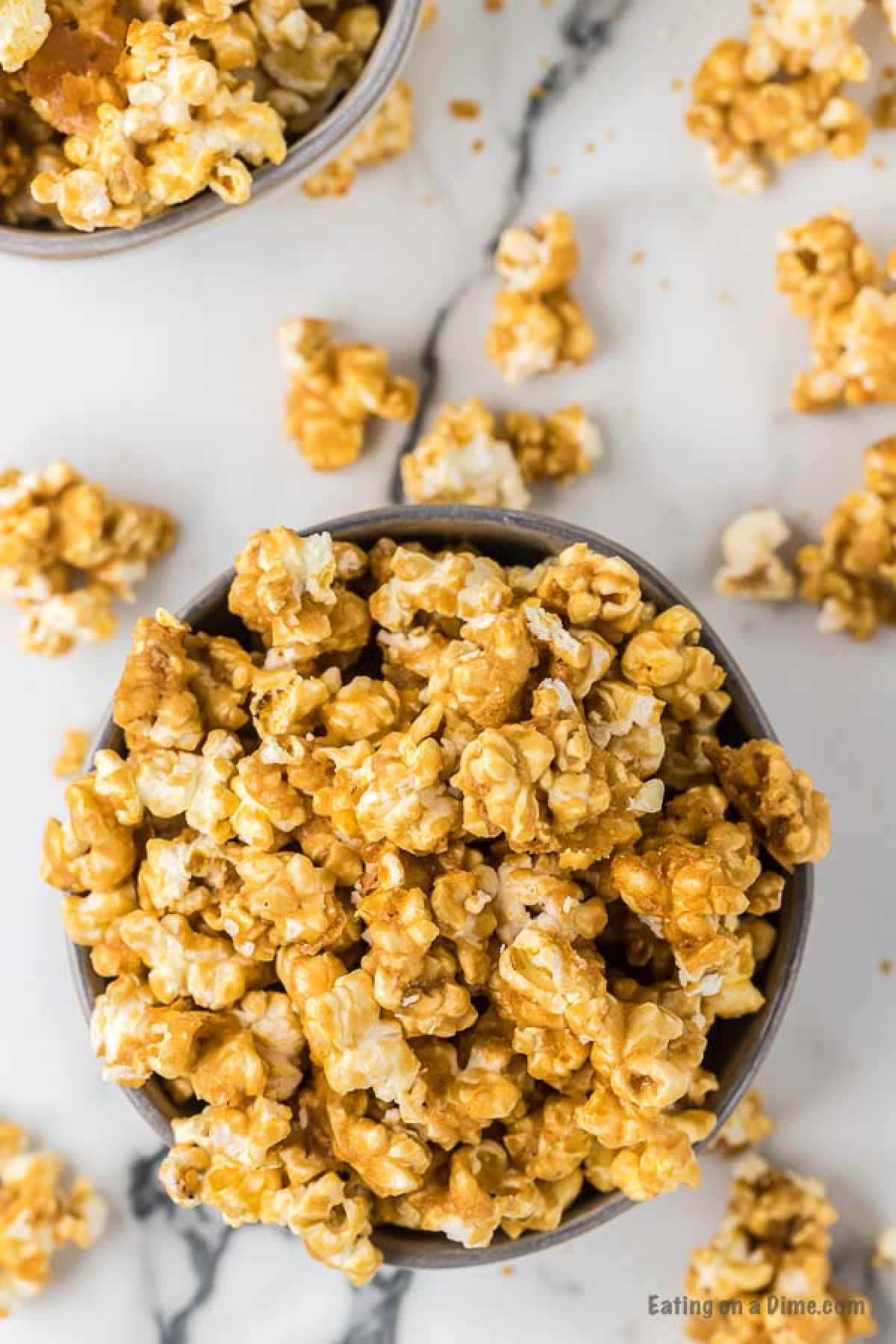 This recipe accomplished the perfect amount of flavor and crunch that my family couldn't get enough of. The simple pantry ingredients will have you make this popcorn for all your gatherings.
If you loved flavored popcorn, you might also like Peanut Butter Popcorn Recipe, Easy White Chocolate Popcorn Recipe, or Caramel Marshmallow Popcorn Recipe.
Why Make this Caramel Popcorn:
Homemade Popcorn is the ultimate snack while watching a movie. This caramel popcorn is one of my favorites because it is loaded with flavor and easy to make.
We love making this caramel popcorn during the holidays and have even made it for friends and family. It is a budget friendly gift and always a crowd favorite.
Ingredients: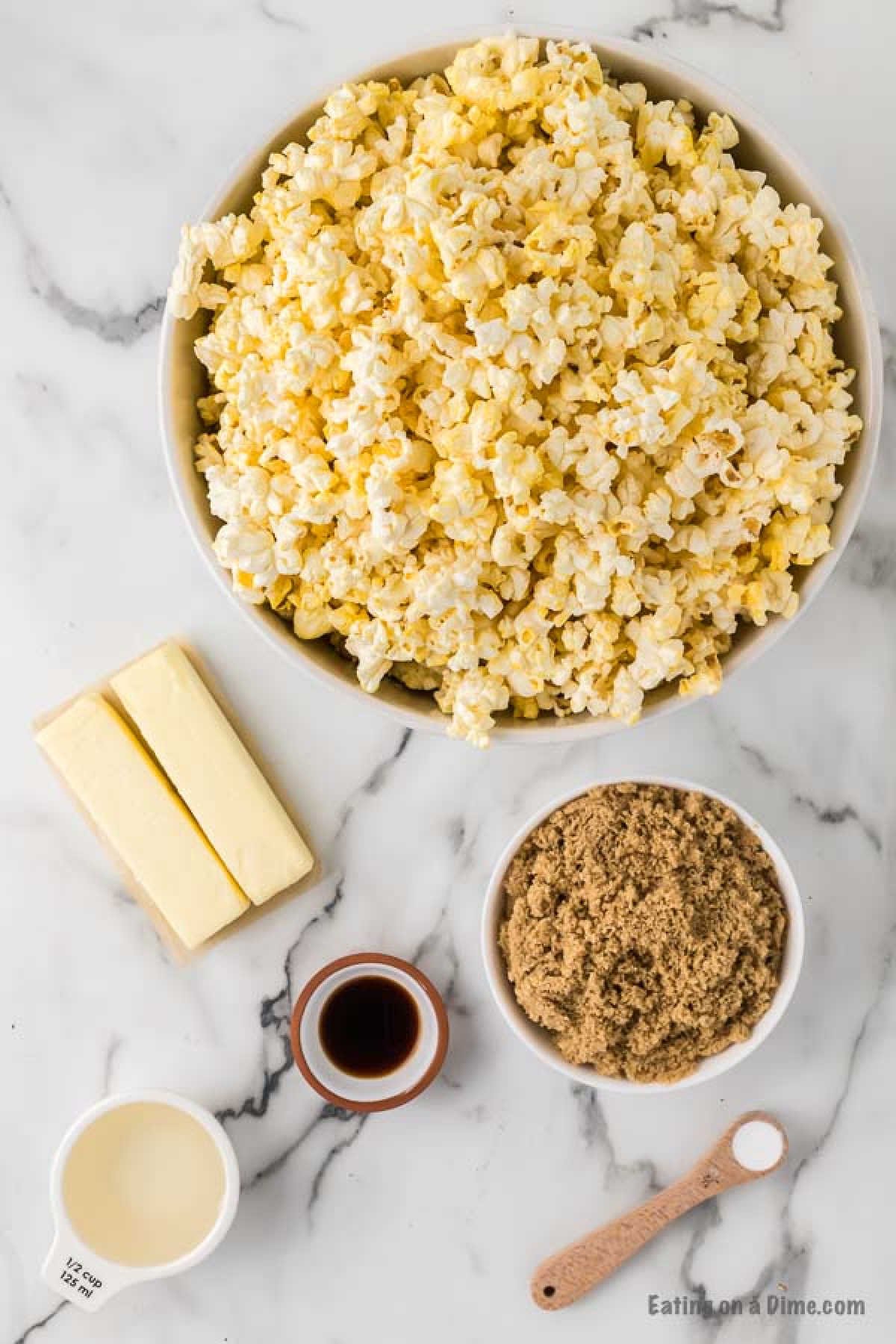 Butter

Brown Sugar

Corn Syrup

Salt

Baking Soda

Vanilla Extract

Popcorn
For the full list of ingredients and recipe, scroll to the bottom for the recipe card.
Variations:
We love making variations to this caramel popcorn recipe. Try some of my favorites.
Add in Nuts – You can easily add in any nuts. Our favorite has been peanuts but almonds would be great as well. For that extra sweet and salty combination use salted nuts.
Like it extra sweet? – You can use less popcorn and the extra caramel will make it extra sweet.
Drizzle with chocolate – We just drizzled melted chocolate over the popcorn and it was absolutely delicious! You could even experiment with all sorts of different chocolate. White chocolate would be amazing and you could even mix the two. All of the different swirls of chocolate would look so pretty as well.
Mix in Mini Marshmallows – When you drizzle the popcorn with chocolate toss in some mini marshmallows.
Add chocolate chips – Try peanut butter or butterscotch! I think it would be delicious to use several different types of chocolate morsels.
How to Make the Caramel Popcorn:
The caramel is so easy to make. Simple ingredients make it easy to make anytime of the week.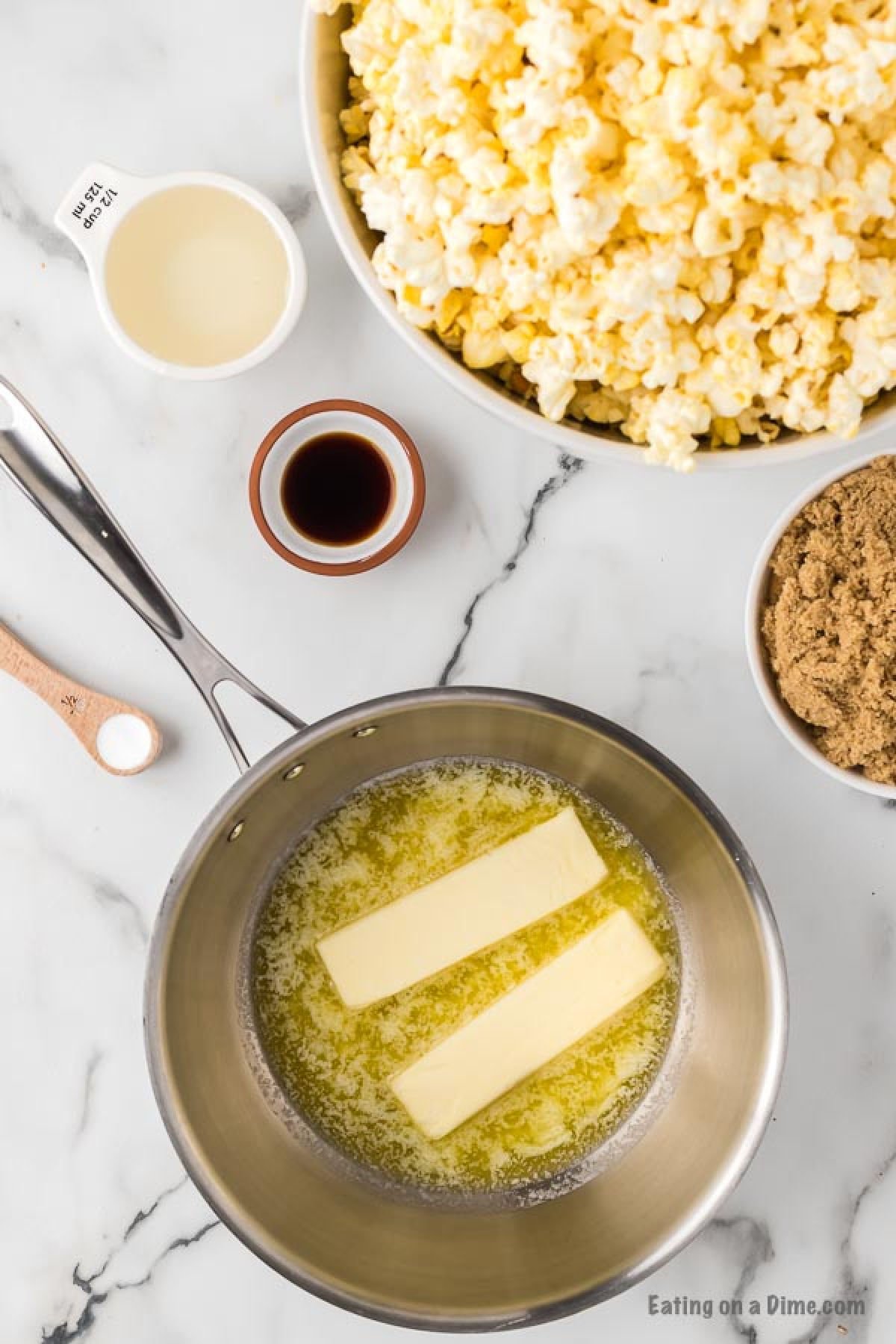 Step 1 – In a medium saucepan over medium heat, melt butter.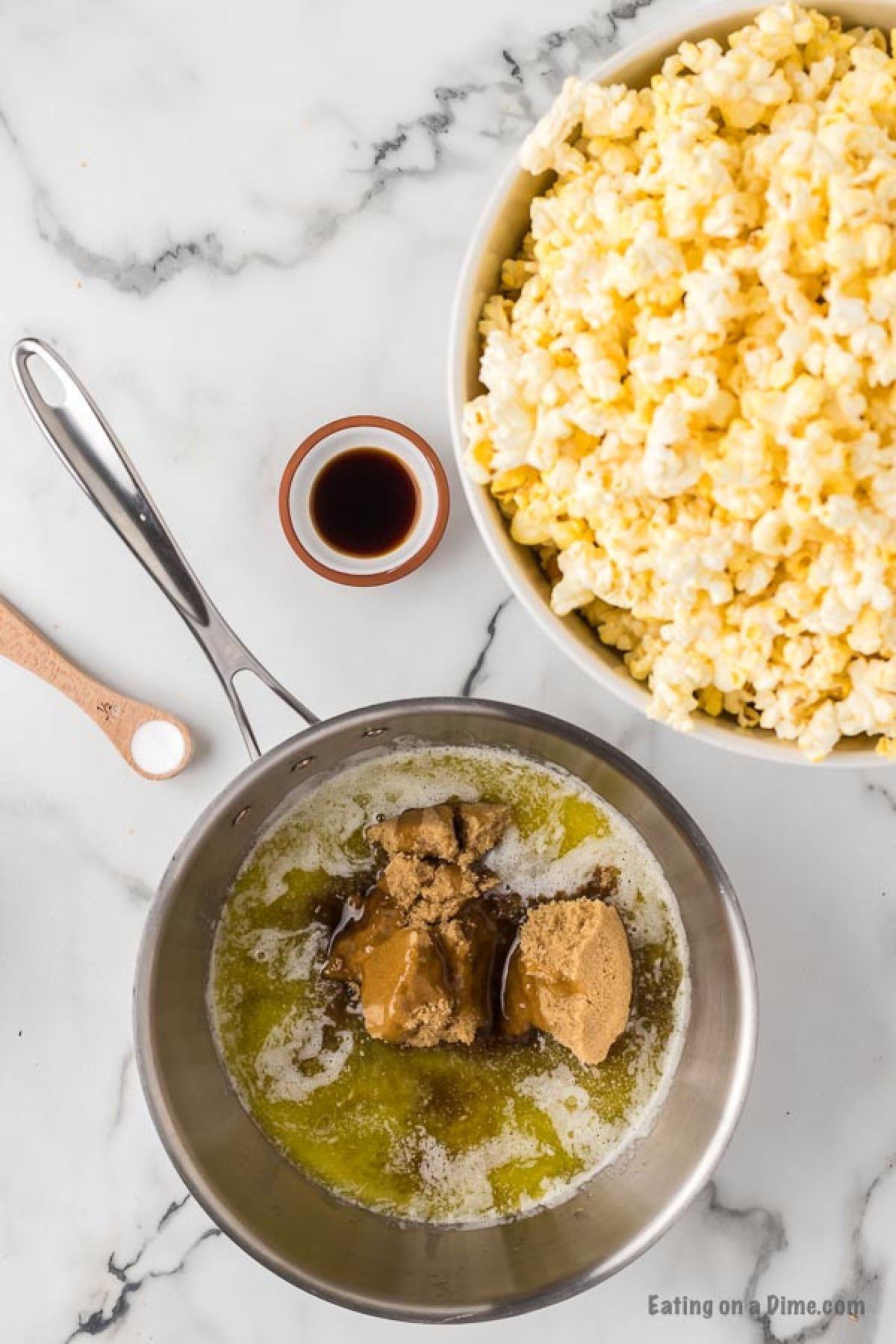 Step 2 – Once butter is melted, stir in brown sugar, corn syrup and salt until smooth.
Step 3 – Bring to a boil over high heat, stirring constantly. Boil without stirring for about 4 minutes. Remove from heat and stir in baking soda and vanilla.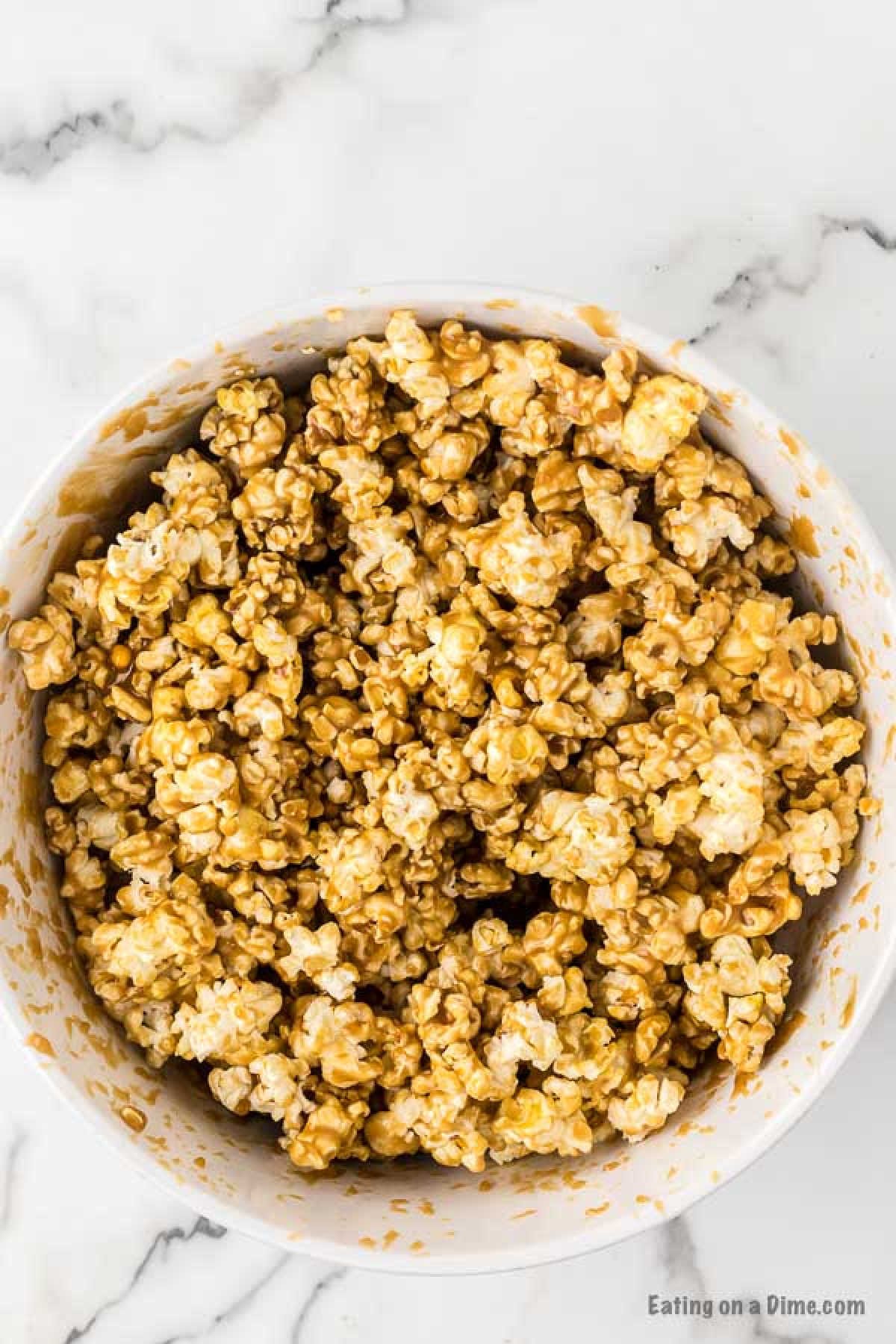 Step 4 – Preheat oven to 250 degrees F (95 degrees C). Place popped popcorn in a very large bowl. If you do not have a large enough bowl, you can use 2 bowls. Immediately pour the caramel sauce over popcorn. Make sure to stir it thoroughly to coat all of the popcorn.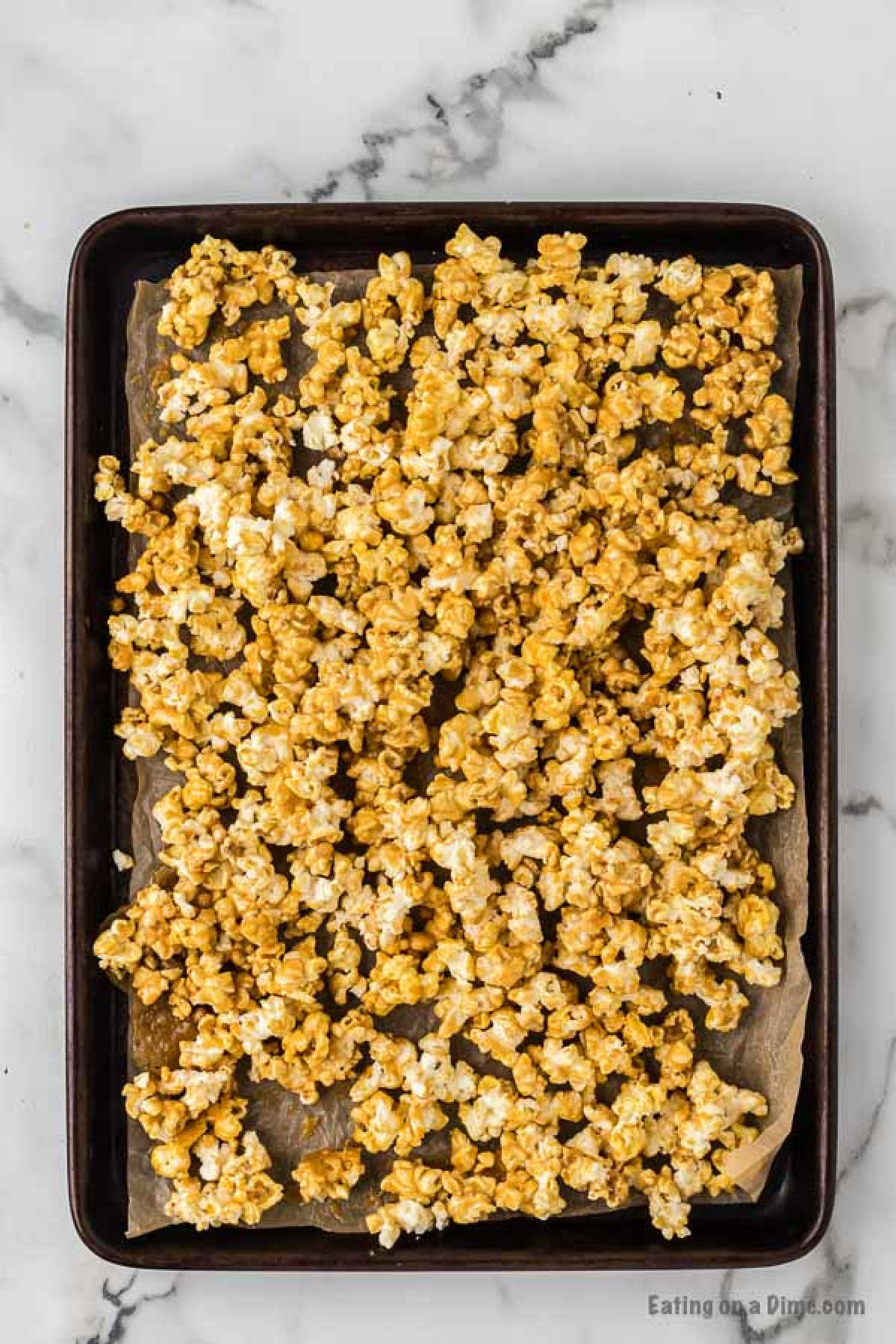 Step 5 – Place in two large shallow prepared baking sheets or dishes. You could even use a disposable baking sheet if you don't want to mess with clean up.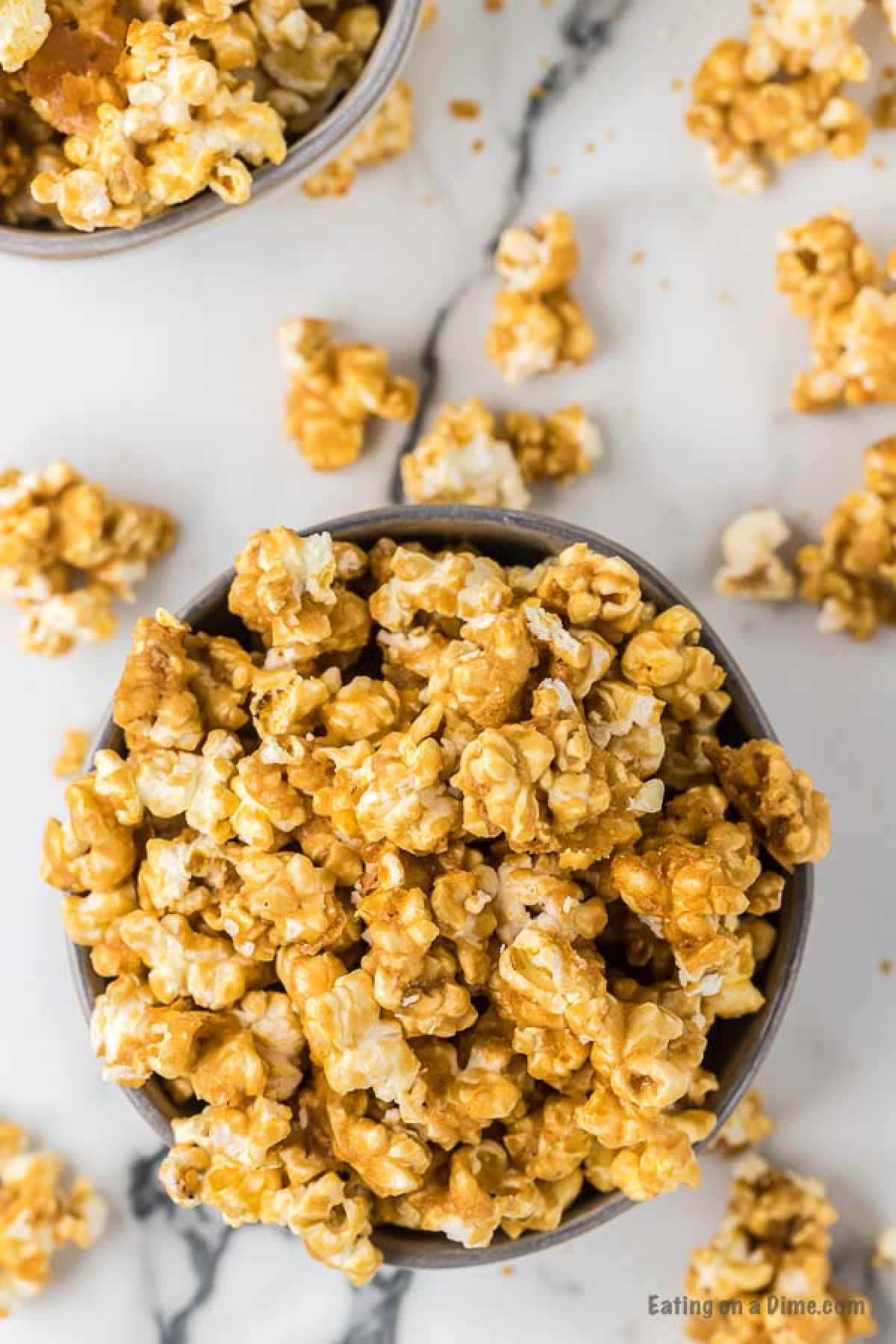 Step 6 – Next, bake in a preheated oven for about 40 minutes. You will want to make sure you are stirring every 15 minutes and again stirring the popcorn mixture half way through. Baking times can vary. Remove from oven. Let it cool completely before breaking the caramel corn into pieces.
Recipe Tips:
Skillet Recommendation – Use a non-stick skillet to make the caramel. It makes it much easier to clean and you don't have to worry about the caramel sticking to the pan.
Spatula – Also use a non-stick silicone spatula if you have one. A silicone spatula which is also naturally tolerant to high heat helps with mixing the caramel. Trust me, this is a must when stirring the caramel sauce.
Remove Kernels – I love using a cooling rack or a roasting pan to pour my popcorn over. This way the un-popped kernels will fall through the holes keeping the popped corn to stay on top.
Adding Salt –

If you use bagged popcorn that you pop in the microwave, do NOT any additional salt. If you make your own popcorn from just kernels then the salt will be needed.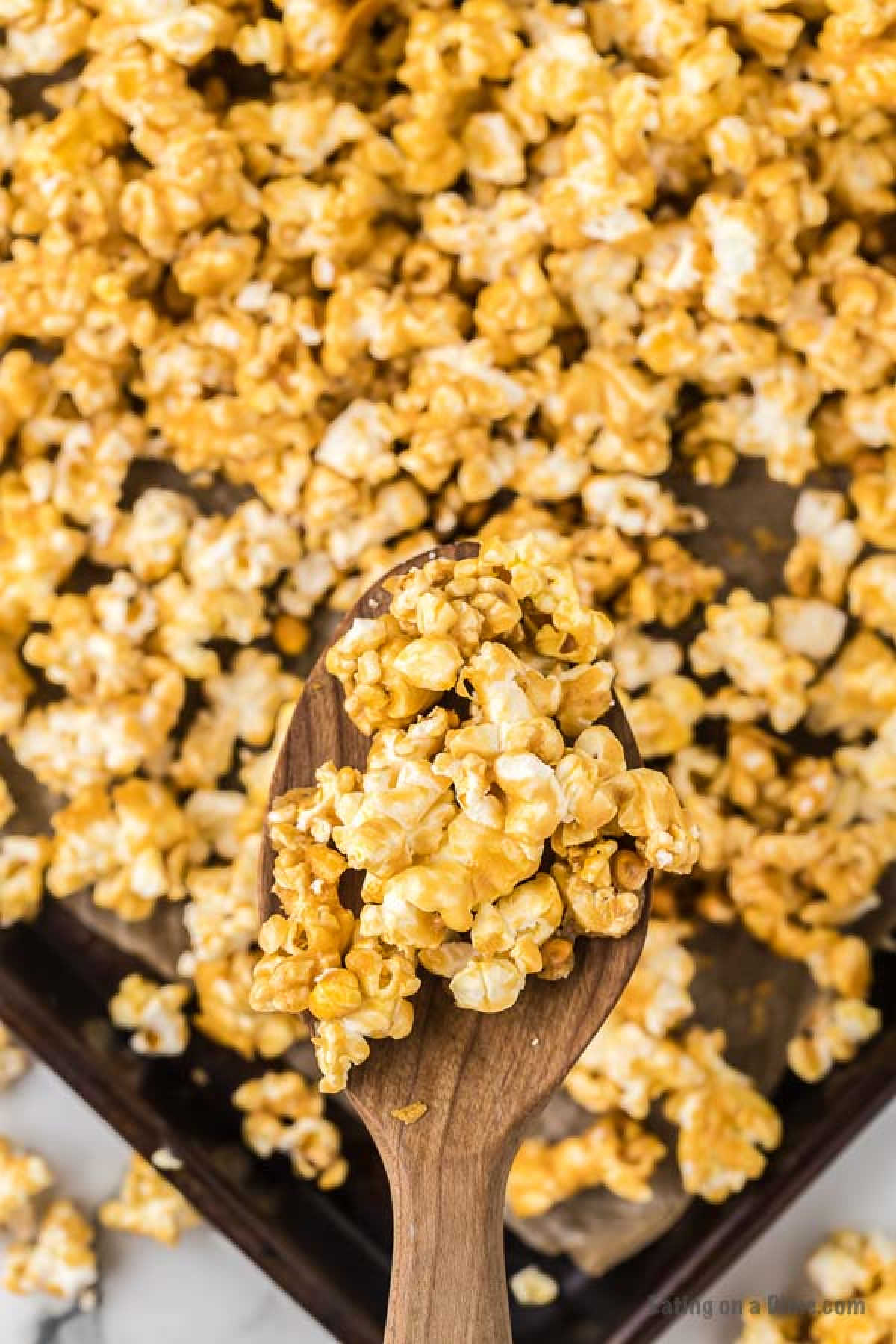 How Do You Make Caramel Popcorn Crunchy?
The two main reasons that the caramel popcorn stays crunchy is because of the baking soda and baking it at a low temperature.
Just before the caramel sauce is poured, we put a little baking soda in. Adding baking soda causes the caramel sauce to get bubbly and foaming. Which allows the caramel sauce to be evenly poured over the popcorn.
While the caramel popcorn is cooling, the texture becomes soft which means you won't be biting into hard caramel. It also helps baking the popcorn on very low temperature and stirring often.
This allows the caramel sauce to melt and thin so it coats every piece evenly. Baking the caramel popcorn makes it crispy so it stays fresher longer. While baking, the popcorn will become less sticky and will be easily separated.
How to Store:
This is the perfect snack to make a big batch at the first of the month. If stored properly the caramel popcorn will last for two to three weeks.
It can easily be stored in an airtight container at room temperature. You can also place the caramel popcorn in gallon size ziplock bags once it has cooled.
More Easy Caramel Desserts:
We love caramel desserts at our house. Here are some of our favorites: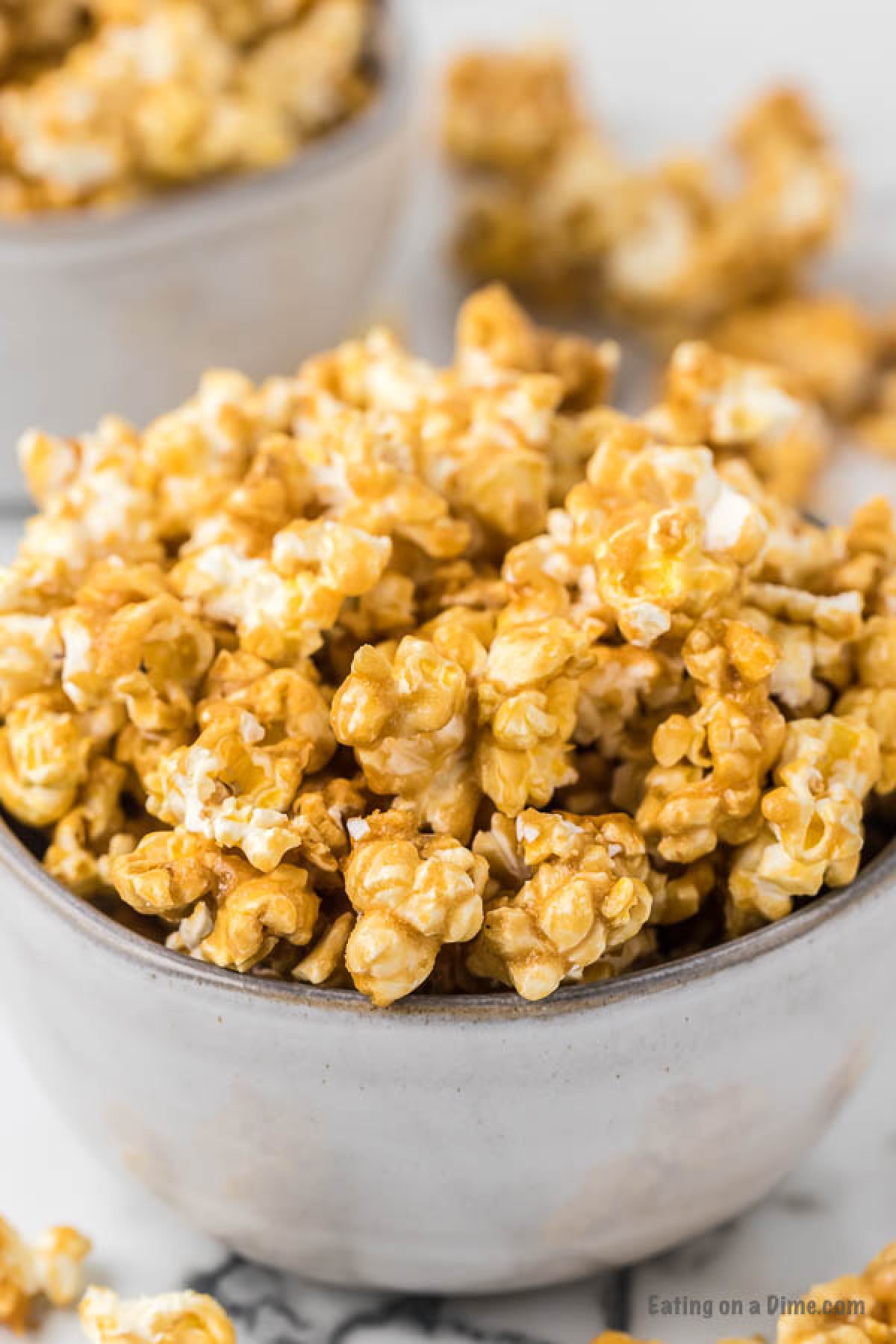 Frequently Asked Questions:
What is the Best Popcorn to use?
We used microwave popcorn, but feel free to make your own on the stovetop. Y

ou can also use store bought popcorn, but we recommend the popcorn be plain. I use 3 bags of microwave popcorn. If you use kernels to make your own popcorn, make about 2 cups kernels.
How Long will Popcorn Last:
If stored properly, this popcorn will last up to 2 weeks. It usually only last a few days with my large family.
More Quick and Easy Snack Recipes:
We love hearing from you. If you make this easy caramel popcorn recipe, make sure to leave us a comment or a star review.
Homemade Caramel Popcorn
Learn how to make caramel popcorn at home with only a few ingredients. Once you know how to make homemade caramel popcorn recipe, you will make it all the time. It's simple and easy. The homemade caramel is amazing!
Ingredients
1

cup

butter

2

cups

brown sugar

1/2

cup

corn syrup

1

teaspoon

salt

(if you use bagged popcorn that you pop in the microwave, do NOT add additional salt. If you make your own popcorn from just kernels then the salt will be needed.)

1/2

teaspoon

baking soda

1

teaspoon

vanilla extract

3

bags

Popcorn, popped

(I used 3 bags of popcorn that I got for FREE. If you use kernels to make your own popcorn, make about 2 cups kernels -YES, it is alot)
Instructions
Preheat oven to 250 degrees F (95 degrees C). Place popped popcorn in a very large bowl (I used 2 large bowls because I didn't have big enough bowls).

Melt the butter in a large saucepan over medium heat. Then stir in the brown sugar, corn syrup and salt. Bring this mixture to a boil, stirring constantly. Then boil without stirring for approximately 4 minutes. Remove from the heat and then stir in the baking soda and vanilla extract.

Then pour the caramel sauce over the popcorn and stir it to coat all the popcorn with the caramel sauce.

Then place the popcorn in two large shallow baking dishes/ or pans and bake in preheated oven, for approximately 40 minutes (stirring half way through).

Remove from oven and let cool completely before breaking into pieces.

Store in an airtight container. I placed them in gallon size ziplock bags.
Recipe Notes
Change up the recipe by drizzling melted chocolate over the popcorn.
Nutrition Facts
Calories
316
kcal
,
Carbohydrates
46
g
,
Fat
15
g
,
Saturated Fat
9
g
,
Cholesterol
40
mg
,
Sodium
393
mg
,
Potassium
53
mg
,
Sugar
46
g
,
Vitamin A
475
IU
,
Calcium
37
mg
,
Iron
0.3
mg